If you've determined that your business can benefit from the installation of a new overhead crane system, then you're probably in the beginning stages of researching companies who make or build overhead cranes. Your first step should be to identify some companies you may want to work with and schedule an overhead crane consultation.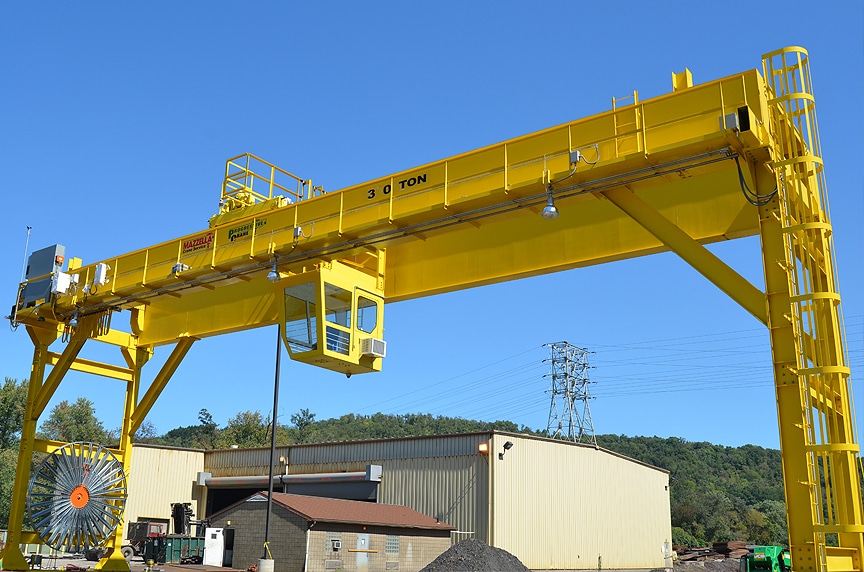 An overhead crane is a complex and expensive piece of equipment. Prior to financing an overhead crane, your bank may want you to meet with a couple of different overhead crane manufacturers to receive multiple quotes on the installation of an overhead crane system. Even if you aren't financing your new crane equipment, it's still a good idea to bring in a couple of different overhead crane companies to look at your facility and provide a scope of work and provide their expert opinion on the right overhead crane for your business' needs.
With over 50 years of experience in the overhead crane industry, Mazzella is a leading manufacturers of world-class cranes. We engineer and build custom solutions ranging from light-duty economical cranes to large-capacity, high-duty cycle cranes.
The goal of this article is to help you understand what you can expect from an overhead crane consultation and walk you through the process from first contact with a crane manufacturer up into the installation of the overhead crane system.
First Contact With an Overhead Crane Manufacturer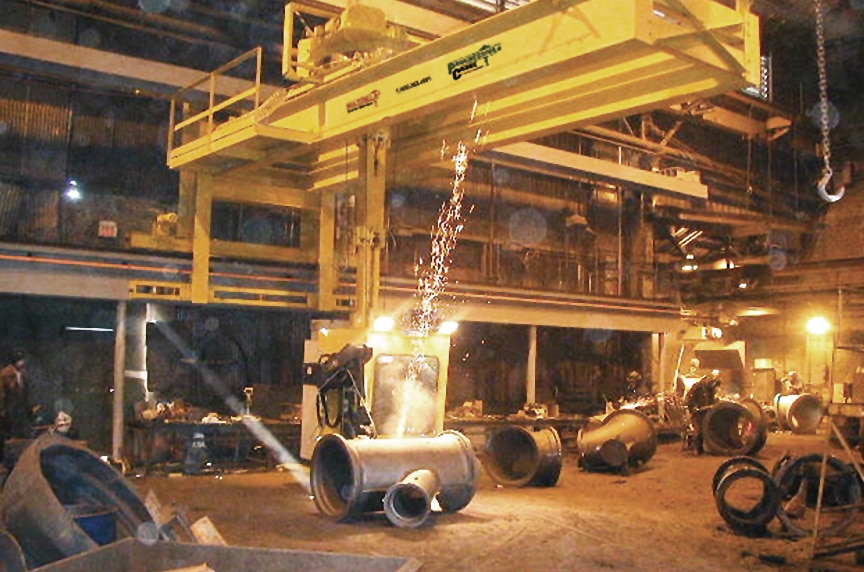 So, you've done your research, and you're ready to take the next steps and bring in a couple of different overhead crane builders to come to your facility and bid on the project. If you filled out a contact form on an overhead crane manufacturers' website, then a salesperson will reach out via email or telephone to establish contact and introduce themselves.
During this brief email or telephone conversation, the following will occur:
They'll introduce themselves and their company and discuss their capabilities
Learn a little bit about who you are and what you do
Learn about who your company is and what your business does
Learn about the different types of industries you serve
Learn more about your current lifting or material handling capabilities and ask about any problems, or inefficiencies, that you're currently experiencing
What they're trying to do is build a customer profile with some base-level information, so that they can get you set up in their system and understand how they can best help you solve your lifting problems.
The next step will be to schedule a time and day for them to visit your facility for an overhead crane consultation. They'll typically want to schedule a time to come out when production is up and running—so, don't worry about scheduling a consultation on the weekends or during off-hours.
It's actually more beneficial to the overhead crane sales team to see what equipment is currently in use, see how it operates, and see where it's located in the building. This helps them to understand how they might fit a new crane system into your building's existing infrastructure and cause as little disruption to your existing processes as possible.
What Happens During an Overhead Crane Consultation?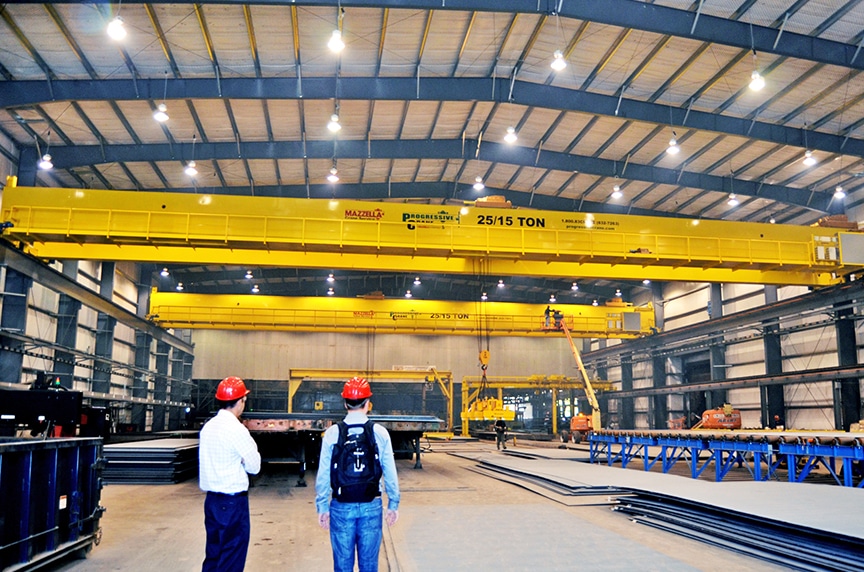 Prior to scheduling a consultation with an overhead crane builder, make sure that you let them know if any of the following applies to your overhead crane installation project:
Is there any specialized safety training required for a third-party to enter your facility? Will there be any type of drug screening required before they can come on-site?
Will they need to provide their own personal fall protection or personal protective equipment (PPE), or is there any special PPE required to gain access to your facility (hard hats, steel toe shoes, Kevlar sleeves, heat or fire resistant clothing, etc.)?
Is this a new construction project or will the crane be installed into an existing structure? If it is a new construction project, they may only need to see the prints for the new construction to provide a quote or bid on the project.
By covering this information ahead of time, a crane manufacturer can make sure that they arrive before your scheduled meeting time to complete any mandatory safety training or drug testing. It will also ensure that they come prepared with the proper protective equipment and understand the general layout and environment of your building or facility.
Most often, these types of meetings are scheduled with your company's Maintenance Manager or Production Manager and can last between 30 minutes to an hour. When the sales representative arrives, they'll want to get right out to the production floor to get a quick tour of your facility, see how your production processes currently work, and get an understanding of the building's floor space, support structures in place, and the size of the crane that they will be building.
During their time with you, they'll be asking you a number of different questions—most likely filling out a form or spreadsheet with specifications, measurements, and observations. Some of the necessary information that they're gathering to provide a quote can include:
A description of the lifting application and the environment

Will the crane be installed indoors or outdoors?
Are there any environmental factors like a chemical or hot metal environment?
Are there any noted obstructions that may hinder access during installation?

Existing cranes in facility—quantity, brands, capacities of existing equipment
Total number of cranes needing to be installed
Crane capacity / max hoist capacity
What percentage of lifts will be at capacity?
Span, or length, of crane and runway system

Will this be a new runway system, or can they utilize existing support structures?
What is the distance needed between columns
Will the runway be ceiling mounted?
Can it be mounted to building columns or can it be tied back to the building?

Hook height / total lift height required
Power supply (480V, 230V, etc.)
Radio controls – yes / no?
Other optional information that they may gather can include customer preferences on speed of the bridge, trolley, and hoist, and any preferences on upgrades or modernizations like walkways, cabs, variable speed controls, or anti-collision technologies.
It may be beneficial to have some of your shop employees speak with the sales rep during their walkthrough. Your employees are the most knowledgeable about the jobs or tasks that they perform, and how they do them. They can provide additional insight into how their job's efficiency and production can be improved with the installation of an overhead crane system.
The sales rep will also take some general measurements and may sketch out some quick drawings of the building layout, or take pictures to take back with them to their office. Typically, they're looking to provide visual or written documentation of the following items:
The space or area of where the crane is going
Any obstacles that need to be worked around
Distance and access to the building from where the crane will be installed
Floor clearance and overhead clearance
The area where the girders will be taken from the floor to the crane level
If the salesperson can provide as much detail as possible to their team of estimators and engineers, then they can ensure that their team has a full understanding of the project and they can spec out and design a crane that is suitable for your unique building and lifting requirements.
Once the salesperson has gathered all of the information needed to design an overhead crane system for your facility, they'll head back to regroup with their team and begin the quotation process for your crane installation project.

---
---
What Happens After the Overhead Crane Consultation?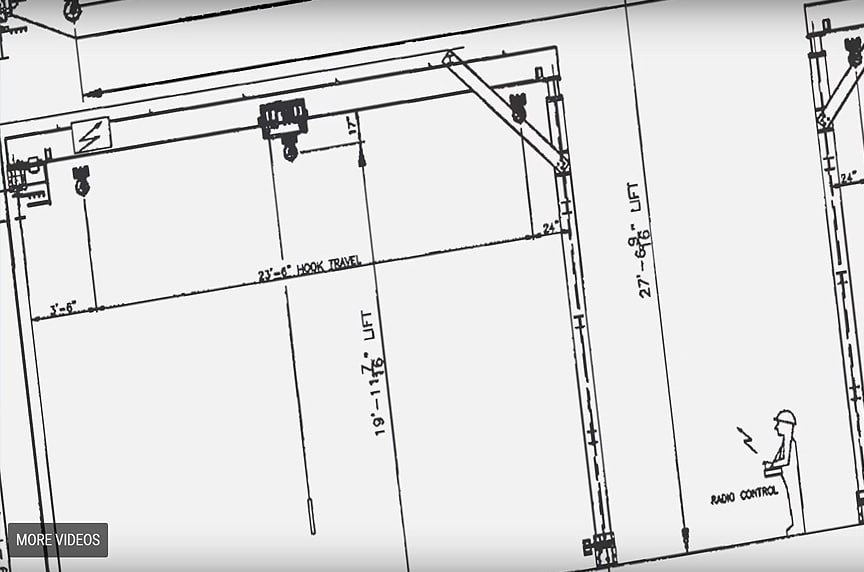 Overhead crane manufacturers will typically have their sales reps, engineers, estimators, and project managers all involved in the quotation process. They'll review the notes or worksheet completed by the salesperson, any prints or drawings provided by the customer, and any sketches or pictures taken during the site assessment.
From there, they'll begin filling in the blanks and putting an estimate together of how much the project will cost.
Turnaround Time for an Overhead Crane Quote
There are all different types of overhead cranes, and the turnaround time of the quote can vary depending on the type of crane, complexity of the crane's design, and what service classification it falls under.
Simpler cranes like jib cranes and workstation cranes have a quick turnaround time—manufacturers can typically turn a quote around for a jib or workstation crane in 1-3 business days.
A simple modular crane with a base trolley, hoist, and bridge design may take 5-7 business days to produce a quote.
A quote for specially-designed cranes, or cranes with extra engineering built-in, can take 10-14 business days, or even a month, to produce for projects with a large number of cranes or distinct characteristics.
The reason for this is that the design of the crane is more complex—meaning that the engineering team may need extra time to develop a solution to a lifting challenge, or they may need extra time to contact vendors and receive pricing or specifications for specific crane parts and components. If the manufacturer does not do the overhead crane installation themselves, they may also need time to sub-contract an installer and get an estimate from them as well.
What's Included in an Overhead Crane Quote
A quote for an overhead crane includes the price for the full scope of the project—including all costs relating to:
Project management
Engineering and design of the overhead crane system to meet customer specifications and ASME guidelines
Sourcing of all overhead crane parts and components
Design and manufacturing of new overhead runway systems (if runways don't exist or existing runways can't be utilized)
Any disassembly and removal of existing overhead crane systems
Installation of new overhead crane system and load test at time of electrical start-up
Timeframe / lead time to complete the project
Payment terms
Additional charges related to tax, freight, and any fees associated with obtaining permits may or may not be built into the quote, so make sure that you clarify whether there are any additional costs that are not included in the quote.
You'll also want to make sure that you clearly understand the crane builder's payment terms, including any money or deposit required upfront, and also what project milestones will require additional payment along the way.
Selecting an Overhead Crane Company to Partner With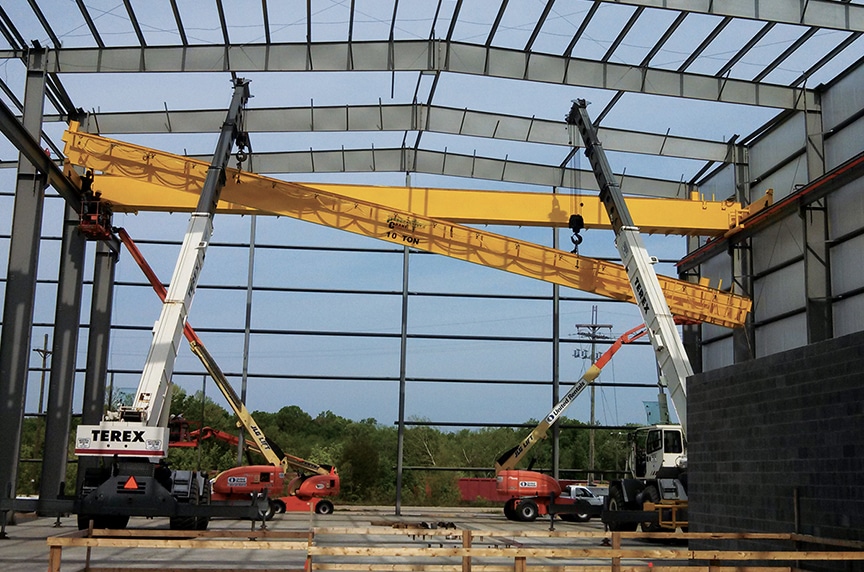 Once you've received a satisfactory number of quotes from overhead crane builders, the next step is to compare the quotes and select the company that you feel most comfortable with.
Remember, price shouldn't be the only determining factor when selecting an overhead crane company to partner with. An overhead crane system is a complex and critical piece of equipment used to improve your business' efficiencies and production flows and you should only partner with a company that you truly feel comfortable with.
When reviewing overhead crane quotes, consider the following:
Did the company or salesperson take the time to explain the quote and walk you through it to make sure that you understand and are comfortable with the breakdown of costs?
Did they quote the project to your exact specifications? Make sure that any specific details or requirements that you provided them during your consultation are addressed in the quote.
Have they committed to meet your project's specific deadline / timeframe?
Ask for references and contact them to ask the following questions:

Were they happy with their partnership?
Were they happy with the quality of work?
Did the project stay on track and within budget?
Did the manufacturer meet agreed upon specifications?
Once you've selected who you want to partner with, you can reach out to them and let them know that you want to work with them moving forward. They may have to schedule another meeting so that you can meet more members of their team and they can meet additional members of your team. You'll review and finalize the scope of the project and then they will provide you with an agreement that will be signed—binding both parties to the agreements within.
From there, the crane manufacturer will provide you with any approval drawings and/or calculations. Depending on the magnitude of the project, approval drawings can take 1-3 weeks to complete. Once authorized signatured are provided on the drawing they will begin sourcing all of the crane components and constructing the crane(s).
If the manufacturer isn't doing the installation, or is receiving assistance from a third-party during the installation, they'll typically schedule an appointment prior to the scheduled date to come out and look at your facility. This helps to ensure that all parties can view the area where the crane will be installed, identify any obstructions that may require special equipment for installation, and familiarize themselves with the facility so that there aren't any surprises when they show up to do the installation.
Wrapping it Up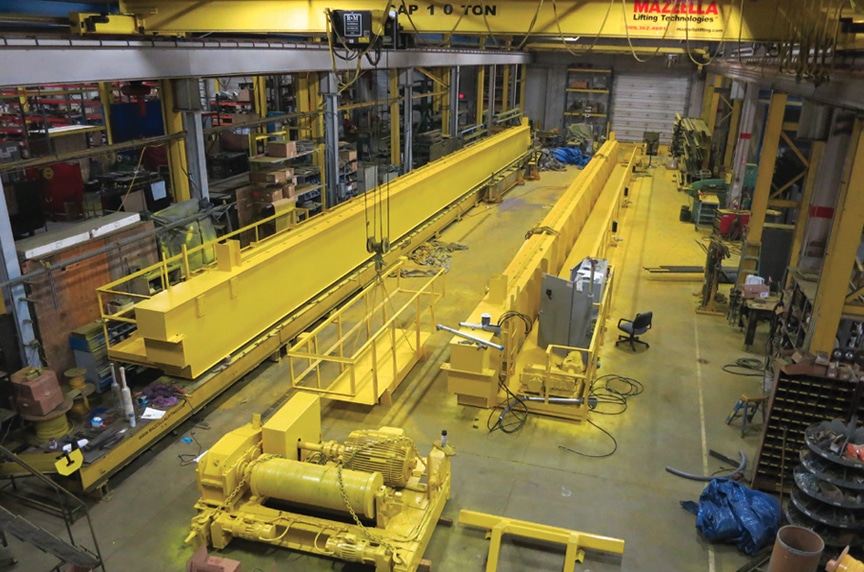 At Mazzella, we design and build world-class overhead crane systems. We have over 50 years of experience in the overhead crane industry and can build custom solutions ranging from light-duty economical cranes to large-capacity, high-duty cycle cranes.
Our expert team of Engineers, Estimators, and Project Managers can help you design and specify a cost-effective crane system for your facility, production or budgetary needs. Since every business is unique, and no two cranes are alike, we offer free quotes and consultations for overhead and material lifting projects. If you're interested in learning more about how an overhead crane system can improve the efficiency and safety of your facility, or want to schedule a consultation, contact us today to speak with a Crane Specialist.

---
---
Copyright 2017. Mazzella Companies.