A hoist could be considered the most important component of an overhead crane system because it's the device that actually performs the lifting and lowering of a load. An overhead crane's hoist lifts and lowers a load by means of a drum or lift-wheel, in which chain or wire rope wraps around.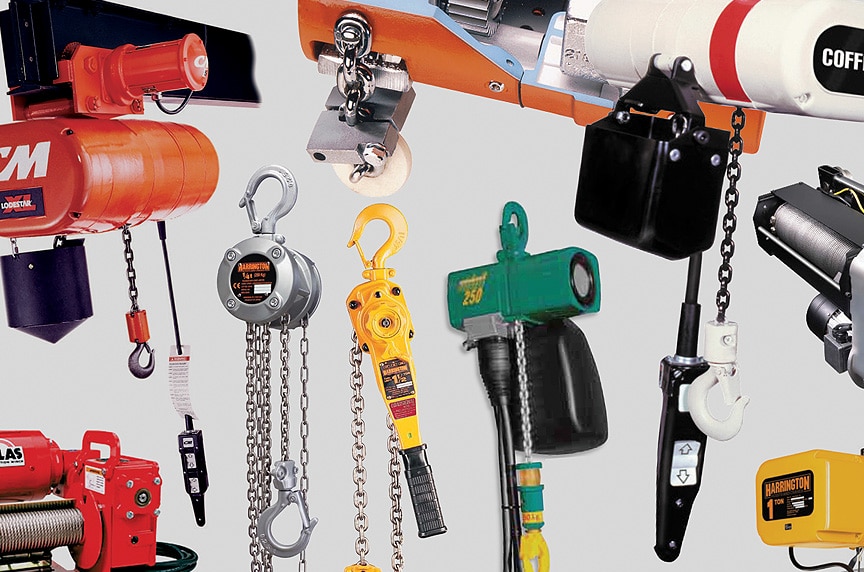 Hoists can be defined by two main characteristics:

The lifting medium (wire rope or chain) used to support the load
The power source (manual / hand-powered, electric-powered, or air-powered) used to perform the lift
There are many different configurations of hoists depending on the lifting medium they use, the power sources used to operate the hoist, and the mounting system. It can be difficult to understand what these different terms mean, and which style is best for your overhead crane system.

In this article, we'll discuss the following:

Definitions of chain hoists and wire rope hoists and some of the advantages and disadvantages of using either type of lifting medium
The differences between manual hoists, electric hoists, and pneumatic (air-powered) hoists
Hook-mounted, lug-mounted, and trolley-mounted hoist designs
Chain Hoists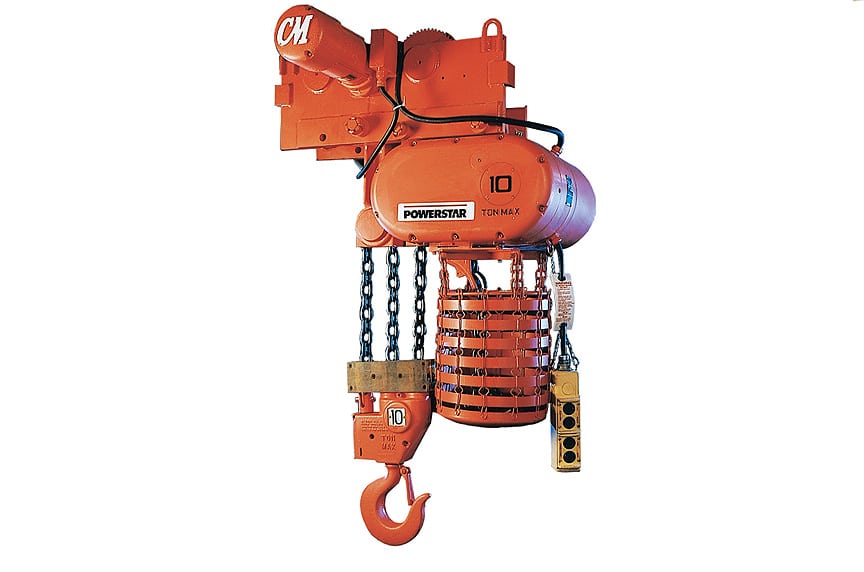 Chain hoists use metal chain as the lifting medium and perform the lift by pulling the chain through sprockets and then deposit it into a container. Chain hoists are a popular choice because they're relatively low maintenance and can be less expensive than a wire rope hoist system. Chain hoists can be powered manually, electrically, or pneumatically.

While they're a reliable and economical option, chain hoists do have a lower capacity and are more commonly found on lighter duty applications under 5-tons.

The major benefits of using a chain hoist include:
Ability to change the height of the lift by changing out the chain
Compact, space-saving design with no drum
Portable and can tolerate greater levels of abuse
Capacity up to 25-tons (as standard design)
Chain can last longer than wire rope
The main disadvantages of using a chain hoist include:
Limited lifting speed
Noisier operation
May be problematic at lift heights above 20 feet
Wire Rope Hoists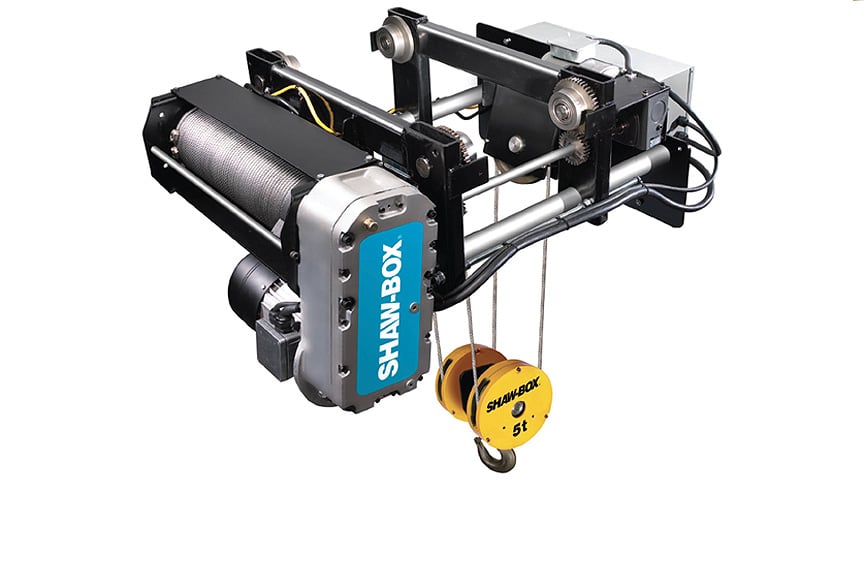 Wire rope hoists use wire rope as the lifting medium and perform the lift by wrapping the wire rope cable around a grooved drum. Wire rope hoists can be powered manually, electrically, or pneumatically.

Wire rope is a popular choice in production environments because it can perform lifts at a faster speed, higher heights, and can also be rated for severe duty classifications—Class D, E, and F cranes.
The main advantages of using a wire rope hoist include:
Offers very fast lifting speeds
Can be rated to severe duty classifications
Dominates the market at 10-tons and above
Quieter and smoother lifting operation
The main disadvantages of using a wire rope hoist include:
Wire rope may not be as durable as chain in certain instances
Wire rope drum occupies more space than a chain hoist
More expensive than chain hoists
Manual Overhead Crane Hoists
Manual hoists can be designed in either a chain or wire rope configuration, and are mainly used for occasional lifts where speed of the lift is not a factor. One chain is used to lift and lower the load and the other chain is used to support the load. The chain is pulled using a hand-over-hand motion, or a handheld lever or ratchet, to turn the gears located inside the hoist and deposit the chain in a chain basket.

Manual hoists have a simple design that allows for easy inspection, maintenance, and cleaning. Their compact design allows them to be used in tight quarters, and in applications where electricity is impractical or is not available.

Manual hoists are most often used in rigging, maintenance, construction, automotive, general manufacturing, mining, and oil applications. There are three main types of manual hoists, including:

Hand Chain Hoists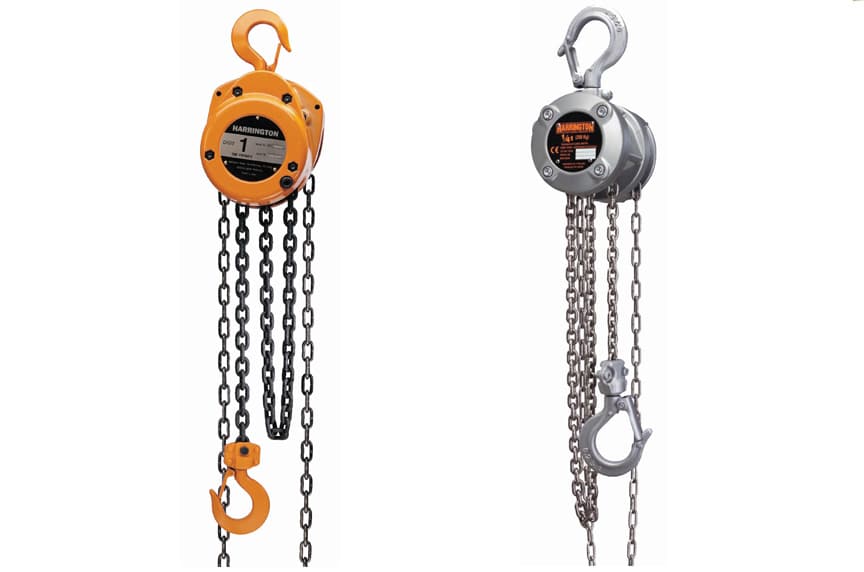 Ideal for construction, maintenance, automotive, and industrial applications
Typical capacities can range anywhere from 1/4-ton to 50-ton
Can be attached to a beam or trolley and utilize a vertical pull to produce a vertical lift
Spark-resistant design can be accomplished using stainless or bronze hooks, wheels, and chains
Lever Hoists or Ratchet Hoists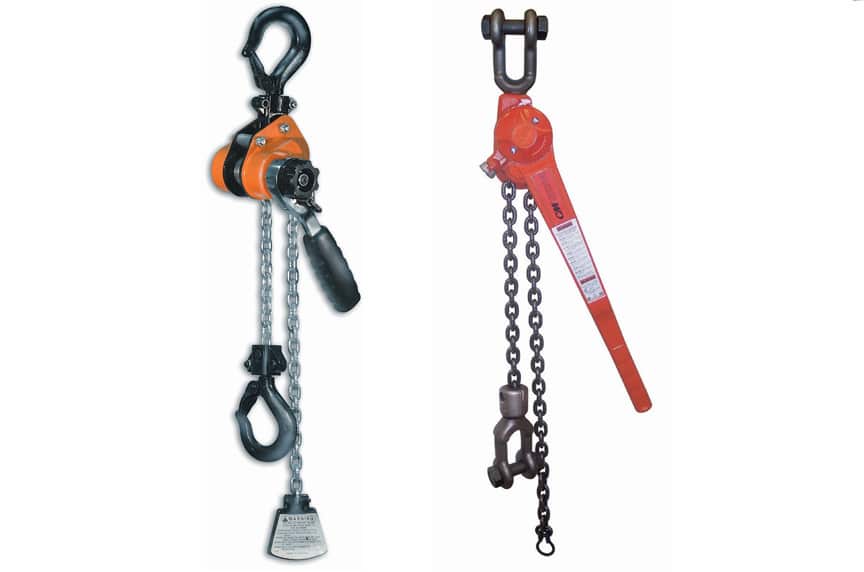 Ideal for construction sites, plant maintenance, and industrial applications
Design allows the user to pull, lift, and position materials either horizontally or vertically
Typical capacities can range anywhere from 1/2-ton to 9-ton
360° rotation of the lever and top swivel hook for easy rigging
Compact, portable, and durable design allows it be used in tight quarters
Lineman's Hoist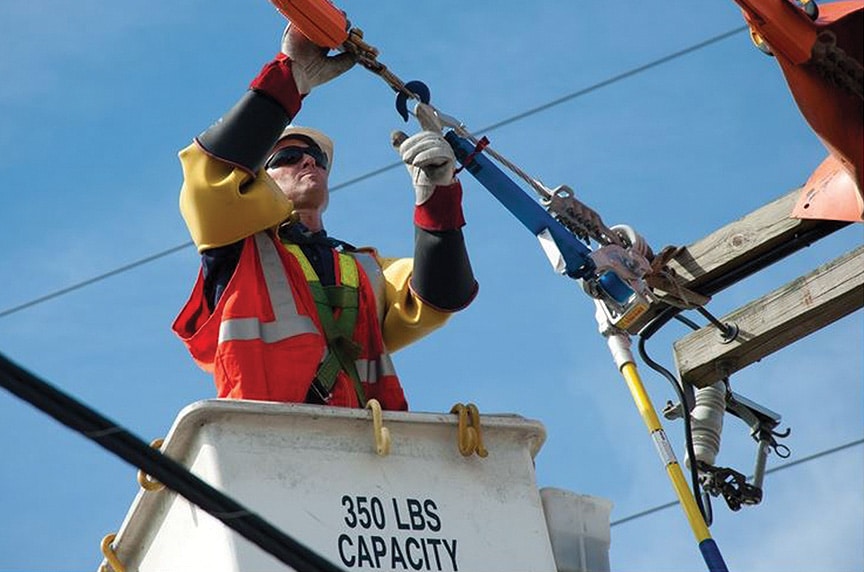 Web straps instead of metal rope or chain material allow linemen to work on energized power lines
Lightweight and one-hand operation
Designed for precise pulling in tight spots
---
---
Electric Overhead Crane Hoists
Electric hoists can be designed to use chain or wire rope, and use an electric motor to turn gears located inside the hoist that lift or lower the load. Electric hoists are controlled by pushbutton pendant or radio controls.

Electric hoists are typically hard-wired into the crane's electrification system and utilize 220v/440v or 230v/460v. Light duty electric hoists can utilize 110v and plug directly into a standard outlet.

Electric hoists can be used in a variety of applications and come in numerous types and configurations, but are limited by duty cycle and can't run continuously. The electric motor in the hoist requires a cooling-off period in between uses to ensure that the motor doesn't overheat.
HMI/ASME Hoist Duty Classifications
There are five main duty classifications for electric hoists outlined by HMI/ASME. Each duty cycle classification takes a number of factors into consideration, including the following:
Average operating time per day
Load spectrum
Starts per hour
Operating periods
Equipment life
See the chart below for guidelines on hoist duty cycle classifications based on lifting application, max run time, and max number of starts for uniformly distributed and infrequent work periods.

Electric Chain Hoists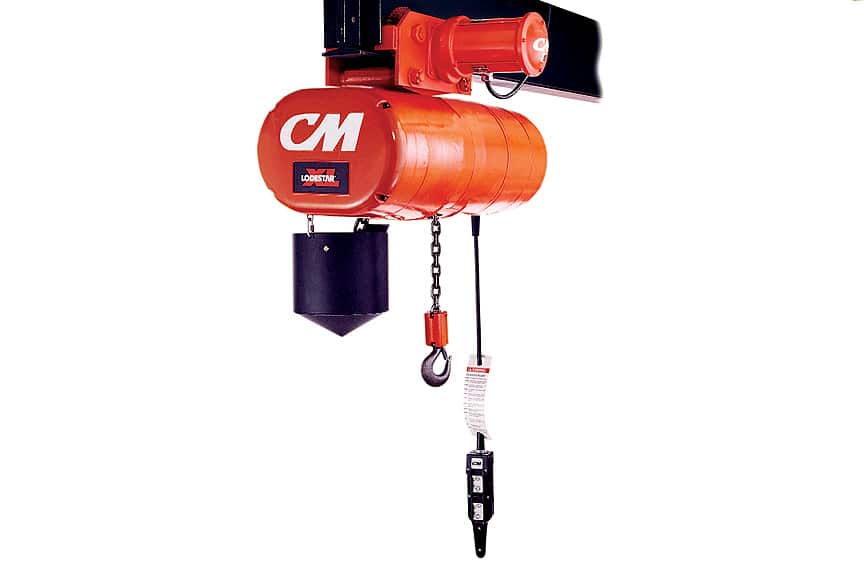 Ideal for manufacturing, power generation, and industrial facilities
Come in a number of different configurations with different options
Consider the following when determining the hoist duty cycle, number of lifting speeds, and environment in which it will be used:

Lifts per hour
Capacity at which you are lifting
Amount of time the hoist is in operation
Electric Wire Rope Hoists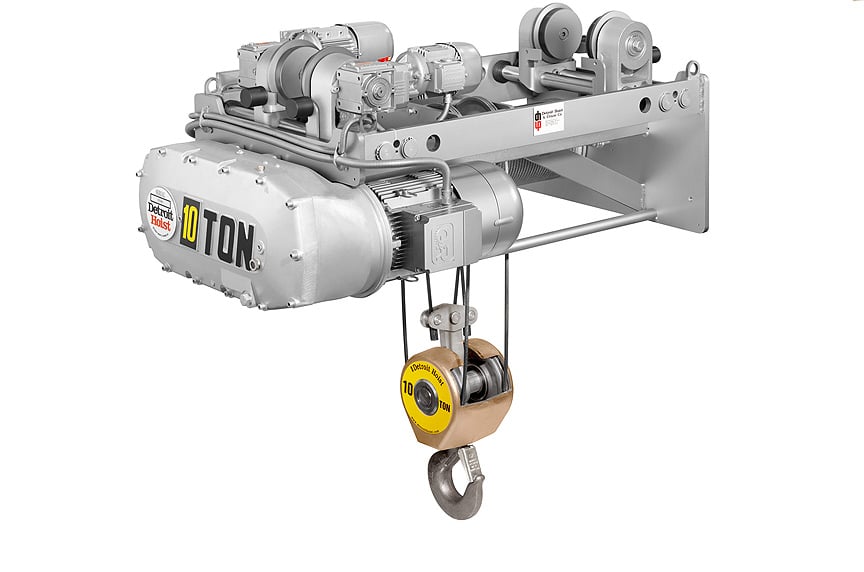 Ideal for industrial, hazardous, spark-resistant, and many other applications
Light and heavy duty models are available
Preferred for strength and performance and variety of capacities and lifts
Air (Pneumatic) Overhead Crane Hoists
Pneumatic hoists, often referred to as air hoists, utilize a rotary or piston-driven motor powered by compressed air. Air passes through the system and cools the hoist as it operates, so air hoists can run continuously without rest or risk of overheating—unlike an electric hoist system.

Air hoists are ideal for industrial and heavy-duty production environments and perform exceptionally well in high-speed and heavy-usage environments with constant start and stop. They have a high lifting capacity (up to 100 tons) and are unaffected by high-heat environments. Air hoists are frequently used in explosion proof environments and can be configured to be spark-resistant using brass or stainless components.

A pneumatic air hoist is only as good as the quality of the air, air flow, and pressure that it receives for it to work at its rated capacity and performance.
Air Chain Hoists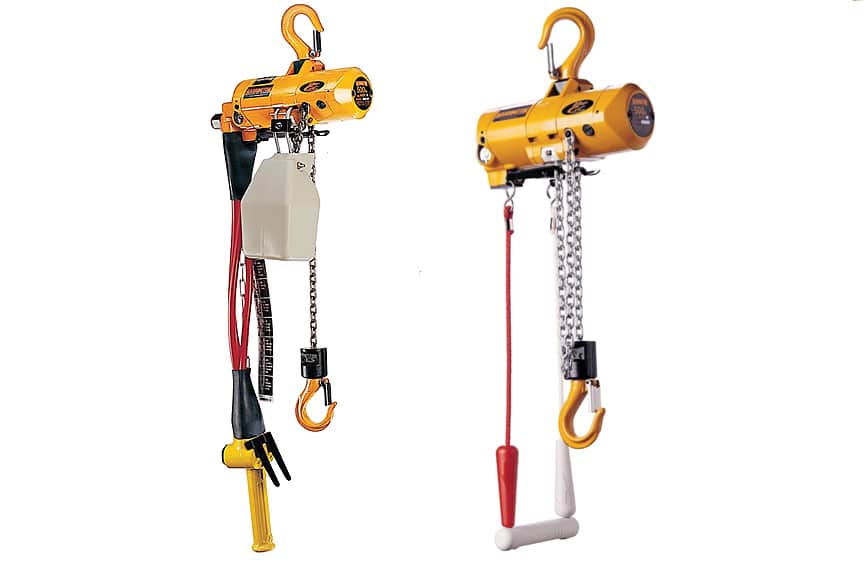 Offer rugged construction, minimum headroom, low maintenance, and are impervious to dust and humidity—making them ideal for manufacturing, power, and industrial facilities
Excel in places where safety is paramount because compressed air does not generate sparks, making it the preferred choice in hazardous areas
Allows for variable speed controls and precise load spotting where heavy items are lifted and positioned as part of production or warehousing
Air Wire Rope Hoists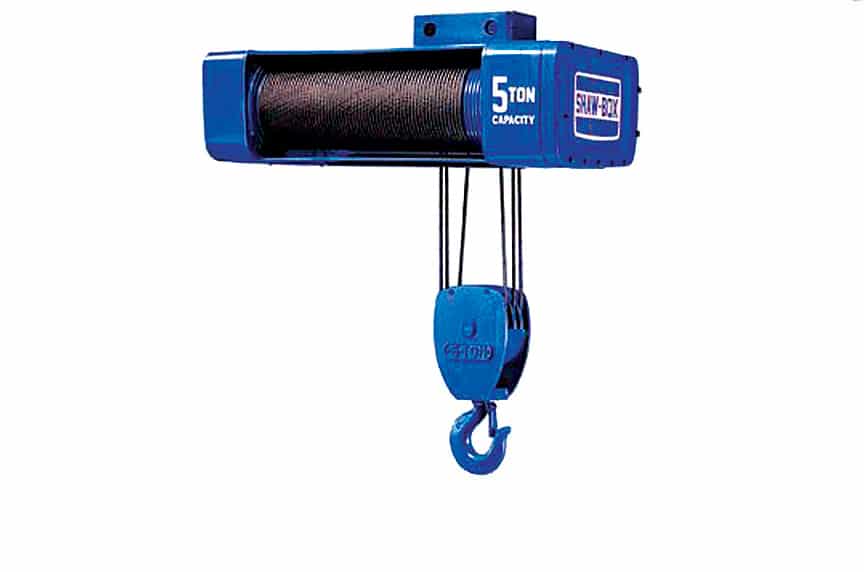 Strength and productivity for lifting and position virtually any load
Available in a wide range of capacities and lifts to suit any industrial, spark-resistant, or hazardous application
Hoist Suspension Systems
Hoists are typically mounted on a trolley, which carries them across a beam or rail system that they move across. On a trolley on a fixed monorail, the hoist and trolley move together in forward and reverse and up or down motions. When mounted on an overhead crane, there are three motions available: right or left, forward or reverse, and up or down.
Hook-Mounted Hoist Suspension Systems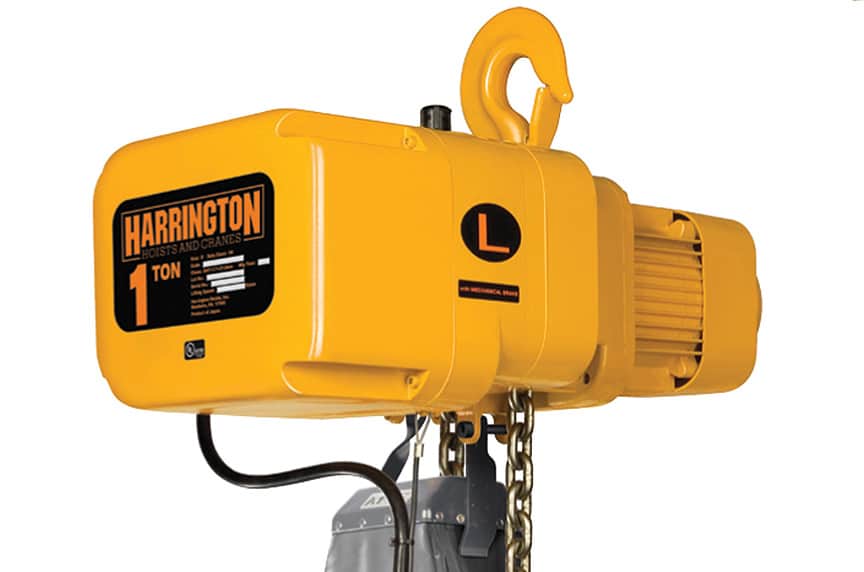 A hook on the top of the hoist frame or hoist body is used to attach the hoist to the trolley, or a fixed suspension point on a beam or part of the structural framework of a building.

Typically, chain is used versus wire rope because the loading position stays in line with the top hook. Hook-mounted hoists can be utilized on manual, electric, or pneumatic hoists.
Lug-Mounted Hoist Suspension Systems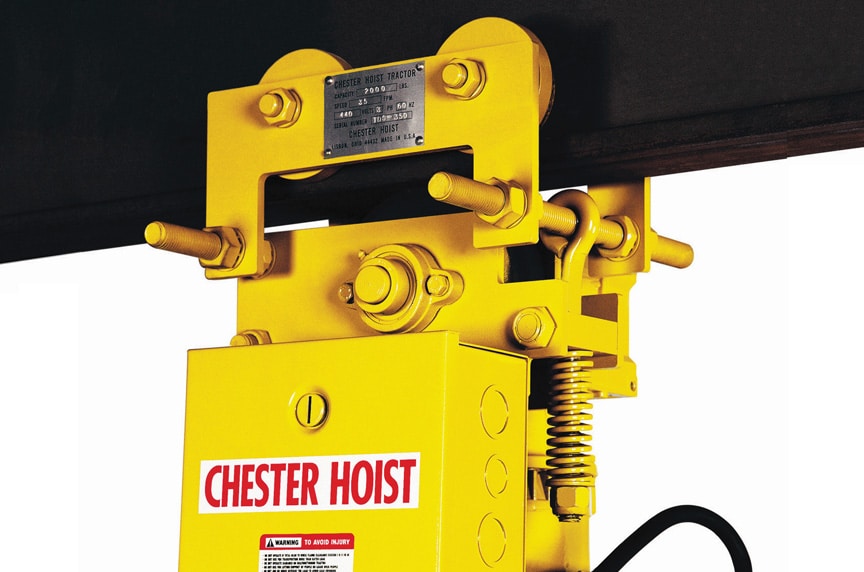 A lug mounting bracket is attached to the top of the hoist frame, or is integrated as part of the hoist frame and then the hoist is suspended from a trolley, a fixed suspension device on a beam, or the actual structure of the building.
Trolley-Mounted Hoist Suspension Systems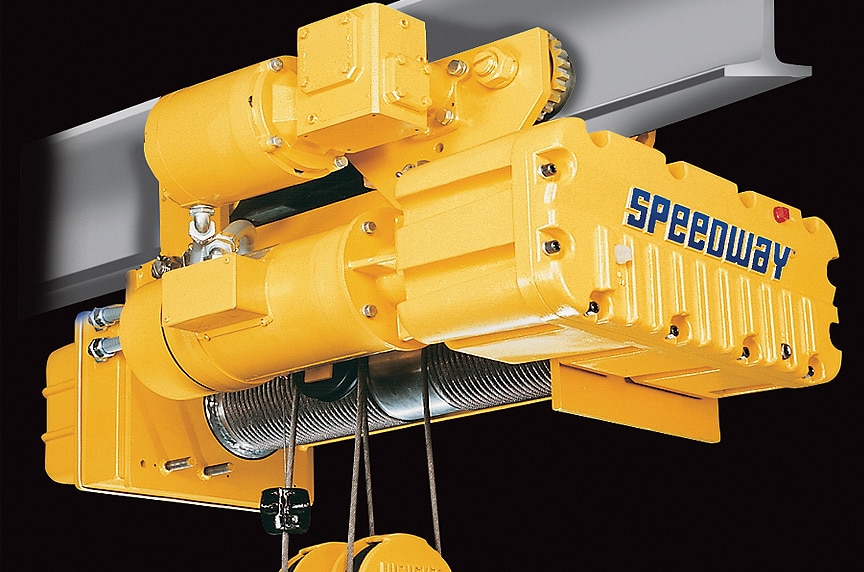 The hoist is hook-mounted, clevis-mounted, or lug-mounted and suspended from one or more trolleys. Travel motion occurs along the lower flange of a monorail or bridge crane beam.
Wrapping it Up
We hope that this article gave you a better understanding of the different types of overhead crane hoist configurations that are available to you. When designing your overhead crane system, careful consideration should be given to the design and specifications of the hoist—as this will be the device actually performing the lifting and lowering of the loads.

If your hoist will be used in low headroom applications, or will be used on a high-capacity overhead crane system, then you should make sure that you receive and carefully review approval drawings. This will verify that the hoist specifications meet the operating and usage requirements of your lifting needs.

Also, consider whether a chain hoist or wire rope hoist is more applicable for your lifting needs, and whether a manual hoist, electric hoist, or air-powered hoist will meet the demands and usage requirements of your crane system.

At Mazzella, we partner with leading manufacturers of manual hoists, electric hoists, and pneumatic hoists, which we offer them in all types of lifting mediums and suspension configurations. We also offer in-house engineering that will work with your production team to design a hoist that meets all of your lifting, production, safety, and application-specific requirements.

We welcome the opportunity to address your overhead material handling needs. If you're interested in learning more about how an overhead crane system can improve the efficiency and safety of your facility, or want to upgrade or modernize the capabilities of your existing crane system, contact us to speak with a Crane and Hoist Specialist.

---
---
Copyright 2017. Mazzella Companies.