Business In Focus (September 2015)
---
Mazzella Companies is a one-stop shop for the highest quality products and service and gives its customers confidence and satisfaction in the quality of its products, people and approach.
Although Mazzella Companies was founded in 1954, its history in the industry dates back further, as the Mazzella family has been involved in the lifting and rigging business for generations. Speaking with Tony Mazzella, CEO of Mazzella Companies, one quickly gets a sense of the pride he has for his family's history of success in the industry.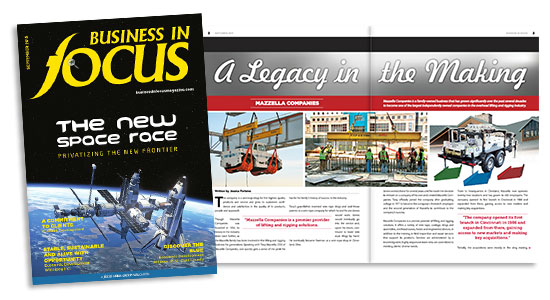 Tony's grandfather invented wire rope slings and sold those patents to a wire rope company for which he and his son, James, would work. James would eventually go into the service and, upon his return, continued to braid wire rope slings by hand. He eventually became foreman at a wire rope shop in Cleveland, Ohio.
James worked there for several years until he made the decision to embark on a company of his own and created Mazzella Companies. Tony officially joined the company after graduating college in 1977 to become the company's thirteenth employee and the second generation of Mazzella to contribute to the company's success.
Mazzella Companies is a premier provider of lifting and rigging solutions. It offers a variety of wire rope, cordage, slings and assemblies, overhead cranes, hoists and engineered devices, in addition to the training, in-field inspection and repair services that support its products. Services are administered by a knowledgeable, highly responsive team who are committed to meeting clients' diverse needs.
From its headquarters in Cleveland, Mazzella now operates twenty-two locations and has grown to 430 employees. The company opened its first branch in Cincinnati in 1986 and expanded from there, gaining access to new markets and making key acquisitions.
"Initially, the acquisitions were mostly in the sling making, rigging business," explained Mazzella. Mazzella Companies diversified over the years, entering the crane service business in 1995. Inspecting and repairing cranes was a small departure from the rigging business.
In 1999, it purchased Crane Builders of America and Mentor Lift Hooks. Mazzella Companies also acquired Detroit Wire Rope in April of 2005 and Progressive Crane in October of the same year. Progressive Crane is a leading manufacturer of world-class overhead cranes and engineers custom solutions for any customer needs. It is fully compliant with CMAA, NEC, OSHA and ASME standards.
In 2004, Mazzella Companies acquired Sheffield Metals in the first major departure from the cranes, lifting and rigging products and services area. "We started selling architectural metal used in roofing. Our customers only explained there were primarily roofing contractors and roofing supply companies," said Tony.
Sheffield Metals manufactures and distributes coated and bare metal products and specializes in Galvalume" and aluminum used in architectural metal projects and engineered standing seam metal roof systems. Sheffield Metal offers value-added services such as the slitting, cutting to length and re-rolling of its domestically manufactured steel and aluminum and the application of strippable PVC.
In July 2011, Mazzella purchased lndusco Group. The move nearly doubled its business overnight and increased its market impact as this added eight additional locations to its operations. The lndusco Group acquisition gave Mazzella the network of lndusco Wire Rope and Supplies, J. Henry Holland, Alabama Sling Center and Tennessee Sling Center.
Mazzella Companies added KCI Crane Service in 2012. Its most recent acquisition, New Tech Machinery, was completed in May of this year. New Tech Machinery makes portable roll forming and gutter machines that process metal for roof panels and gutters. New Tech augments Mazzella's roofing business as it has the largest parts inventory in the industry.
In 2004, New Tech opened a facility in Hermosillo, Mexico, dedicated to manufacturing MACH II Seamless Gutter Machines. Not only did this help it to become an industry leader in terms of quality and price, but it was also the first international foray for Mazzella Companies.
Mazzella Companies works with customers in the automotive, steel, construction, energy, power and utilities, oil and gas, mining, governmental, shipbuilding and repair sectors. The company engineers, manufactures and distributes the highest quality products available in the market.
Over ninety employees are certified rigging inspectors, with a dozen of those being specialized trainers. "We made investments in all of those people and had them certified by a third party company that actually did the training for them. So not only do we do training for our customers, but that third party comes in and certifies our people as well," said Bill Franz, Vice President of Marketing.
"Besides training our employees," Mazzella continued, "we do an awful lot of training of our customers to help them learn how to use products safely, maintaining a safe work environment for themselves and their employees." Two Mazzella Companies employees have received 'Trainer of the Year' awards for their efforts in this regard.
"I think at the heart of that is that we want to be the experts in the industry. We have put our time, money and energy into training our people and hiring the right people to be those experts and support. It's about giving our customers the value and the expertise so that they can use the product safely and really have the optimal product for what their situation is."
Over the past year, Mazzella has taken its commitment to employee development further. The company has been working in partnership with a local college to develop an internal apprenticeship program in lifting technologies and is anticipating the commencement of the first classes. Employees will now have the opportunity to obtain a degree in lifting technology, a program believed to be the first of its kind in the U.S.
Mazzella has become a leader through its active participation in industry associations which have helped to move the entire industry forward. One of the earliest organizations, of which it is still part, is the Associated Wire Rope Fabricators (AWRF). Next year, Franz will be the third Mazzella executive to assume the role of president of the AWRF. The company is also involved with groups, such as the American Society of Mechanical Engineers (ASME) B30.20 subcommittee, the Association for Iron and Steel Technology (AIST), the Crane Certification Association of America (CCAA), the Web Sling Association of America and Tie Down Association (WSTDA), as well as the Specialized Carriers and Rigging Association (SC&RA).
Tony's son, Matt Mazzella, the General Manager with Mazzella Companies, is active in the SC&RA and has been for the past six years. The international trade association is dedicated to providing information and regulation of industry activities to safely, legally and profitably transport oversize and overweight items.
"The SC&RA has been a very good organization for us, as they do promote their allied members and everybody else within the organization," Matt explained. "It keeps everybody up to date within the industry and also really moves the industry forward on a continual basis."
"That helps us stay engaged and involved. It is very important to us to not only be in those associations," said Franz. He explained that it is important to be active in industry associations because the company can then anticipate upcoming trends, and it also has input into industry best practices by being part of the industry standards committees.
Moving forward, Mazzella intends to continue the diversification and growth of its product lines. As the industry and related technology develops, Mazzella wants to ensure it is at the fore­front of these changes so it can remain the resource of choice for its customers. It continues to focus on growth through acquisitions while staying true to its roots as a family-owned company.
"Our long-term growth strategy includes continuing to search out other family-owned businesses," said Craig Hayward, President of Mazzella Companies. "Our values and our focus as a family-owned business – they really drive a lot of those decisions and make us a great option for anyone looking to sell their business."
"Oftentimes, initial conversations with these candidates turns to discussion about the culture of a family-owned business and how we are trying to keep legacies alive, and that's been a big part of our growth," he continued.
Despite its growth and success, there exists a strong desire to remain an independently owned company that maintains its family-owned and operated culture. With Matt and his brother, Adam, becoming the third generation of Mazzella's to play an active role in the company's success, Mazzella Companies is certainly a legacy in the making.