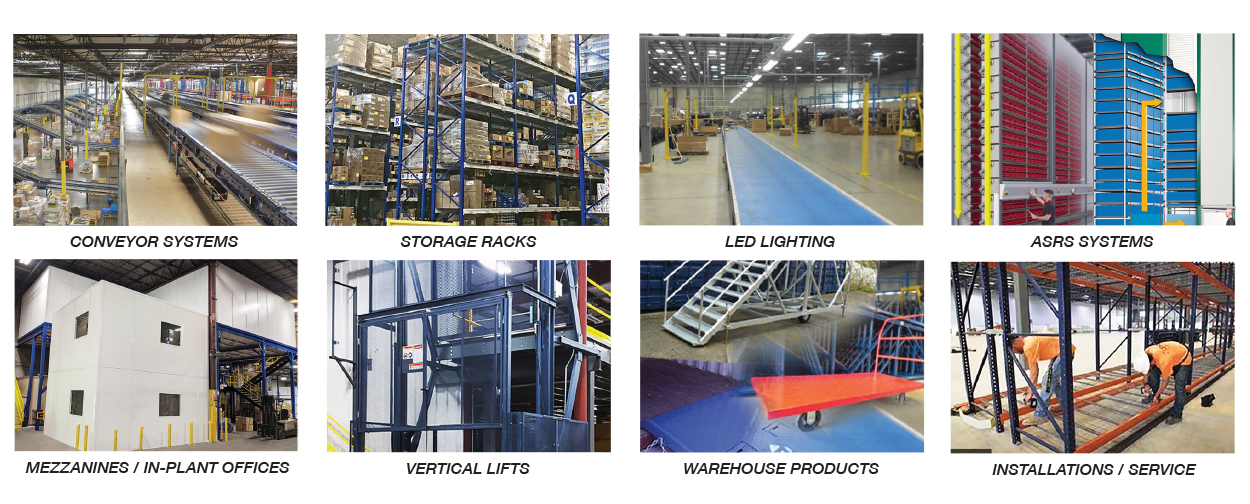 Providing Conveyor, Racking, Mezzanine, Modular Office, LED and other Warehouse Solutions
---
Mazzella FHS has designed and implemented turnkey conveyor and storage racking systems for a variety of industries, including the following:
E-commerce
Distribution
Manufacturing
Food & Beverage
Tobacco Manufacturing
Consumer Goods
Consumer Products
Third Party Logistics
Pharmaceutical & Health Care
Aerospace
Automotive
This vast experience has provided us with a deep understanding of the solutions required to solve our clients' most challenging requirements.
As a full service material handling solutions provider, we also offer a complement of services such as permitting, site audits and surveys, preventative maintenance, repairs and turnkey installation services.
We have provided high quality cost efficient solutions and services for e-commerce, food & beverage, 3PL, manufacturing/distribution…..just to name a few.
Storage Rack Systems
---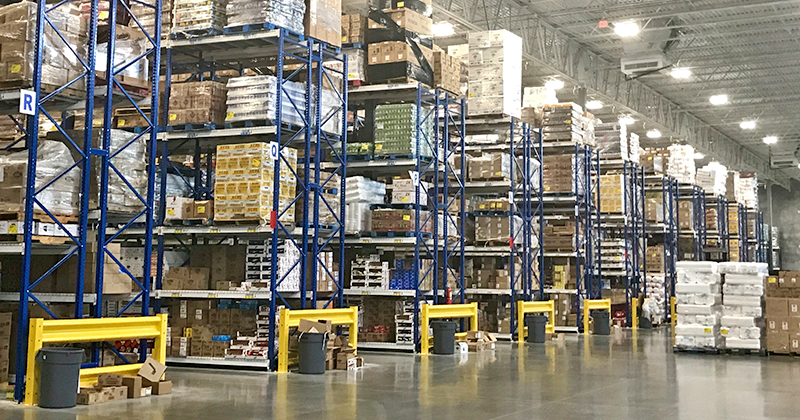 You can reduce clutter, maximize your warehouse space and increase worker productivity by investing in a storage rack system. Storage rack systems can solve a number of storage and operational issues including:
Getting pallets organized and up and off of the floor
Maximizing your existing warehouse footprint and vertical space
Simplifying the loading and picking of pallets or cartons
Improving worker efficiency and automating some of the labor required to store and retrieve pallets
We are a driven, highly experienced team of experts utilizing our resources in concert with our clients. Our team includes experienced professionals specializing in system sales, design, project management, engineering and field services are experienced professionals and as such, strive daily to provide successful cost-efficient projects to our clients.
We offer a variety of Storage Rack solutions and products to solve any obstacle you may encounter. From simple shelving and standard selective rack to drive-in racking and full and split case pick modules, we provide innovative storage technologies and solutions.
In addition to providing Storage Rack solutions, we also offer a full range of services such as permitting, site audits and surveys, rack repairs, and full installation services.
Selective Storage Rack Systems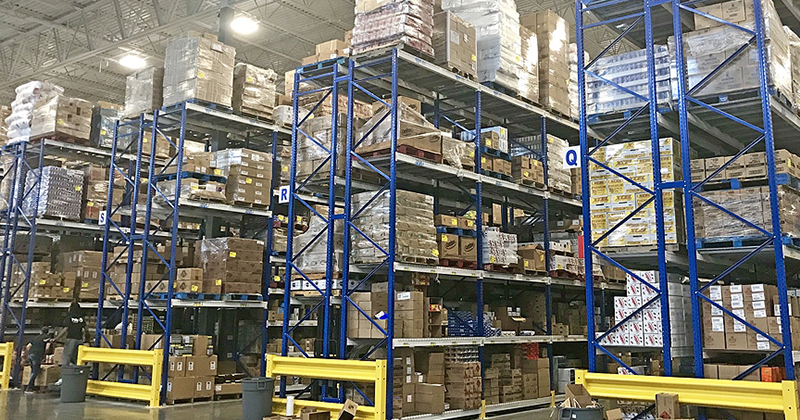 Selective storage rack systems are inexpensive and designed to organize product and to take advantage of vertical space.
Selective storage racks are the most popular type of warehouse storage rack system on the market. They offer an inexpensive design and the largest selection of sizes and accessories to be custom configured for your warehouse storage application. Designed to get products off the warehouse floor and into a racking system, they provide immediate accessibility to store or unload. Using a selective storage rack system allows you to fully utilize your warehouse floor and vertical space, as well as efficiently manage worker time.
Selective storage racks are great for:
Standard storage of all needs that require immediate access to products or pallets.
Advantages of selective storage racking:
Available in numerous capacities, sizes, and configurations for custom fit
Immediate access to all storage
Can be made from roll formed, structural steel, or a combination of both materials
Easy to adjust shelf heights
Inexpensive – lowest cost option per square foot
Drive-in Storage Racking Systems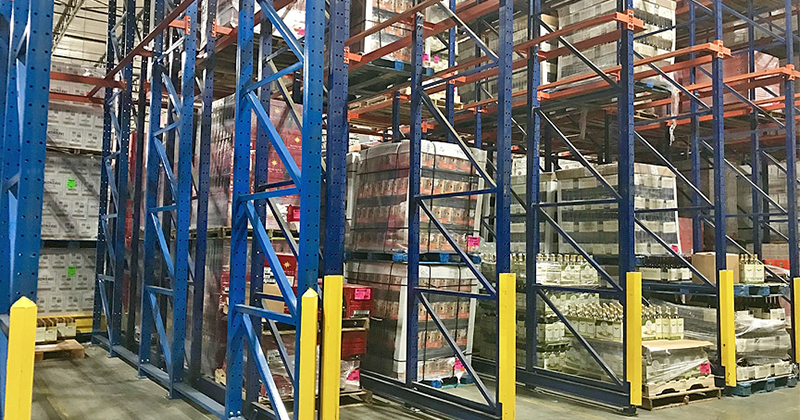 Drive-in storage rack systems maximize warehouse space and allow for high-density storage of similar products or SKUs.
Drive-in rack systems offer maximum-density storage of similar products and pallets in your warehouse. Drive-in rack systems eliminate aisles in a warehouse facility because the drive-in system is made for storing high quantities of similar product which use the same entry and exit point for each bay or rack. Since drive-in rack systems are fork-lift accessible, they offer maximum-density storage and product or pallets may be stored in lanes up to six or more positions deep on the rack.
Drive-in storage rack systems are great for:
Manufacturers with limited SKUs
Large amounts of similar products and limited warehouse space
Fragile products that can't be stacked
Cold storage applications – store a lot of pallets in a small freezer space
Advantages of drive-in storage racking systems:
Most cost-effective high-density system available
Can be constructed from roll formed or structural rack material
Reduces square footage imprint up to 35% compared to selective pallet racks
Push Back Storage Racking Systems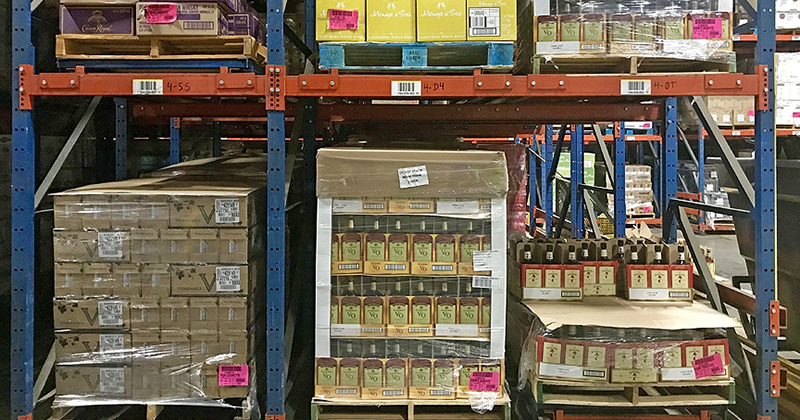 Push back pallet racks are high-density storage solutions that load pallets from the front onto a nested cart system that slides on inclined rails.
Push back rack systems are designed to allow for dense storage of product that doesn't require First-in First-Out retrieval. Push back pallet racks are stationary rack structures that load pallets from the front onto a nested cart system that slides on inclined rails.
In the push back system, everything can be accessed from the aisle while utilizing a Last-In First-Out (LIFO) method of storage. This system provides multiple pick faces while using fewer aisles, therefore opening up more warehouse space.
Push back storage racking systems are great for: Warehouses that need selectivity of selective racking, but flexibility and high-density storage of drive-in pallet racking.
Advantages of a push back storage racking system:
Easy product accessibility – each lane is one SKU
High-density storage and more flexibility with multiple SKUs
Can be custom-designed and configured for your storage applications
Low maintenance pallet storage system
Rack damage is minimized because the forklifts don't enter the rack structure
Storage Flow Racking Systems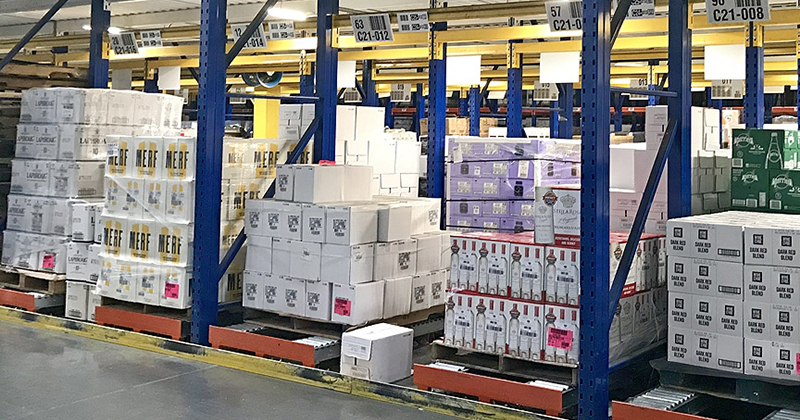 A pallet is placed on the "loading" side, then is moved to the "picking" side using gravity rollers. As each load is removed, the pallet behind it automatically moves one position closer to the picking position.
Storage flow racks, or "gravity flow" racks, are a dynamic storage system that use gravity rollers to automate pallet storage and retrieval and increase storage efficiency. Using a pallet flow storage system can double or even triple the storage capacity in your facility compared to other methods.
Storage flow racking systems are great for:
Companies who store or distribute dairy, deli, pharmaceuticals, or other date-sensitive or perishable items.
Advantages of storage flow racking systems:
Once loaded, product rotation is automatic
Dedicated lane to one product
Great for large number of pallets – anywhere from 8 to 20 pallets
Quick and efficient inventory turnover (FIFO retrieval)
Carton Flow Racking Systems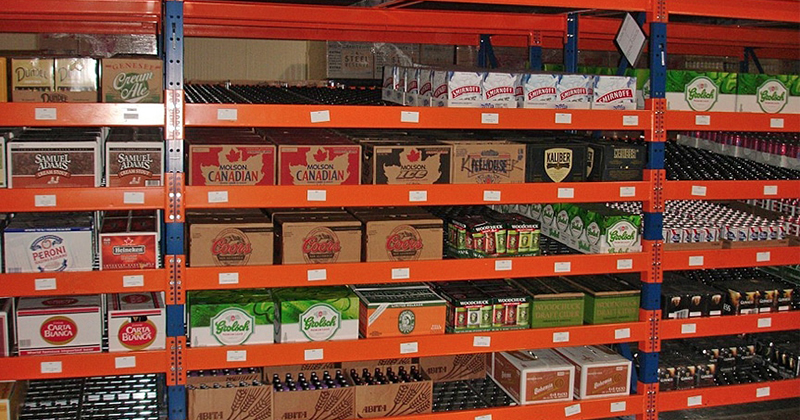 Carton flow systems can be loaded from the back and the product cartons slide down gravity-fed rollers or wheels to the front of the racking for picking and packing orders.
Essentially, carton flow racking systems are the same as pallet flow racks, but designed for boxes and small products, or split case picking. While using the First in First out (FIFO) method, carton flow rack brings a dramatic upgrade in cost-savings because it improves warehouse efficiency by organizing product and rotating stock automatically.
Carton flow pallet racking systems are great for:
Warehouses that utilize split-carton picking and require high-volume order picking. Common applications include order fulfillment centers, food and beverage distribution centers, small parts distributors, etc.
Advantages of using carton flow pallet racking systems:
Save space and increase efficiency for order fulfillment
Roller or wheel systems can be configured for dedicated product lanes, or to accommodate cartons of different sizes and configurations
Can be either front or back loaded
Uses gravity as free power source
Utilizes First-In First-Out (FIFO) method
Dramatic cost savings and increased efficiency for order fulfillment centers
Visibility of products prevents out of stock dilemma
Cantilever Racking Systems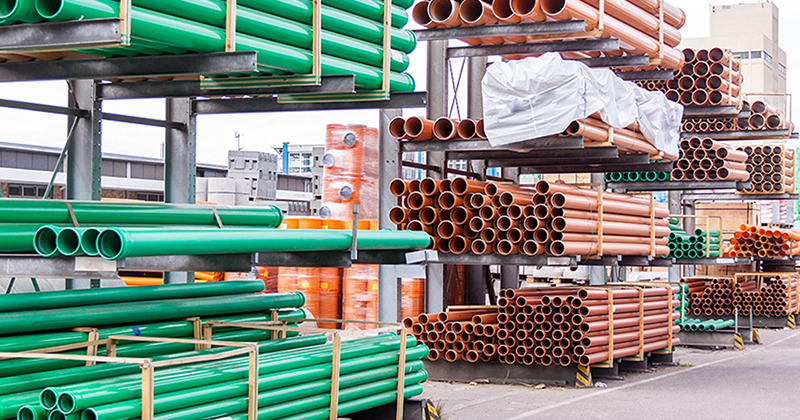 Cantilever racks are comprised of towers, arms, and bases to store long, items like tubing, pipes, bars, and lumber.
Cantilever racks are the best solution for storing longer, bulky items without an aisle upright column to limit horizontal storage space. Their design allows them to be built out of towers, arms, and bases. In most cases, these are stand-alone systems that don't need to be tied back to the building for support. The components of the system can be roll formed or made from structural steel and can also be galvanized for use in outdoor storage yards or in tough and demanding environments.
Cantilever racking systems are great for:
Storing long bulky items like piping, lumber, steel sheet, and even boats. Really, anything that is long, flat, oddly-shaped, or low-profile is a great candidate for cantilever rack storage.
Advantages to cantilever racking systems:
Capacity ranges anywhere from light duty to heavy duty
Quicker storing and retrieving of heavy, long, or oddly-shaped products—helps reduce handling time and cost
Strong and safe storage option—both indoors or outdoors
Fast and easy installation
Can be designed to meet AISI Requirements
Learn more about our pallet racking systems!
Pallet Racking System Case Studies:
Conveyor Systems
---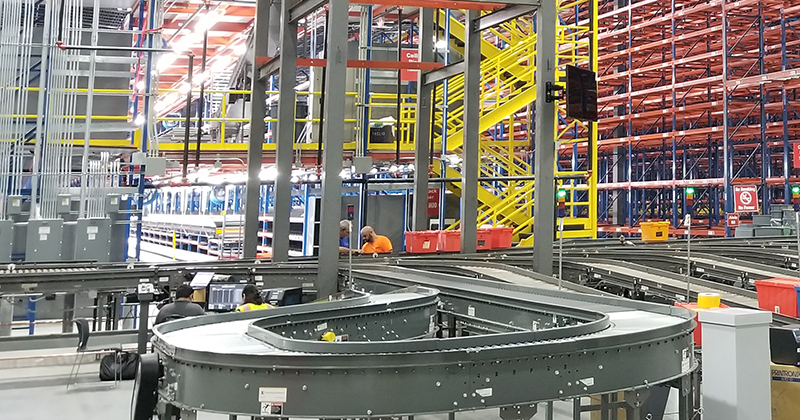 Mazzella FHS is a nationwide conveyor and conveyor systems integrator proudly serving all 50 states, Mexico, and Canada. As a complete solutions provider, we're eager to partner with your company, working together from start to finish to ensure your complete customer service satisfaction.
Partnering with our customers to evaluate specific requirements and design needs allows our experienced team to provide you with successful and cost-efficient results. Our multi-industry experience and data analysis will ensure a tailored conveyor solution specific to your company's needs while keeping customer satisfaction a top priority.
Whether it is a new installation or a reconstruction of an existing facility, Mazzella FHS is dedicated to accompanying you through the entire process of creating a tailor-made distribution center. From our first on-site visit to post-project support, we're here to assist you in the initial planning, design concepts, ROI justification, engineering, and integration processes, while providing an unparalleled buying experience for our customers.
Line Shaft Conveyor Systems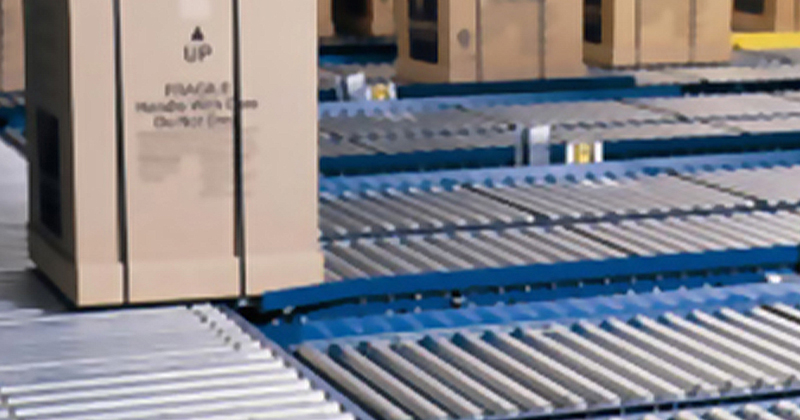 A line shaft conveyor system is an optimum solution for conveyance of light (up to 15 lbs/roller) cartons. The ability to drive multiple conveyors reduces the number of drives. Fewer drives save material, installation, and future operational costs. Clean, dry, oil free environments are the ideal conditions to maximize line shaft performance.
Belt Conveyors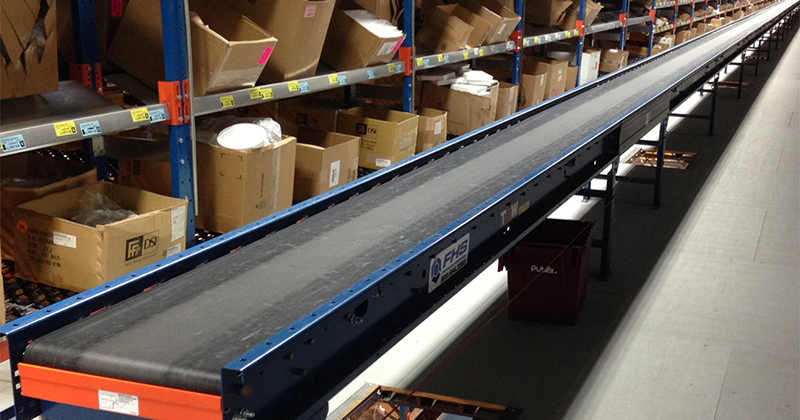 A belt conveyor is a conveyor consisting essentially of a powered belt made of canvas, rubber or metal, on top of rollers or a slide pan. These conveyors can be horizontal or vertically inclined to move product through a facility.
Belt conveyors are a cost-efficient mode of moving product and are especially applicable to situations where the product is irregularly shaped or does not have a flat bottom. Because a continuous belt makes contact with the product, there is enough friction created to allow these conveyors to convey at an incline, decline, or horizontally.
24V DC Power Conveyors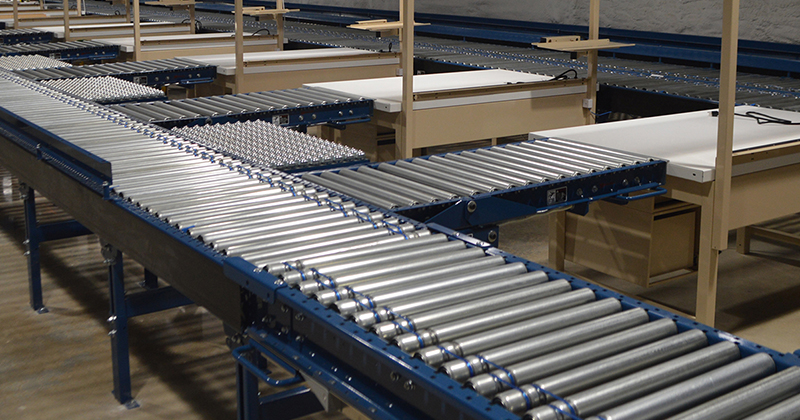 24V power roller (motorized-roller) conveyor sets the standard in material handling flexibility. Power roller is a highly versatile, easily configured, pre-wired conveyor with sections driven by motorized rollers. A truly modular system, with many standard accessories, that can be completely customized to meet your current requirements.
24V conveyors are a powered conveyor that utilize rollers to move product for transportation or accumulation purposes. Segmented groups of rollers are independently powered by one motorized roller instead of a traditional drive motor that controls the entire conveyor as one unit.
24V conveyors can be used for accumulation or transportation and can be belted or not belted. The use of a belt creates friction to allow for conveyance at an incline or decline or for conveying irregularly shaped items. These conveyors are modular, extremely versatile, and can be customized for use in a wide variety of applications.
Live Roller Conveyors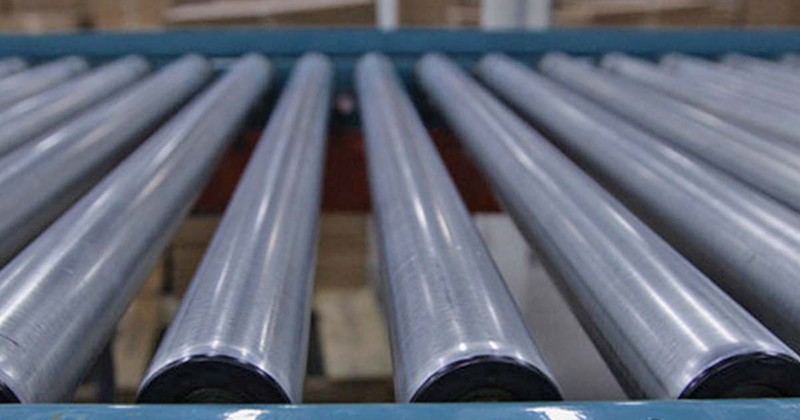 Live roller conveyors are powered conveyor systems that utilize a combination of rollers to move a product. A live roller conveyor is used to convey products with flat bottoms in transportation or minimum pressure accumulation applications. Live rollers conveyors are typically used to convey items horizontally; when used to convey incline or decline, they are belted. The term "live" means that the rollers are powered by a motorized drive in one of many possible mechanisms.
Spiral Conveyors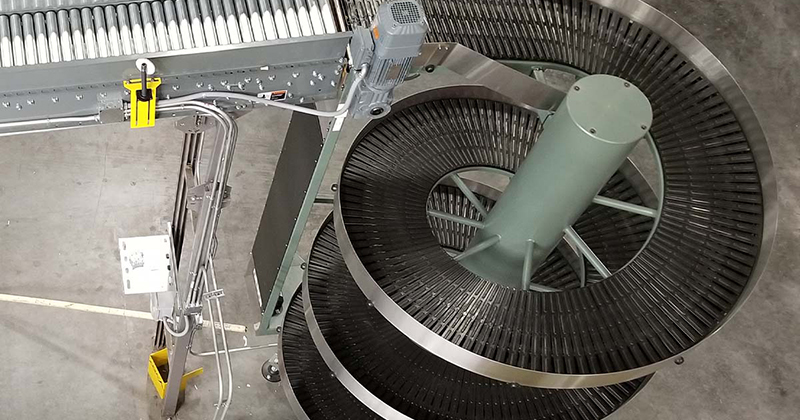 Spiral conveyors are powered or non-powered conveyors that utilize rollers, skate wheels, belts, or chutes to move product between elevation(s).
Spiral conveyors are used to facilitate a change in elevation and are a much more compact version than the alternative – a series of belt inclines and declines. Spiral conveyors are capable of moving product at an incline or at a decline between levels of a facility and may have multiple entry points. They may be powered by a single drive or utilize gravity to convey items from a higher elevation to a lower elevation.
Sortation Conveyors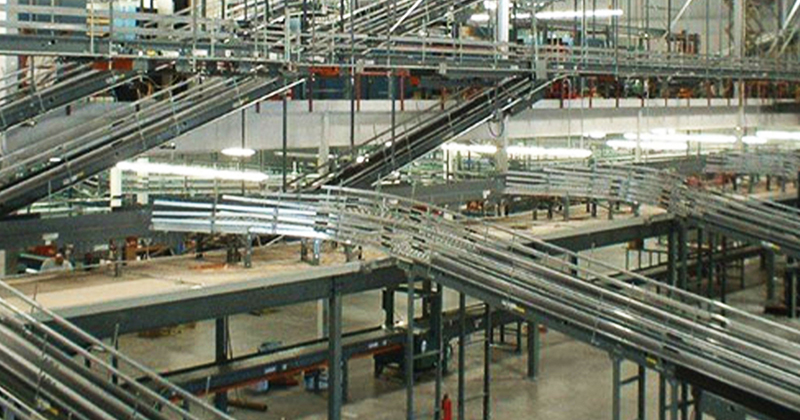 Sortation conveyors are powered conveyors—often used in conjunction with barcode scanning—that automatically divert product to a designated lane or location.
Gravity Conveyors
A gravity conveyor is non-powered and utilizes gravity to convey items.
Gravity conveyors are most commonly used for cost efficient accumulation or for use at staging / work surfaces. They are typically sloped to allow gravity to work on the items and utilize either rollers, skate wheels, ball transfers, or a chute to convey product. Because these conveyors use gravity as their power mechanism, they are limited to conveying at a decline or horizontally in areas where they are being used as a work surface.
LED Lighting Systems
---
Mazzella FHS is proud to offer EcoZohm lighting products. EcoZohm's MaxGreen brand is leading the way in industrial and commercial LED lighting solutions.
EcoZohm manufactures the highest quality, energy-efficient and environmentally friendly LED products on the market. This allows us to help you build a more sustainable tomorrow.
Commercial – Office LED Lights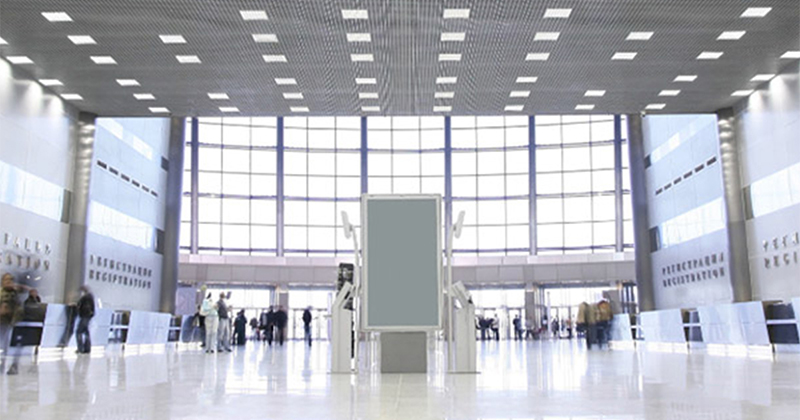 Dock LED Lighting
Exterior LED Lights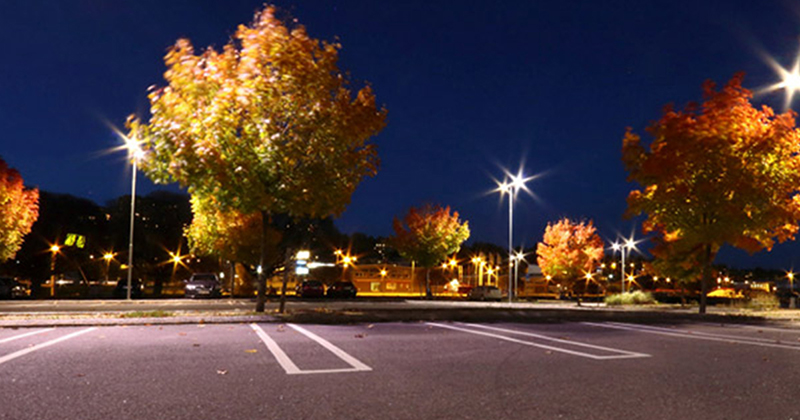 High Bay LED Lighting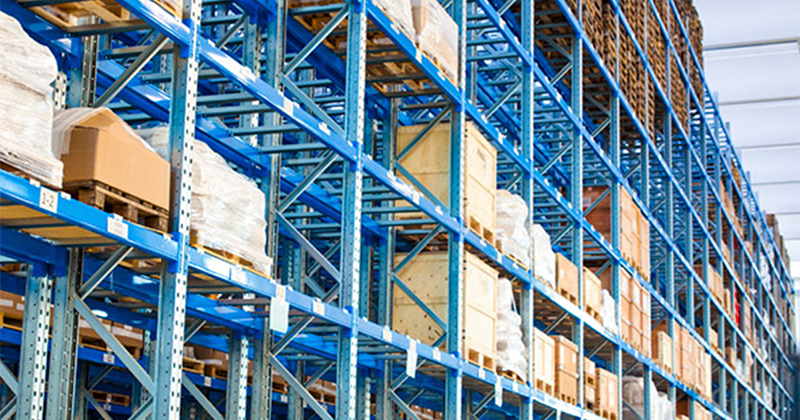 Low Bay LED Lighting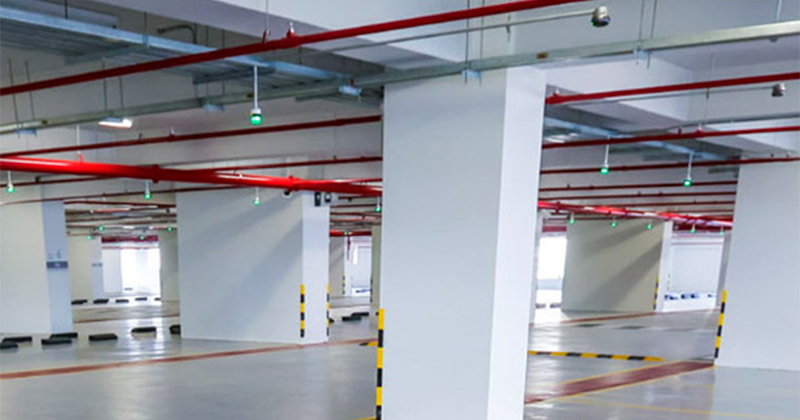 Automated Storage & Retrieval Systems (ASRS) in Florida
---
Hänel Lean Lift® Vertical Lift Modules (VLM)
The Hänel Lean-Lift® is the first-in-class, high-tech system for storage organization and materials handling that save time, storage space and costs, and enables a much more efficient and productive workflow. Lean-Lift® Vertical Lift Modules from Hänel store parts in height-optimized positions to provide for maximum storage capacity in a minimum amount of space. The units are ideal for improving tool, component and product storage / retrieval for manufacturing and assembly, warehousing and distribution.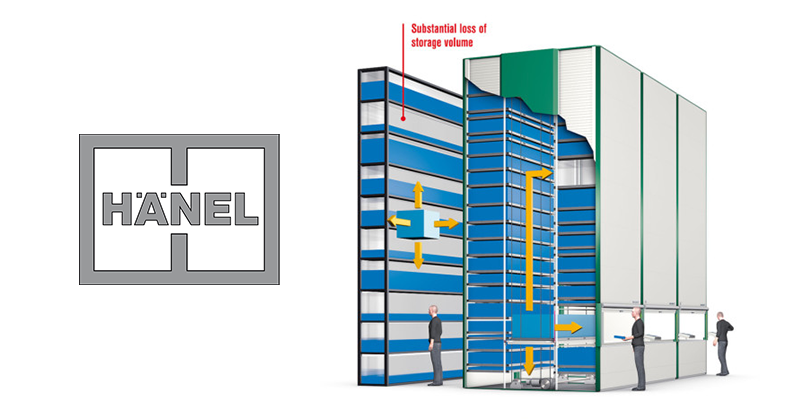 Less Is More
The Hänel Lean-Lift® offers over 60% more storage capacity than a miniload system/rack store on the same footprint and recover more than 80% of floor space vs. standard static shelving.
Storage capacity can be adapted step by step
More than one person at a time can operate the system and process jobs
Retrieval times are considerably shorter
Units can be added, expanded or separated at a later time
Better utilization of storage volume thanks to height optimized storage
Profile wall with height sensors provides for compact storage even for articles of different heights
Hänel: Unique Engineering & Design
It's Gotta Be Robust – Built to Last – Stable, Strong & Safe
No tilting of the extractor
No problem with uneven load distribution, even with heavy weights, and consequently a much longer lifecycle
Easy maintenance access from the side
Easy attachment of the arresting device for the extractor and time-proven, low noise 4-chain technology!
Roller chains are durable, so no fatigue failures
Long lifecycle, no maintenance
No replacement necessary at fixed service intervals
Roller chains have a high rate of efficiency (98%)
Accurate positioning because of high rigidity
No slip on emergency stops
Heavy Duty Capacity
Pan payloads of 2,204 lbs. (1,000 Kg) with a total system payload capacity of 132,450 lbs. (per module)
The Advantage:
The High Productivity, Low Maintenance, Durable Design that WORKS.
Hänel ESB – Intelligent Safety
Hänel storage systems work reliably and failure-free
Should a malfunction arise, however, the Hänel redundancy systems kick in
The Hänel Lean-Lift® can also have the Hänel ESB integrated
By activating the ESB system directly at the microprocessor controller, the user can continue to operate the Hänel Lean-Lift® despite a malfunction
So, in the event if your system does require maintenance, your inventory is still accessible and you aren't stuck waiting for a technician
Ergonomics & Safety
The ergonomic design minimizes the physical strain for employees at work. And Hänel goes far beyond the requirements of today's safety standards. All Hänel Lean Lifts are equipped with multiple and redundant safety systems that protect both operators and inventory.
Configurable and Adaptable for Virtually Any Industry or Application
Each Hänel Lean-Lift® can be used as a stand-alone system or by adding other Lean-Lifts® you can expand or alter your storage capacity at any time without any problem.
Want to store a wide range of dissimilar parts in the same unit? No problem! Storage of small and large parts in the same unit is limited only by the access opening height.
Making maximum use of the available space Hänel Lean-Lifts® can be installed next to each other and even span several building levels, with multiple access points.
This creates the maximum possible storage space on a minimal footprint.
Relocating to a new site and want to add height to a Hänel Lean Lift® System?
The Hänel Lean Lift® easily accommodates height changes – even after initial installation!
Got a heavy load or awkward part? Integrate the Hänel Lean Lift® with cranes, carts or even a robot.
It's Gotta Be Fast
The Hänel Lean Lift is the fastest VLM in the world. Period.
The Hänel Lean-Lift®, has a vertical speed of 7.5 feet/sec with an empty extractor and 3 feet/sec with a loaded extractor (using the available high-speed version).
Horizontally, the extractor travels jolt-free at a speed of 1/2 meter per second.
Moreover each Hänel Lean-Lift® is equipped with a soft start/stop control that insures all inventory contents are handled with the greatest care.
The Advantage:
Gentle and rapid acceleration and braking protects your inventory. The fastest VLM in the world means greater productivity.
Everything under control – the Control Concept with Brains
Hardware and software are integrated in the lift, no additional PC or monitor required
No complex software installation on PC
Direct integration into the corporate network via Ethernet link
Data can be retrieved from the MP 100 D and MP 12 N–S
simply by using the browser – continuous transparency in the store-room guaranteed.
No additional communication software needed
Standard serial and/or USB ports for peripheral components
Customized expansion possible with versatile supplementary modules
Operate a single module or up to 99 with complete control
Inventory accuracies of 99.9%
Hänel Rotomat® Industrial Vertical Carousels
Hänel Rotomat® Industrial Vertical Carousels quickly deliver stored parts to operators at the optimum ergonomic height, without time-consuming walking, searching, ladder-climbing or bending. The compact units utilize available room height and create as much as 70% added storage capacity compared to mini-load and rack storage. The units are also ideal for improving tool, component and product storage / retrieval for device manufacturing and assembly, warehousing and distribution.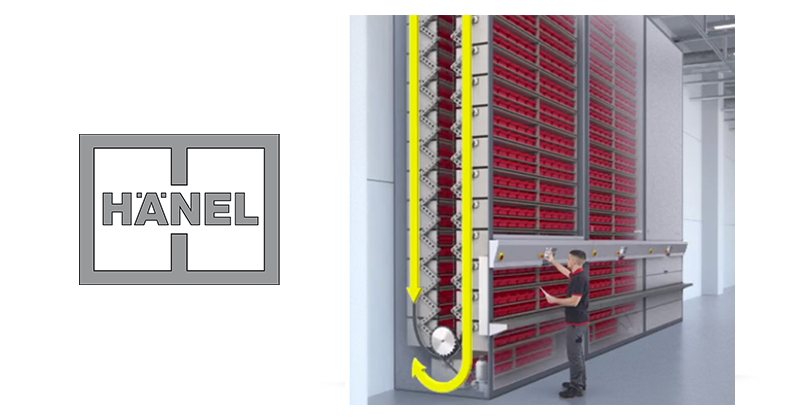 Vertical Carousels:
Multi-functional carrier options include varied front edges and walls along with accessories such as shelves, drawers, dividers and bins
LED displays in the work counter guide operators for fast, error-free storage and retrieval
Safety light curtain ensures operator safety
Vertical Carousels can link multiple floors and access points.
Load bearing capacity up to: 1,653 lbs./carrier or 30,865 lbs.
Model options include:

Anti-static coatings to electronic components in ESD-protected environments
Environmentally controlled units protect stored items from humidity, corrosion, contaminants and temperature fluctuations

Microprocessor controls integrated into each Rotomat® backed by advanced storage management software
It's Gotta Be Robust & Reliable
Built to Last – Redundant Drive System — Dual Motor Design
Almost all Hänel Rotomat® industrial carousels are powered by two 400-V three-phase motors. Pole-switching three-phase motors are used as standard, enabling gentle but powerful acceleration and braking even under different load conditions. This guarantees less wear and quieter running.
This ensures optimal freedom of movement in front of the carousel. The right and left drive motors are controlled synchronously and simultaneous acceleration and braking of the two drives means that the multifunction carriers are moved without distortion.
The twin motor design also ensures optimal balance if the load on the carrier is distributed unevenly.
It's Gotta Be Strong & Fast
The Hänel Rotomat® Industrial Vertical Carousel is the ONLY manufacturer that uses dual HD suspension arms that offer stable carrier suspension on 4-point sliding carriage principle. The Hänel Rotomat® carrier suspension is designed according to the sliding carriage principle so that the carriers are suspended from 4 levers on 4 rollers on left and right.
Suspension from 4 levers means that transverse forces are safely absorbed, reducing wear substantially and making running quieter.
High Speed Through-Put
Hänel has once again pushed the physical boundaries and substantially increased the drive speed of the Rotomat®. The speed of rotation has been improved by up to 70%, (application dependent) consequently reducing dwell time by up to 40%!
It's Gotta Be Flexible
Adaptable and versatile Hänel Multifunction Carriers
No two Hänel Rotomats® are the same, because each task demands a precisely defined solution.
We provide customized interior fittings, tailored to the individual demands of production systems and storage logistics. The mechanical parts and carrier sets are configured according to the size and weight of the storage goods. It's this flexibility that makes the Hänel Rotomat® so cost-effective.
Hänel multifunction carriers are absolutely stable and distortion free.
Variable fittings can be altered at a later date.
Compartment dividers, bins,drawers or loose goods – the possibilities are endless.
Long lifecycle and high loadbearing capacity up to 750 kg per carrier, depending on the model.
Hänel also offers customized special-purpose holders for SMD reels, cable drums, printing rollers, rods and tubes.
It's Gotta Be Secure
Controlled Access: Secure Parts Management
Compartment doors that are closed manually or automatically guarantee error-free retrieval and protect the stored articles from unauthorized access.
Secure: All booking operations can then be traced to a specific user.
Article Management: All pick and put operations are logged, which makes later verification and tracking easy.
Inventory Control: Continuous inventory control means that shortages in the supply of materials can be avoided.
Protection of Inventory: The closed storage system protects your stock from unauthorized access.
It's Gotta Be Smart
Hardware and software are integrated in the lift, no additional PC or monitor required
No complex software installation on PC
Direct integration into the corporate network via Ethernet link
Data can be retrieved from the MP 100 D and MP 12 N–S simply by using the browser – continuous transparency in the store-room guaranteed.
No additional communication software needed
Standard serial and/or USB ports for peripheral components
Customized expansion possible with versatile supplementary modules
Operate a single module or up to 99 with complete control
Inventory accuracies of 99.9%
Pick the way you like – order and stocking functions that work for you!
Pick to menu, light, voice, scanners, transponders, badge readers, camera, RFID, scales and weigh count … just about any way you operate, whatever works for you, works with a minimum of interface and a maximum of accuracy.
Result: High Speed Productivity that makes for fast, secure and accurate transactions.
It's Gotta Be Energy Efficient
Intelligent Energy Management: Hänel EcoMode®
All systems that consume energy even when at standstill are closed down by the control system in 4 EcoMode® levels (energy-saving levels). This reduces the energy intake of the Hänel storage systems to a minimum when they are not being used.
With the Hänel EcoMode®, a vertical carousel that remains at standstill for long periods without being operated can be switched automatically to different levels of standby mode at freely configurable time intervals.
Hänel EcoLoad®: Continuous monitoring of the load situation in the Rotomat® and adherence to the storage recommendations ensures that an even load distribution is achieved. This means only minimal energy is needed to start the storage carousel rotating. The vertical carousel principle of the Hänel Rotomat® is energy efficient in its very design. Using the Hänel EcoLoad® system makes sure the weight distribution inside the Rotomats® is balanced out. As a result of this, very little energy is required for a rotation or travel movement. And of course the unit always picks the shortest route automatically.
About Mazzella FHS
---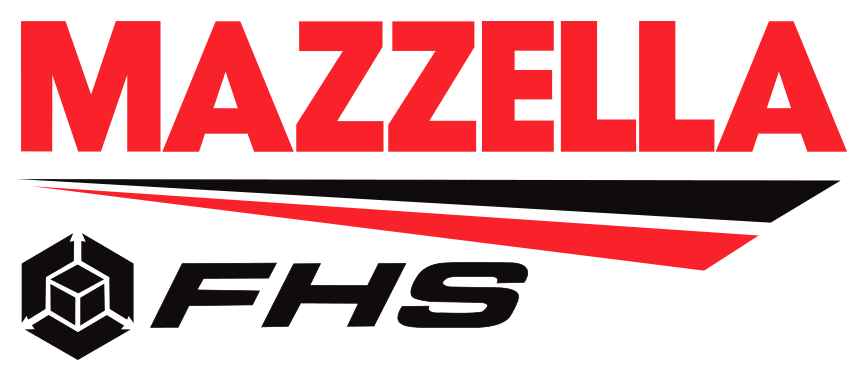 We've recently changed our name from FHS to Mazzella FHS. In 2017, FHS was acquired by Mazzella Companies to expand overhead cranes, hoist and crane service, fall protection, and warehouse solutions to the south in the United States.
Call us at 800.664.3380 or click here to learn more about our warehouse solutions!
Who is Mazzella Companies?
In 1954, James Mazzella founded Mazzella Wire Rope & Sling Co. in Cleveland, OH. For over 67 years, the company has grown organically by nurturing historic relationships, expanding its product offerings, and entering new markets through acquisition.
Today, Mazzella Companies is one of the largest privately held companies in the lifting, rigging, and material handling industries. Since our humble beginnings, we've grown to over 800 employees with over 30 locations across North America.
Bartow, Florida
2651 State Road 60 West
Bartow, FL 33830
Phone: 863.534.1212
Toll-Free Phone: 800.664.3380
Fax: 863.534.1170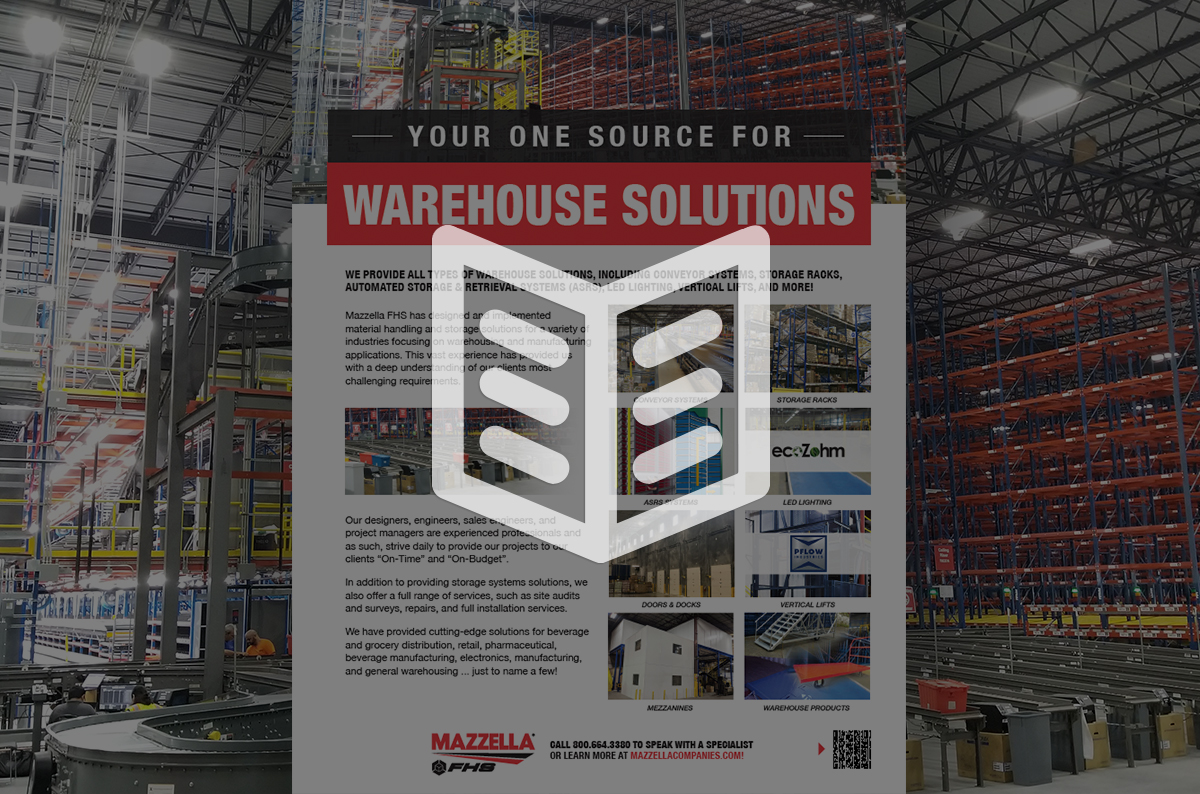 Check Out Our Full Line of Warehouse Solutions!
Contact A Specialist!
---
Ready to get started?
As your innovative material handling integrator, we offer free consultative services including safety reviews, design and budgeting, preventative maintenance and repairs.