What Did Steamfitters Local 449 Hope To Accomplish on This Project With Mazzella?
Add fall protection to a new elevated training tower used by their apprenticeship students
Identify a solution that provides 100% tie-off with freedom to walk around and work hands-free
Work with a turnkey solutions provider that will engineer, deliver, and install a fall protection system at a good price point
Reinforce the importance of fall protection with their new apprentices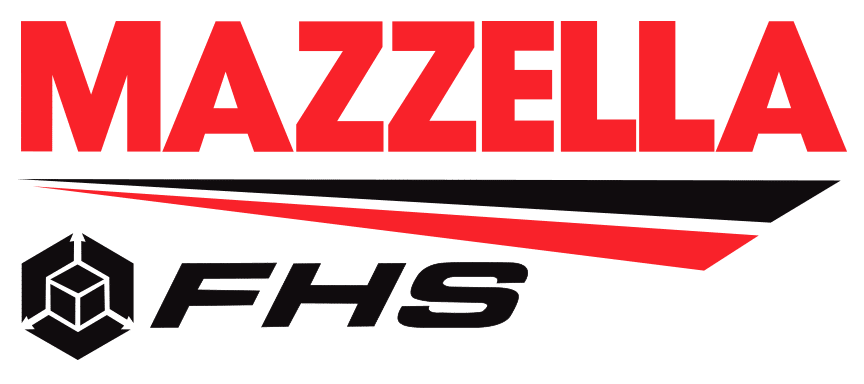 Steamfitters Local 449 is based out of Pittsburgh, PA and represents nearly 2,700 union-trained steamfitters and is affiliated with the United Association of Journeymen and Apprentices of the Plumbing and Pipefitting Industry of the United States and Canada. Local 449 represents its members by providing job information, training programs, and quality fringe benefits.
Some of the training programs that Local 449 provides through its apprenticeship program and training center, include:
Pipe fabrication
Pipe welding
Orbital tube welding
Heating / air conditioning / refrigeration
Rigging
OSHA safety
Pipe drafting
and much more!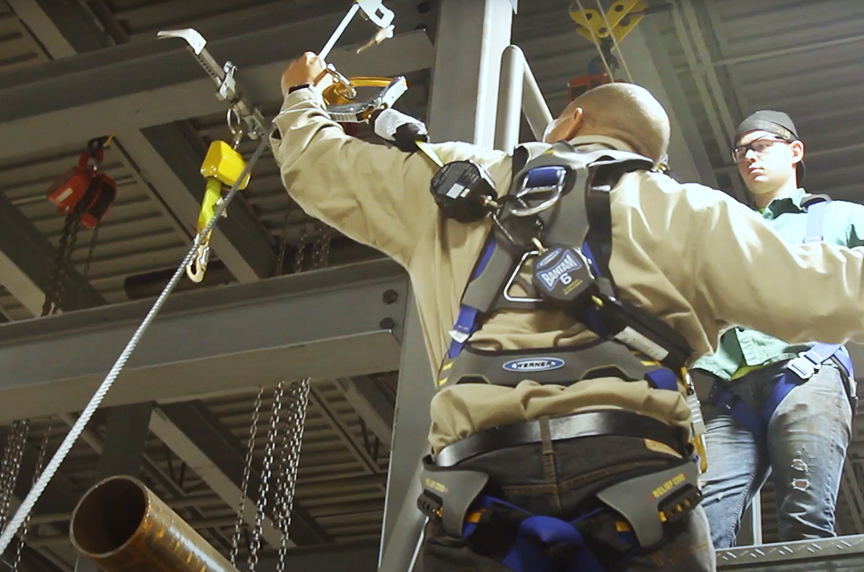 The Importance of Fall Protection For Students Training at Height
At the Steamfitters training center, their goal is to replicate some of the job experiences and safety issues that their students will come in contact with out in the field when they go work for a contractor. They invested in a new simulated pipe rack with a catwalk and ladder system, so that their apprentices could learn rigging and learn trade skills at heights, just like they might experience out in the field.
However, Dale Glavin (Director of Training) and Brad Tisdale (Director of HVAC Training) from Steamfitters quickly realized that they had a problem: they didn't account for any type of fall protection anchorage system when the new pipe rack tower was erected.
"Fall protection is one of the safety issues that we have to drive home with our new apprentices. They will encounter this the first day that they come onto the job site. That being said, we looked for some of the industry-leading components and systems that are available to protect our members as they work on these elevated platforms."
— Dale Glavin, Director of Training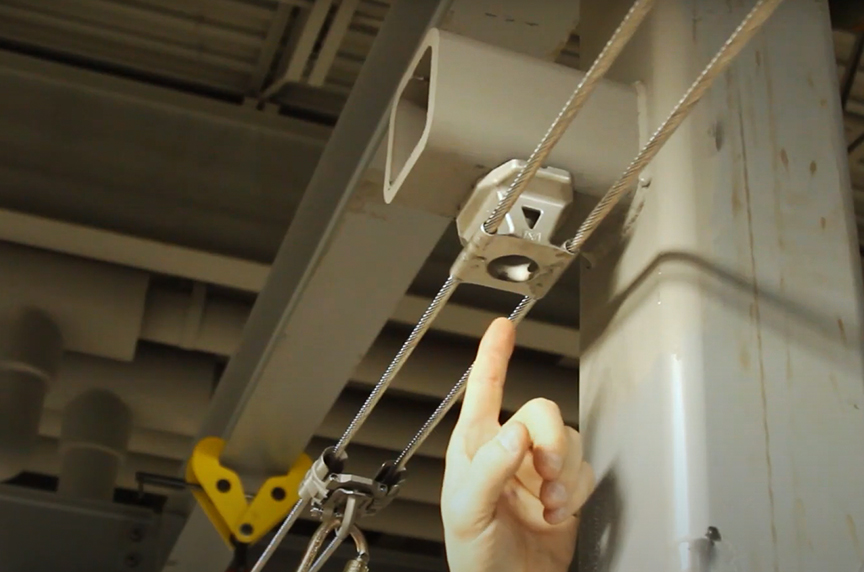 Retrofitting a Lifeline System Onto an Elevated Training Platform
Steamfitters Local 449 needed to find a partner that could come in and retrofit a lifeline system onto an elevated training tower that would allow for 100% tie-off and allow their students to move freely and keep their hands free so they could learn and practice new trade skills.
It was also important for them to have the newest fall protection technologies and solutions incorporated into their training program. They wanted their students and their contractors to be able to use and experience a complete fall protection system that incorporated leading technologies.
Glavin and Tisdale reached out to Mazzella, explained the problem they were having, and scheduled an on-site consultation. Mazzella brought in a team including one of their Lifting Specialists and an expert Fall Protection Specialist. Working closely with the Steamfitters team, they came up with a creative solution that included the design, delivery, and installation of a permanent lifeline system. This system included a vertical lifeline that the students could tie off to when climbing up and down the ladders and a horizontal system the students could connect to when walking and working on the catwalks.
"Through our investigation and working with Mazzella, we found a great communication network and conduit. Mazzella was easy to work with, was always there to answer our questions, and always there to lend support," said Glavin.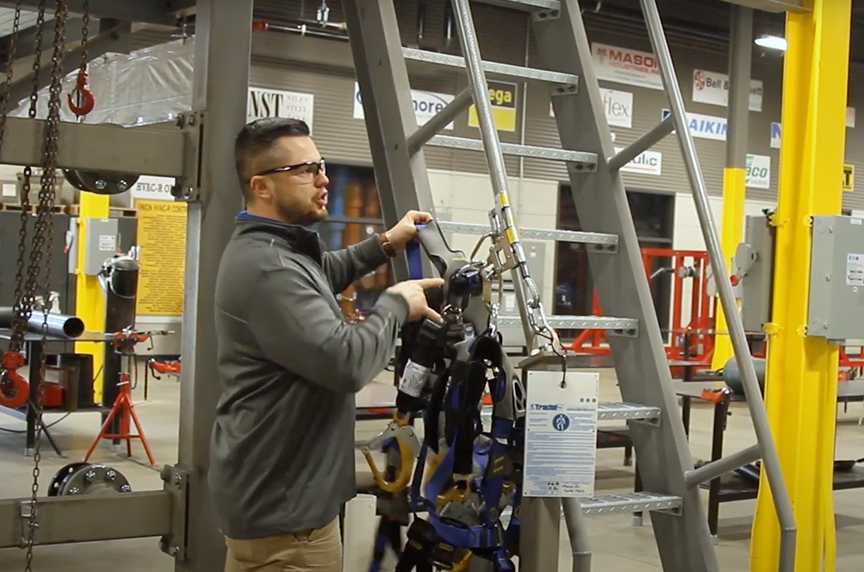 Building a Relationship With Mazzella FHS
One of the things that Glavin and Tisdale appreciated the most, was having a partner that was there to support them from the beginning and all the way through to the end of the project. Communication was important, and the Steamfitters team and Mazzella communicated regularly through phone, email, and on-site consultations to address concerns, answer questions, and identify the best solution.
Once both teams agreed they had a great solution and a solid plan, Mazzella took the lead and ran with it designing and installing a turnkey solution at a good price.
"I wouldn't hesitate to recommend Mazzella for any task. Industrial, commercial, any of those areas. I'm confident they would come up a solution that's viable to protect the workers—not only our workers, but anybody's workers—because fall protection is a big deal."
— Brad Tisdale, Director of HVAC Training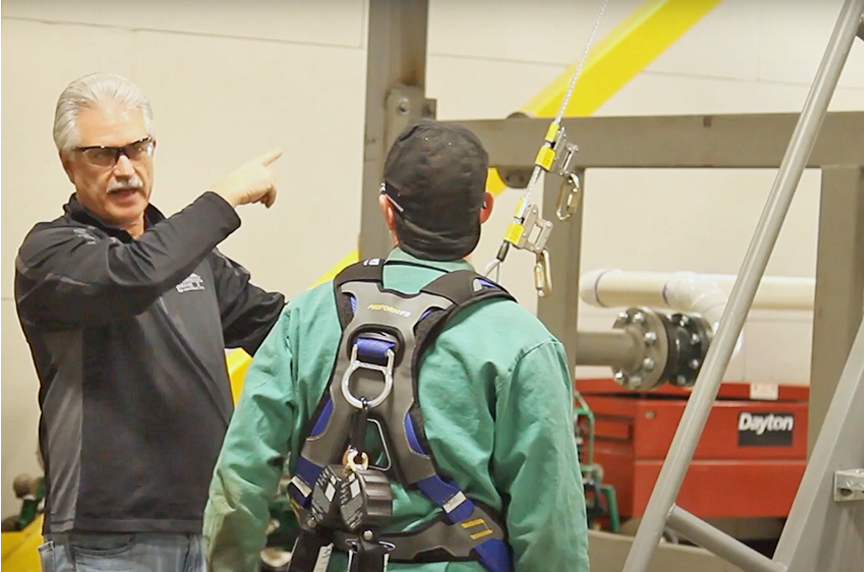 How Can Mazzella FHS Help You Become OSHA Compliant?
Mazzella FHS has custom-configured several types of fall protection systems for businesses across the country that have diverse needs based on their working conditions.
By contacting Mazzella FHS Fall Protection Specialists, you'll learn about the different systems they've installed, the unique solutions developed to fit customer needs, and how they can not only keep you in OSHA compliance, but also, help increase your company's productivity.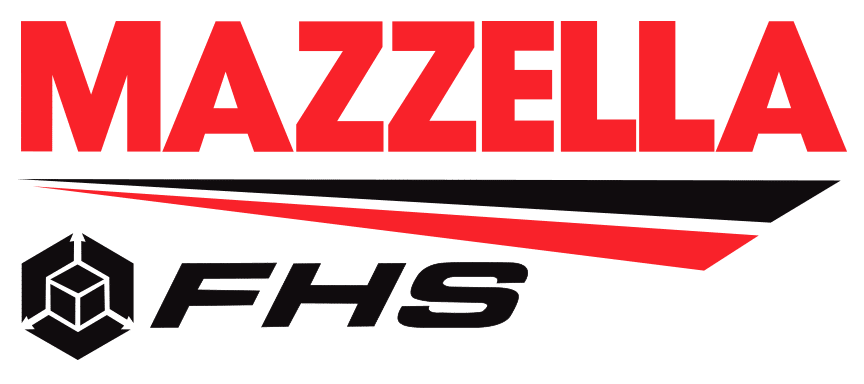 Contact A Specialist!