What Did Palm Harbor Homes Hope To Accomplish on This Project With Mazzella?
Installation of new OSHA-compliant fall protection system
A fall protection system workers would use
Interruption-free installation with no lost work days
A fall protection system that could fit in and be supported by the current building structure
Boost in productivity by not having to "ground" workers at height
Continuing a decades-long working relationship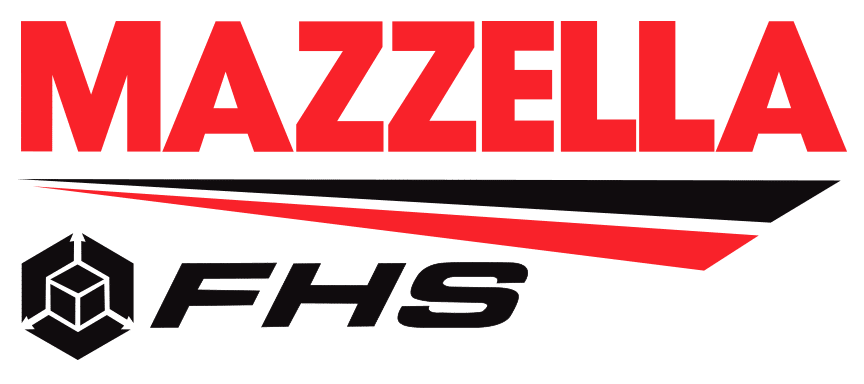 Palm Harbor Homes manufactures modular and mobile homes, and the company footprint extends beyond Florida and the Southeast to California, Arizona, Minnesota, and many other locales around the United States.
Known for their skilled home-building, Palm Harbor Homes needed a new fall protection solution for workers in its Plant City, FL facility after an inspection from the Occupational Safety and Health Administration (OSHA) resulted in a fine.
When OSHA completed its inspection, Palm Harbor Homes reached out to Mazzella FHS for a solution to help keep their employees safe while working at height. Through that partnership, Palm Harbor Homes retrofitted its facility and never lost a day of work.
"Fall protection is huge for us here," said Palm Harbor Homes Human Resources Manager Chelli Antle. "We have a number of employees inside the building that work at a pretty high height, either installing electrical cables or shingling and decking, the roof, or putting insulation in the roof."
"We're making sure those employees are properly secured in case they fall off either the catwalk or the roof area. Making sure that we have the proper track system and harness system in place to make sure they don't fall is the difference between life and death, honestly."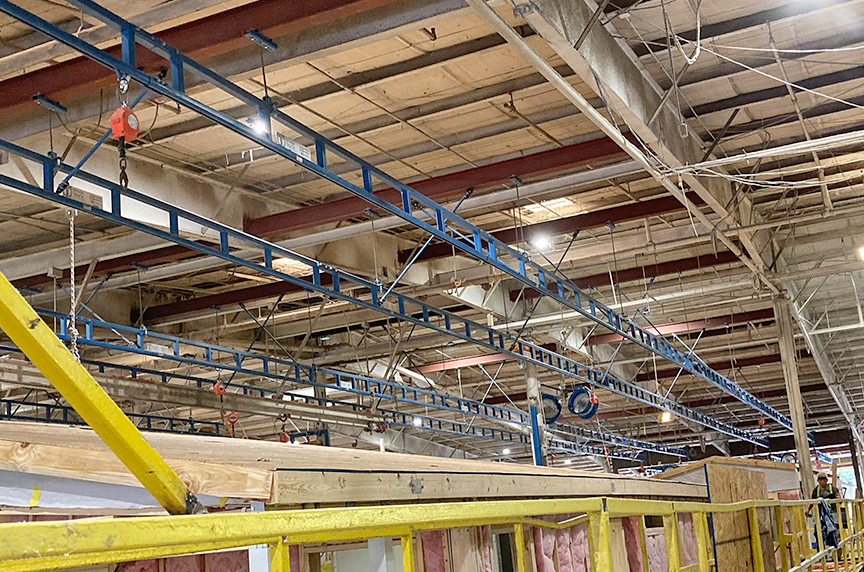 An Older Fall Protection Solution Was No Longer Adequate
Palm Harbor Homes knew the OSHA inspection was coming, and while the system in place met requirements during the 1990s, it was no longer adequate to safely protect workers in the event of falls.
The OSHA inspection revealed there was not proper fall distance or swing calculations. Also, the old system had only one track, which meant workers weren't able to pass each other easily. Workers actually had to unhook their lanyards and walk around another person before reconnecting to the system.
Sometimes, lanyards would get stuck on the cable as workers moved while at height. Also, it was common for workers to have their lanyards lock up while in use.
Because the old system was cumbersome, workers loading materials onto a roof would stay unhooked.
Initially, other contractors were called for quotes, but those proposals had solutions that didn't fit Palm Harbor Homes' needs. That's when Project Manager, Chuck Rogers, called Mazzella FHS.
"When I saw a corporate guy come in with a contractor from North Carolina telling me he wanted me to shut my plant for a week, I said, 'This is not going to happen,'" Rogers said.
"I've been in the factory business for a long time, and there are certain things you don't do. You don't stop the plant. You've got to work when the plants work, and we generate our income that way. If you stop the line, people don't get paid."
"Mazzella FHS designed a new fall protection system, and during the installation phase, their workers never interrupted Palm Harbor Homes' operation. Mazzella FHS's team worked nights and weekends, so it was seamless. We made an oops and Mazzella fixed it for us, which was wonderful."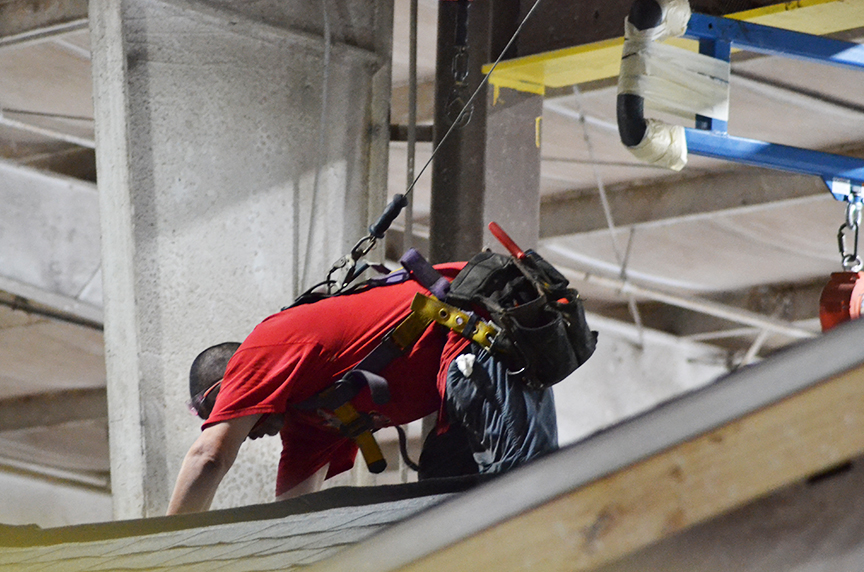 Why Was Mazzella FHS the Right Fit for Fall Protection Systems?
Rogers and Palm Harbor Homes trusted Mazzella FHS to get the work done without disrupting the flow of business. More importantly, Palm Harbor Homes knew Mazzella FHS would do the job correctly.
Before installing a new fall protection system, Mazzella FHS came on-site, and found structural concerns. Mazzella FHS Fall Protection Specialist, David Vives, hired an outside engineer to retrofit parts of the building to hold the extra weight of the new track system and the employees using it.
When the building was structurally sound, Mazzella FHS worked nights and weekends to make sure the project was done correctly.
That included a checklist to make sure the building:
Was stable or sturdy enough to hold the track system
Had a high-enough ceiling for the track system
Could have homes move through the facility without interruption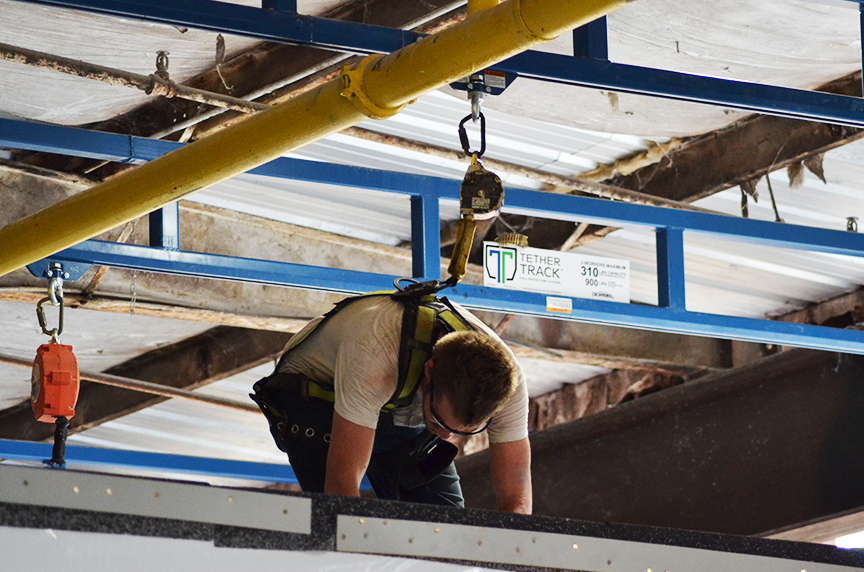 What Fall Protection System Did Mazzella Install?
Mazzella FHS installed enclosed track systems, which are sometimes called "The Cadillac of the Fall Protection Industry."
Mazzella FHS installed enclosed track systems because it was a better fit for the building. The enclosed track systems were chosen over a cable lifeline system because of the fall distance needed to protect the workers.
Additionally, cable systems weren't an ideal solution because of potential for:
Also, by going with an enclosed track system, Mazzella FHS was able to get the materials for installation much quicker.
"Mazzella put in a track system with a good roller in it, very, very effortless," Antle said. "It was a truss-type system we hung off of steel that paralleled our bridge cranes. Our guys can work with the bridge crane and apparatus."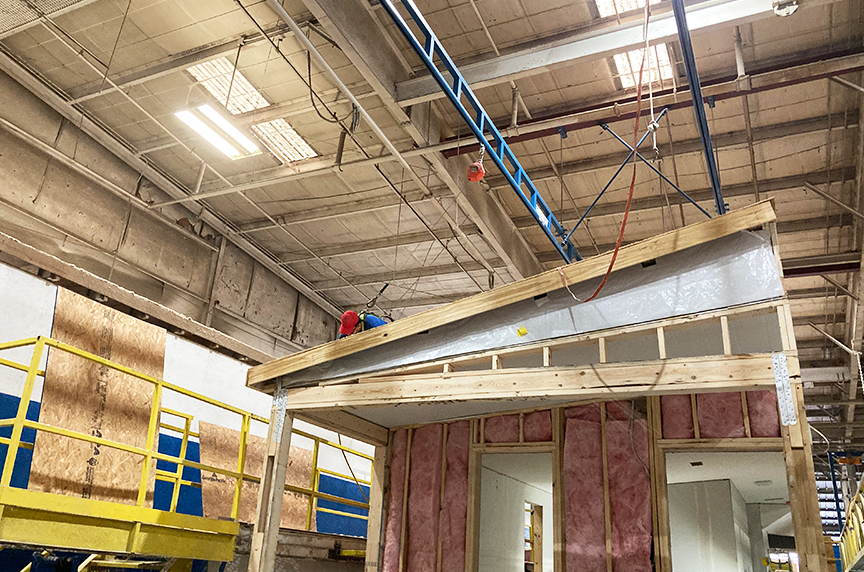 How Are Palm Harbor Home Employees Working at Height?
Palm Harbor Homes builds houses on wheels.
Literally, Palm Harbor Homes constructs every facet of home-building, including but not limited to:
Flooring
Walls
Plywood
Drywall placement
Insulation
Roofs
"Where the areas of fall protection for us comes in handy is where we start putting plywood or decking on top of rafters," Rogers said.
"We're putting on underlayment, and shingles, so we have guys that are on top of these roofs in multiple stations. We could not provide safety enough. We could not do enough, and what we had been using for 20-plus years no longer met OSHA criteria."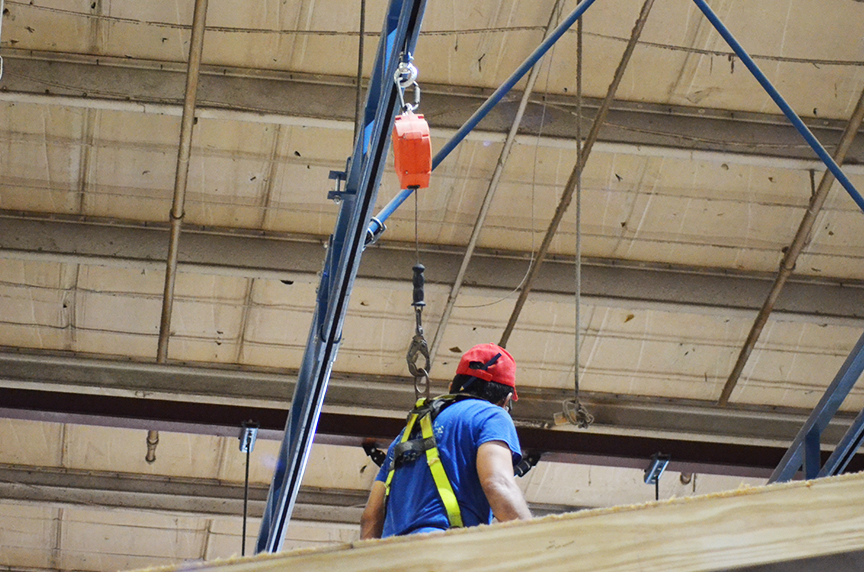 Employees Embrace Fall Protection
What Mazzella FHS has seen with many companies is workers don't like using fall protection systems that are inconvenient. However, when Mazzella FHS installed the new track system, that was no longer an issue at Palm Harbor Homes.
Workers embraced the opportunity to use a fall protection system that didn't make their jobs any harder.
"Since having put this system in place, we don't have the issue that we had before of getting people hooked up," Antle said. "It just gives them a lot more mobility. They understand the safety part of it for them."
Rogers added, "With the old system, workers were very resistant to put on safety harnesses. However, these new systems were good enough that we had a lot less objections. It was always an issue, always a problem, so now, we eliminated that. The workers are less disagreeable to use their safety harnesses. That's always a challenge for us, so I'm just glad Mazzella was able to do it for us."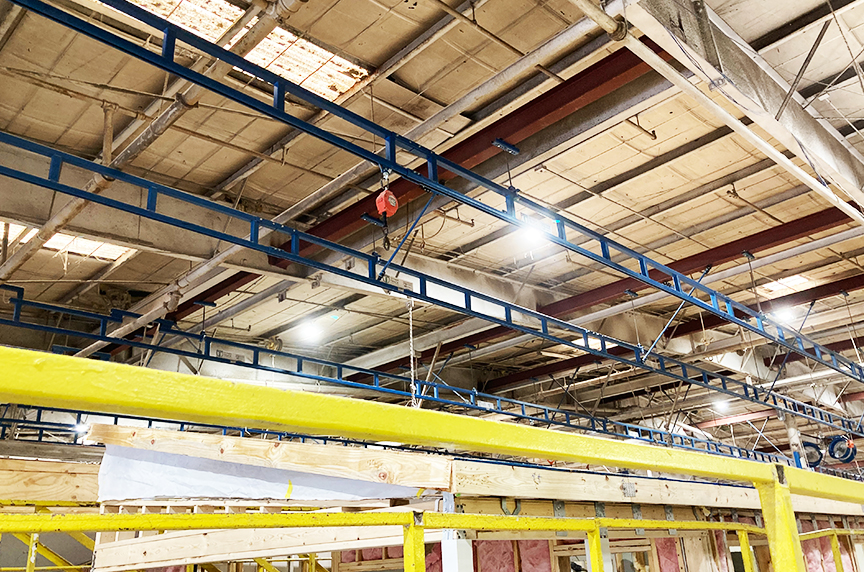 Did This Fall Protection System Help Boost Productivity?
Because workers embraced the new system, Palm Harbor Homes saw an increase in productivity.
With the old system, management had to "ground" workers and prevent them from working at height. However, since the new enclosed track systems have been in place, those instances of grounding workers happens far less frequently.
"You ground a guy, and now, you're short a guy," Rogers said. "Therefore, it takes away from your productivity and limits what you can do. Because the new system is effortless, we're having very little of 'I'm not wearing my harness today.'"
"That has been terrific, way better than we ever thought. We were thinking, 'we're still going to get that same gripe. I hate wearing this harness.' We've had none of that, and that's been terrific for us. Getting people to be safe is tough."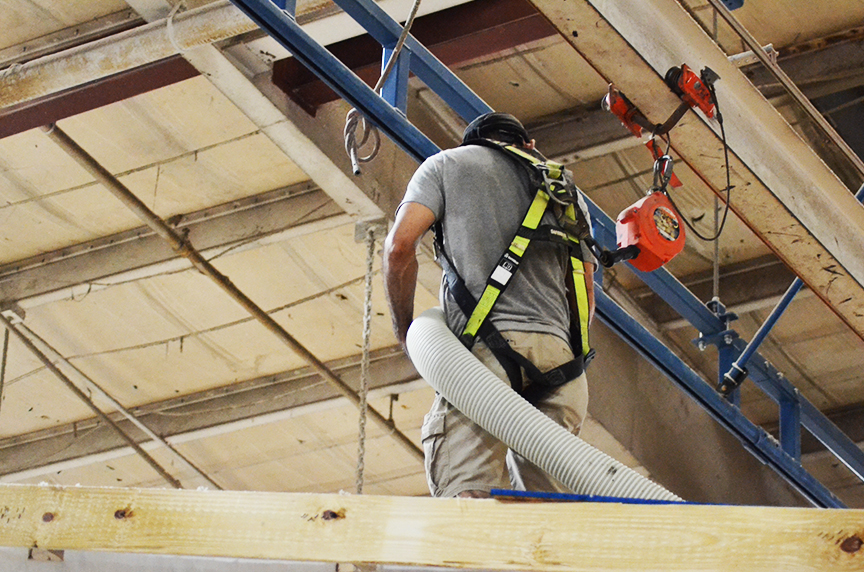 If It Wasn't For Mazzella FHS, How Would Your Company Be Different?
How differently would the fall protection system installation have gone with another company?
Rogers counts himself fortunate for not needing to answer that question. However, Rogers admitted that without Mazzella FHS, Palm Harbor Homes would've spent much more time interviewing other companies. Also, he would've had to monitor the work much closer than with Mazzella FHS, who has worked with Palm Harbor Homes for almost 30 years.
"It's been a wonderful relationship just because it's all been easy," Rogers said. "We've all tried to work together. I know what kind of work I'm going to get done. I know you're not going to interrupt my procedure. I'm not going to interrupt my customer base, which is very important to us."
"This is my longest association, best association I've had with anybody from our contractor base or vendor base. It's just one less hassle for me. I buy all the forklifts, all the trucks, 95% of all the capital expenditures for this company. I'm doing a lot of bid processing and talking to a lot of people, and it's not always fun."
"There would have been several challenges. The other companies weren't able to work within our production needs, so there would've been a huge loss of money because they wanted us to actually shut down," Antle added.
"They weren't able to accommodate what we needed. They weren't able to look at it from an overall engineering aspect to put the number of people that we needed on the roof. Most of the systems that were quoted to us couldn't have more than two people on the roof, and that's not feasible for us. We have to have more than two people on the roof, so Mazzella FHS's system accommodated that."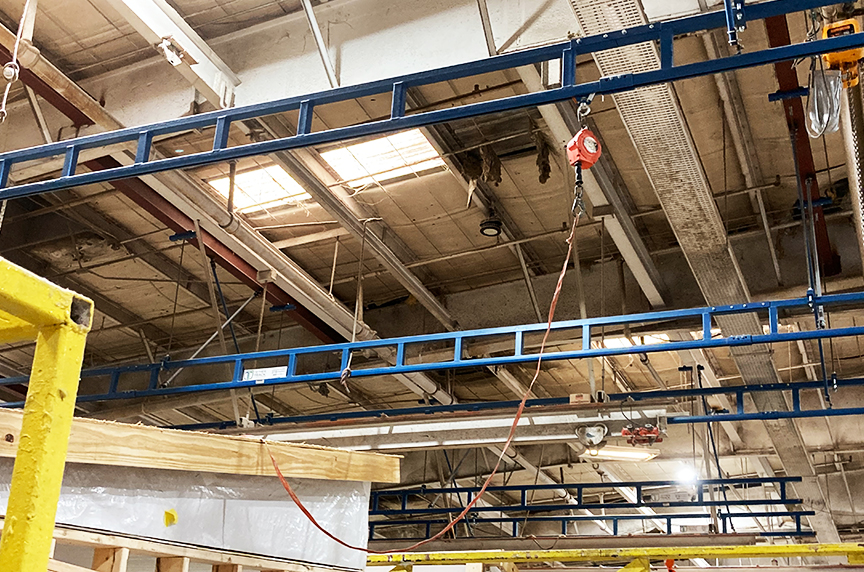 Building a Relationship With Mazzella FHS
Rogers has 50 years of experience in business, and he knows what he wants from vendors or contractors. But the list isn't that long, as there is one thing above all else that he requires.
Fortunately for both parties, Mazzella FHS offered exactly what he was looking for to address the fall protection problem.
"One of the things I'm always looking for is problem resolution," Rogers said.
"If I have a problem, I can call Mazzella and get in touch with somebody. Anytime we had an engineering issue, it was always 'Let's figure out what we need to do first. Then, we'll figure out what we have to do.' If we have any issue, we've always been able to resolve it."
"It's like a partnership. I've passed Mazzella business cards to my corporate guys, who are now beginning to use the company as well. That's some proof that you do pretty good work, and this bunch down here is really good. It's a great story, and it's all true."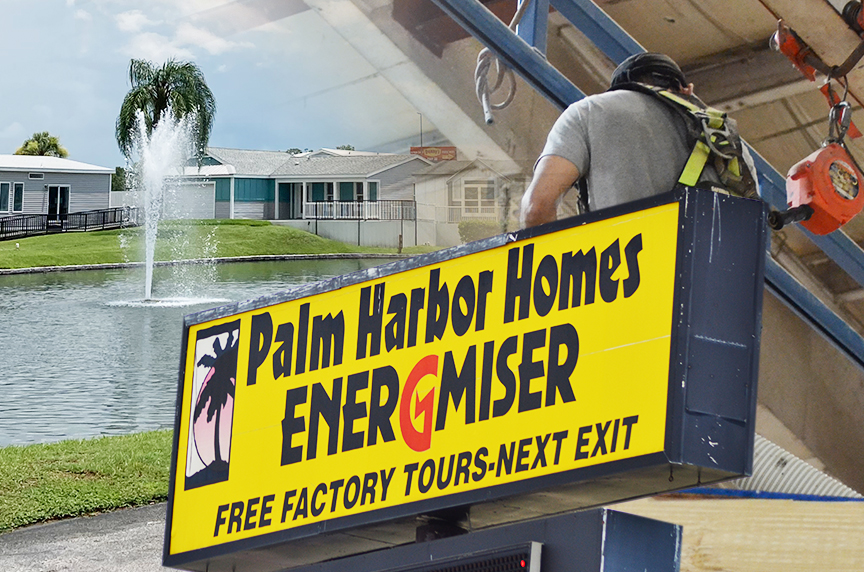 What Does the Future Hold for Palm Harbor Homes and Mazzella FHS?
Neither side will have to wait long to answer that question.
In recent years, Palm Harbor Homes has experienced a boost in home production. In fact, business has been so good, Palm Harbor Homes is reopening another facility that's been idle since 2008.
Rogers already knows who his first call will be, as Mazzella FHS has 14 different business units, and can help with far more than just fall protection. Palm Harbor Homes envisions Mazzella FHS having a critical role in retrofitting the dormant facility.
"We need to produce more homes, and we're going to do that," Rogers said. "Mazzella FHS is going to get all the bridge crane work, and all the fall protection in here."
"Those guys are already working on and doing a bunch of work, all new hoists for the plant. We're talking about 35 hoists. Plus, it's hundreds and hundreds of feet of fall protection. That's a big part of what I'm going to be doing here."
"The product offering is wide, and I give a little preferential treatment to that because of the successes we've had before. If I'm told, 'This is the date it's going to be here,' 99% of the time, it happens on time."
---
How Can Mazzella FHS Help You Become OSHA Compliant?
Mazzella FHS has custom-configured several types of fall protection systems for businesses across the country that have diverse needs based on their working conditions.
By contacting Mazzella FHS Fall Protection Specialists, you'll learn about the different systems they've installed, the unique solutions developed to fit customer needs, and how they can not only keep you in OSHA compliance, but also, help increase your company's productivity.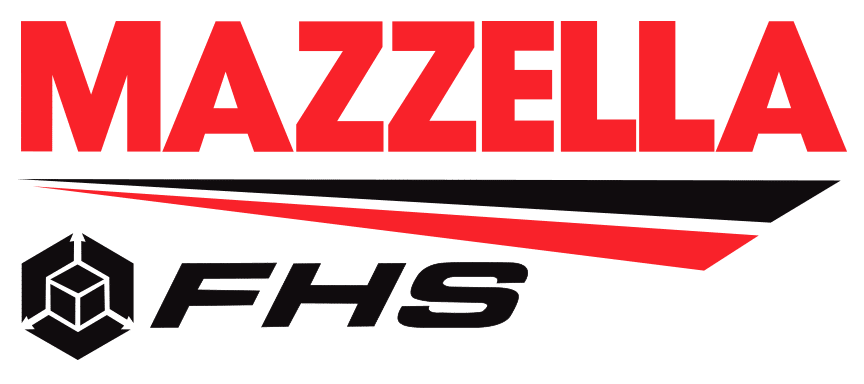 Contact A Specialist!