What Did Skylift Hope To Accomplish on This Project With Mazzella?
Find a single-source supplier for their synthetic rope and rigging hardware needs
Identify a safe way to load material on and off their new laser table
Stay compliant with OSHA / ASME inspection requirements

---
Based in Lorain, Ohio, Skylift is a leading easement equipment manufacturer that specializes in industry-leading solutions for specialty backyard utility products, including aerial lifts, battery-powered digger machines, and derricks that allows for safe and efficient work to be done at height.
Designed to access tight alleyways, navigate through gates, and for rear property utility applications, Skylift's easement machines are so easy to use and offer solutions for unique spaces that they are considered "a top choice among work crews."
"We are very proud of the machines that we make here," said DJ Simonovich, Engineering Manager, at Skylift. "We put all of our heart and soul into them. We think about the safety of the operator. We do all the design, engineering, testing, and manufacturing here in house, and we're proud of what we do here."
Skylift Purchasing Manager, Matt Lavelle added, "We make a quality product that is durable, long-lasting, and it's easy to use for the customer.
"The company started 20 years ago in a little bay here, and it's grown dramatically since then."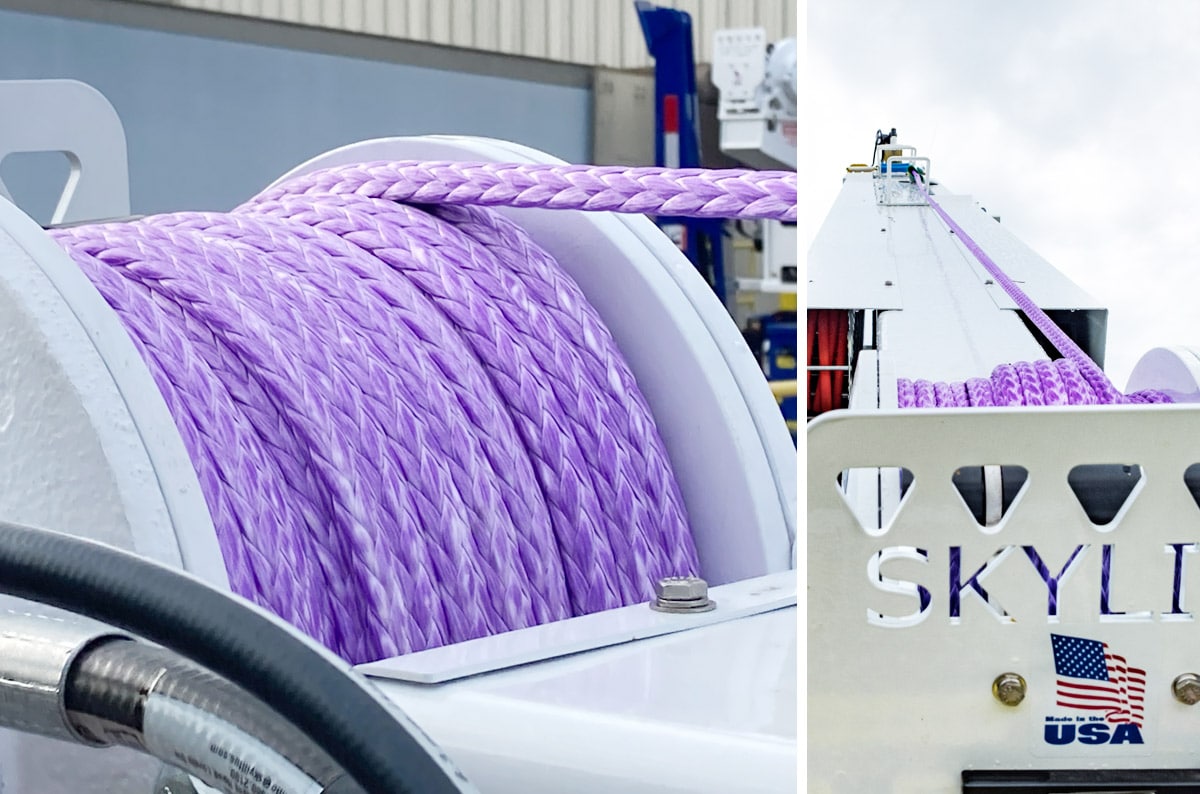 The Initial Problem
Despite being a top choice of workers in the field, with growth came challenges as Skylift experienced challenges getting a critical rigging component for their machinery. Rather than falling behind on machine repairs or manufacturing, they looked for a local supplier that could help and found Mazzella.
Knowing that supply chain issues could become imminent, Mazzella partnered with Cortland, the Plasma rope manufacturer, to build up a large inventory of product in Mazzella locations across the U.S. This partnership and forward thinking, allowed Mazzella to continue to deliver the right products to its customers in their critical times of need.
Initially, Mazzella helped provide Plasma rope for five Skylift machines to get them into service, and the relationship has grown from there.
"Primarily, our machines are used outside, and with a wire rope, you would've had issues with rusting, corrosion," Lavelle said. "Plasma eliminates all of that.
"Anytime that machine is in use, you have somebody's life in your hands. Somebody's got to go home, see their kids, make dinner, walk the dog, et cetera. Therefore, we wanted to ensure that we had stock of the right rope.
"Safety is number one. You don't go to work to not come home, so this allowed just a more comfort level with the people operating our machines. They are allowed to feel free. They don't have to worry about any type of issues going on, and they know that they have a quality product standing behind them."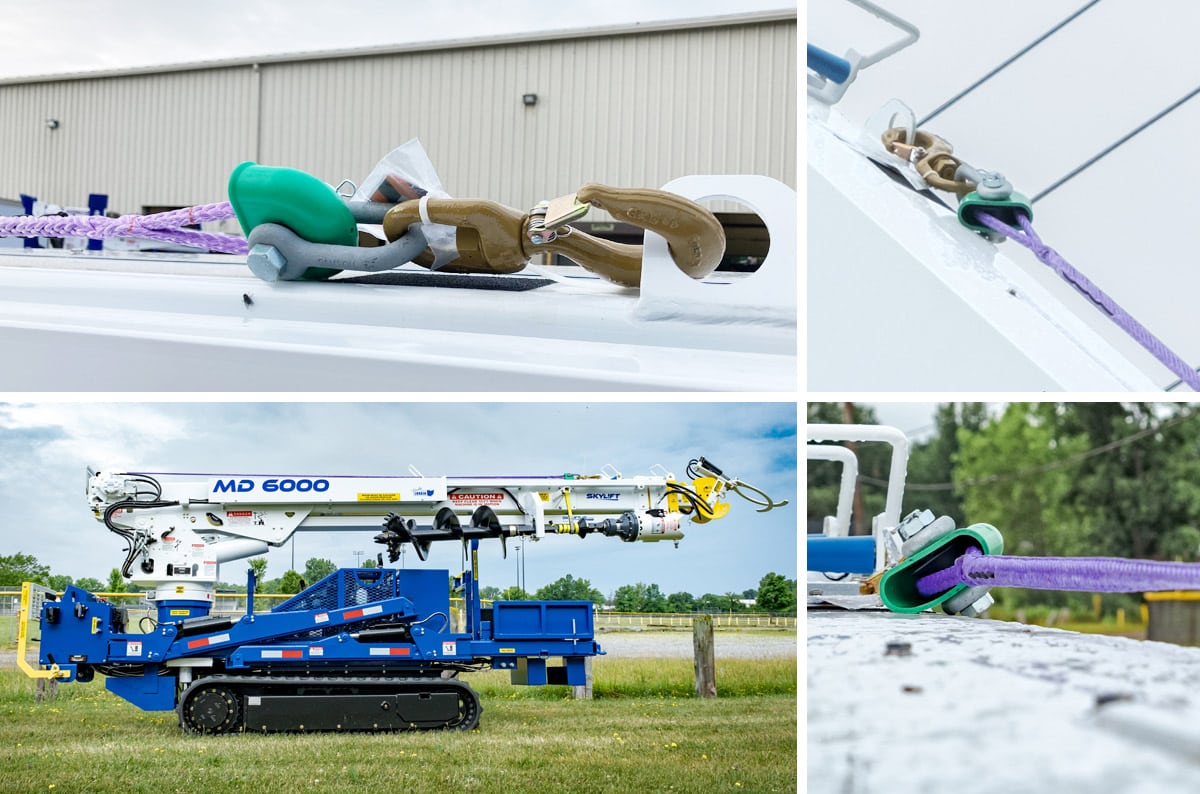 Multiple Levels of Support
In addition to getting a steady supply of Plasma rope, Skylift sought to improve the ease of use with their rigging hooks and shackles that were previously difficult to manipulate in the field.
Before reaching out to Mazzella, Skylift was using a 3-ton hook shackle that needed to be disassembled and reassembled in the field. However, the process of doing so was not easy, nor was it fast, and that took away time from the work that needed to be done once the equipment was operational.
"It was always a thorn in the side," Simonovich said. "It was always a problem that we knew we had, but we more or less just skipped over it and focused on other things here. We knew eventually, we'd have to get to something a little more streamlined, a little more suitable for our application.
"When something was damaged or needed to be replaced, you need to be able to do it easily and effectively. With the setup that we had previously, that was not possible. It was very cumbersome, very labor intensive, so it was important for us to come up with a better solution for ease of use in the field for the guys using the machines to be able to change out the product easily."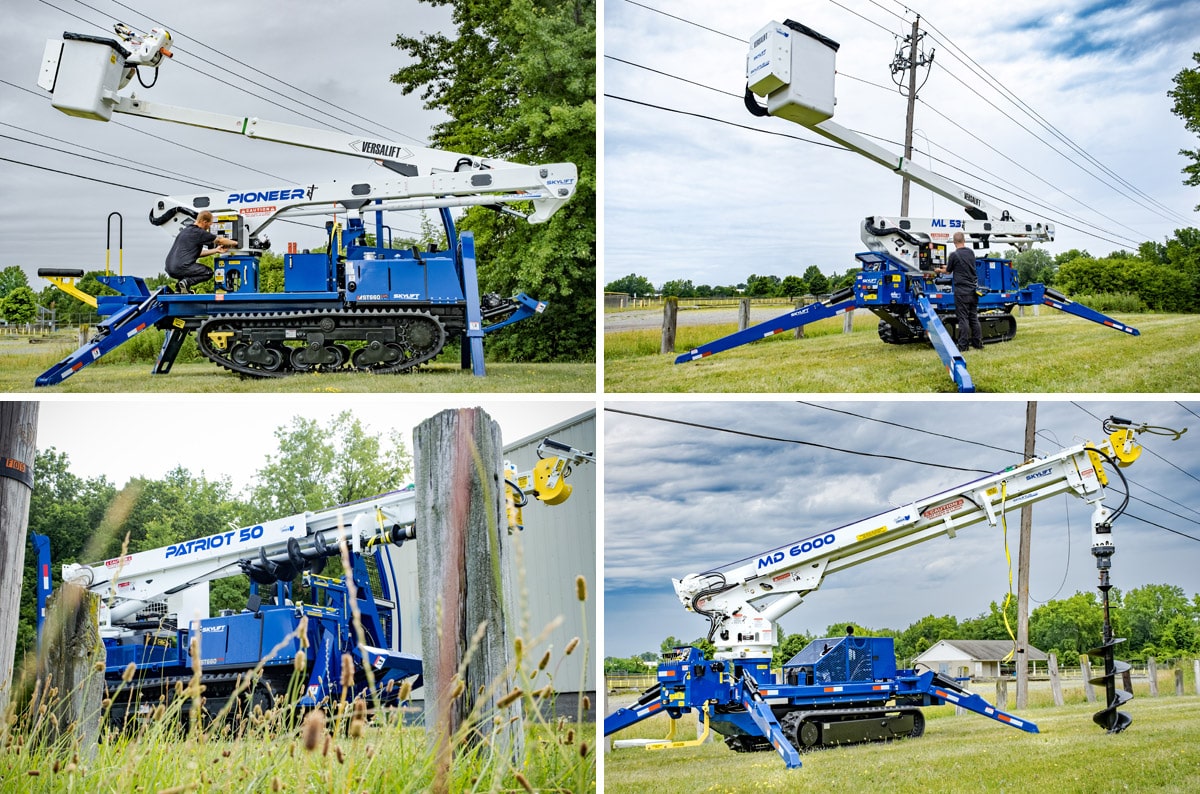 If It Wasn't For Mazzella, How Would Skylift Be Different?
When Skylift reached out, Mazzella came to the Lorain facility and did a survey of the machines being used in the field. Mazzella's Account Managers investigated the equipment and discussed with the engineering team solutions for each of their problems.
Rather than going with one solution, Mazzella gave Skylift "multiple options" for what could be done to solve the problems. That led to testing those "multiple options" until Skylift found the right solution.
"If we never contacted Mazzella, I think the problem would've just kept going on, kept persisting," Simonovich said. "A change probably wouldn't have happened just because we were getting by. It wasn't very ideal, but if we didn't have that support there beforehand to go forward with these changes as easily as we did, that problem would still be there today.
"If we went with another company that maybe wasn't local, I feel like some things would've slipped through the cracks. That communication may not have always been there. When you go with a company that, like Mazzella, is local, that can help you out with those resources, it's crucial for engineering.
"There's a lot of details, even if you don't seem them, to get everyone on the same page. I can't say for sure that would've been covered as well with another company."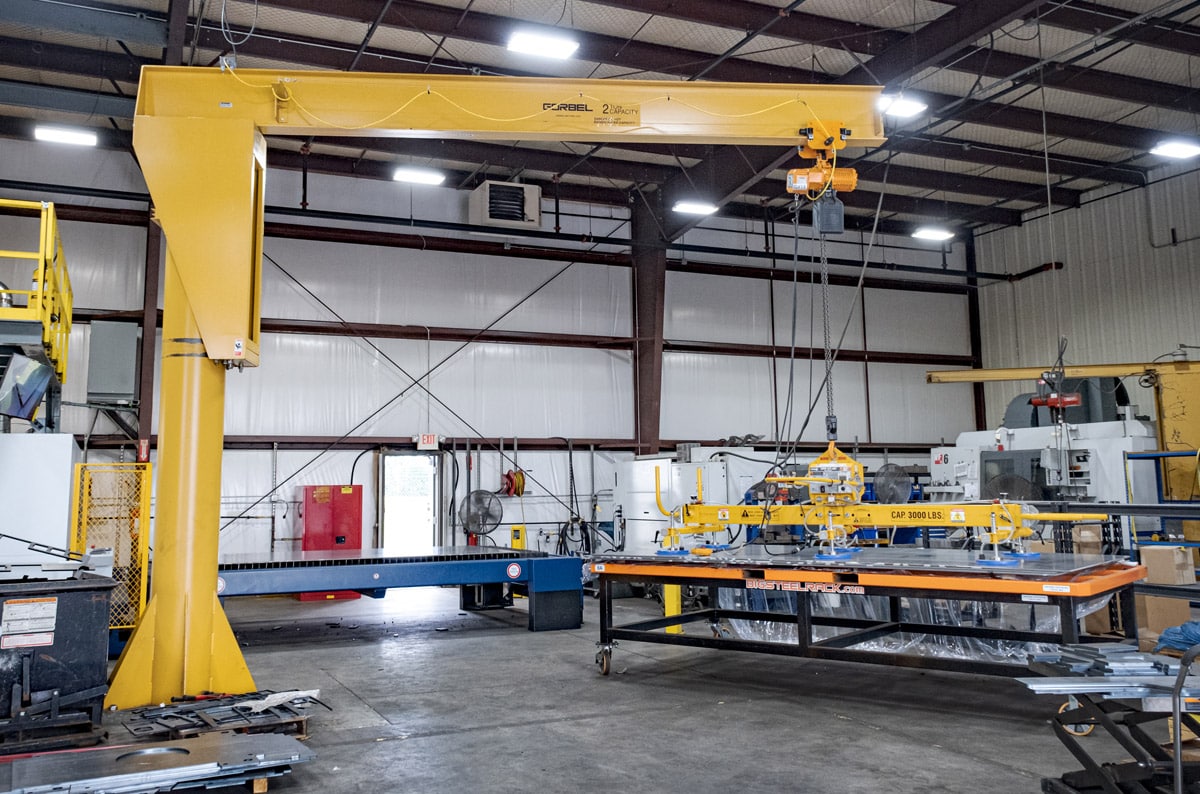 Continuing to Help, Delivering in a Pinch
Skylift has worked with Mazzella for more than just Plasma rope and shackles.
To accommodate the growing business and demand to manufacture more machines to meet the needs of their customers, Skylift began utilizing a laser table used to form objects out of plate steel. However, their old way of handling the heavy metal plates was cumbersome, and sometimes, dangerous for employees.
They needed something safer, and Mazzella suggested a jib crane. After engineers made site visits, it was determined what type of jib crane Skylift needed. Also, engineers determined that Skylift had to reinforce the concrete floor underneath the jib crane's base to provide the necessary support during each lift.
Additionally, Mazzella does rigging inspections for Skylift.
"We have set up a new preventative maintenance program, and the lifting straps and chains are a part of that," said Douglas Clark, Skylift's manager of facilities, safety, and maintenance. "We reached out to Mazzella, and we are on a program with them now, as far as them coming in and doing all the safety inspections on the straps. We went through an inspection recently, and there's probably anywhere from 60 to 90 straps throughout the shop, and we only had three that did not pass.
"The comfort level is a lot better. Obviously, we are on the right path to the whole safety aspect internally. Mazzella has really guided us through the correct measures, the correct methods. We're just going to keep pushing forward, and using Mazzella's expertise to help us out."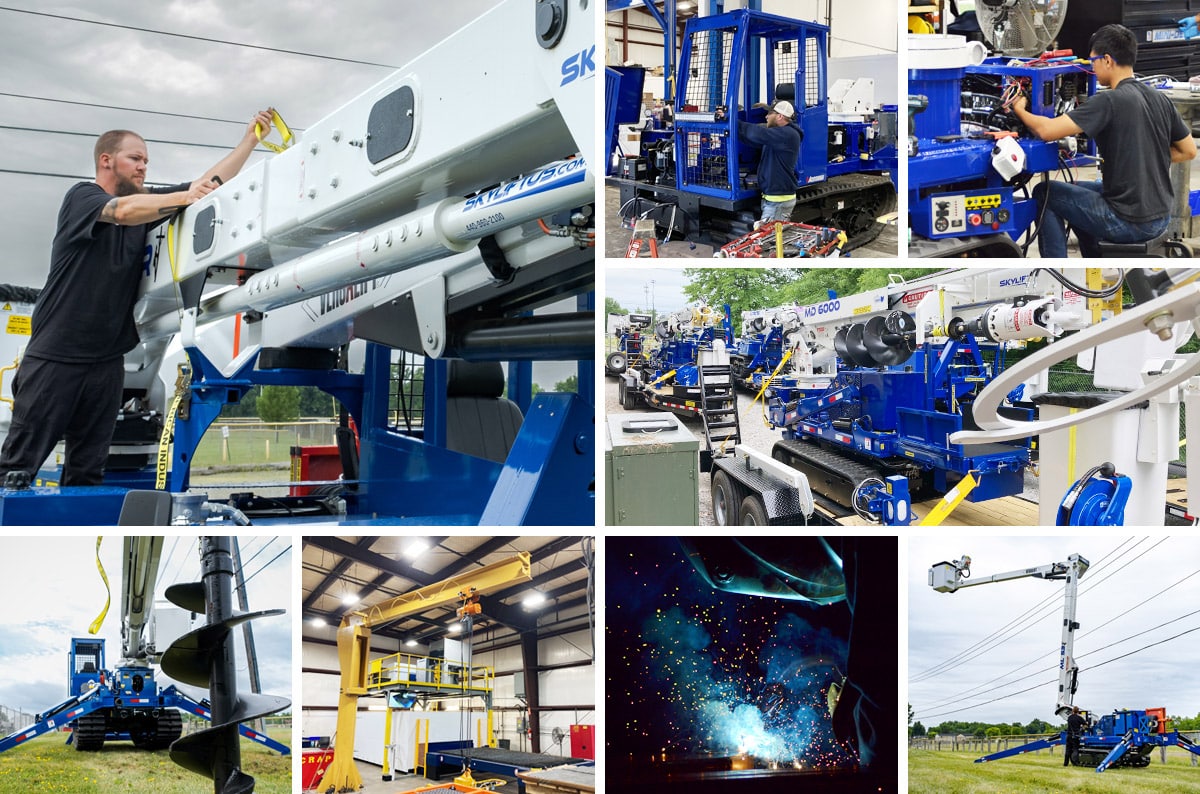 Did These Improvements Help Boost Productivity?
Between the steady supply of Plasma rope for the machines, and shackles that were easier to disassemble and reassemble in the field, as well as the selection and installation of a jib crane for the laser table, Mazzella became a single-source supplier for Skylift on several projects.
Throughout and after the consultations with Mazzella, Skylift noticed a difference in their productivity.
"Business functionality has improved," Simonovich said. "Now, with any type of lifting application that we have here, or any type of supply chain issues, we can reach out to Mazzella, get a salesman in here, and come up with a solution. We have multiple applications here, and to have a company like Mazzella, it really smooths out the operation."
Mazzella Account Manager, Nate Fisher, is proud of what the company has done to help Skylift, and looks to continue delivering quality products and services that meets the needs of the customer.
"The relationship with Skylift is great right now. I think it's equal parts respect for what each other does, and at the same time, we're seen as the product expert to be able to make suggestions."
"Over the course of the relationship with Skylift, the trust, confidence, and comfort in every interaction has been gained slowly. We're at a point right now where it's a complete mutual respect, and that confidence and comfort in every interaction is inherent in a way."
---
Learn More About How Mazzella Can Help Your Business
Mazzella has created custom-configured solutions to lifting and rigging, fall protection and warehouse solutions needs for businesses across the country that have unique circumstances based on their working conditions.
By contacting Mazzella, you'll learn about the different ways we can help increase your company's safety and productivity. In addition to our fall protection and rigging inspection divisions, Mazzella has many other business units that can help provide unique solutions for your lifting needs, including below-the-hook devices, lifting and rigging equipment, sling repair, crane ropes, overhead cranes and material handling, crane upgrades and modernizations, overhead crane and hoist service, hoists, training, and warehouse solutions.

Contact A Specialist!