"Safety saves sickness, suffering, sadness."
This safety saying from the early 1900s applies well to the lifting and material-handling industries. And that is especially true for the inspection of specialty ropes used in overhead lifts on your cranes.
Third-party crane rope inspections are a fairly new concept in the lifting and rigging industry. It's a streamlined process where you will get some extra documentation and protection before your crane is put into service.
The lifting and rigging industry is dynamic, and price increases continue impacting vendors and customers alike. Because of that, it's important for you to be as precise with your expenditures as possible, while still making sure everything with your crane and its ropes are in working order before it actually goes to a jobsite.
In this article, we'll look to answer the following questions:
Why should you consider a third-party inspection?
What can you expect from an inspection?
What do you need to provide for these inspections?
What happens after a crane ropes inspection?
What factors affect the cost of a crane ropes inspection?
Why Are Crane Ropes Inspections Becoming More Commonplace?
---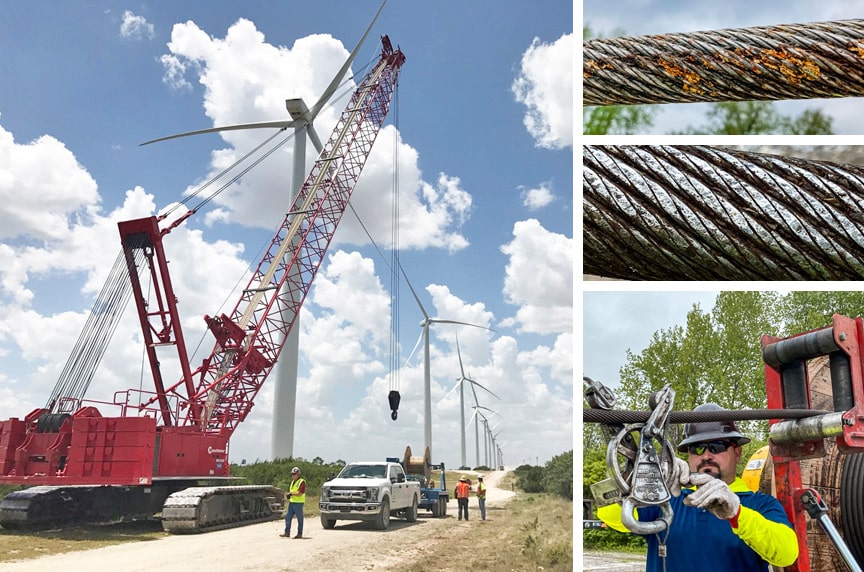 In recent years, the mobile crane rental business has evolved from a regional-based model to more of a national footprint for companies.
When the crane returns from the field, the rope may no longer be in good working order and should be inspected before going back into service on another job. This would be the time to bring in a third-party inspector to examine your rope, especially if your operators are unable to determine whether the rope should stay in service or be discarded.
If this process isn't completed, and there is enough damage to meet removal from service criteria, the ropes must be replaced in the field. Replacing crane ropes in the field is much more complicated and costly, especially if a hot shot is required. In the crane ropes industry, a "hot shot" is an expedited order that is needed because an inactive crane is costing the renter thousands of dollars an hour in downtime.
First, you must find a company that has the correct rope for your crane. Then, there's the matter of shipping and delivery, as well as finding an experienced technician who can remove the old crane rope and install new ones.
These issues could be avoided by having an inspection performed on the crane before it leaves the yard under the customer's conditions and timeline.
---
---
What Can You Expect from an Inspection?
---
The moment a technician arrives on location, they're going to set up the equipment. Then, they're going to conduct and discuss the Job Safety Analysis (JSA) with everyone involved in the inspection.
Mazzella technicians will dictate how the inspection is going to occur, and explain whether we need access to the equipment all day, as well as provide a rough timeframe for completion of the process.
We require each technician to take between 20 and 50 pictures per inspection for documentation purposes. Everything we do in the field is going to be documented on a piece of paper and photographically. The report and photos will be given to you at the end of the inspection.
During the inspection, the technicians are tasked with conducting specific measurements. If they find damage, they're noting damage in their report. They count the number of wire breaks and note other potential damage that was found. When they pull off the rope, they take rope diameter measurements every 500' to make sure there is not less visible damage to the rope.
What Do Companies Need to Provide for these Inspections?
---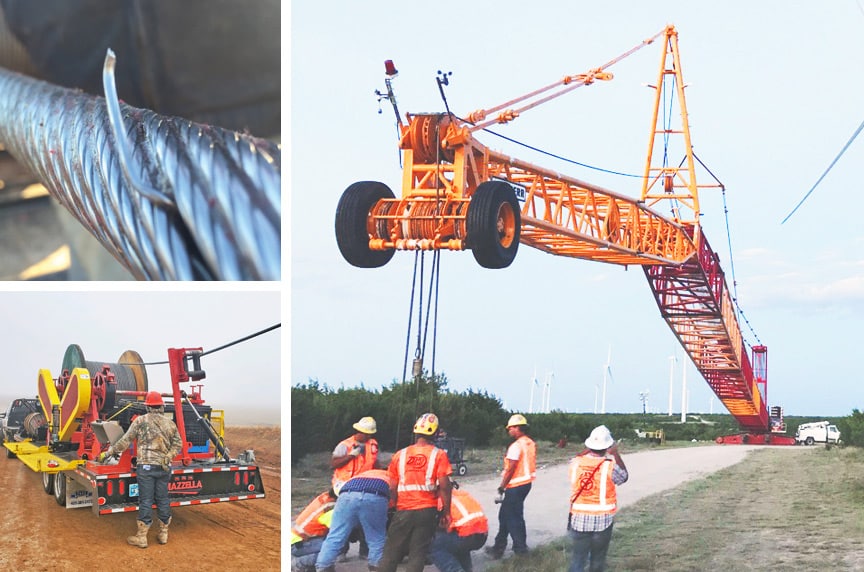 You do need to have a crane operator on site to help with the inspection. Also, if the crane requires a mechanic to reset some of the codes and indicators, then they need to be on location, too.
A properly trained inspection technician should be able to handle the majority of the inspection himself. However, with certain cranes, you really need to be on-site to support the technician. Additionally, you should designate an on-site person to handle the paperwork.
What Happens After a Crane Ropes Inspection?
---
During a rope inspection, our technicians will communicate with the decision-maker throughout the entire process so there are no surprises at the end. If we do find broken wires, we let you know right away. If in the middle of a rope inspection, we find broken wires, we're going to let you know we found damage.
This information will allow you to choose to:
Pull off the rope and scrap it
Keep running the rope
Once the inspection is complete, we take all the data and pictures, and they will be used to generate a report showing:
All the measurements
Damage found
Any notes about the lubrication
What kind of shape the rope was in
The details within the report allow you to know exactly the condition the ropes are in before using or renting out your crane.
What Factors Affect the Cost of a Crane Ropes Inspection?
---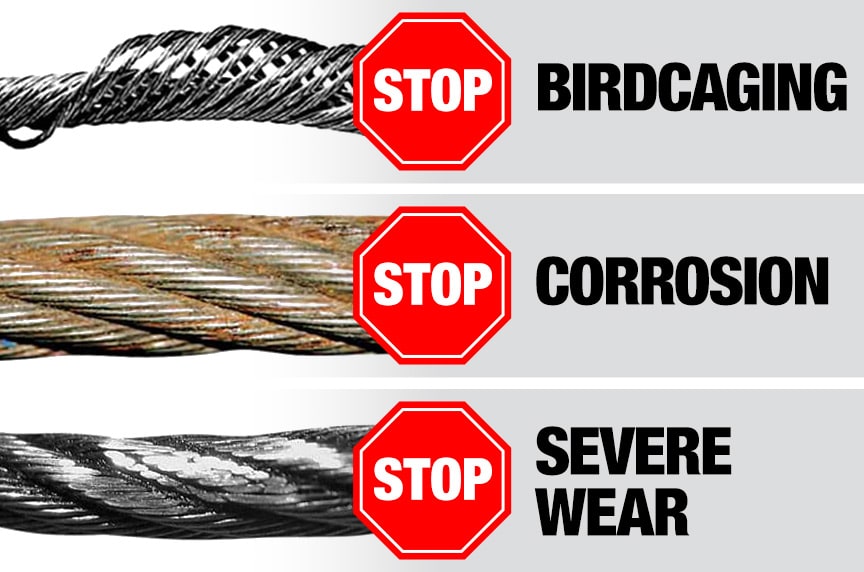 First and foremost, the distance required for a single technician, or multiple technicians, to travel to your location will have an impact on the cost. Mazzella has an hourly rate, and the charge is door to door from the time we leave the shop to the time we get back. If it's an overnight stay, there will be additional charges to cover hotel and food costs while the technician(s) are working on your crane(s).
A lot of the cost will be dependent on the location of the crane versus where our technician(s) and equipment are located at the time you need the inspection. When you consider the price of the rope, investing in an inspection could save you a significant amount of money from potential downtime after the crane is in the field.
The hourly rate for Mazzella crane ropes inspectors is between $195 and $250. That's our technician's rate from the time they leave the shop until they get back after the inspection is complete.
The overall length and time of the inspection also affects the cost. Weekends and holidays will come with higher rates for the technician's services. Also, if multiple technicians are needed to service multiple cranes, that will add to the overall cost of an inspection.
What Makes Mazzella Inspectors Qualified to Perform Inspections?
Most of our inspectors' experience comes through training with our other qualified spoolers who have 10 to 20 years of experience in this field. Also, they've gone through training classes with technical professionals at Mazzella.
We're continually setting up training classes with manufacturers to make sure we're following all of the ISO and ASME (American Society of Mechanical Engineers) standards, and making sure we're doing everything at as high of a level as we possibly can.
How Can Mazzella Help with Your Crane Ropes Needs?
---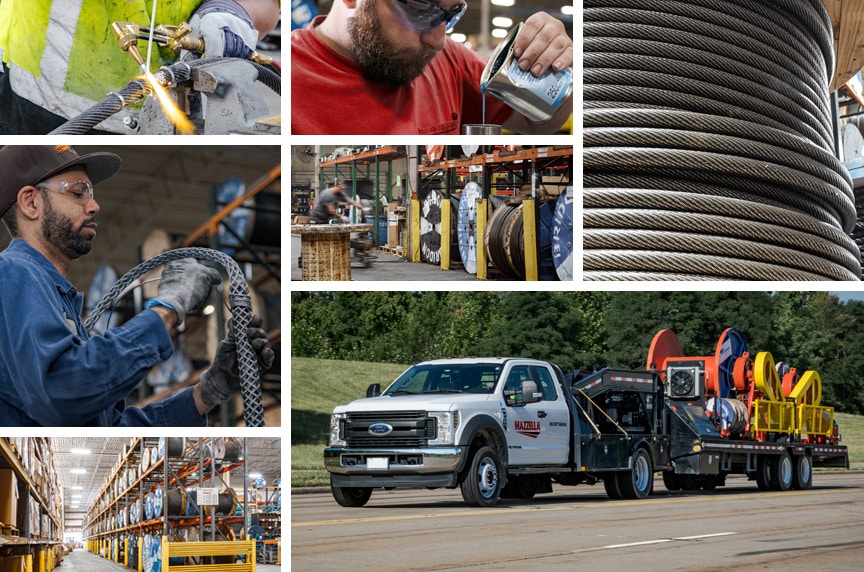 Mazzella is a one-stop-shop for high-performance crane ropes, or any kind of specialty ropes. Also, we have fittings and sockets that we can install, and a large inventory of ropes in stock that allow us to help get you back up and running as quickly as possible.
We offer a new rope replacement off the same truck and trailer that we're doing the inspection from. If it's a rope replacement, that's something we can typically get on a truck and on the way the same day if the order is placed by 2 p.m. EST. If that happens, we can get the rope on the road and conduct the install the next day.
We have one of the largest crane ropes inventories in the United States…ready for immediate delivery! We provide wire rope assemblies, and manufacture bridge cables, crane cables, steel mill cables, and thousands of OEM assemblies:
In sizes from ¼" to 3" diameter and 9mm to 52mm diameter
Domestic and Non-Domestic
In stock and ready for same or next-day shipment from one of our many service centers
Call us at 800.362.4601 or click here if you need wire rope products or assemblies.
---
---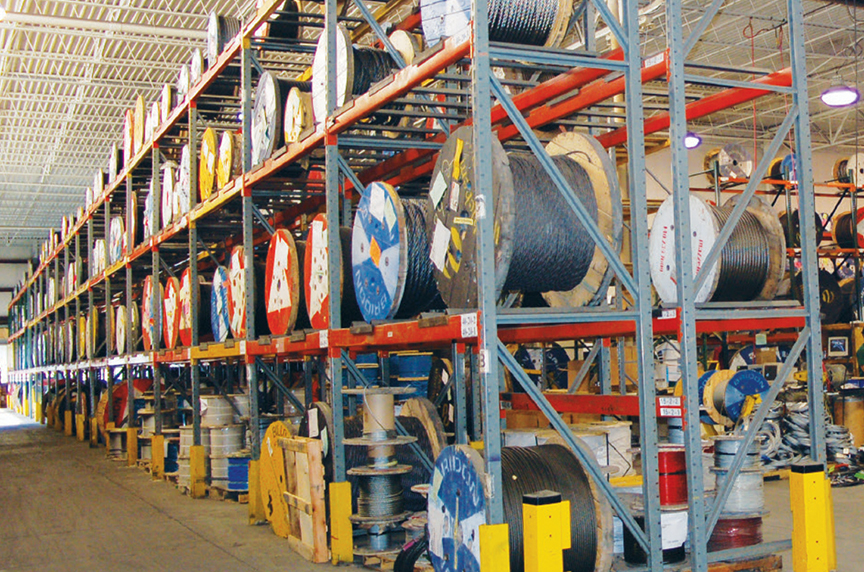 Specialty Ropes
One Brand of Rope Will Not Work on Every Machine!
---
Mazzella stocks a large inventory of high performance wire ropes available for immediate delivery.
We stock our various high performance ropes at our many locations in sizes from 1/4" to 3" diameter and 9 mm to 52 mm diameter.
We stock both domestic and non-domestic products ready for same or next day shipment from one of our many service centers.
Copyright 2022. Mazzella Companies.