Proudly Supplying Wire Rope, Lifting Slings, and Rigging Hardware in Ohio, Kentucky & Indiana!
Since 1986, Mazzella Cincinnati has been providing ideal lifting solutions for southern Ohio, Kentucky, and Indiana. We supply our customers with all styles of slings, rigging hardware, wire rope, overhead cranes, crane and hoist service, and engineered lifting devices. We also provide training, in-field inspection, and repair services that support our products.
---
Wire Rope and Cable, Wire Rope Slings, Chain Slings, Web Slings, and Rigging Products … In Stock and Ready for Immediate Delivery!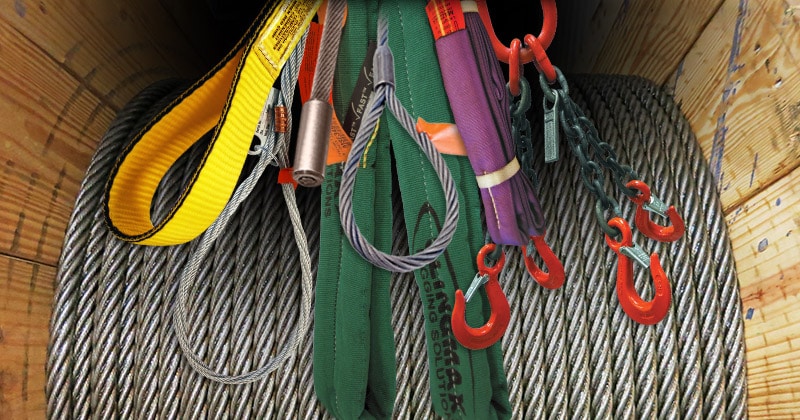 The Mazzella name is synonymous with providing customers from all industries with wire rope and high quality rigging products. We stock a complete line of high quality slings—from the customer favorite Mazzella 7-Part™ to the high performance synthetic Twin-Path® product line. We can manufacture any sling to meet your needs, including:
Alloy Chain
Wire Rope
Nylon and Polyester Web
Plasma Rope / High-Performance Synthetic Rope
Metal Mesh
High-Performance Synthetic
Additionally, we stock a large inventory of wire rope and cable — both large and small — for bridge cables, crane cables, steel mill cables, and OEM assemblies.
All standard wire rope, rigging products, and heavy lift assemblies are in stock and available to ship within 24 hours. For emergency situations, we can deliver right to your facility or job site.
---
Below-the-Hook Spreader Beams, Lifting Beams, and Custom-Engineered Lifting Devices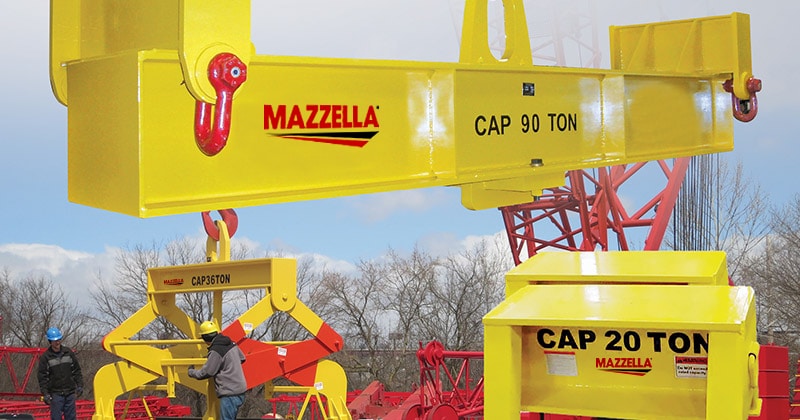 For custom and critical heavy-lift applications, Mazzella can design and fabricate a custom below-the-hook lifting device specific for your overhead lifting project. We supply spreader beams, lifting beams, lifting baskets, coil hooks, vacuum lifters, magnetic lifters and other custom lifters.
Our QuickShip program includes a variety of common sizes and configurations of die horses and die lifters, lifting beams, spreader beams, fork lift beams, C-hooks, and sheet lifters—all available to ship within 10 working days! Or, our in-house team of engineers, estimators, and project managers will work with you to engineer and fabricate a custom lifting device that is unique to your application and lifting needs.
We design, fabricate, proof-test, and inspect your custom lifting device out of our facility in Cleveland, OH and all work is performed in compliance with ASME BTH-1 and ASME B30.20 design and structural requirements.
---
Fall Protection Solutions: Engineered Lifelines, Rigid Track Systems, Harnesses, Shock Absorbers, and Lanyards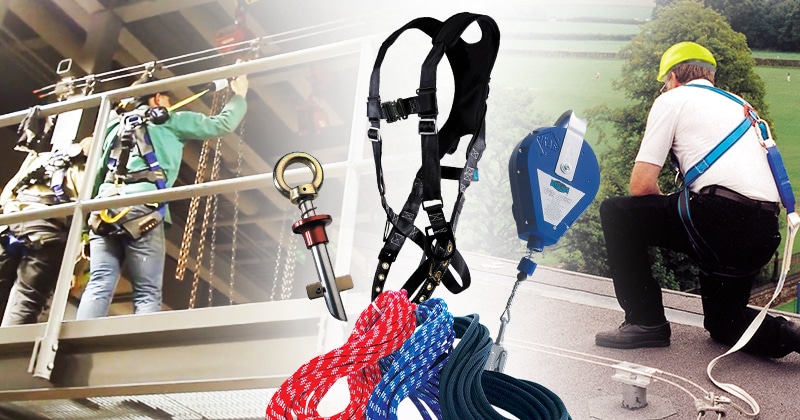 Safety at heights matters! Mazzella supplies all of Ohio, Indiana, and Kentucky with fall protection solutions that meet ANSI, EN, and Canadian codes, including:
Engineered and Pre-Engineered Lifelines
Rigid Rail Systems
Harnesses
Lanyards
Retractables
Anchor Points
Fall Protection Training
Keeping Tri-State Workers Safe, While Working at Height!
We partner with all of the major suppliers in the fall protection industry, and have access to a number of fall protection and fall arrest systems. Whether you need a temporary or permanent solution, or you're looking for soft goods like harnesses and lanyards, we have strong relationships with the following companies:
Tractel
Metreel
Ultra-Safe
Miller
Elk River
DBI Sala
RUD
Fall Protection Training
We offer on-site fall protection training for your workers who are exposed to height hazards. Our training meets all of the requirements of OSHA and is performed by an experienced and knowledgeable safety professional.
We offer three fall protection course, including a Basic (4-hours), Intermediate (6-8 hours), and Advanced (two days / 8 hours each) curriculum. Contact us today to schedule your OSHA-mandated fall protection training!
---
Overhead Cranes for the Tri-State's Industrial, Manufacturing, Fabrication, Automotive, and Steel Industries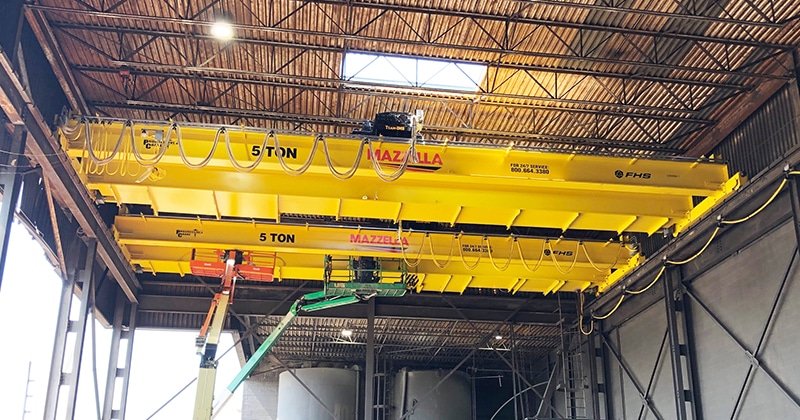 With manufacturing continuing to drive much of the economic growth in the Ohio, Indiana, and Kentucky markets, the need for reliable equipment to drive production and continued growth is more important than ever. Partnering with an overhead crane manufacturer is a big decision and one that shouldn't be taken lightly. The design, manufacturing, and installation of an overhead crane is a big project and can be a substantial investment—but, a necessary one if you want to improve your company's efficiency and workflows.
Mazzella offers turnkey overhead crane systems and custom below-the-hook lifting devices. We engineer, fabricate, and install world class lifting solutions—including everything from light-duty jib and workstation cranes, large-capacity double box girder systems, to lifting devices like spreader beams, lifting tongs, and c-hooks.
Today, there are thousands of our crane installations throughout the United States and abroad—all done in full compliance with CMAA, NEC, OSHA, and ASME standards. Since every business is unique, and no two cranes are alike, we offer free quotes and consultations for overhead crane and material lifting projects.
Mazzella cranes are manufactured in Cleveland, OH so we have access to a team of local and highly-experienced Crane Specialists, Engineers, and Estimators who can help you design and specify a cost-effective crane system for your facility, production or budgetary needs.
We specialize in the design and installation of:
Overhead Bridge Cranes
Gantry Cranes
Jib Cranes
Workstation Cranes
Monorail Cranes
Overhead Crane Upgrades and Modernization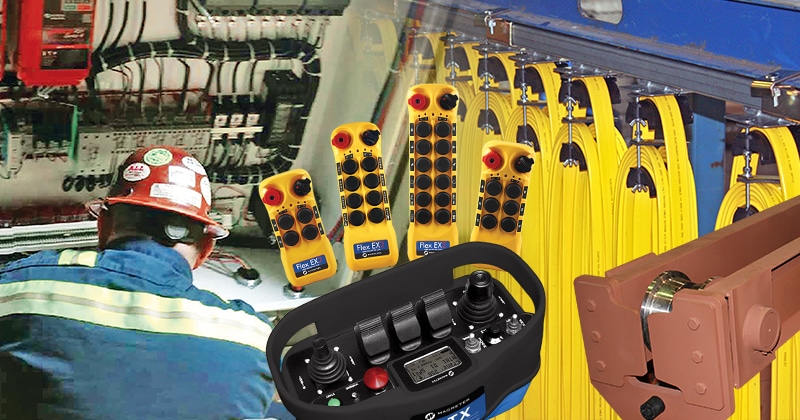 At Mazzella, we specialize in servicing overhead cranes and hoists, including modernizing and upgrading overhead crane equipment. We can custom-engineer solutions to extend the life and improve the production of your crane equipment with more efficient hoists and drives, updates to electrification and drive control systems, and so much more. This can all be done at a fraction of the price of replacing an overhead crane system.
The major benefit of installing an overhead crane system is the lifespan that you can get once you've invested in the equipment. While the components of the crane can wear down over time and may need to be repaired or replaced, the structure of the crane itself typically has a longer lifespan than the other components. This allows you to upgrade or modernize the individual crane components as newer and more efficient technologies become available, all while continuing to utilize the main runway and girder structures in place.
If you're experiencing any of the following, it may be time to schedule a consultation to see if we can help make your crane equipment safer, more efficient, and more reliable:
Your production or lifting requirements are changing
You're experiencing excessive wear or frequent repair of crane components
A recent inspection uncovered issues with your crane equipment
Replacement parts are obsolete or becoming difficult to source
You're considering replacing an existing overhead crane system
---
Tri-State Overhead Crane Service: Repairs, Parts, and OSHA Inspections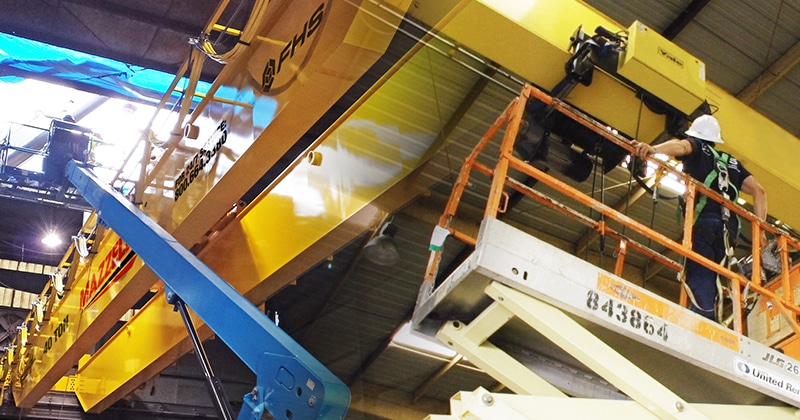 Mazzella FHS provides scheduled or emergency overhead crane service to all of Ohio, Indiana, and Kentucky—including Cincinnati, Dayton, Louisville, Florence, and Indianapolis.
We offer our customers the following services:
Crane and hoist maintenance
Crane and hoist repair and replacement parts
Overhead crane installation
OSHA inspections
Training
Hoist Parts and Hoist Repair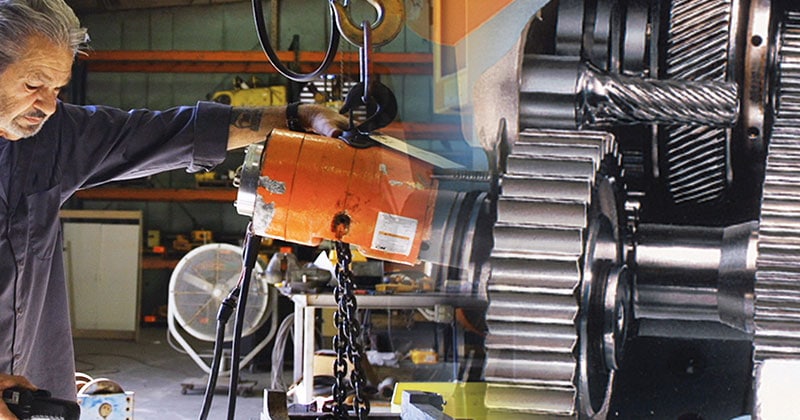 At Mazzella, we're a Master Parts Distributor for every major hoist manufacturer, including:
CM
Coffing
Yale
Shaw-Box
Budgit
Harrington
Acco / Wright
Ace World Companies
Detroit Hoist
R&M Material Handling
Our access to numerous after-market manufacturers of wire rope, bearings, seals, motors and brakes, along with more than 150 years of combined parts sales experience, allows us to meet your delivery requirements. Most in-stock items ship within 24 hours.
Cincinnati, OH:
10605 Chester Road
Cincinnati, OH 45215
Phone: 513-772-4466
Fax: 513-772-7129
---
Products & Services:
Slings & Assemblies
Rigging Hardware
Hoists & Hoist Parts
Lifting Products
Wire Rope
Spooling Services
Cordage & Assemblies
Training / Services
Fall Protection
Engineered Products
Overhead Cranes
Crane Service & Repairs
Contact A Specialist!