Providing Detroit and Michigan with Lifting Products, Slings, Rigging Hardware, and Wire Rope!
Mazzella (Madison Heights) provides lifting and rigging solutions for all of Michigan, including Detroit, Grand Rapids, Warren, Sterling Heights, Kalamazoo, Ann Arbor, Lansing, Clinton, Flint, Dearborn, and Livonia … just to name a few! We offer all styles of slings, rigging hardware, wire rope, overhead cranes, hoists, and engineered lifting devices. We also provide training, in-field inspection, and repair services that support our products.
---
Wire Rope and Crane Cables, Wire Rope Slings, Alloy Chain Slings, Synthetic Slings, Rigging Hardware … In Stock and Ready for Immediate Delivery to Detroit Metro!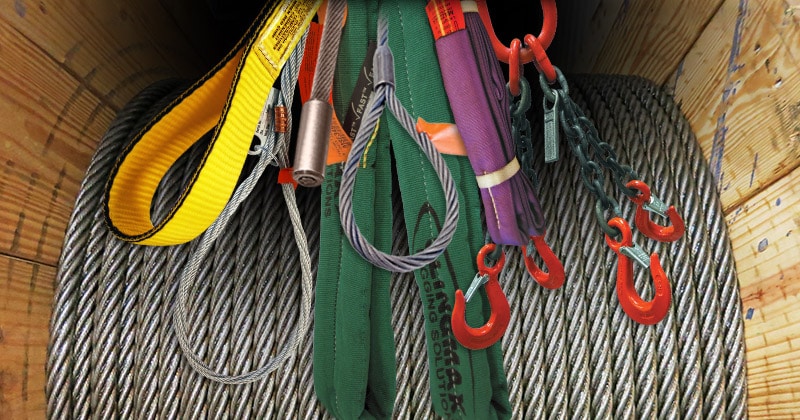 Mazzella is located in Madison Heights—just north of downtown Detroit and just minutes off of I-75 on Stephenson Highway. We offer a full line of lifting and rigging products and proudly serve the Detroit metro area, Grand Rapids, Kalamazoo, Flint, and Toledo. We service Michigan's automotive, construction, steel, and energy industries with 75+ years of collective industry knowledge and an approach that is solutions-based for each customer's unique application.
Our facility has a showroom that can immediately accommodate walk-in customer needs, as well as a full warehouse with a large inventory of wire rope and OEM crane rope, wire rope sling assemblies, synthetic lifting slings, sling hooks, crane hooks, hook blocks, shackles, hoist rings, and so much more.
Some of the other unique products and services that we offer, include:
Distributor of Gunnebo Industries GrabiQ chain slings
Peerless chain repair center
CM and Harrington hoists repair and service center
Extensive parts inventory and repair for overhead cranes
Additionally, we stock a variety of wire rope for making assemblies — both large and small — for bridge cables, crane cables, steel mill cables, and OEM assemblies. All standard wire rope, rigging products, and heavy lift assemblies are in stock and available to ship within 24 hours. For emergency situations, we can deliver right to your facility or job site.
See Our Lifting Slings & Rigging Products In The Michigan Community!
The statue of Michigan State great and Lansing native, Magic Johnson, that stands outside the Breslin Center was moved as part of an ongoing construction project at the facility. To ensure the lift was a success, a 500-ton crane was brought in and the statue was hoisted out using Mazzella lifting straps. The statue weighs approximately 187,000 pounds.
The 12-foot bronze statue had been placed in that location since 2003 and is titled "Always a Champion," to commemorate Johnson's championships at the high school, college, professional and Olympic levels. It cost $250,000 and was funded by private donations.
---
Overhead Cranes for Michigan's Automotive, Manufacturing, and Steel Industries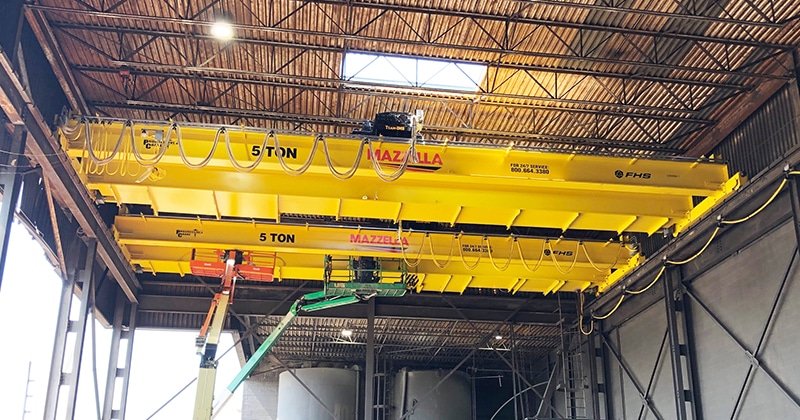 Partnering with an overhead crane manufacturer is a big decision and one that shouldn't be taken lightly. The design, manufacturing, and installation of an overhead crane is a big project and can be a substantial investment—but, a necessary one if you want to improve your company's efficiency and workflows.
Mazzella is a leading manufacturer of overhead crane systems with over 40 years manufacturing cranes for general industry, automotive, steel and metal processing, and energy/utility applications. Mazella is a leading manufacturer of world-class cranes and can engineer and build custom solutions ranging from light-duty economical cranes to large-capacity, high duty cycle cranes.
Today, there are thousands of our crane systems throughout the United States and abroad—all done in full compliance with CMAA, NEC, OSHA, and ASME standards. Since every business is unique, and no two cranes are alike, we offer free quotes and consultations for overhead crane and material lifting projects. Progressive Crane is located in Cleveland, OH so we have access to a team of highly-experienced Crane Specialists, Engineers, and Estimators who can help you design and specify a cost-effective crane system for your facility, production or budgetary needs.
We specialize in the design and installation of:
Overhead Bridge Cranes
Gantry Cranes
Jib Cranes
Workstation Cranes
Monorail Cranes
---
Detroit Overhead Crane Service: Repairs, Parts, and OSHA Inspection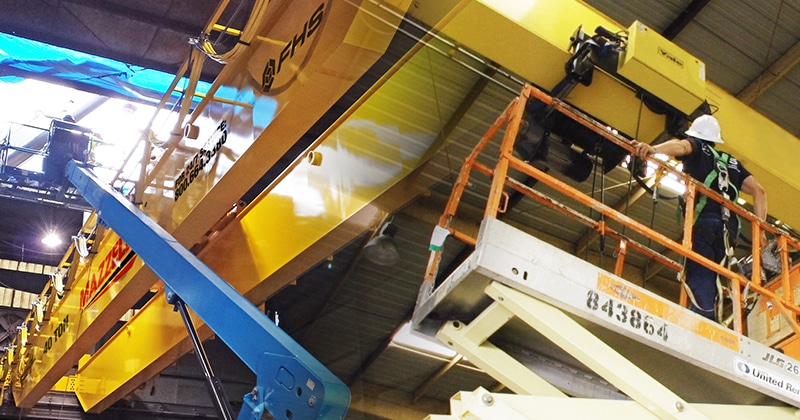 Mazzella FHS provides scheduled or emergency overhead crane service to Grand Rapids, Flint, Kalamazoo, Toledo, and Detroit metro—including Wayne County, McComb County, and St. Clair County.
We offer our automotive, steel, and manufacturing customers the following services:
Crane and hoist maintenance
Crane and hoist repair and replacement parts
Overhead crane installation
OSHA inspections
Rigging training and crane operator training
Our service technicians are independently trained and certified for expert maintenance and repair to keep your overhead crane equipment running. Our techs specialize in solving complex problems in emergency situations. We strive to minimize your downtime and our technicians are available 24 hours a day, 7 days a week.
Mazzella FHS sets the standard in inspection documentation management. Our online reporting system continuously archives your OSHA inspection reports and allows you to instantly access them through our website. Our Inspection Division works daily to keep your investment safe.
Overhead Crane and Hoist Replacement Parts
As a stocking parts distributor for most major hoist manufacturers, Mazzella / FHS can quickly respond to your needs. Our Parts Department Service Representatives are on hand and ready to serve you with a high sense of urgency.
We perform static and dynamic testing of hoists, level tools, and pulleys. Come to us for complete, in-house repair of electric, lever, or manual chain and wire rope hoists. We are one of the largest authorized stocking master parts depots for Columbus McKinnon (CM). We also feature Coffing, Harrington, Yale and Shaw-Box, R&M Material Handling… just to name a few.
We also provide our customers with the following value-added services:
Repairs and testing that comply with ASME B30.16 and B30.17 specifications
Static and dynamic tests
Electronic or hard copies of test certificates
All repaired hoists and pullers are load tested
We can repair and test to theatrical standards, upon request
We understand the importance of keeping your production flowing so we service and stock replacement parts for all makes and models of cranes and hoists. You can send your hoists into our shop for repair, or we can send a technician out to your facility to get your lifting equipment back up and running.
---
Servicing Michigan's Construction and Contractors with Rigging Solutions and Lifting Services
Single-Part / Multi-Part Wire Rope Slings, Alloy Chain Slings, Synthetic Web Slings, Synthetic Roundslings, and Rigging Hardware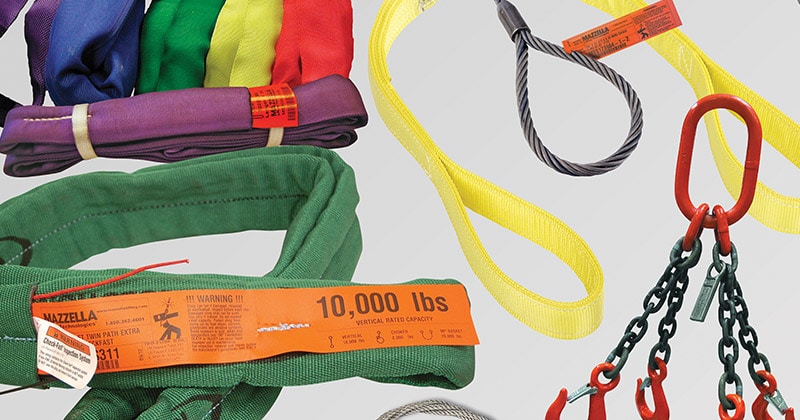 Mazzella provides crane ropes, lifting and rigging equipment, lifting beams and other engineered lifters to the Construction industry throughout Michigan, Indiana, and Western Ohio! We also provide heavy-lift wire rope slings, chain slings, and high-performance web slings and synthetic roundslings for new construction projects.
Below-the-Hook Spreader Beams, Lifting Beams, and Custom-Engineered Lifting Devices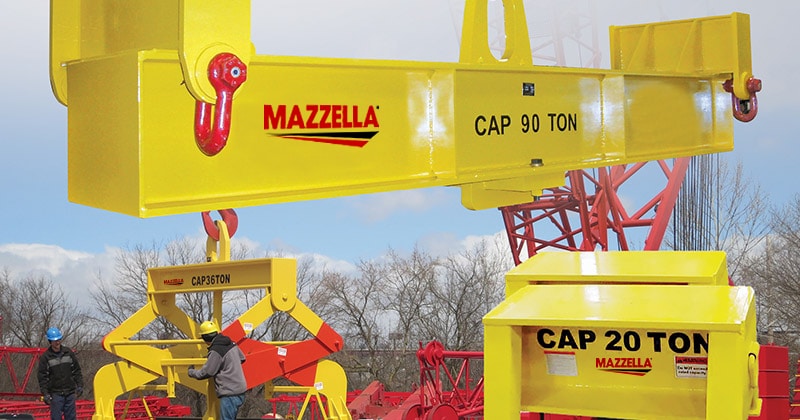 For custom and critical heavy-lift applications, Mazzella can design and fabricate a custom below-the-hook lifting device specific for your overhead lifting project. We supply spreader beams, lifting beams, lifting baskets, coil hooks, vacuum lifters, magnetic lifters and other custom lifters.
Our team can design, fabricate, proof-test, and inspect your custom lifting device—all in compliance with ASME BTH-1 and ASME B30.20 design and structural requirements.
OSHA and ASME Sling Inspection and Rigging Inspection Services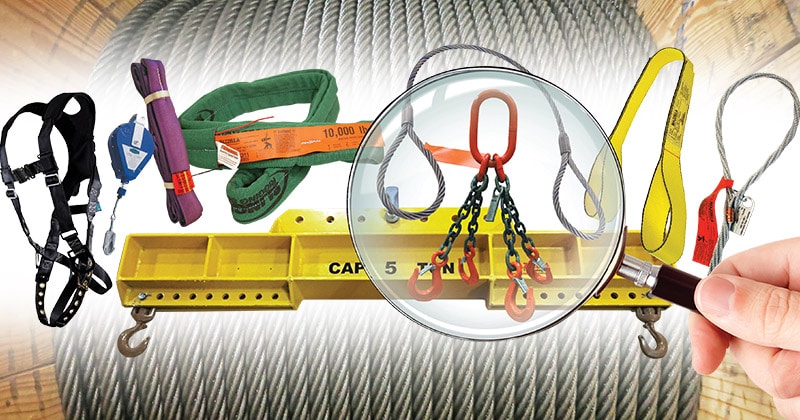 Mazzella has a dedicated team of rigging inspectors who can come on to your job site or into your facility to provide rigging inspections that meet ASME and OSHA periodic inspection requirements.
Our rigging inspectors are independently certified and will inspect any of the following types of lifting and rigging products:
Lifting slings (wire rope, chain, synthetic web, synthetic roundsling, metal mesh, etc.)
Rigging hardware (hooks, shackles, hoist rings, links, turnbuckles, eye bolts, etc.)
Below-the-hook lifting devices (spreader beams, lifting beams, coil hooks, magnetic lifters, etc.)
Manual lever hoists and chain falls
Personal fall protection equipment (harnesses, retractable devices, lanyards, and shock absorbers)
---
About Mazzella
Mazzella is located in Madison Heights, approximately 12 miles North of downtown Detroit and right off of I-75. We service the greater Detroit area, Grand Rapids, Flint, and McComb and St. Clair counties. Mazzella is a leading supplier of OEM crane ropes for construction, contractors, mobile crane rentals, tier-1 and tier-2 automotive suppliers, and steel mills in the Michigan marketplace.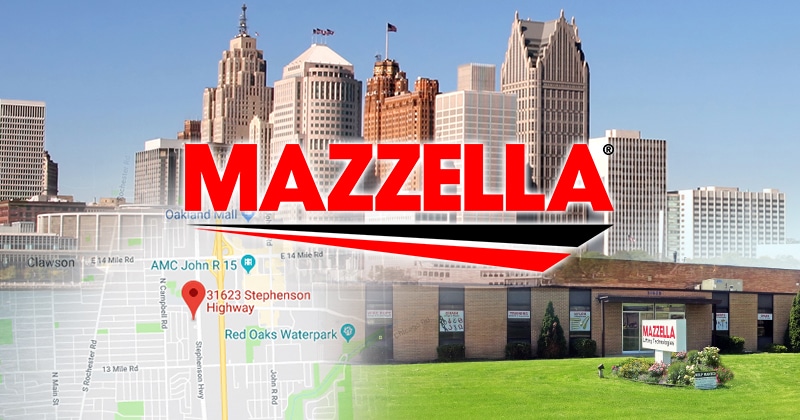 A Staple in the Michigan Community For More Than 60 Years!
Detroit Wire Rope was founded in 1953. Throughout the years, Detroit Wire Rope provided quality products and superior service to customers throughout Detroit and the Michigan marketplace. In 2005, Detroit Wire Rope was acquired by Mazzella Companies. Since then, Mazzella has proudly served a variety of industries in Michigan—including construction, automotive and automotive suppliers, general industry and manufacturing, steel mills and processing facilities, and oil and gas.
Mazzella maintains a large inventory of wire rope, specialty ropes and mobile crane ropes. We have a large variety of products available for immediate pickup—stop in to our showroom and browse our selection of fall protection, chain and fittings, synthetic slings, rigging hardware, hoists and hoist parts, and other related rigging products.
Beyond rigging products, Mazzella also manufactures overhead cranes, offers overhead crane inspection and repair services, and designs and fabricates custom-engineered below-the-hook lifting devices.
For more information about our products and services, or to schedule a consultation, call us at:
Mazzella
31623 Stephenson Highway
Madison Heights, MI 48071
Phone: 248-585-1063
Fax: 248-588-8776
MADISON HEIGHTS, MI
31623 Stephenson Highway
Madison Heights, MI 48071
Phone: 248-585-1063
Fax: 248-588-8776
---
Products & Services:
Slings & Assemblies
Rigging Hardware
Hoists & Hoist Parts
Lifting Products
Wire Rope
Spooling Services
Cordage & Assemblies
Training / Services
Fall Protection
Engineered Products
Overhead Cranes
Crane Service & Repairs
Contact A Specialist!