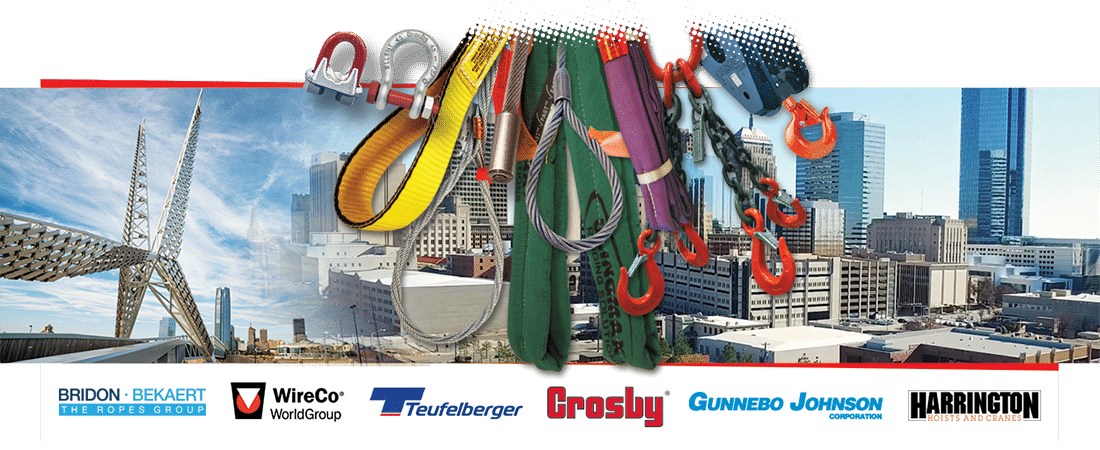 Proudly Supplying Oklahoma with Wire Rope, Lifting Slings, and Rigging Hardware
We provide ideal lifting solutions for all of Oklahoma, including Oklahoma City, Tulsa, Norman … just to name a few! We offer all styles of slings, rigging hardware, wire rope, spooling and socketing services, overhead cranes, hoists and engineered lifting devices. We also provide training, in-field inspection and repair services that support our products.
---
Supporting Oklahoma's Oil & Gas and Well Service Companies
Mazzella offers a number of different products and services to support the local oil and gas well service companies in Oklahoma and beyond.
High-Performance Crane Ropes—In Stock for Immediate Delivery to Oklahoma, Texas, Arkansas, Kansas, Nebraska, Iowa, Colorado, And Beyond!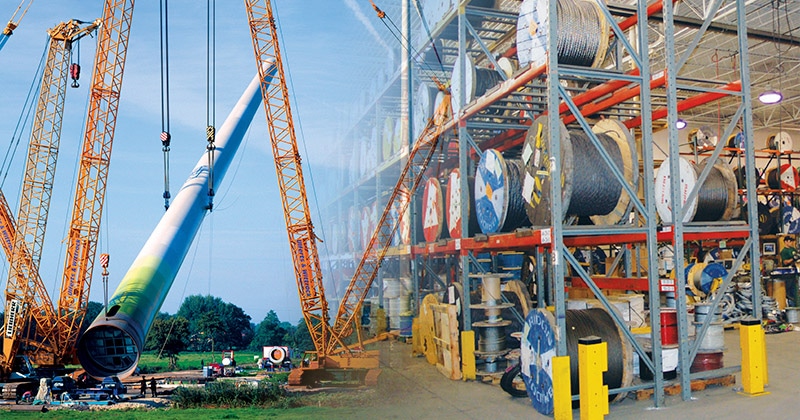 Mazzella stocks a large inventory of high-performance crane ropes available for immediate delivery to locations all across the central, southern, and southwestern United States. We stock both domestic and non-domestic products ready for same or next-day shipment from one of our many service centers.
We take the guesswork out of what wire rope to use on your crane equipment. We take a lot of pride in the extensive knowledge our team has of high-performance wire rope and crane rope applications. We understand how important it is to get a direct replacement rope for your crane application so you can maximize performance and extend the service life of your machinery.
❯ High-Performance Crane Ropes Flyer (PDF)
Additionally, we stock millions of feet of OEM crane ropes for every major crane manufacturer. Our Oklahoma City location stocks crane ropes ranging in sizes ranging from 1/4″ to 3″ diameter and 9mm to 52mm diameter.
We stock the following OEM ropes:
Bridon
Tuefelberger
WireCo
Bethlehem
WRI
Casar
Python
Spooling of High Performance Wire Rope and Mobile Crane Ropes!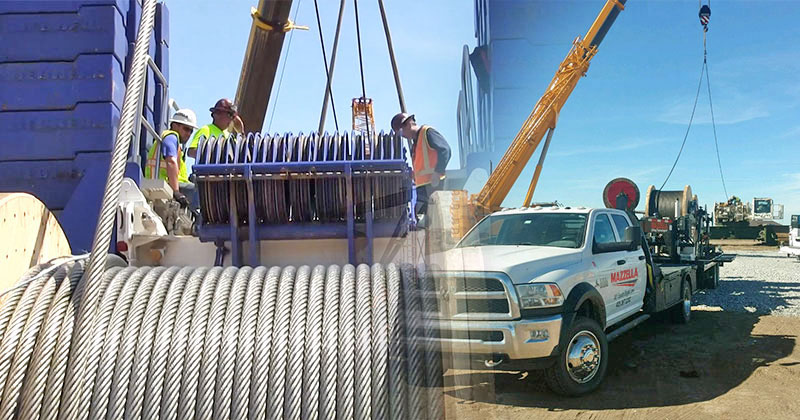 Mazzella has mobile spooling units to provide reliable, 24-hour, on-site service to all of our mobile crane customers. Our spooling units were designed and built to handle a variety of applications in the mobile crane industry with the ultimate goal of providing our crane customers with as little down time as possible!
Our spooling technicians are experienced, professional, and some of the best and most trusted experts in the industry. We service all areas of the Central and Southwestern United States including Oklahoma, Texas, Colorado, Kansas, Iowa, and beyond.
❯ Spooling Services Flyer (PDF)
Replacement Drill Line, Tubing Line, and Sand Line Cables for Drilling and Workover Rigs
We offer routine and emergency field service for drilling and workover rigs. When your rig goes down and you need to swap out and replace a drill line, tubing line, or a sand line, we send out one of our mobile spooling units operated by an expert technician with the correct pre-measured cable. We perform in-field splicing and will use our rig to pull the old or damaged line off and run the replacement cable off the truck and onto the rig's winch drum.
In-Field Wire Rope Socketing and Button Stop Replacement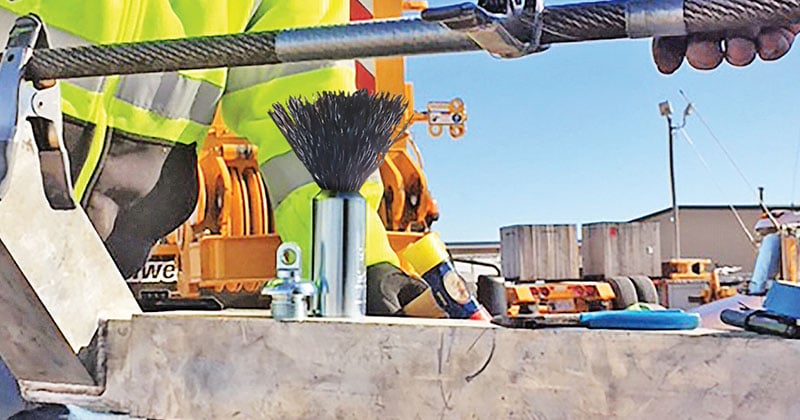 Mazzella employs one of the few certified technicians who can perform an in-field poured socket replacement for your high-performance crane rope. Our technician utilizes a proprietary process to pour a wire rope socket on-site. We come to you with all of the tools and equipment necessary and will get your crane up and running in no time.
Single-Part / Multi-Part Wire Rope Slings, Alloy Chain Slings, Synthetic Web Slings, Synthetic Roundslings, and Rigging Hardware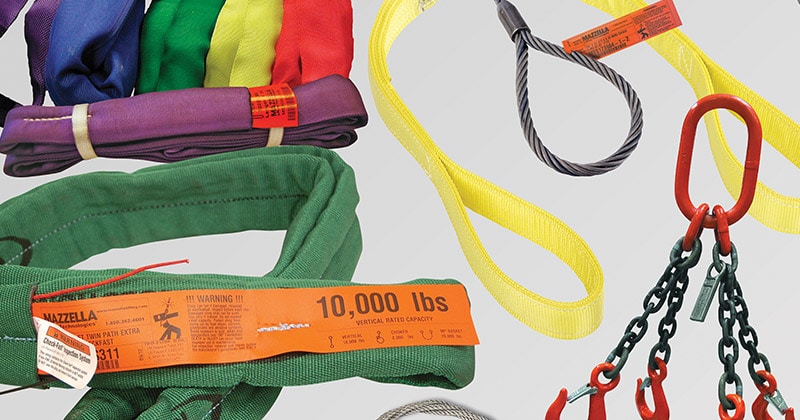 Mazzella provides lifting and rigging equipment to the oil and gas industry in Oklahoma, Texas, and beyond! We also provide heavy-lift wire rope slings, chain slings, and high-performance web slings and synthetic roundslings for new construction projects. For fabrication shops and general manufacturing facilities, we can provide wire rope, lifting slings and assemblies, sling hooks, crane hooks, hook blocks, shackles, hoist rings, and so much more.
Rigging Equipment Inspection and Certification Program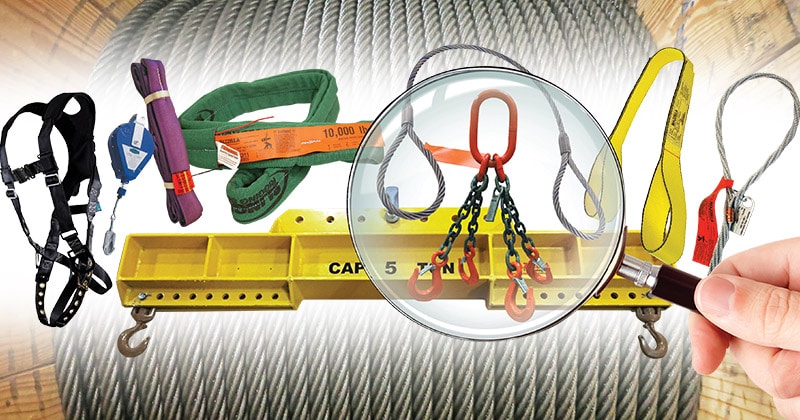 We understand the unique challenges of keeping your rigging gear in compliance with oil & gas standards. We offer rigging inspection, repair, and proof-testing services. If you need to get your rigging gear inspected, re-tagged, or re-certified, we have a team of inspectors who perform inspections to ASME B30 standards and will proof test and re-certify your gear and provide you with the required certificates. If you ever lose your certificates, we keep everything on-hand and can easily deliver in person or electronically.
Our rigging inspectors are independently certified and will inspect any of the following types of lifting and rigging products:
Lifting slings (wire rope, chain, synthetic web, synthetic roundsling, metal mesh, etc.)
Rigging hardware (hooks, shackles, hoist rings, links, turnbuckles, eyebolts, etc.)
Below-the-hook lifting devices (spreader beams, lifting beams, coil hooks, magnetic lifters, etc.)
Manual lever hoists and chain falls
Personal fall protection equipment (harnesses, retractable devices, lanyards, and shock absorbers)
Rigging Inspection and Repair Bin Program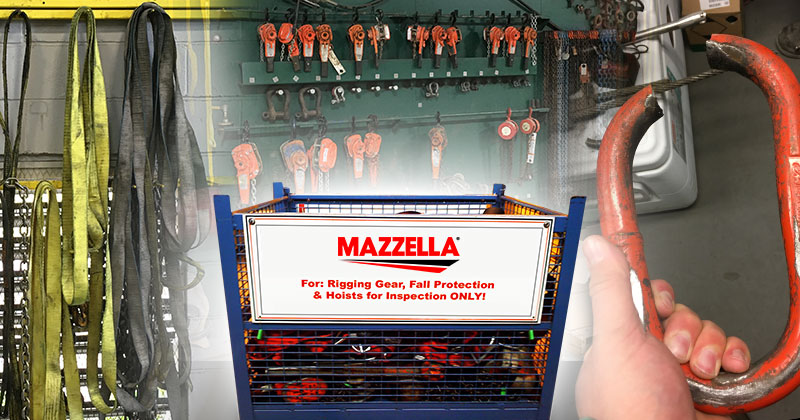 You can drop off your rigging gear for inspection, or utilize our unique Repair Bin program—toss your rigging gear in the supplied bins and we'll do the rest!
Here's how our inspection and repair program works:
We schedule pick up
We pick up your bins of slings, hoists, lever tools, fall protection products and/or any rigging hardware you may have
We drop off empty bins when we pick up the full ones
We inspect your rigging gear to all applicable OSHA/ASME standards
We email you detailed inspection reports to keep you OSHA compliant
We quote your repairs or replacements to keep your equipment at optimal levels
We return your inspected, repaired, and new equipment back to you
We do it all over again!
This process saves you time and money and helps keep your inspection records in order. Most of all, it will help keep critical lifting and rigging equipment in good safe working condition.
---
Lifting and Rigging Equipment that Supports Oklahoma's Energy, Steel, Construction, and Manufacturing Industries
Mazzella serves the Oklahoma construction, steel, energy, and general manufacturing. We provide each of our customers with a unique solutions-based approach that is specific to their project or application.
We can accommodate walk-in customer needs, as well as offer a full warehouse with a large inventory of wire rope and OEM crane rope, wire rope sling assemblies, nylon and polyester lifting slings, sling hooks, crane hooks, hook blocks, shackles, hoist rings, and so much more.
We are a full-service rigging company with years of collective knowledge and experience. If you're looking for a one-stop shop for your crane ropes, lifting slings, rigging hardware, custom below-the-hook lifters, lift training and consultation, rigging inspection, and fall protection needs, give us a call.
Below-the-Hook Spreader Beams, Lifting Beams, and Custom-Engineered Lifting Devices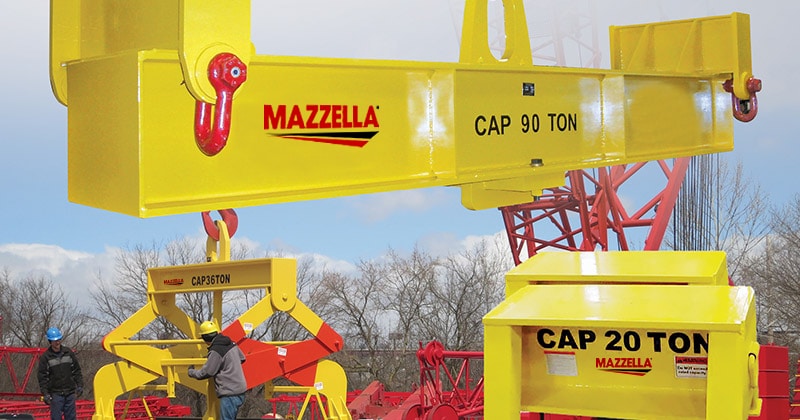 For custom and critical heavy-lift applications, Mazzella can design and fabricate a custom below-the-hook lifting device specific for your overhead lifting project. We supply spreader beams, lifting beams, lifting baskets, coil hooks, vacuum lifters, magnetic lifters and other custom lifters.
Our team can design, fabricate, proof-test, and inspect your custom lifting device—all in compliance with ASME BTH-1 and ASME B30.20 design and structural requirements.
Fall Protection Solutions and Engineered Fall Arrest Systems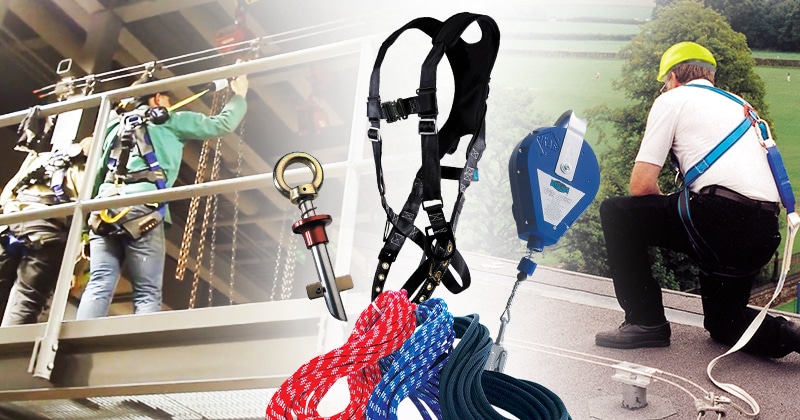 At Mazzella, we offer all kinds of fall protection and fall arrest solutions, including:
Temporary and permanent lifeline systems
Full body harnesses
Retractables / lanyards
Energy-absorbing rope
Ladder climbing systems
Mobile fall protection systems
Keeping Oklahoma's Workers Safe While Working at Height!
Our personal fall protection products meet ANSI regulations, as well as EN and Canadian codes. We can customize most products for specific customer needs. We also carry D-ring extenders, individual shock packs, snap hooks, carabiners and rollgate hooks, roofer kits, rebar assemblies, anchorages and retrieval systems … just to name a few.
We also offer basic, intermediate, and advanced fall protection training courses. Lives are on the line every day when working at height. Whether it's on a job site, or in a manufacturing or industrial facility, it's critical that your team receives training at height, which is required by OSHA.
---
About Mazzella
Located in Oklahoma City, west of the Stockyards and right off of I-40, Mazzella serves the greater Oklahoma City, Tulsa, and Norman areas—with OEM crane rope installation and service, in-field socketing, and rigging products delivered to Texas, Arkansas, Kansas, Nebraska, Iowa, and Colorado.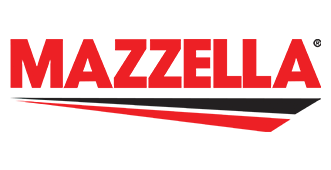 Mazzella opened our doors in April of 2017—expanding into the Oklahoma market with opportunities to focus on the well servicing and oil and gas markets. Since 2017, we've built two custom crane rope spooling units—based on a proprietary design that provides crane rope installation and service on all makes and models of mobile cranes.
Mazzella also offers a full selection of wire rope, specialty crane ropes, fall protection, chain slings and fittings, synthetic web and roundslings, rigging hardware, hoists and hoist parts.
For more information about our products and services, or to schedule a consultation, call us or stop by our showroom at:
Mazzella
301 South Eagle Lane
Oklahoma City, OK 72138
Phone: 405-367-2202
Fax: 405-367-2206
Oklahoma City, OK:
301 South Eagle Lane
Oklahoma City, OK 73128
Phone: 405-367-2202
Fax: 405-367-2206
Products & Services:
Slings & Assemblies
Rigging Hardware
Hoists & Hoist Parts
Lifting Products
Wire Rope
Spooling Services
Cordage & Assemblies
Training / Services
Fall Protection
Engineered Products
Overhead Cranes
Crane Service & Repairs
Contact A Specialist!