Providing Lifting Slings, Rigging Hardware, & Wire Rope from Pittsburgh to Youngstown to West Virginia!
Mazzella Pittsburgh provides wire rope, and lifting and rigging products for all of Pennsylvania, including Pittsburgh, Allentown, Erie, Reading, Scranton, Bethlehem, Lancaster, and all of the way to Youngstown, Ohio. We offer all styles of slings, rigging hardware, wire rope, overhead cranes, overhead cranes, hoists and engineered lifting devices. We also provide training, in-field inspection and repair services that support our products.
---
Wire Rope and Cable, Wire Rope Slings, Chain Slings, Twin-Path™ Slings, Web Slings, and Rigging Products … In Stock and Ready for Immediate Delivery!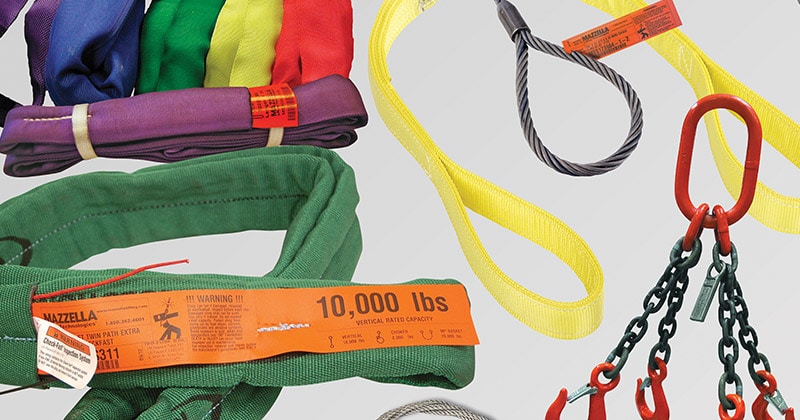 Mazzella is located in Cranberry Township, right outside of Pittsburgh and just off of the PA Turnpike. We offer a full line of lifting and rigging products and proudly service the Pennsylvania construction, oil and gas, steel, and general manufacturing industries. Our facility has a showroom that can immediately accommodate walk-in customer needs, as well as a full warehouse with a large inventory of wire rope, wire rope sling assemblies, synthetic slings, and rigging hardware.
The Mazzella name is synonymous with quality slings—from the customer favorite Mazzella 7-Part™ to the high performance synthetic Twin-Path® product line. We can manufacture any sling or assembly to meet your needs, including:
Alloy Chain Slings
Single-Part and Multi-Part Wire Rope Slings
Nylon and Polyester Web Slings
High Performance Roundslings
Synthetic HMPE Plasma Rope Slings
Tie-Down and Binder Chains
Additionally, we stock a variety of wire rope for making assemblies — both large and small — for bridge cables, crane cables, steel mill cables, and OEM assemblies. All standard wire rope, rigging products, and heavy lift assemblies are in stock and available to ship within 24 hours. For emergency situations, we can deliver right to your facility or job site.
---
Pittsburgh Personal Fall Protection: Ultra-Safe Harnesses, Retractables, Lanyards, and Repair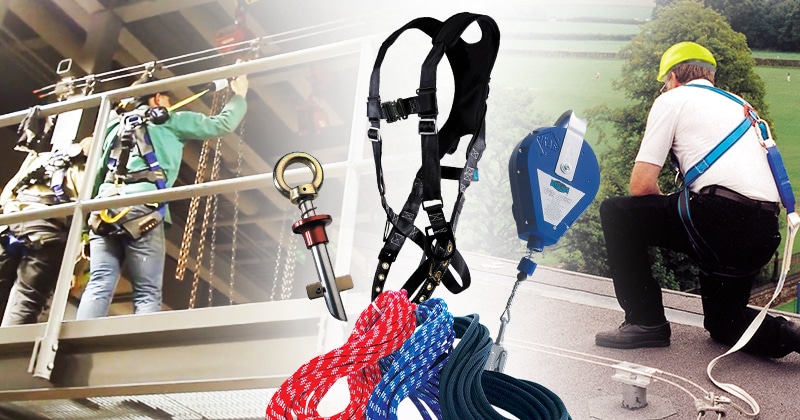 We partner with Ultra-Safe to provide a complete line of fall protection products and systems, including lanyards, rope grabs, and quality fall protection harnesses.
Keeping Pennsylvania's Workers Safe While Working at Height!
Our personal fall protection products meet ANSI regulations, as well as EN and Canadian codes. We can customize most products for specific customer needs. We also carry D-ring extenders, individual shock packs, snap hooks, carabiners and rollgate hooks, roofer kits, rebar assemblies, anchorages and retrieval systems … just to name a few.
We also have an authorized Ultra-Safe service and repair center. You can send in any Ultra-Safe retractable device and we'll inspect it, repair it, and test and certify it before sending it back to you.
---
Kelly Lines, Aux Lines, Crowd Winch Lines, and OEM Wire Rope for Foundation Drilling Equipment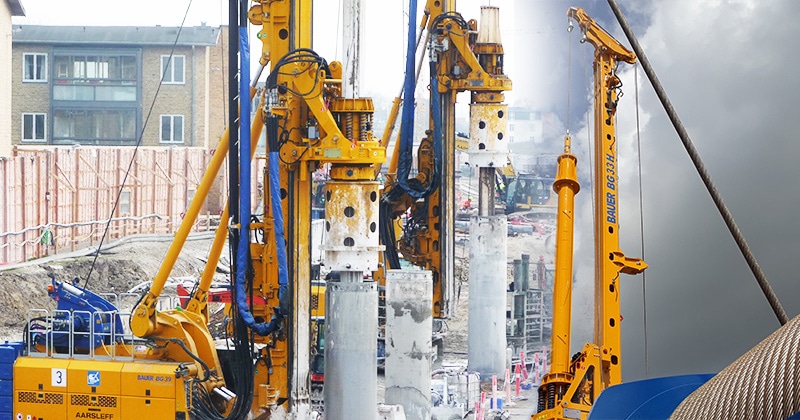 Mazzella sells OEM wire rope lines for medium and large pile drilling rigs. We offer Kelly lines, Auxiliary rope lines, and Crowd winch lines for highway, bridge, foundation, tunneling, and other civil construction projects all across Pennsylvania.
Some of the major markets we serve, include: Pittsburgh/Western PA, Erie, State College, Williamsport, Allentown and we even service Youngstown, OH and Wheeling, WV.
Tuefelberger, Bridon, and OEM Wire Rope Cables for Pile Driving Equipment
Mazzella stocks a large inventory of high-performance wire rope available for immediate delivery to locations all across the United States. We stock both domestic and non-domestic products ready for same or next-day shipment from one of our many service centers.
Additionally, we stock well over 26 million feet of wire rope for making assemblies — both large and small — for bridge cables, crane cables, steel mill cables, and OEM assemblies. All standard wire rope, rigging products, and heavy lift assemblies are in stock and available to ship within 24 hours. For emergency situations, we can deliver right to your facility or job site.
We supply wire rope cables for the following types of drilling rigs and pile driver equipment:
Liebherr
BAUER-Pileco
Soilmec
IMT International
CZM Foundation Equipment
Casagrande
Comacchio
Drill Rig Kelly Lines
We can supply rotation-resistant wire rope used for the Kelly line on foundation drill rigs. We offer the complete Kelly line assemblies including one end that is tapered and welded and the other end complete with a solid thimble designed to DIN European specifications for a better D/d ratio.
Crowd Winch Lines
We can supply wire rope for crowd winch lines—including the upper and lower crowd lines with or without buttons on the ends.
Aux Lines
Our Auxiliary lines can be designed to match the Kelly lines in a rotation-resistant or standard rope configuration. We sell the complete assemblies including a tapered and welded end and solid or standard thimble on the other end.
---
Below-the-Hook Spreader Beams, Lifting Beams, and Custom-Engineered Lifting Devices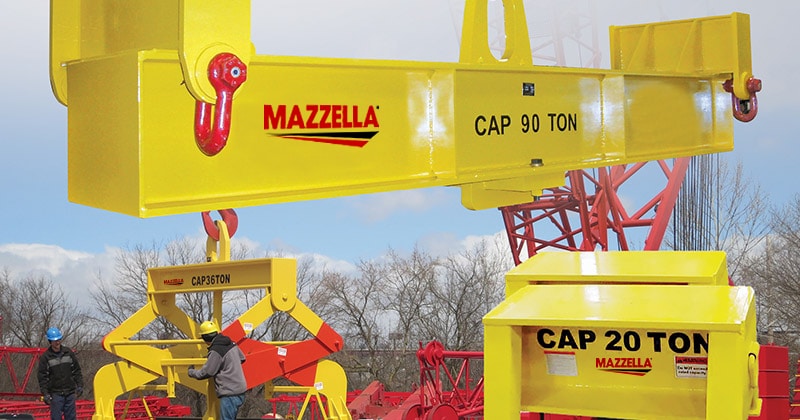 For custom and critical heavy-lift applications, Mazzella Lifting Technologies can design and fabricate a custom below-the-hook lifting device specific for your overhead lifting project. We supply spreader beams, lifting beams, lifting baskets, coil hooks, vacuum lifters, magnetic lifters and other custom lifters.
Our team can design, fabricate, proof-test, and inspect your custom lifting device—all in compliance with ASME BTH-1 and ASME B30.20 design and structural requirements.
---
Pittsburgh Overhead Crane Service: Repairs, Parts, and OSHA Inspections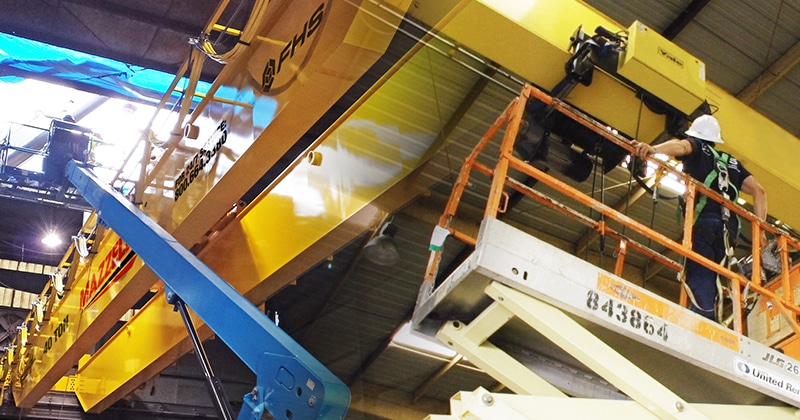 Mazzella FHS provides scheduled or emergency overhead crane service to Western and Central Pennsylvania—including Pittsburgh, Erie, and State College. We offer our customers the following services:
Crane and hoist maintenance
Crane and hoist repair and replacement parts
Overhead crane installation
OSHA inspections
Training
Our service technicians are independently trained and certified for expert maintenance and repair to keep your overhead crane equipment running. Our techs specialize in solving complex problems in emergency situations. We strive to minimize your downtime and our technicians are available 24 hours a day, 7 days a week.
Mazzella FHS sets the standard in inspection documentation management. Our online reporting system continuously archives your OSHA inspection reports and allows you to instantly access them through our website. Our Inspection Division works daily to keep your investment safe.
As a stocking parts distributor for most major hoist manufacturers, Mazzella FHS can quickly respond to your needs. Our Parts Department Service Representatives are on hand and ready to serve you with a high sense of urgency. We understand the importance of keeping your production flowing so we service and stock replacement parts for all makes and models of cranes and hoists.
---
About Mazzella
Located in Cranberry Township, just North of downtown Pittsburgh, and right off of I-76, Mazzella services Pennsylvania and the greater Pittsburgh area, as well as Eastern Ohio and the panhandle of West Virginia. Mazzella Lifting Technologies is a leading supplier of OEM crane ropes for construction, drilling, tunneling, and pile driving.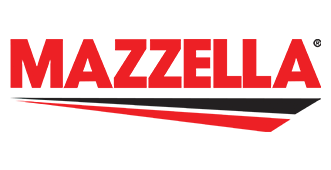 Mazzella opened its doors in Cranberry Township, PA in 2004—primarily growing through its partnerships with local steel mills. Since then, we have diversified our customer base significantly with the addition of loyal construction and oil & gas customers. Over the years, we've become a trusted source in rigging training and the inspection of equipment used for rigging and lifting. We also offer a full selection of wire rope, specialty crane ropes, fall protection, chain slings and fittings, synthetic web and roundslings, rigging hardware, hoists and hoist parts.
Beyond rigging products, Mazzella has diversified into a leading fall protection supplier with our line of Ultra-Safe harnesses, retractable devices, and lanyards. We also manufacture overhead cranes, offer overhead crane inspection and repair services, and design and fabricate custom-engineered below-the-hook lifting devices.
For more information about our products and services, or to schedule a consultation, call us or stop by our showroom at:
Mazzella
37A Progress Avenue
Cranberry Twp, PA 16066
Phone: 724-779-7001
Fax: 724-779-1381
PITTSBURGH, PA
37A Progress Avenue
Cranberry Township, PA 16066
Phone: 724-779-7001
Fax: 724-779-1381
---
Products & Services: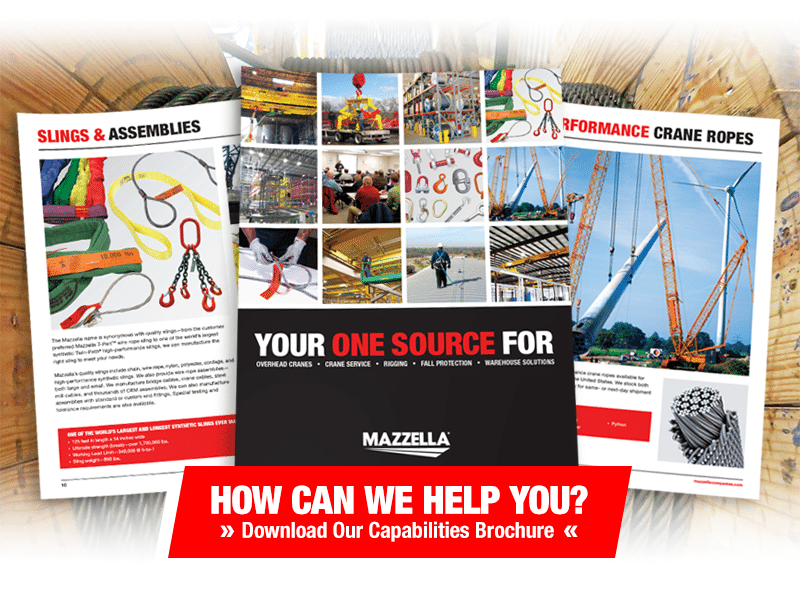 Slings & Assemblies
Rigging Hardware
Hoists & Hoist Parts
Lifting Products
Wire Rope
Spooling Services
Cordage & Assemblies
Training / Services
Fall Protection
Engineered Products
Overhead Cranes
Crane Service & Repairs
Contact A Specialist!