Description

---
Stamped ID Tags
Heavy Duty, Prestamped, Zinc plated metal tag.
4-1/8″ x 1-7/16″ tag dimensions.
2-1/2″ diameter metal attaching ring.
Tag prestamped for simple inclusion of sling type, Working Load Limit, reach, serial number, chain size and grade.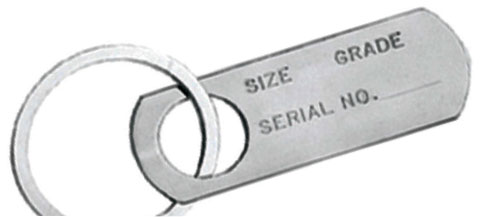 ---
ID Tags
Heavy Duty tags.
1-5/16″ diameter ring opening (will fit 1/4″ – 5/8″ A-1337).
Chain tags meet requirements of ASME B30.9 for Sling Identification.
Raised edge and recessed pads to protect lettering.
Raised lettering for quick reference.