We offer complete, in-house inspections and repairs of below-the-hook lifting devices.
Certified Inspectors, along with our Engineering Department, perform detailed analysis. Repaired or rebuilt units provide significant cost savings. We also can provide FEA (Finite Element Analysis) reports for customers' lifting devices. Customers can send in a unit, enabling Engineering to measure and model the unit in SolidWorks and run FEA analysis that determines the safe working load.
---
Inspections, Load Testing, and Repairs of Certified Below-the-Hook Devices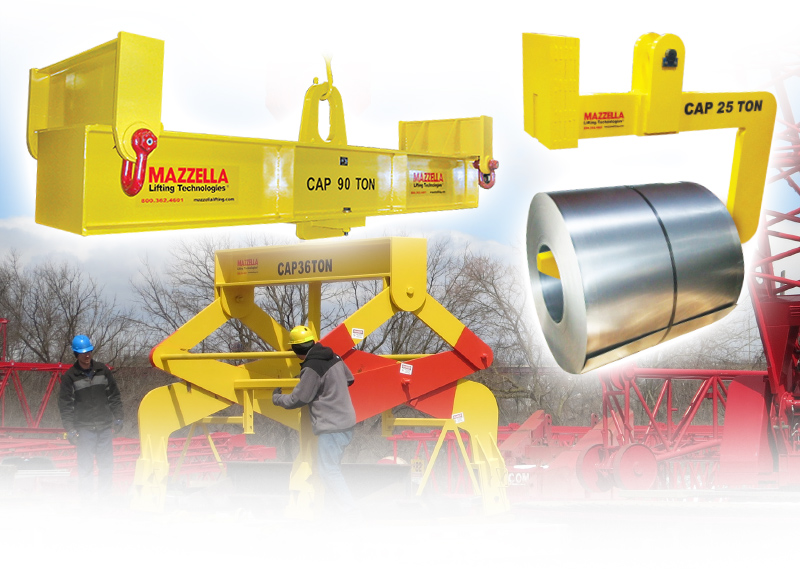 Welded / Forged Lifting Device
Tag or No Tag
Mazzella will not certify or provide tagging through reverse engineering

This is mostly due to weld quality issues. A reverse engineering process will not be able to confirm that the correct weld rod was used or that proper weld processes were used. We also do not know how many load cycles the lifter has been through to understand where it is at in its fatigue life.
On a case by case basis, if a customer can supply all manufacturing information then Mazzella may proceed with a reverse engineering procedure. However, Mazzella would still have the customer sign a form stating that the customer is taking responsibility for all welding, forging and manufacturing. Mazzella would be providing reverse engineering on the structural components and the existing weld sizes based on the least known material (unless material certifications are provided).

Mazzella will load test a device if deemed safe to load test by our testing technicians.

If we feel the device is not safe to test during a visual inspection upon its arrival, we will not load test it. We may come to this conclusion if we feel the weld quality is poor, the device has visible damage or wear, or if it violates safe rigging principles (i.e. welded chain as the connection point, or using non-load rated hardware).
Customer will need to provide a desired capacity and test plan to show how it is to be loaded.
Unique lifters may require engineering to provide a testing apparatus to test the fixture. This will be covered in the quote.
The customer will receive a certificate of load test. Mazzella is not responsible if the device breaks during the load test, or any time in the future during operation. Mazzella does not provide a tag nor does Mazzella provide a post-test inspection or advise how the device performed. Mazzella is basically renting out the load test machine for use.
On-site testing can be provided assuming the following points listed above. Additional cost will be in the quote for test weights and travel expenses.
If the test requires a testing fixture, this will have to be added to the quote on a case by case basis.

Mazzella can reverse engineer and provide a quote for a new lifter designed and manufactured to the proper standards.

Customer needs to provide critical dimensions from the existing lifter that need to be maintained on the new lifter.
Non-Welded / Non-Forged Lifting Device
Tag or No Tag
This would also apply to devices where there is weld, but not a critical load path weld. For example, a burn out plate C-hook with welded on counterweight.
Mazzella can provide tagging through reverse engineering.

Customer should provide:

Age of lifter (estimate of number of lift cycles)
Drawing of lifter
Material certifications
Intended use with loadings

The engineer will perform all required calculations per the ASME BTH-1-2011 Standard (The Standard for the Design of Below-the-Hook Lifting Devices). This standard requires specific design factors based off operational conditions. Many times, the device does not meet the customers required capacity because they did not take the Design Factor into consideration. Also, if the customer cannot provide material certifications for the material the device is made from, we must assume mild steel with lower strengths, which will result in a lower capacity. A lower than desired capacity does not nullify the Purchase Order. The customer will still be charged for the engineering hours allocated to the project, and any other costs incurred.