Business View Magazine (November 2015)
---
Leader in Overhead Lifting and Rigging Vows to Remain Independent.
Mazzella Companies is 60 years old. Current CEO, Tony Mazzella, recounts how the original company was founded by his father in 1954: "My dad got into the wire rope and sling-making business because of his father, who invented several types of wire rope slings. My grandfather, Antonio Mazzella, patented five wire rope slings and sold his patents to a wire rope company. My dad and grandfather went to work for that company and started their first wire rope shop. This was back I the early 1940s when my dad was a young kid. He went to work right after his sophomore year in high school. He ended up going into the Service and when he came out and married my Mom, he moved from New Haven, Connecticut to Charleston, West Virginia."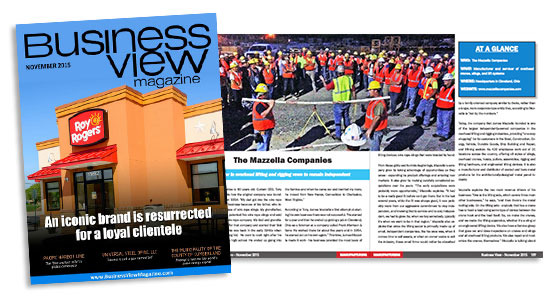 According to Tony, James Mazzella's first attempt at starting his own business there was not successful. He starved for a year and then he ended up getting a job in Cleveland, Ohio as a foreman at a company called Frank Morrison & Sons. He worked there for about five years and in 1954, he started out on his own again. "This time, James Mazzella made it work – his business provided the most basic of lifting devices: wire rope slings that were braided by hand.
From those gritty and humble beginnings, Mazzella's company grew by taking advantage of opportunities as they arose – expanding its product offerings and entering new markets. It also grew by making carefully considered acquisitions over the years. "The early acquisitions were probably more opportunistic," Mazzella explains. "It had to be a really good fit before we'd get them. But in the last several years, while the fit was always good, it was probably more from our aggressive commitment to stay independent, and knowing that to survive and to stay independent, we had to grow. So, when we buy somebody, typically it's when we want to be in that region." Mazzella also explains that since the lifting sector is primarily made up of small, independent companies, like his once was, when it comes time to sell assets, or when an owner wants to exit the industry, these small firms would rather be absorbed by a family-oriented company similar to theirs, rather than a larger, more corporate-type entity that , according to Mazzella is "run by the numbers."
Today, the company that James Mazzella founded is one of the largest independently-owned companies in the overhead lifting and rigging industries, providing "one-stop shopping" for its customers in the Steel, Construction, Energy, Vehicle, Durable Goods, Ship Building and Repair, and Mining sectors. Its 420 employees work out of 21 locations across the country, offering all styles of slings, overhead cranes, hoists, pullers, assemblies, rigging and lifting hardware, and engineered lifting devices. It is also a manufacturer and distributor of coated and bare metal products for the architecturally-designed metal panel industry.
Mazzella explains the two main revenue drivers of his business: "One is the lifting side, which covers three main other businesses," he says, "and then there's the metal roofing side. On the lifting side – anybody that has a crane has to hook a load using some type of device between the crane hook and the load itself. So, we make the cranes, and we make the lifting apparatus, whether it's a sling or an engineered lifting device. We also have a Service group that goes out and does inspections on cranes and slings and all overhead lifting products. We also repair and modernize the cranes, themselves." Mazzella is talking about the overhead cranes used in plants, which are typically inside a building, not the cranes outside that are used to build buildings. "But we do supply the wire rope that goes on those mobile and construction cranes," he adds. "And on the roofing side, we sell the metal to roofing contractors, which is a significant part of our business."
He also details the company's territorial spread: "In the lifting business, Mazzella Companies is primarily in the eastern half of the United States. In the architectural metal business, we are across the U.S. Our most recent acquisition, New Tech Machinery, manufactures portable, rollforming roof panel and gutter machines. They sell to the U.S. and 30 other countries in the world."
Mazzella stresses that compared to the competition, his company has a decided edge. "On the lifting business side, we're the only people in the U.S. that goes from the crane all the way down to the lifting device and also provides inspection service. A lot of companies will do one of the three, or maybe two, but there's almost nobody that does all three of those – crane manufacturing, the sling and engineered products that hang off the hook, and the actual service of the cranes and inspection of the slings. To that degree, we're a one-stop-shop."
According to Craig Hayward, Mazzella Companies' Vice President, the architectural portion of the business has some interesting reciprocal arrangements with several steel mills, from whom it gets its raw product. "It's a unique situation where, we're buying rolled steel from them, but we also have contracts supplying them with all of their rigging that they use internally to produce the steel," he says. Mazzella adds that supplying product to steel mills is one of the biggest segments of his business. "We do Steel, we do Construction, Automotive, Oil and Gas, General Industry, and a few others, but Steel is a significant part of our business – we specialize in that."
While the company, itself, is constantly receiving invitations to sell it assets to larger suitors (Mazzella reveals that offers come in almost every week), he is adamant that the company remain independent. It's a major reason that a big part of its future strategy will continue to be the acquisition of other companies that it can "bolt on" to the businesses it is already running. And the Mazzella management team is looking for both synergy and longevity when absorbing companies under its corporate umbrella. Bill Franz, Vice President of Marketing, explains: "If we're in the market and we buy a rigging company, we can bolt on a crane service business onto that same location and/or an overhead crane business. If we buy an overhead crane company, we can bolt on crane service or riggings to that company in that geography."
Craig adds, "Another important big selling point for us is the fact that we're looking at an acquisition that's a permanent bolt-on. We're not looking to change it, enhance it, and get rid of it in three to five years." Franz concurs. "When we acquire companies we are very sensitive to their branding and the market that they're in," he says. "Maybe the owner is getting out and wants to leave a legacy, so we're mindful of keeping their name and their market since they typically come with very good reputations in those geographies – that's very important to a lot of people who sell." Mazzella adds: "Typically, we keep their name and we just put a tagline that it's a Mazzella company."
In addition to aggressive acquisitions, another way in which Mazzella Companies intends to stay ahead of the curve is by instituting employee initiatives that will continue to allow its workers to remain experts in their industries. "We've initiated an apprenticeship program that just kicked off in September, where our employees can actually get a degree in lifting technologies," Mazzella reports. "We've worked with a local community college to put that program together, and it's recognized nationally. So, from the employee side, we've got a significant focus on creating a workplace where people want to work. There's nothing sexy about our business, so we have to be a terrific place to work to achieve our goals."
Matt Mazzella, the fourth generation of the family to join the business, also talks about the need to support the company's employees and provide them with a secure career path. "As of now, we have an average tenure of ten years for each employee. We want to continue to grow that number and the only way to keep people is to train them and continue growing them," he says.
Craig elaborates: "We can't rely on the educational system and the background of how people are put into a work- force, or to rely on somebody coming to us and having that skill set. So, we're taking it upon ourselves to educate them and give them a career path through our company, so that we do have similar tenure, going forward. Because if you have someone who's been with you thirty, thirty-five or forty years, and they retire, you're hoping you can have somebody to fill in and at least stick around for a majority of that time. It's much more difficult to do, today, so we put it upon ourselves to initiate that."
Hayward remarks that educating the company's customers is just as important as educating its workers because safety is a top priority for everyone. "We spend a lot of time teaching people how to use the equipment, so that they are using it correctly," he says. "Generally, if there's an accident, 90 to 95 percent of the time, it's been misused." Mazzella also believes that safety is a prime goal. "We're in a business where things are at risk – people lifting products over people's heads. Our goal is to instill confidence and comfort. When people think of our name, we want them to think 'This is the place to go to buy these products and services,' because we have the experts – the people who are well-trained and committed to the businesses they're in. A key competency of ours is to provide expertise and training to our customers."
After 60 successful years in business, Craig maintains that the company's status has grown over time. "Every- thing that we do, whether it's a company that we acquire, something we do internally, or when we go out to customers the word that always comes to mind is our reputation as a company," he asserts. "Years ago, it was a lot of work to reach out to prospective companies to try and cultivate interest. Now, we're in a position where people know who we are and know what we're about. And we're getting possible candidates contacting us, directly, which is great; you can't be in a better position than that. And I think that our customers hold us in the same high esteem, as do our vendors, because we have a reputation for doing things right and doing what we say we're going to do. And our growth over the years pretty much speaks for itself."