Are you looking for a local Florida supplier that provides replacement OEM crane rope or wire rope for your lifting or construction project? Maybe you need a high-performance crane rope for a drilling rig, mobile crane, or for an overhead crane in your production facility.
It can be challenging to find a wire rope supplier in the Florida area who is responsive and can get you a replacement OEM rope or crane cable in a timely and efficient manner. We all know how costly equipment downtime can be, which is why you need a partner that carries all of the major wire rope types and can get you the replacement wire rope you need to get your crane or rig back up and running.
At Mazzella (Lakeland), we stock a large inventory of high-performance crane rope and wire rope available for immediate delivery to locations across all of Florida. We stock both domestic and non-domestic products ready for same or next-day shipment, including:
Bridon
Tuefelberger
WireCo
Bethlehem
WRI
Casar
Python
Mazzella is a leading supplier of OEM wire rope and crane ropes for construction, contractors, and mobile crane equipment in the Florida marketplace. We're located in Lakeland, FL—approximately 30 miles east of downtown Tampa and right off of FL-570 Polk Parkway and I-4. We service Tampa / St. Petersburg, Kissimmee, Orlando, Fort Myers, Jacksonville, Miami, Pompano Beach, and the greater Florida area.
We understand how loss of production and equipment downtime can affect your bottom line. We're often asked by customers, "If I don't get the wire rope or crane rope that I need from you, who else would you recommend?"
That's why we put together this list of the best crane rope and wire rope suppliers in Florida. We want to always be a resource for our customers and help them keep their production or construction processes moving forward in the event that their critical crane equipment goes down.
The Best High-Performance Crane Rope & Wire Rope Suppliers in Florida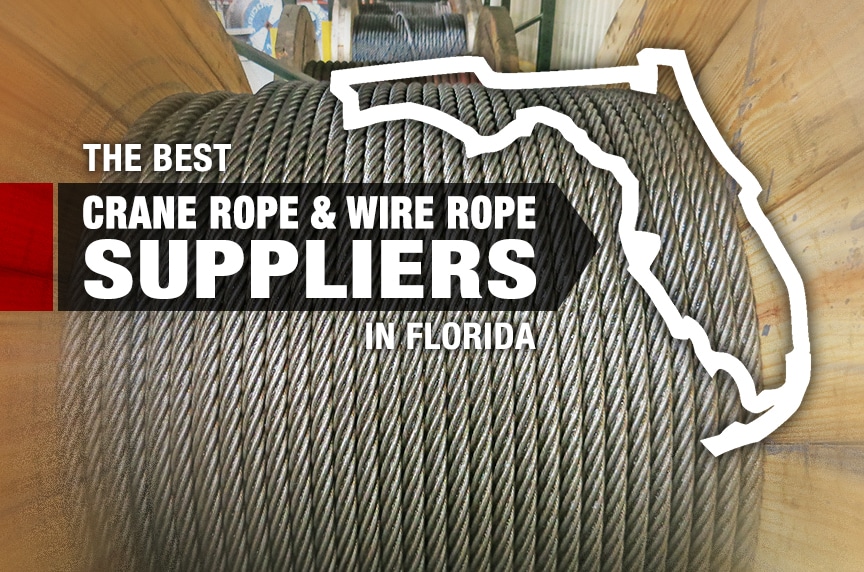 Read on for a list of companies that have a solid reputation and a history of providing wire rope and rigging supplies in the state of Florida:
American TT&R, Inc.
Location(s): Tampa
Insights: American TT&R, Inc. is a supplier and distributor of chain, wire rope, tarps, tie downs, and lifting and securing rigging products. American TT&R, Inc. specializes in personal service, problem solving, and hard to find rigging.
Products:
Imported and Domestic Chain and Chain Assemblies
Imported and Domestic Wire Rope
Stud Link Anchor Chain
Steamboat Ratchets
Lifting Clamps
Wire Mesh Slings
Towing Shackles
Synthetic Rope
Tarps
Hoists
Rigging Hardware
Certified Slings & Supply
Location(s): Jacksonville, Miami, Orlando, Tampa, West Palm Beach
Insights: Certified Slings & Supply manufacturers and distributes slings and rigging products, along with providing engineering and design services. It also offers rigging inspection, testing, and repair services and has been in business since 1958.
Products:
Boat Slings
Bubba Rope
Cargo Control
Cordage
Fall Protection
Lifting Slings
Theatrical Rigging and Supplies
Hoist and Lifting Products
Tower Rigging Products
Wire Rope
CERTEX USA
Location(s): Clearwater, Jacksonville, Orlando, Pompano Beach
Insights: CERTEX USA distributes lifting products and services to the lifting and material handling industries. CERTEX USA specializes in all areas below including hook lifting products, rigging supplies and lifting devices. They also offer rigging inspections and fall protection and rescue training.
Products:
Wire Rope and Slings
Shackles and Hardware
Cordage
Chain and Chain Fittings
Load Testing & Lift Engineering
Roundslings
Fiber Rope
Hardware
Hoists
Clamps
Fall Protection
Diversified Lifting Systems
Location(s): Tampa
Insights: Diversified Lifting Systems is a premier provider of rigging solutions for any application. Diversified Lifting Systems supports their partners in the marine, construction, towing, and manufacturing industries since 1989.
Products:
Wire Rope & Slings
Shackles & Hooks
Chains & Fittings
Synthetic Slings
Lifting Beams
Hoists
Clamps
Fall Protection
Cargo Control
Rigging Hardware
Elite Sales, Inc.
Location(s): Miami (executive offices) and Tampa (distribution center)
Insights: Elite Sales, Inc. provides goods to distributors in industries ranging from commercial fishing and cargo transport to agriculture and construction. Their customer base includes wire rope fabricators, regional distributors, industry specific supply houses, and original equipment manufacturers (OEMs).
Products:
Wire Rope
Chain
Cable
Strand
Hardware
Korean Hardware
First Choice Marine Supply
Location(s): Tampa
Insights: First Choice Marine Supply stocks, supplies, and manufactures a vast amount of products that overlap many markets and industries. First Choice has extensive experience in the Commercial Fishing industry, diverse knowledge in Ship Chandlery, Commercial and Industrial markets, Aids to Navigation, and Rigging.
Products:
Wire Rope
Wire Rope Slings
Synthetic Slings
Chain Slings
Manila Rope
Nylon Rope
Florida Wire & Rigging Supply, Inc.
Location(s): Orlando
Insights: Florida Wire & Rigging offers a wide variety of fall protection and safety products as well as theatrical and entertainment rigging supplies. Florida Wire & Rigging also offers a huge selection of lifting products from synthetic, wire, chain, and rope slings to bridles, electric hoists, and more.
Products:
Cargo Control
Climbing & Fall Protection
Hoist & Lifting Products
Rigging Hardware
Wire Rope
Slings
Rigging & Fall Protection Training
Miami Cordage / Florida Wire & Rigging Works
Location(s): Miami
Insights: Miami Cordage is an ISO-certified manufacturer of a variety of different fiber ropes. Miami Cordage was established in 1960 and is also a distributor of fiber and wire rope, custom lifting and boating assemblies, rigging supplies, and hardware.
Products:
Rope
Chain
Aircraft Cable
Wire Rope
Stainless & Galvanized Hardware
Blocks, Hoists & Pulleys
Cargo Control
Lifting Slings
Fall Protection
Southeast Rigging, Inc. / Orlando Rigging Supply
Location(s): Jacksonville and Orlando
Insights: Southeast Rigging and Orlando Rigging Supply maintains a large inventory of lifting and rigging products, custom fabricated slings, fall protection, and cargo and load control products. Southeast Rigging and Orlando Rigging Supply is also a distributor of quality rigging hardware from the leading manufacturers.
Products:
Custom Lifters
Chain
Synthetic Web Slings & Assemblies
Wire Rope
Wire Rope & Chain Fittings
Wire Rope Slings & Assemblies
Fall Protection
Rigging Hardware
Cargo Control
Hoists
Choosing a Wire Rope Supplier to Partner With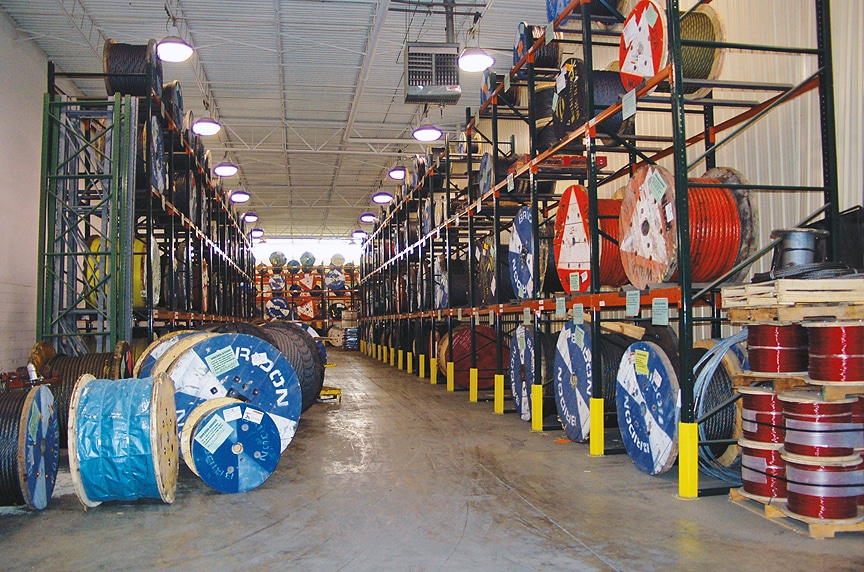 Price should never be the only factor when looking for a wire rope or crane rope supplier. You should partner with a company that understands your equipment and your business and who can deliver reliable and immediate delivery of critical wire ropes.
We provide our general industry and construction customers with these additional value-added services:
Mazzella Ready Stock™ Program – our Ready Stock™ program eliminates the need for our customers to purchase replacement wire rope inventory prior to a specific need. This process improves cash flow, eliminates damage to ropes during storage, and reduces overall and inventory carrying costs.
Wire Rope Surveys – our team will come on-site and work with your team to assess the critical ropes and cables you're using on your cranes and machinery. We'll help identify opportunities to:
Improve wire rope service life
Reduce labor time during installation
Reduce on-site inventory of backup wire rope
Assure proper inventory levels
Inspection Services – OSHA overhead crane inspections, OSHA sling inspections, and inspections of fall protection equipment and below-the-hook lifting devices
One-Stop Shop – traditional rigging products, engineered lifting devices, overhead cranes, overhead crane service, parts, training and more!
New to the Area…Not to the Industry!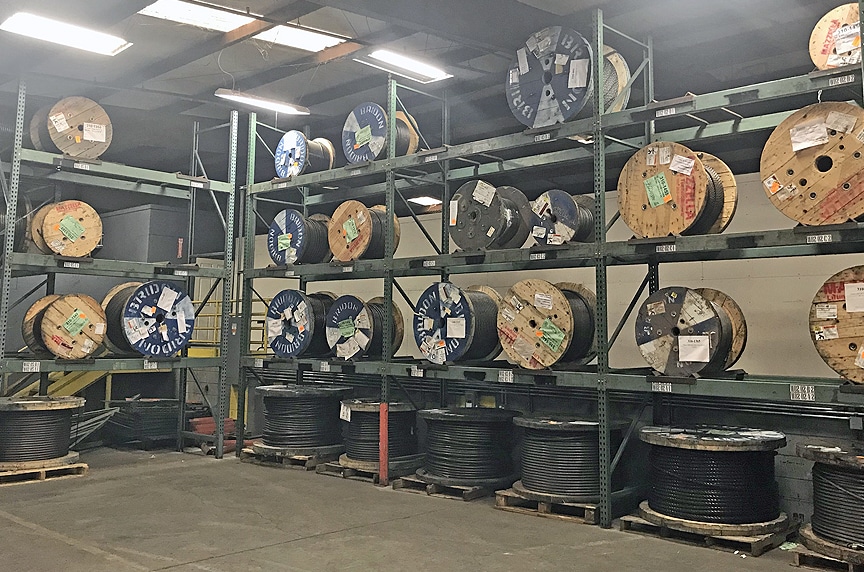 Since 1954, Mazzella has grown into one of the largest independently-owned companies in the overhead lifting and rigging industries. Mazzella manufactures and distributes a wide range of lifting products for industrial, commercial and specialty applications—with 15 rigging shops across the eastern half of the United States.
Mazzella opened its doors in Lakeland, FL in 2018 and maintains an inventory of:
Wire rope and wire rope slings
Specialty ropes and mobile crane ropes
Fall protection products
Chain slings and fittings
Synthetic slings
Rigging hardware
Hoists and hoist parts
Other related rigging products
Beyond rigging products, Mazzella has diversified into a leading fall protection supplier with our line of harnesses, retractable devices, and lanyards. We also manufacture overhead cranes, offer overhead crane inspection and repair services, provide rigging inspection and rigging training and can design and fabricate custom-engineered below-the-hook lifting devices.
For more information about our products and services, or to schedule a consultation, call us at:
Mazzella
4590 Drane Field Road, Lakeland, FL 33811
Phone: 863.279.3377 | Fax: 863.638.6389

---
---
Copyright 2019. Mazzella Companies.