CLEVELAND, OH –Mazzella Companies, one of the largest independently-owned companies in the overhead lifting, rigging, and metal roofing industries, is pleased to announce its acquisition of Nasser Machines, effective immediately.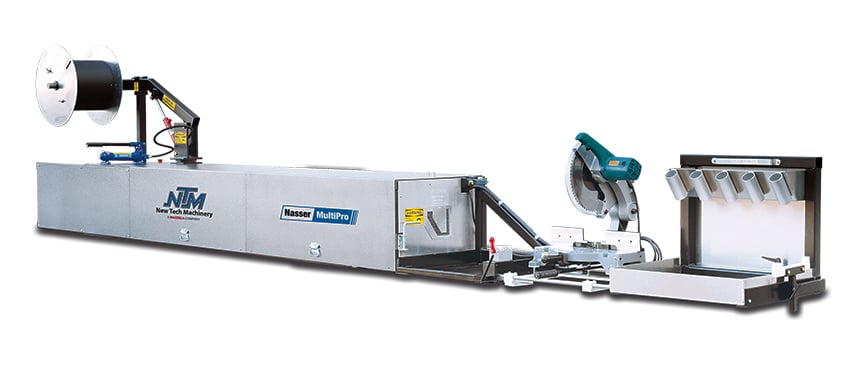 Nasser Machines was established in 1992 by Nabeil Nasser and has since grown into a reputable gutter machine manufacturer in Western Canada. Nasser's main product is its portable gutter machine that features a swinging miter saw, tooling system, and nine gutter profile options.
"Nasser is a great addition to Mazzella Companies," said Tony Mazzella, CEO of Mazzella Companies. "The Nasser brand and product line bring some additional gutter profiles that I believe will benefit our customers."
The acquisition will allow New Tech Machinery (NTM), a member of Mazzella Companies and the worldwide leading manufacturer of portable rollforming machinery, to expand further into Western Canada and bring its innovative rollforming products and services to customers in the growing region. Additionally, Nasser products will be made available to the U.S. and international markets that NTM currently serves.
"We also want to welcome the addition of Viktor Schimann from Nasser Machines to our team, who brings his extensive experience in product development and design to New Tech Machinery," Mazzella said.
News regarding the release of the Nasser product under New Tech Machinery will be shared in the coming months.
###
About Mazzella Companies
Mazzella Companies employs over 800 individuals in 30+ locations in North America. Mazzella is one of the largest independently-owned companies in the overhead lifting and rigging industries and is a manufacturer and distributor of a wide range of lifting products for industrial, commercial and specialty applications. In addition, they are a leading manufacturer of world-class overhead cranes, specialty machinery and overhead crane services. Some of the major markets Mazzella serves are: Mining, steel, oil & gas, construction, energy, shipbuilding, vehicle, and durable goods. Mazzella's diverse portfolio includes Sheffield Metals, a manufacturer and distributor of coated bare metal products for standing seam metal roof and wall systems, and New Tech Machinery, a manufacturer of portable roof panel and gutter machines.
Contact
Mazzella Companies
21000 Aerospace Parkway
Cleveland, OH 44142
Phone: 440-239-7000
Fax: 440-239-7010
marketing@mazzellacompanies.com
www.mazzellacompanies.com