Kevlar® is a life-saving material, and more than just in bulletproof vests.
In addition to its use in individual protection for law enforcement and military applications, Kevlar is utilized to keep Sailors, Marines and Coast Guardsmen safe when they're on a ship at sea.
Per U.S. Navy and Coast Guard regulations, the lifelines on the outer edges of ships are made of Kevlar. Those lifelines differ from ones used in other places, particularly on the interior of their ships.
In this post, we'll answer the following questions:
What's a Kevlar lifeline?
How does a Kevlar lifeline differ from a temporary synthetic lifeline?
Where would Kevlar and temporary synthetic lifelines be used?
What are the benefits to using a Kevlar lifeline?
What unique components do Kevlar lifelines have?
Why was Kevlar chosen to make this lifeline?
What's the inspection process like for Kevlar lifelines?
Do Kevlar lifelines need identification tags?
What's the replacement process for Kevlar lifelines?
What's a Kevlar Lifeline?
---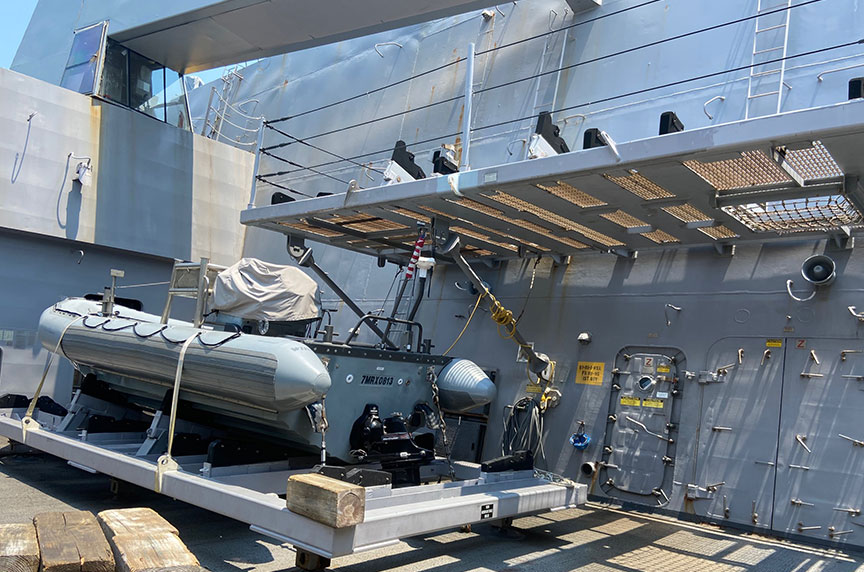 In simple terms, a Kevlar lifeline is a safety rail.
It's a plastic-extruded Kevlar rope. On the inside, it's a synthetic rope lined with Kevlar, and on the outside, it has a black coating. There are end fittings on each end.
Basically, a Kevlar lifeline acts as a fence that goes around the outside of a ship so people don't fall overboard. The multiple strands of rope act as a barrier around the railings of a ship.
How Does a Kevlar Lifeline Differ from a Temporary Synthetic Lifeline?
---
Temporary synthetic lifelines are used for small openings, which is typically anything that's under 48 inches. Those openings have to have a temporary synthetic lifeline simply because the head room on the other will not fit that gap.
Though they're referred to as "small openings," they're still large enough to require some type of safety measure to prevent somebody from falling through that opening. It's not large enough to warrant a standard Kevlar lifeline.
Where Would Kevlar and Temporary Synthetic Lifelines Be Used?
---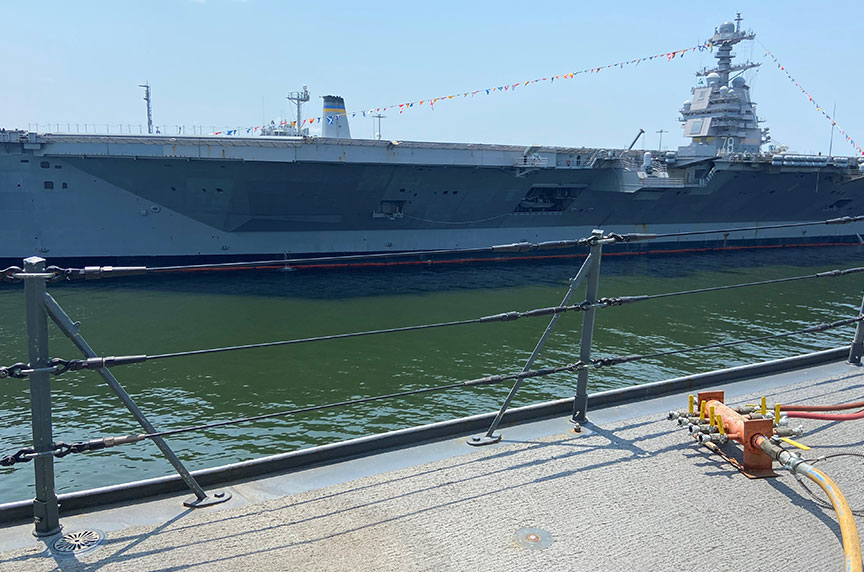 Where the Kevlar and temporary synthetic lifelines go is 100% mandated by the U.S. Navy and Coast Guard. There's not really any flexibility with that. Their regulations say, "in these places, you have to have this lifeline, and it's the only one that's approved to go there."
In addition to their use around small openings, temporary synthetic lifelines are used on the interior of the ship. If there's a hatch or some other opening needing to be blocked off, temporary synthetic lifelines would be a good fit for this application.
While the American Society of Mechanical Engineers (ASME) and Occupational Safety and Health Administration (OSHA) provide standards for the construction, as well as lifting and rigging industries, the U.S. Navy and Coast Guard have more stringent guidelines for its equipment and the protection of their sailors.
---
---
What Are the Benefits to Using a Kevlar Lifeline?
---
There are several benefits to using a Kevlar lifeline over another type of lifeline. First, Kevlar lifelines are coated, which helps protect them from the weather. When you're on a ship, and it's exposed to storms on the high seas or corrosive salt water, this coating helps extend the life of the lifeline.
Also, since it's not constructed solely out of steel or metal, it doesn't interfere with the ship's communications and radar.
The lifeline itself is completely synthetic. The fittings are aluminum, and they're anodized and dyed black during the process, so they're basically rust-resistant.
What Are Other Unique Components of the Kevlar Lifeline?
---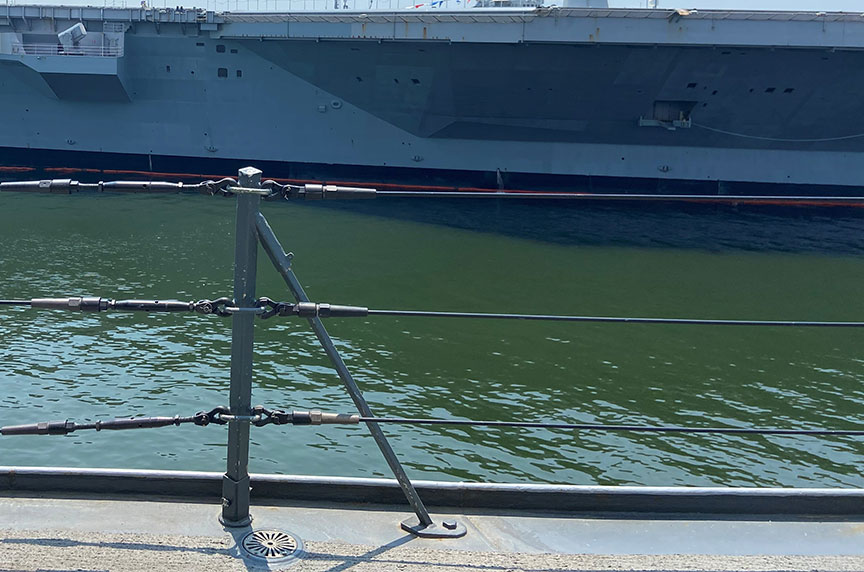 Esmet manufactures a black anodized aluminum fitting. It's the only fitting approved to run to the end connections for Kevlar lifelines. They're called Black Max Fittings because of the black anodized coating. There's a turnbuckle and sister hook on one end for adjustment. On the other end of that ½" Kevlar lifeline is a socket and sister hook.
There's an outer sleeve that tightens around the Kevlar jacket as you install them. It looks like long two sides of an ice cream cone, but thinner because you're going around a jacket. When being manufactured, the Kevlar has to stick out about an inch. Then, when this two-piece sleeve is installed, and it tightens down, it holds in place. That's what keeps the grip between the end-fittings and the lifelines.
How Does a Kevlar Lifeline Differ from Tailhook Arresting Wires?
---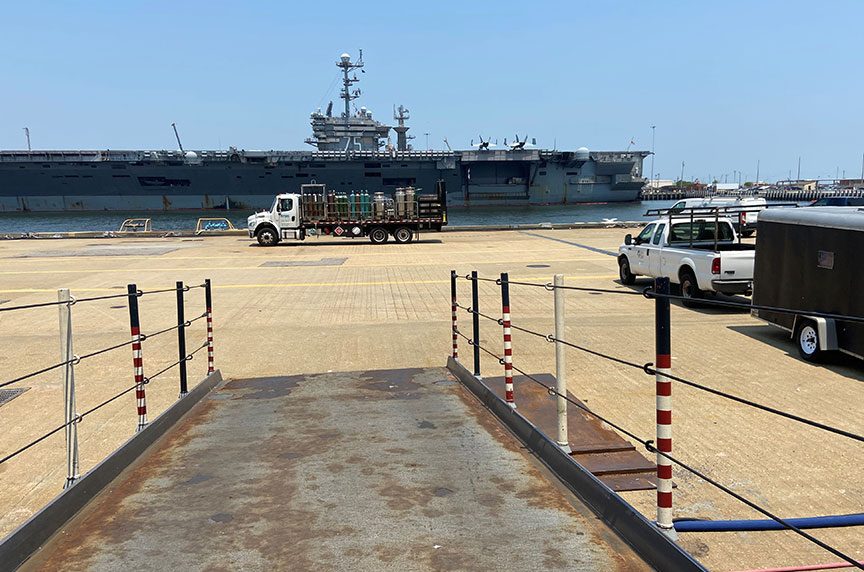 The tailhook lines on the flight deck are made of high-tensile steel wire, which is a different material than the synthetic Kevlar lifelines.
There's only one tailhook wire for the jet's hook to catch and stop planes landing on the flight deck.
The Kevlar lifelines are life-saving systems used around the perimeter of the entire ship. They're either three deep or five deep, depending on the size of the ship, and they're present solely to prevent someone from falling overboard.
Why Was Kevlar Chosen to Make This Lifeline?
---
It's the only product that's allowed to be used, unless you're in a missile blast area. In a missile blast area, you have to use stainless steel, but any place else on board a ship, it has to be Kevlar.
Prior to the switch to Kevlar nearly 40 years ago, the U.S. Navy and Coast Guard used a phosphorous bronze wire, and blast fittings. They found it caused too much electromagnetic interference (EMI), and was shocking the sailors.
Originally, they tested the lifeline with a wire rope in the very center core. However, they found that even with a thin piece of wire at the core, and Kevlar around the wire before they put on the black jacket, there were still EMI issues.
The Kevlar itself is made of fibers. The black jacket is to keep the Kevlar in place, and to protect it.
The Kevlar fiber ropes are jacketed for abrasion-resistance and moisture-blocking. Also, they provide the strength and low-stretch characteristics of their steel counterparts, despite it being lighter weight.
Using Kevlar fiber ropes in lifelines and boat davit preventer stays offers several advantages over using steel cables, including:
Elimination of Inter-modulation interference (IMI)
Elimination of EMI
Improved received and transmitted signal patterns
Elimination of expensive maintenance for:
Increased lifespan for the ropes because corrosion is eliminated
Eliminated safety concerns from metal "fish hook" injuries and corrosion-weakened steel wire ropes
Electrically transparent, corrosion-resistant ropes work well with:
Lifelines
Mast and antenna stays
Jackstaff and canopy-awning lines
Boat gripes, preventer stays, span wires
Mooring lines
Tow lines and winch lines
Lashing ropes and rigging lines
Boat davit preventer stays
What's the Inspection Process like for Kevlar Lifelines?
---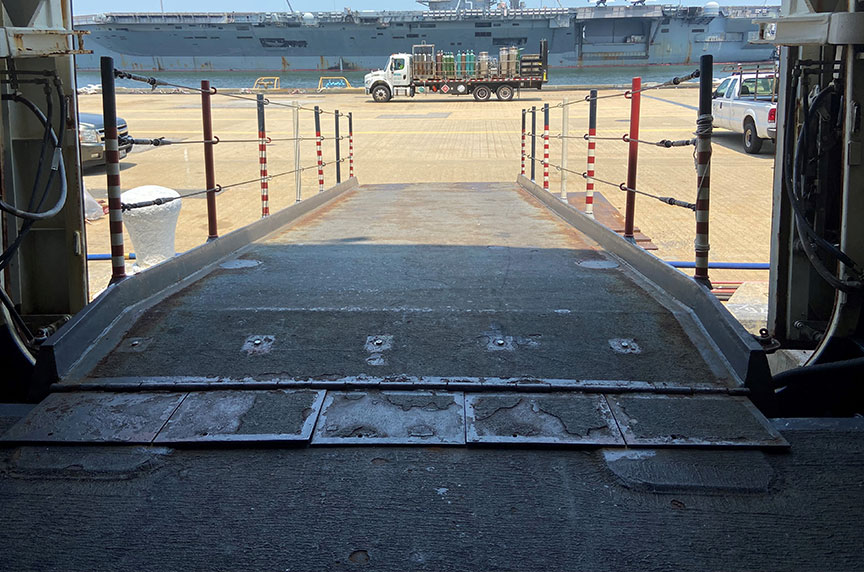 When doing an inspection of a Kevlar lifeline, it can be removed from service for any:
Cut
Tear
Excessive paint
Excessive abrasion
Any Kevlar showing through the black jacket
The NAK fittings are black anodized aluminum, and you need to freely move the sister hooks on them to tighten and loosen. So any excessive nicks in the threading will be grounds for rejection on the fittings.
What Does an Inspection Look Like?
---
When we go onboard a ship, we're there to find out if there's anything that needs replacing.
With the help of Boatswain mates, our specialists will measure from staple to staple. The measurements are taken from one side of the staple to the other. This is done so we can manufacture the lifelines to fit into that staple with the turnbuckles half open. They should have about 3" of wiggle room either way.
If you're on a ship of any size, it's five sets of these lifelines going down the side of the ship. You've got human factors when you make stanchions, so you have to measure each individual lifeline. You can't assume the top and bottom ones are going to be the same measurement. Most of the time, our specialists have found there to be a difference in the lengths between staples among the five sets of lifelines.
There could be a difference of almost 3" between the top and bottom lifelines when you're going down five deep. After we take that measurement, and get the lifeline manufactured, the turnbuckle is half open, which gives the exact length needed to fit the staples. We'll manufacture them to that length. Then, it's required to put them in a test. The tests last for 10 minutes to prove out your lifeline is going to hold.
These are major safety measures, just like any lifeline or any of the mobile fall arrest systems. This is life-saving equipment put in place to save servicepeople from falling overboard.
What Causes the Variance in Lengths Among the Lifelines?
---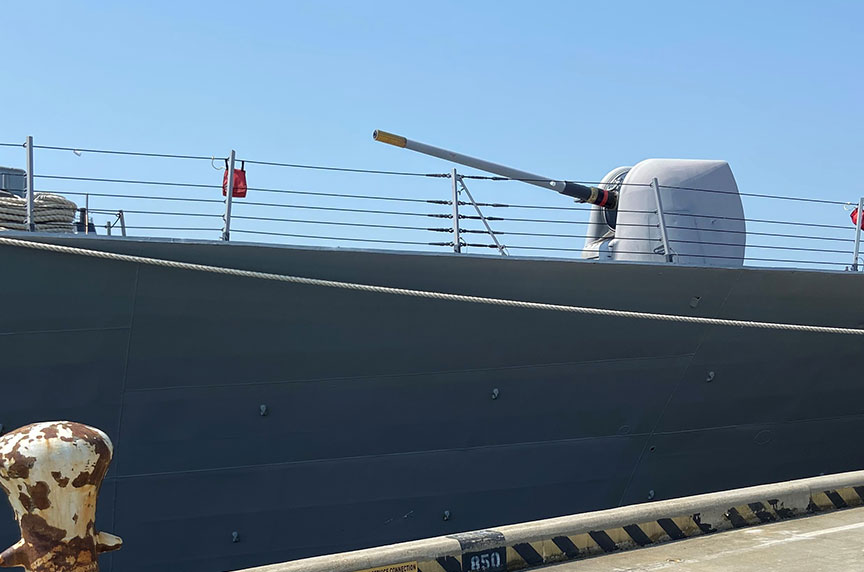 The variance is caused by human manufacturers of those staples. It looks like a D-ring or different connection points. That could be where you're hooking into. Even though to the human eye, it looks like it's straight up and down, it's not always that way.
There could be a little bend, or angle. These lifelines are held in place by this staple that has a toggle pin at the bottom. It's made to hold the force of up to 3,000 lbs. This lifeline has to be tested for 10 minutes to prove out that it'll hold that force.
Do Kevlar Lifelines Need Tags?
---
There's absolutely no tags on the Kevlar lifelines. Actually, tags are prohibited for safety reasons. The U.S. Navy and Coast Guard officials don't want excess materials on the lifelines that could come off and create an issue.
The lifelines have to be tested and certified before being put into service. They're tested to the requirements of the NAVSEA SYSTEMS COMMAND drawing 804-5959308.
What's the Replacement Process for Kevlar Lifelines?
---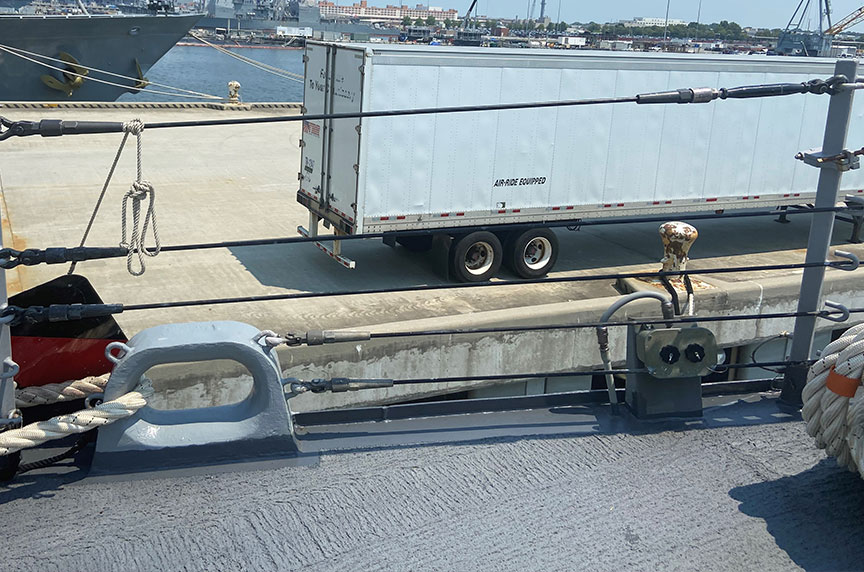 Every Kevlar lifeline stands on its own, so you don't have to replace all five if only one meets removal from service criteria. If you have a lifeline with a nick or cut of the jacket, or if you see yellow, which is what Kevlar looks like against the jacket, you have to replace that one.
This can be a major safety violation. If there's criteria to replace a lifeline, you're not supposed to get underway. In civilian terms, ships are prohibited from leaving port and heading out to sea. It would cause a Category 3 CASREP (Casualty Report), and they'd have to replace the lifeline before they got underway.
A CASREP is a message system used by the U.S. Navy for reporting injuries to military personnel or identifying the parts needed to repair faulty equipment.
That's why pre-inspections are done periodically, and in multiple levels.
ATG, the Afloat Training Group, comes on board and does an inspection for what's known as a "Ready Six" inspection. Then, the deck, flight deck, or crash departments, whoever owns them, must do a visual inspection on these lifelines before they get underway.
What Does This Mean for You?
---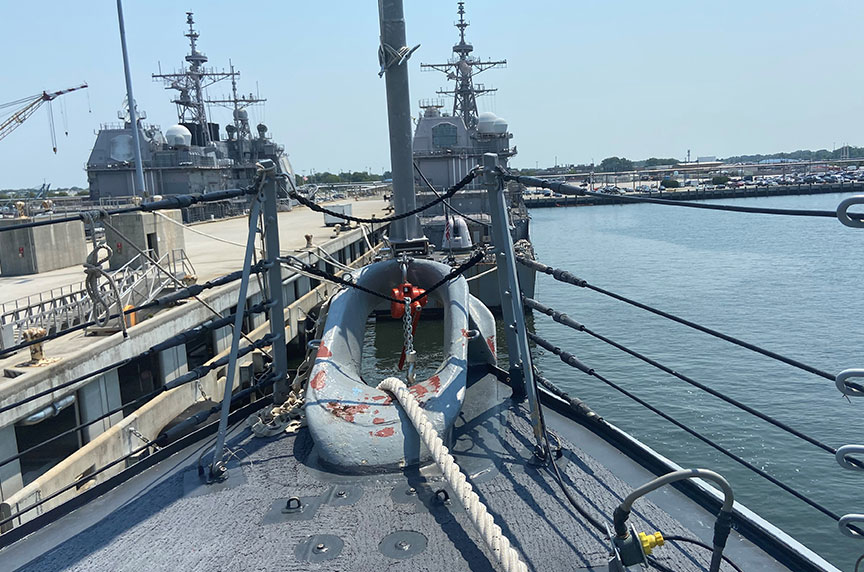 Through our work with the military, we've developed high-end, specialized product solutions to their problems.
We can do the same for you.
Mazzella specialists have worked with the military on several products in recent years, including the installation of:
Cargo netting
No-touch hand tools
Tarps
Canvases
Our ability to manufacture custom solutions to problems isn't limited to military applications, but also, the general construction industry. The work we've done with the U.S. Navy and Coast Guard shows how we examine complex problems and develop unique solutions.
Call us at 800.362.4601 or click here if you're interested in any of our unique products or need a solution to your complex problem!
---
---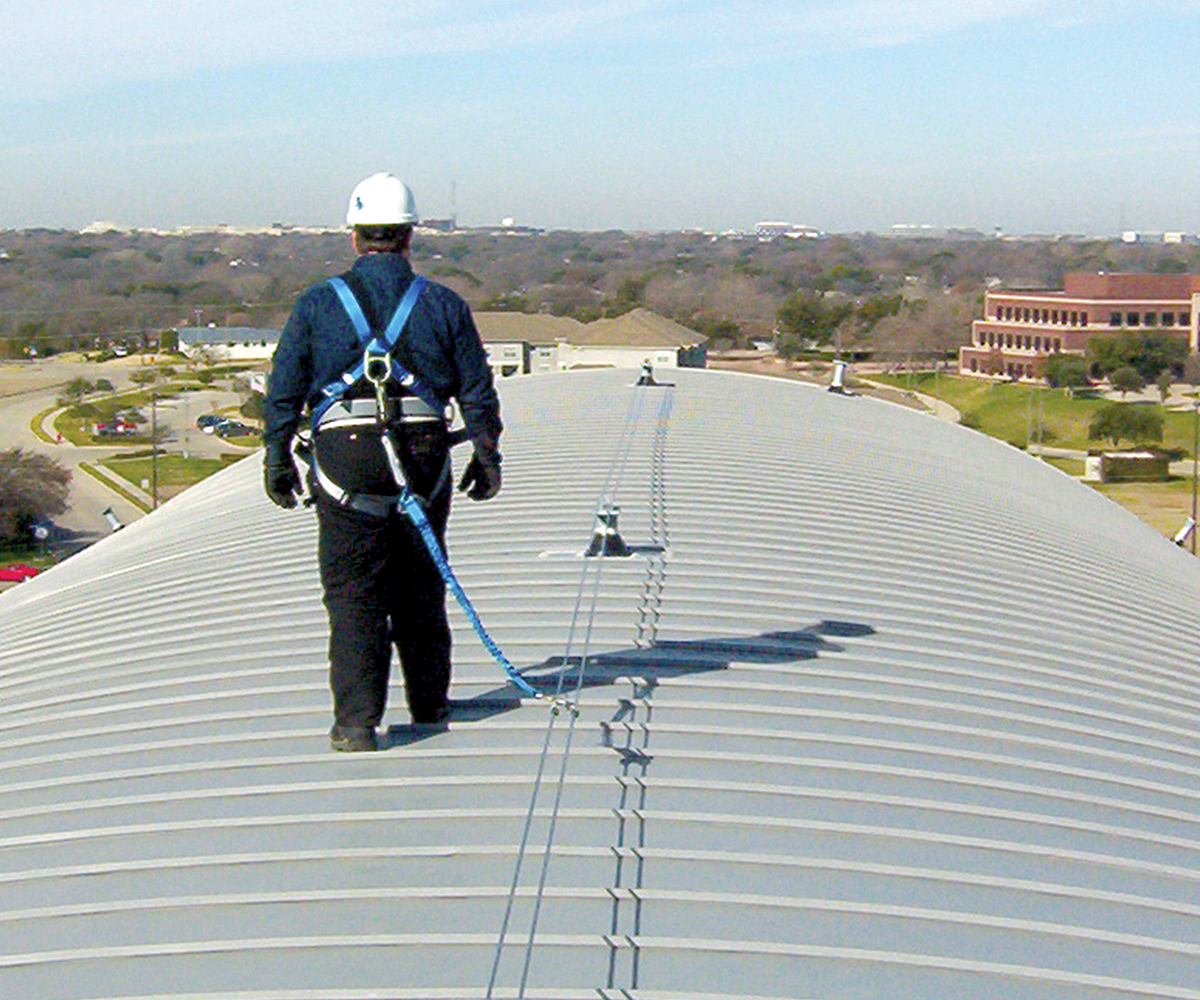 We are a leading supplier and installer of engineered fall protection systems in the U.S., as well as a distributor of soft goods like harnesses, lanyards, self-retracting lifelines, scaffolding, and netting.
Copyright 2021. Mazzella Companies.