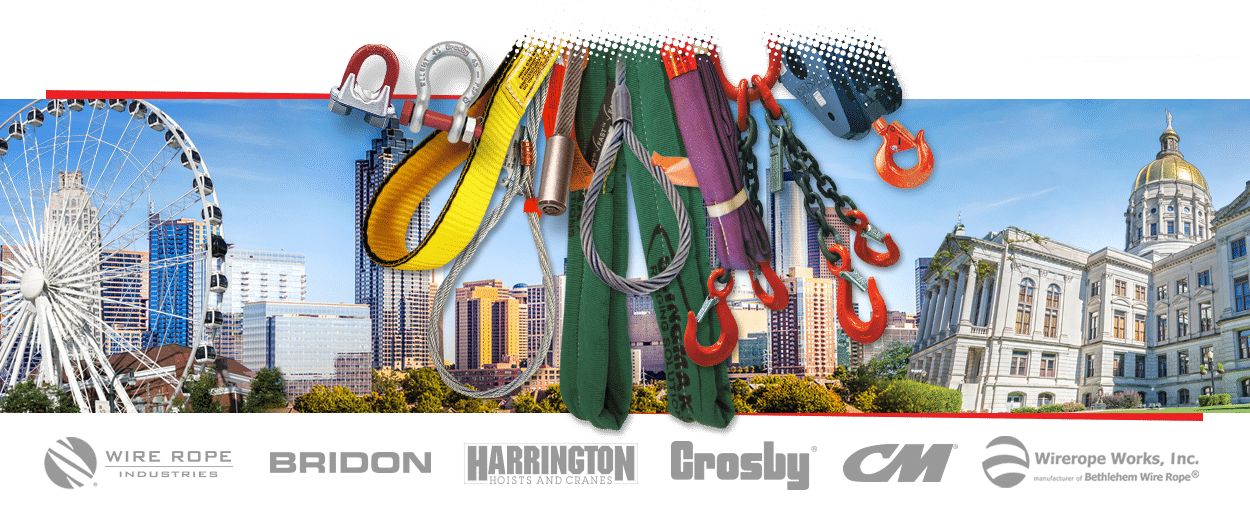 Proudly Supplying Wire Rope, Lifting Slings, and Rigging Hardware from Columbus to Atlanta to Dalton!
For more than 65 years, Mazzella has provided ideal lifting solutions to customers in all types of industries. Mazzella supports construction, mining, manufacturing, automotive, steel, and energy companies with all of their rigging, wire rope, and overhead lifting needs. We offer all styles of slings, rigging hardware, wire rope, overhead cranes, overhead crane service, hoists, and engineered lifting devices. We also provide training, in-field inspection, and repair services that support our products.
---
Wire Rope and Cable, Wire Rope Slings, Chain Slings, Web Slings, and Rigging Products… In Stock and Ready for Immediate Delivery!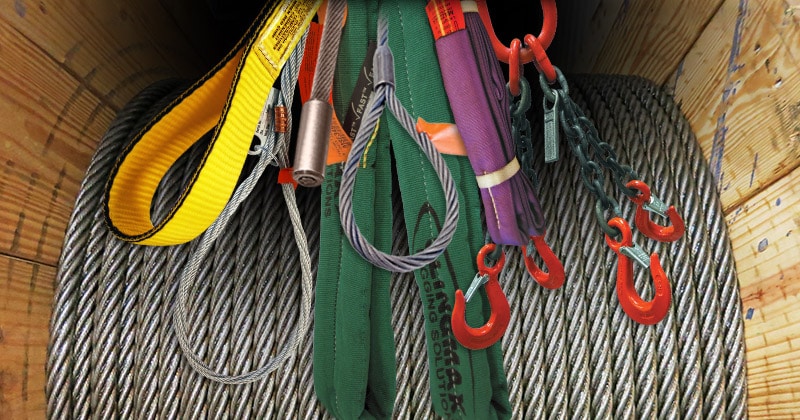 Mazzella supports Atlanta and Northern Georgia from three of our Southeast locations (Charlotte, NC; Chattanooga, TN; and Birmingham, AL)—all within 3-hours and available to ship stocked standard wire rope, lifting slings, and rigging hardware same day. The Mazzella name is synonymous with quality slings—from the customer favorite Mazzella 7-Part™ to the high performance synthetic Twin-Path® product line. We can manufacture any sling to meet your needs, including:
Welded and Mechanical Alloy Chain
Wire Rope
Nylon and Polyester Web
Cordage
Tie-Down
Metal Mesh
High-Performance Synthetic
Additionally, we stock well over 26 million feet of wire rope for making assemblies—both large and small—for bridge cables, crane cables, steel mill cables, and OEM assemblies.
All standard wire rope, rigging products, and heavy lift assemblies are in stock and available to ship within 24 hours.
---
Reliable Rigging Equipment and Services for Atlanta's Manufacturing and Construction Industries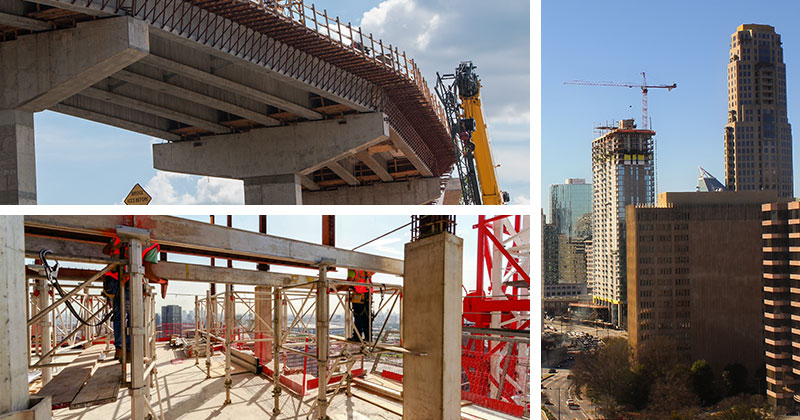 With construction, precast, and manufacturing continuing to drive much of the economic growth in the Atlanta, Columbus, and Macon markets, Georgia business owners understand they have to continue to invest in reliable equipment that will help drive production and continue to grow their business. Partnering with Mazzella provides you with a single-source for your overhead lifting needs. Whether you need replacement wire rope or cables for your construction cranes, an overhead crane or rigging inspection to satisfy OSHA requirements, or crane operator and rigging training for your employees, Mazzella can help keep your projects on schedule, your production up and running, and help to keep you OSHA/ASME compliant.
We offer competitive pricing and have a large inventory of domestic and import wire rope and rigging equipment from all of the major players, including:
Crosby
CM
Harrington
Bridon
Teufelberger
WireCo
WRI
And more!
We also engineer and fabricate overhead cranes and custom lifting devices for complicated or challenging lifts. We have dedicated technicians that offer inspections and repairs for most of the overhead lifting and rigging products we sell. If you have a crane, hoist, or rigging equipment in your facility, we can get you replacement parts, inspect your equipment to satisfy industry requirements, and train your employees on best practices for how to properly use it.
---
Georgia Overhead Crane Service: Repairs, Parts, and OSHA Inspections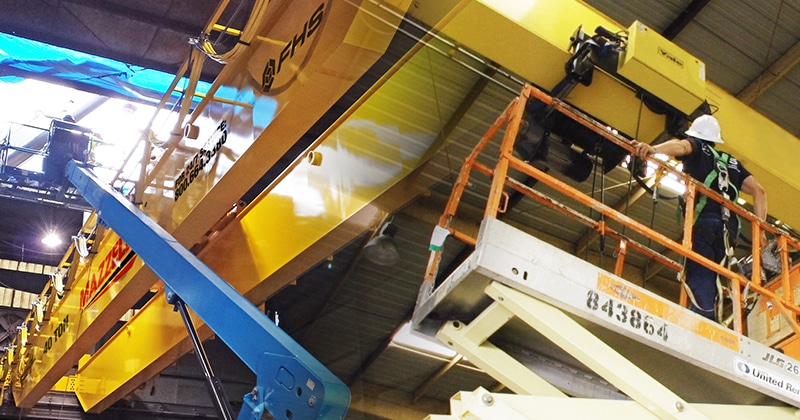 Mazzella FHS operates out of Duluth, GA and provides scheduled or emergency overhead crane service to all of Georgia—including Macon, Augusta, Columbus, LaGrange, Dalton, and Atlanta. We offer our customers the following services:
Crane and hoist maintenance
Crane and hoist repair and replacement parts
Overhead crane installation
OSHA inspections
Training
Our service technicians are independently trained and certified for expert maintenance and repair to keep your overhead crane equipment running. Our techs specialize in solving complex problems in emergency situations. We strive to minimize your downtime and our technicians are available 24 hours a day, 7 days a week.
Mazzella FHS sets the standard in inspection documentation management. Our online reporting system continuously archives your OSHA inspection reports and allows you to instantly access them through our website. Our Inspection Division works daily to keep your investment safe.
As a stocking parts distributor for most major hoist manufacturers, Mazzella FHS can quickly respond to your needs. Our Parts Department Service Representatives are on hand and ready to serve you with a high sense of urgency. We understand the importance of keeping your production flowing so we service and stock replacement parts for all makes and models of cranes and hoists.
---
Large Inventory of High-Performance Crane Ropes Available for Immediate Delivery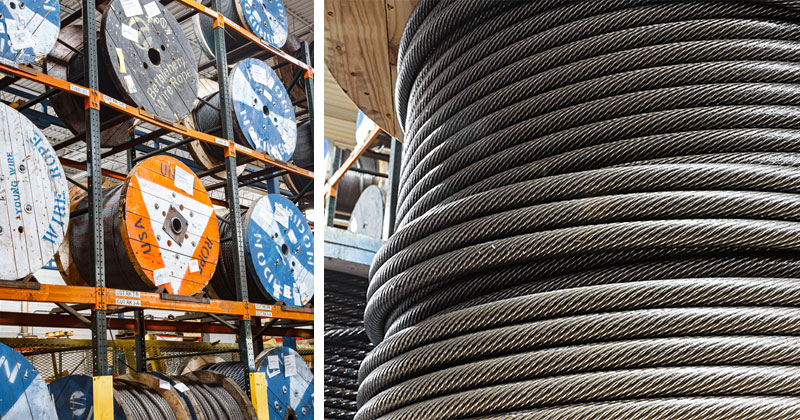 Additionally, we stock wire rope and high-performance crane ropes at our various locations in sizes from 1/4″ to 3″ diameter and 9mm to 52mm diameter. We stock both domestic and non-domestic rope products ready for same or next day shipment from one of our many southeastern service centers.
We also employ certified technicians who can perform an in-field poured socket replacement for your high-performance crane rope. We come to you with all of the tools and equipment necessary and will get your crane up and running in no time!
We offer replacement high-performance crane ropes and cables for mobile cranes, crawler cranes, tower cranes, and overhead cranes. We partner with the premier rope manufacturers in the industry, including:
Bridon
Teufelberger
WireCo
Bethlehem
WRI
And more!
---
Below-the-Hook Spreader Beams, Lifting Beams, and Custom-Engineered Lifting Devices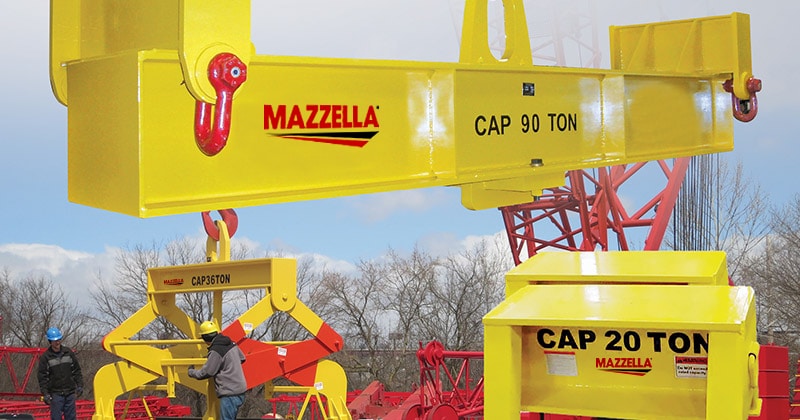 For custom and critical heavy-lift applications, Mazzella can design and fabricate a custom below-the-hook lifting device specific for your overhead lifting project. We supply spreader beams, lifting beams, lifting baskets, coil hooks, vacuum lifters, magnetic lifters and other custom lifters.
Our QuickShip program includes a variety of common sizes and configurations of lifting beams, spreader beams, fork lift beams, C-hooks, and sheet lifters—all available to ship within 10 working days! Or, our in-house team of engineers, estimators, and project managers will work with you to engineer and fabricate a custom lifting device that is unique to your application and lifting needs.
We design, fabricate, proof-test, and inspect your custom lifting device in-house and all work is performed in compliance with ASME BTH-1 and ASME B30.20 design and structural requirements.
---
Fall Protection Solutions: Engineered Lifelines, Rigid Track Systems, Harnesses, Shock Absorbers, and Lanyards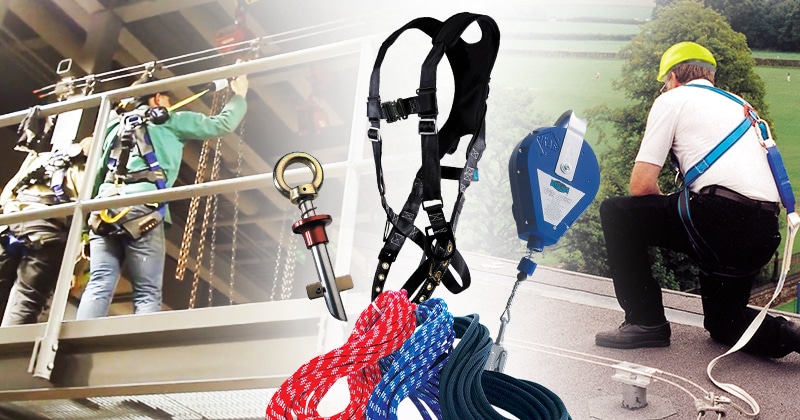 Safety at heights matters! Mazzella supplies North Georgia with fall protection solutions that meet ANSI, EN, and Canadian codes, including:
Engineered and Pre-Engineered Lifelines
Rigid Rail Systems
Harnesses
Lanyards
Retractables
Anchor Points
Fall Protection Training
Keeping Atlanta's Workers Safe, While Working at Height!
We partner with all of the major suppliers in the fall protection industry, and have access to a number of fall protection and fall arrest systems. Whether you need a temporary or permanent solution, or you're looking for soft goods like harnesses and lanyards, we have strong relationships with the following companies:
Tractel
Metreel
Ultra-Safe
Miller
Elk River
DBI Sala
RUD
Fall Protection Training
We offer on-site fall protection training for your workers who are exposed to height hazards. Our training meets all of the requirements of OSHA and is performed by an experienced and knowledgeable safety professional.
We offer three fall protection course, including a Basic (4-hours), Intermediate (6-8 hours), and Advanced (two days / 8 hours each) curriculum. Contact us today to schedule your OSHA-mandated fall protection training!
---
Stocked Standard Rigging Products—Orders In By 2 PM, Ship Same Day!
With three locations in Birmingham, Charlotte, and Chattanooga, and a distribution center in Memphis, Mazzella has one of the largest inventories of wire rope, slings, hoists, hoist parts, pullers, rigging hardware, and tiedown / load securement products to support North Georgia. Mazzella offers competitive pricing and excellent service for all of our product offerings and we ship our stock items within 24 hours of your order.
We also offer the following value-added services to our customers:
Lifting & Rigging Training
Crane Operator Training
Fall Protection Training
Sling and Hoist Repair
Rigging Inspections
Overhead Crane and Hoist Inspections
High-Performance Crane Rope Expertise and Spooling
Engineering of Overhead Cranes and Custom Lifting Devices
Crane Upgrades and Modernizations
---
Atlanta Certified Rigging Inspections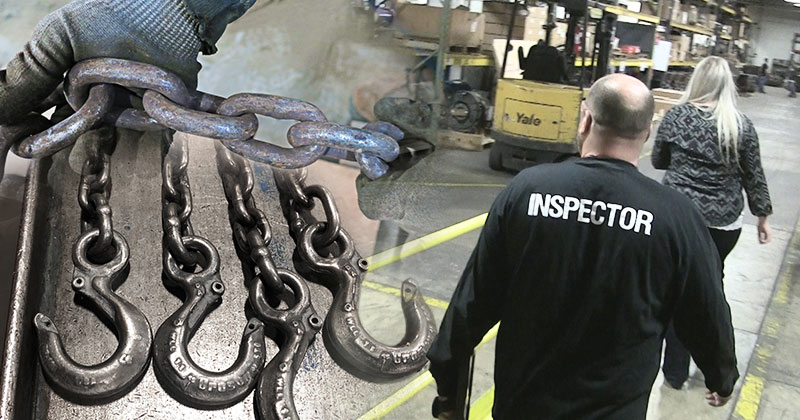 OSHA 1910.184 and ASME B30.9 require that all lifting slings, fastenings, and attachments shall be inspected for damage or defects by a competent person designated by the employer.
Mazzella employs certified inspectors that can provide documented rigging inspections that meet or exceed government requirements (OSHA and ASME). We also provide personal fall protection inspections, inspections of below-the-hook lifting devices, and basic level NDT inspections to support our visual inspections.
---
Rigging Training, Overhead Crane Training, and Lift Planning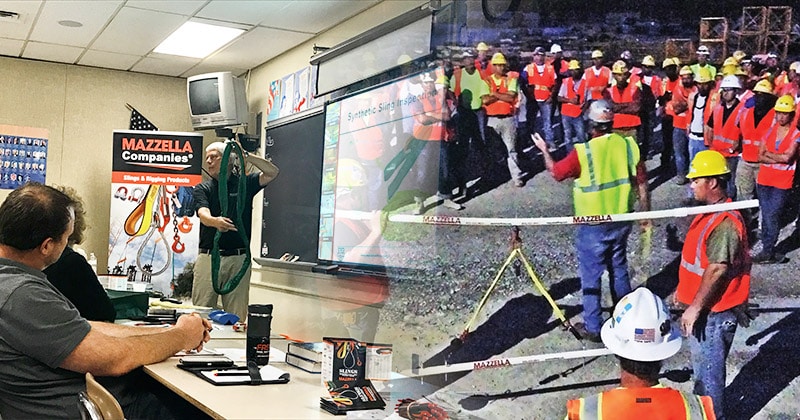 If your employees require specific training programs for OSHA compliance for overhead cranes, slings, hoists, or rigging hardware, we can assist in creating a safe and reliable workplace. Our trainers are accredited through Industrial Training International, Inc. (ITI) and train to OSHA and ASME standards.
Mazzella has been providing education for more than half a century and our collective knowledge across the wide range of products we sell makes us unique in our training approach.
Site assessments are another service that we offer. A Lifting Specialist will come on-site to systematically observe and record your lifting and/or rigging equipment, as well as your procedures and records. We then collaborate with your team to identify opportunities or improvements.
---
About Mazzella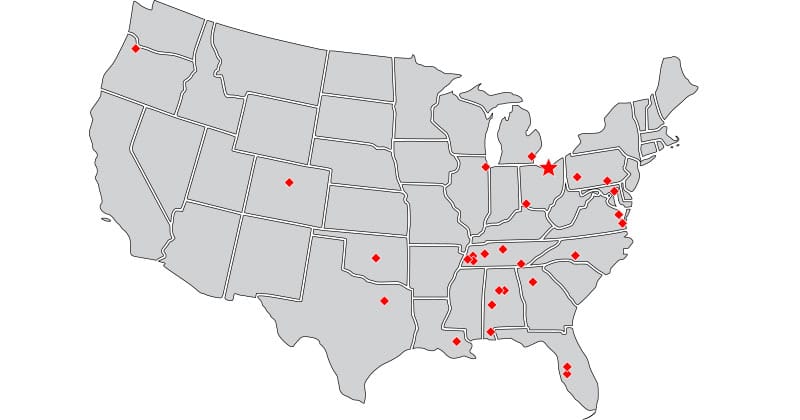 It's useful to understand where you've been before deciding where you want to go. Our history has served as a foundation of who we are, what we believe and what we value. Back in 1954, James Mazzella formed a business in Cleveland, Ohio by providing the most basic of lifting devices; wire rope slings that were braided by hand. It wasn't the cleanest and certainly not the easiest job around – but it was fundamental to the industry. This gut-level standard of performance defined the company in 1954 and it defines the company to this day.
From the shop floor to the front office, every employee knows and understands the no-excuses, customer-first mentality that is threaded throughout the company. In every customer interaction, we instill confidence and comfort. Today, the company has grown organically by expanding its product offerings and by entering new markets. It has done so by securing new customers and nurturing those historic relationships. And it has grown by acquisition.
Some of our capabilities include:
In-house engineering and fabrication of light-duty to heavy-duty overhead crane systems and custom below-the-hook lifting devices
Overhead crane service and emergency repairs—local service techs and fully-stocked service vehicles for 24/7 service needs
Full rigging shop, including chain sling, wire rope sling, and synthetic web sling fabrication, testing, and repair
Hoist block repair and hoist parts center—complete line of parts for all makes and models of hoists
Over 2 million feet of wire inventory—complete with reels of ropes in all sizes and configurations—from every major manufacturer—for any overhead crane, hoist, mobile crane, or specialty application
Full inventory of distributed products, including: rigging hardware, fall protection products, hoists, and more
OSHA-mandated rigging inspection, below-the-hook inspection, and fall protection inspection services.
Atlanta, Ga

Dan Carmichael
Regional Sales Manager
Phone: 423-298-2322
Email: DCarmichael@mazzellacompanies.com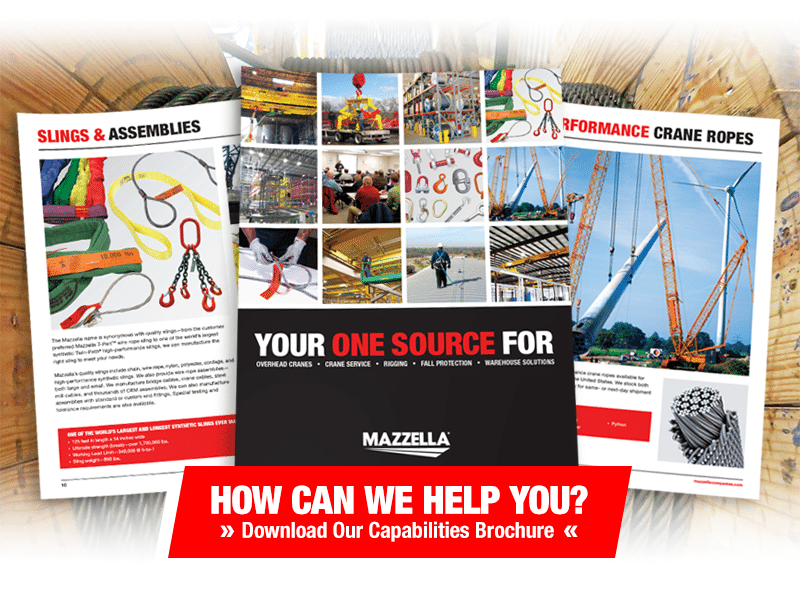 Products & Services:
Slings & Assemblies
Rigging Hardware
Hoists & Hoist Parts
Lifting Products
Wire Rope
Spooling Services
Cordage & Assemblies
Training / Services
Fall Protection
Engineered Products
Overhead Cranes
Crane Service & Repairs
Contact A Specialist!