Crosby McKissick 381-SY Scrap Handling Blocks
All single point shank hooks are genuine Crosby®, forged alloy steel, Quenched and Tempered, and have the patented QUIC-CHECK® markings.
Durable — Allows longer continuous duty cycle.
Can be used with magnet and drop ball.
Single sheave design.
Dual action hook (Swings and Rotates).
Utilize McKissick® Roll-ForgedTM sheaves with flame hardened grooves.
Furnished standard with Bronze Bushed Sheaves.
Optional Tapered Roller Bearings.
All sizes are RFID EQUIPPED.
Description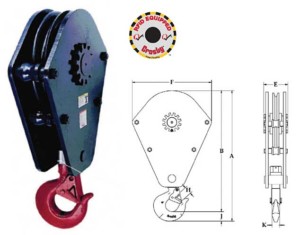 * Ultimate Load is 4 times the Working Load Limit.
content-single-product