Crosby McKissick M-491 / G-491 Tower / Derrick Hoist Blocks
New design provides the dependability of standard McKissick® Snatch Blocks, along with features that make it perfect for the challenging needs of Tugger Hoist and Tower Erection applications.
---
A wide variety of configurations:
– 4, 8, 12, 15, 25 or 30 metric ton capacity
– 3/8″, 7/16″, 1/2″, 9/16″, 5/8″, 7/8″, 1″ and 1-1/4″ wire line sizes
– Painted or Galvanized finish
8″ and 10″ blocks furnished with dual rated wireline sheaves.
Forged steel swivels, tees, yokes and shackles are Quenched & Tempered.
Sheave lubrication through center pin for easy maintenance.
Design factor of 4 to 1.
All blocks 14″ and larger are furnished with McKissick® Roll ForgedTM sheaves with flame hardened grooves.
Recessed sideplate design reduces the gap between the sheave rim and the sideplate, allowing the sheave assembly to be captured in the block if loss of center pin occurs.
Sealed tapered roller bearings extend the life of the center pin and bearings, and allows for faster line speeds than recommended with standard snatch blocks.
Shackle fitting swivels for easy positioning.
Suitable for hoisting personnel, contingent upon all employees, including the winch operator, being trained to follow any applicable Federal, local and industry standards.
– Tugger / Derrick applications: API RP54
– Tower applications: OSHA directive CPL 2-1.36
Holes through side plates are available for secondary block securement device.
Manufactured by an API Q1 Certified facility.
Type Approval and certification in accordance with ABS 2006 Steel Vessel Rules 1-1-17.7, and ABS Guide for Certification of Cranes.
All sizes are RFID EQUIPPED.
Description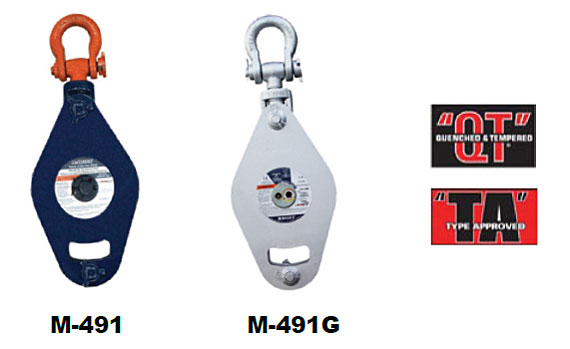 * Ultimate Load is 4 times the Working Load Limit.
content-single-product