Elebia C5 Lifting Clamps
The C5 lifting clamps are ideal for lifting and moving steel plates, beams or pipes thanks to the automatic remote release feature and failsafe design. Lift and transport with the C5 automatic release lifting clamps in a safe & secure manner, minimizing risks, enhancing safety and increasing productivity in your operations.
---
The C5 lifting clamps have a Working Load Limit (WLL) of 5,000kgs. / 11,023lbs. per lifting clamp. (unit)
Safety factor of 4:1.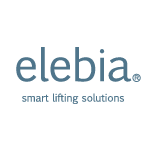 content-single-product