Description
Model NM Locking, Screw
The Model NM clamp (non-marring) is manufactured with smooth gripping surfaces to prevent marring when gripping stainless steel, copper, aluminum and other polished metal plates.
Due to the variety of conditions that may exist in handling these plates, it is recommended that these clamps be used in pairs and attached to a chain or wire rope sling, supported by a spreader beam.
The Model NM is supplied with stainless steel gripping surfaces and is available with steel or bronze upon request.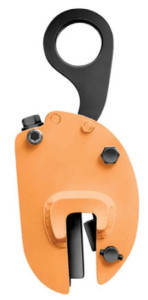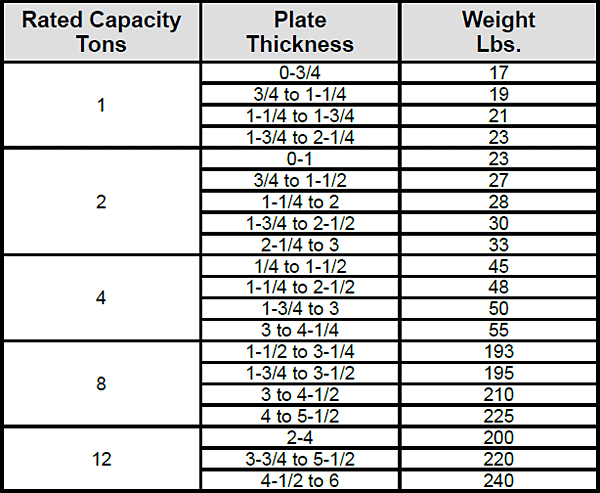 Specifications in inches
---
Model SCP / SCPA Locking, Screw
The Model SCP and SCPA clamps are capable of handling steel plate from the horizontal through a 180 degree arc and may be used for handling plate at rolling and forming machines. These clamps feature a spring loaded pivoting cam jaw that "cams in" when a load is applied to the lifting shackle.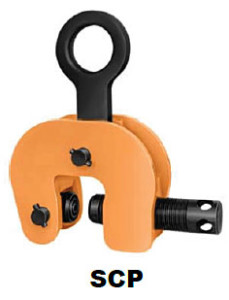 Specifications in inches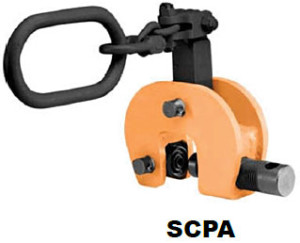 Specifications in inches
---
Model AC / ACP Locking, Screw
These clamps may be used for Drifting Loads when used in pairs or multiples.
The Models AC and ACP are light weight, portable clamps that provide quick easy attachment to structural members for the use of chain falls, hoists and wire rope pullers. These clamps are of single unit construction with a quick-acting hand screw to secure the clamp.
The Model AC has a fixed Shackle Eye, and the Model ACP has a pivoting Shackle Eye. These clamps are especially useful in the construction and maintenance for shipbuilding and other industries.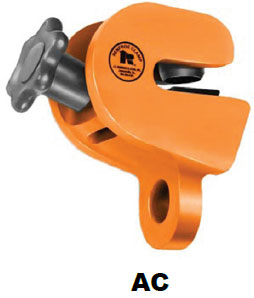 Specifications in inches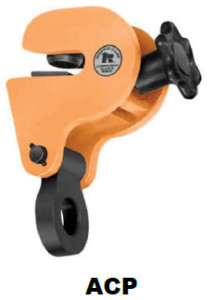 Specifications in inches
---
Call Mazzella for your clamp repair or inspection needs!
All brands and capacities … including, but not limited to Renfroe, The Crosby Group, Campbell, CM, SuperClamp, and Terrier. Contact your local Lifting Specialist to arrange for pick-up of your lifting clamps for inspection and/or repair!