Jeamar Single Swivel Directional Blocks
Jeamar steel sheaves are precision-made from the highest quality fine-grain steel. They're tough, hassle free and they last longer.
---
The strength of the steel used by Jeamar considerably exceeds that of cast iron. Steel also has a weight-saving advantage of up to 50 percent over cast iron, resulting in easier handling and installation.
Jeamar fits its steel sheaves with high-efficiency, deep-groove, double ball bearings, for maximum efficiency, reduced friction, smooth motion, long life and high speed.
Jeamar steel sheaves ensure that the shape of your rope is maintained under normal load conditions.
With a minimum sheave-to-rope ratio of 15:1, the rope's bending stress is reduced for longer life.
Rope grooves are hardened during forming, increasing the life of sheave and rope.
Precision sealed, bearings stay lubricated ensuring low maintenance.
Jeamar blocks are rated for the full working load limit at 0° rope angle.
Description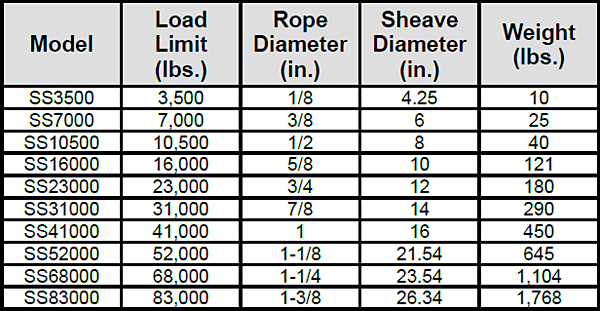 content-single-product