CLEVELAND, OH — Al Abel, a Lifting Specialist with Mazzella Companies, was nominated for and awarded 2018's Corporate Top Trainer award by Crane Hot Line. The Top Trainer program presents an annual award to trainers in the lifting and rigging industry who excel at using innovative hands-on instruction, encourage peer or corporate accountability, demonstrate training success, and have a strong overall impact on students, the industry, or the environment.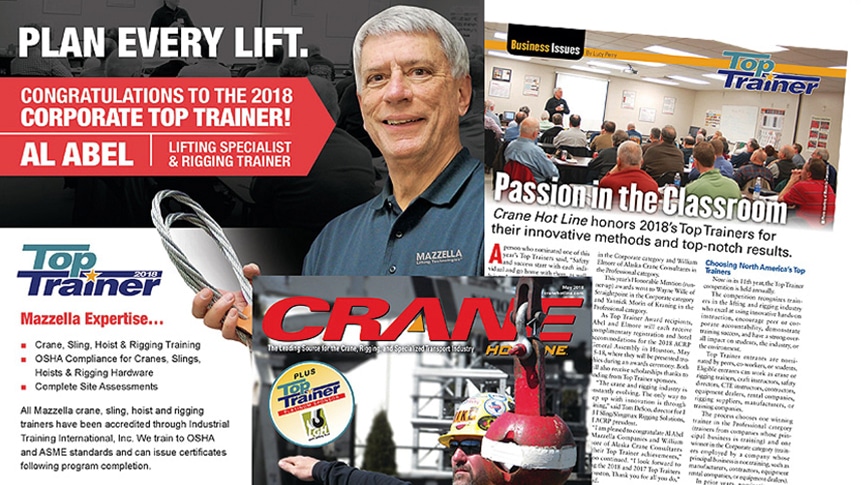 "Trainers deliver far-reaching benefits that improve the bottom line of an entire job site. Properly trained workers do their jobs more safely. That reduces costs for lost time, damaged equipment, medical treatment, and insurance premiums," says Crane Hot Line Editor, Mike Larson.
Since the Top Trainer program began eleven years ago, Al Abel has been a perennial nominee and is a five time runner-up. He's been with Mazzella Companies since 1995 and has been instrumental in developing and growing the company's training programs, and mentoring other trainers within the organization.
His experience as a retired high-school teacher in the Cleveland public school system has provided him with the tools and skills to connect with his classrooms, provide top-notch training, and present meaningful information tailored specifically to his audience.
"Al is all about improving safety and helping businesses improve their output safely. He's a valuable asset to our customers on a daily basis. From the sketch and design of custom lifting devices, to tool box talks centered around safety, Al is the resource our customers depend on—and he delivers," says Craig Hayward, Chief Sales Officer of Mazzella Companies.
Al is active in the lifting and rigging industry—frequently speaking at industry conferences about risk and lift planning. He's also contributed articles to industry publications and appeared as a guest on the Portage County Safety Council's podcast. He's also very active in the local community—organizing quarterly Red Cross blood drives at Mazzella Companies, and volunteering at his church and at local fundraising events.
"Al is one of those individuals who facilitates change with all levels of employees. From the shop floor to the boardroom, Al can influence a positive safe culture. This award is well-deserved and we're thrilled and honored to celebrate this achievement with him," says Hayward.
To read more about Al Abel and the other Top Trainer award recipients, visit cranehotline.com.