"Signals always point to something. In this sense, a signal is not a thing, but a relationship. Data becomes useful knowledge of something that matters when it builds a bridge between a question and an answer. This connection is the signal."
The words of IT innovator Stephen Few actually translate well to the mission of the American Society of Mechanical Engineers (ASME) to set the standards for the lifting and rigging industry.
ASME is a professional association and leading developer of codes and standards associated with the art, science, and practice of mechanical engineering. ASME membership is comprised of engineers, scientists, government officials, and others who voluntarily contribute their technical expertise.
Every couple of years, the B30 Committee reviews, revises, and amends their existing standards and releases a new edition, based on:
Technological advances
New Data
Changing environmental and industry needs
One of those industry needs presented itself, and the committee added an entire section on the responsibilities of signalpersons. Previously, the standard listed responsibilities for the following positions only:
Management / owners / users
Crane operators
Riggers
In this article, we'll discuss what this new section outlines for signalpersons before and during an overhead lift, as well as the importance of lift planning.
What is ASME B30.2-2022 Overhead and Gantry Cranes?
---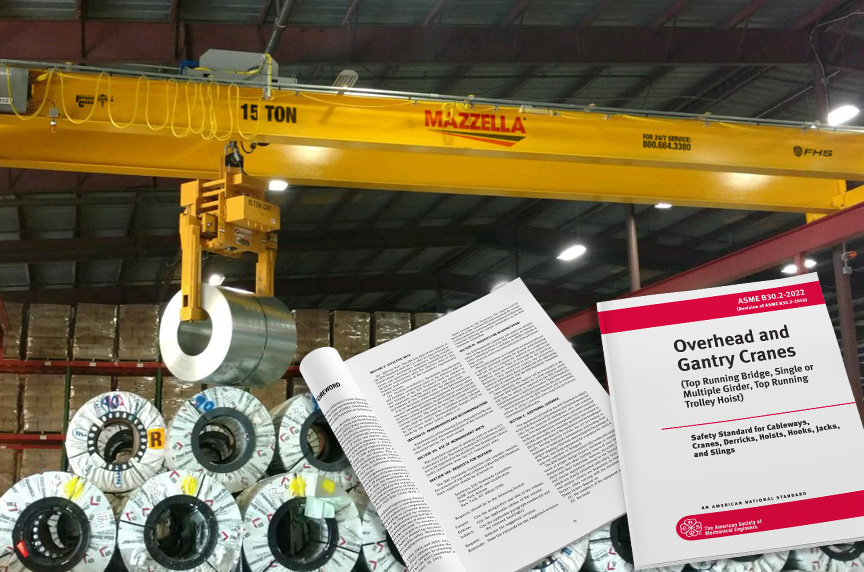 The first ASME B30.2 Overhead and Gantry Cranes standard was issued in 1996, Since then, this standard has been revised and published by the B30 Committee in 2001, 2005, 2011, and 2016.
The new ASME B30.2 Overhead and Gantry Cranes standard revises and supersedes the procedures outlined in the 2016 edition of the same standard.
According to the standard itself,ASME B30.2-2022 Overhead and Gantry Cranes includes provisions that apply to the construction, installation, operation, inspection, and maintenance of hand-operated and power-driven overhead and gantry cranes that have a top-running single girder or multiple girder bridge, with one or more top-running trolley hoists used for vertical lifting and lowering of freely suspended, unguided loads consisting of equipment and materials.
The requirements included in this Volume also apply to cranes having the same fundamental characteristics, such as cantilever gantry cranes, semi-gantry cranes, and wall cranes.
---
---
What Are a Signalperson's Responsibilities?
---
This entire subsection was not included in the 2016 edition, but it outlines what "a signalperson assigned to a load-handling activity shall, at a minimum, be responsible for:"
Identifying himself / herself as the signalperson to the crane operator before commencing a load handling activity
Confirming with the operator the method of communication and the associated signals that are to be used during the load handling activity
Ensuring that standard, discernible hand or voice signals provided to the operator are in accordance with Section 2-3.6
Verifying that load handling activities are stopped if there is a need to give signals to the operator, other than those provided by the established signal system
Ensuring that telephones, radios or other equipment intended for use as the primary signal system are tested prior to the load handling activity
Ensuring that a form of communication is maintained with the operator during all load handling activities
Ensuring that all directions given to the operator shall be given from the operator's perspective (e.g., trolley right)
Ensuring that each series of voice signals contains three elements stated in the following order:

Function and direction
Distance and / or speed
Function stop
Ensuring that special signals (when needed) that are not covered by Section 2-3.6 do not conflict with standard signals
Avoiding giving signal commands that would result in loads being lifted over personnel or moving loads if obstructions are in the path of travel
What Are the Standard and Special Signals for Overhead Crane Operation?
---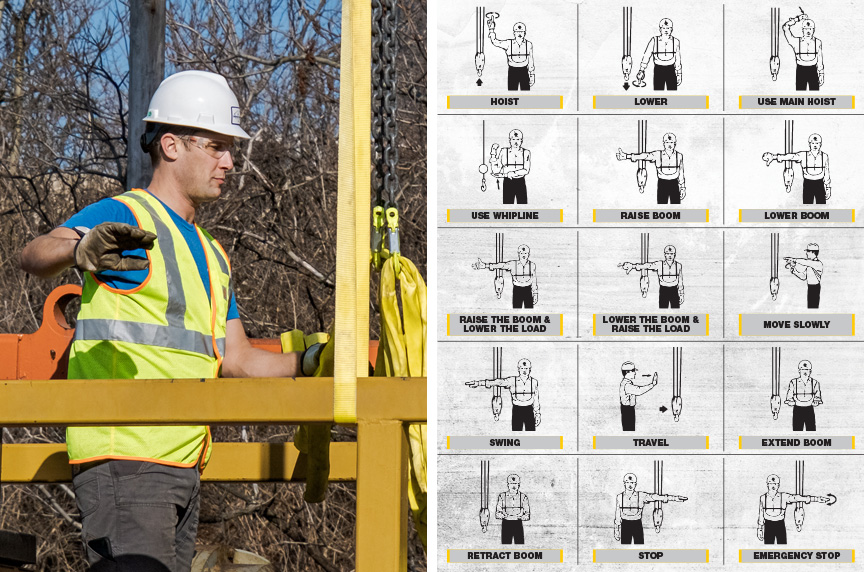 In listing the responsibilities for signalpersons, the ASME B30 Committee references Section 2-3.6, but what is included in this part of the standard? Section 2-3.6 outlines the following:
Standard signals
Special signals
Standard Signals
Signals to the operator shall be in accordance with this Volume, unless voice communication (telephone, radio, or equivalent) is utilized.
Signals should be discernible or audible to the operator.
Hand signals shall be posted conspicuously and should be as illustrated in Figure 2-3.6.1-1.
Figure 2-3.6.1-1 outlines signals for

Hoist
Lower
Bridge travel
Trolley travel
Stop
Emergency stop
Multiple trolleys
Move slowly
Magnet is disconnected
Special Signals
Special operations may require additions to or modifications of standard signals.
Special signals shall be agreed upon and understood by the signalperson and the operator.
Special signals shall not conflict with standard signals.
Why Is a Signalperson So Important?
---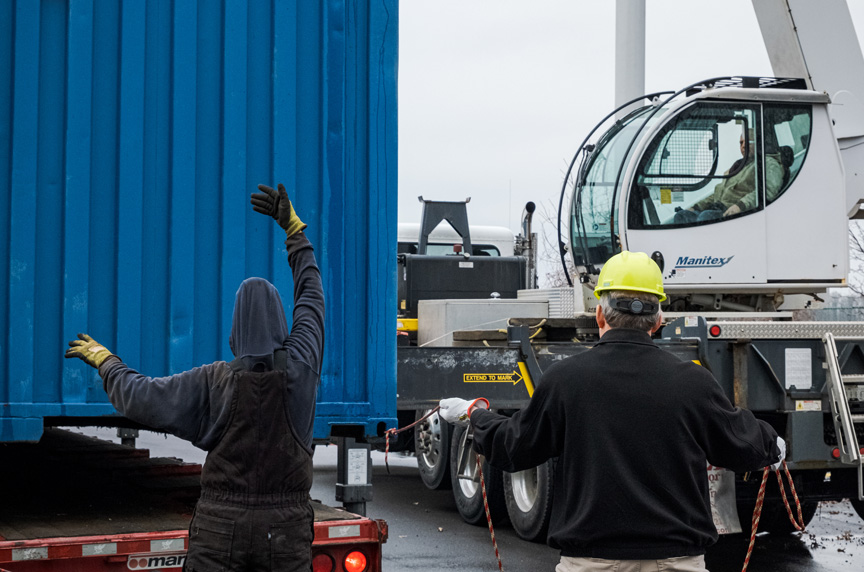 Signalpersons have an important role in overhead lifts, as sometimes, if they are on-site, will provide key assistance to a crane operator.
According to the ASME B30.2 standard, "The arrangement of the cab should allow the operator a full view of the load block in all positions. This is an important and desirable condition, but it is recognized that there are physical arrangements that may make this impossible, and, when the load block is in these positions, the operator shall be aided by other means such as, but not limited to, closed-circuit TV, mirrors, radio, telephone, or a signalperson."
"Responding to signals from the person directing the lift or a designated signalperson" is one of the key responsibilities of a crane operator, as listed in the standard.
Why Is Lift Planning Key to Safe, Successful Overhead Lifts?
---
When industry trends begin to shift, the B30 Committee adapts its standards to make worksites safer for those in the field.
Signalpersons have seen their roles become more important and recognized because owners, operators and riggers need help in executing safe lifts. Along with the "Responsibilities of a Signalperson" section, the focus on "Lift Planning" has taken on increased importance.
This new section reads: "Lifting operations are recognized to present risks to personnel or property. Lift planning and oversight shall be tailored to each hoisting operation and shall be sufficient to manage varying conditions and their associated hazards. The information presented in ASME P30.1 provides one method of documenting the planning and oversight necessary to reduce that risk.
"Certain lifting operations are recognized to have increased levels of risk to personnel or property. The criteria to categorize a lift as 'critical' on this basis are established by site supervision, project management, a qualified person, or company policies. Lift planning and oversight shall be tailored to each operation and shall be sufficient to manage varying conditions and their associated hazards. ASME P30.1 or an equivalent lift planning tool should be used when the lifting operation is deemed to be 'critical.'"
Additionally, as part of the lift plan, "special signals shall be agreed upon and understood by the signalperson AND the operator."
What Can Mazzella Do to Help You Stay in Compliance with the ASME B30.2 Overhead and Gantry Cranes Standard?
---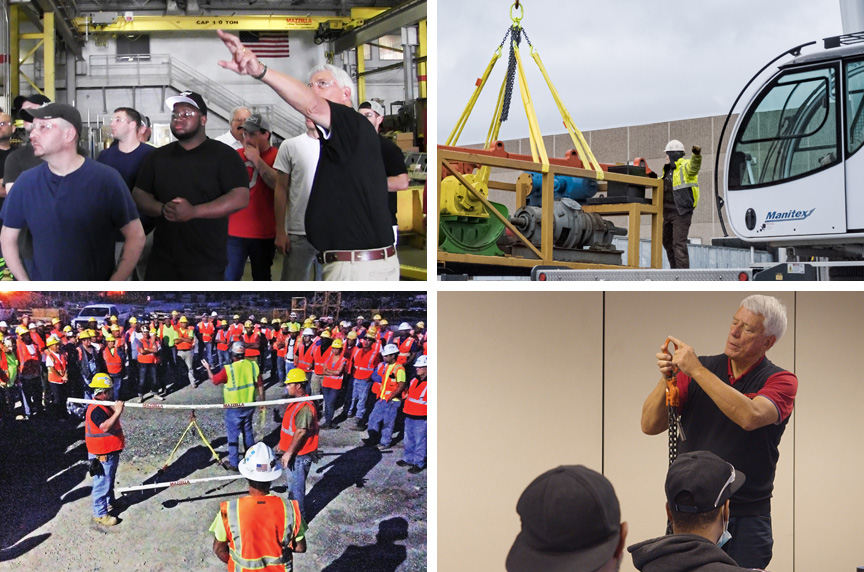 Mazzella provides lifting and rigging training in all types of environments to suit your needs! If you require a specific lifting or rigging training course for OSHA compliance for slings, hoists and / or rigging hardware, Mazzella can assist you in creating a safe and reliable workplace.
All Mazzella trainers have been accredited by our company through training by a third-party training company (Industrial Training International, Inc.), Mazzella's internal training program, and are trained on OSHA and ASME standards.
Mazzella's Lifting and Rigging Training program has modules that educate you and your team on:
Rigging techniques
The importance of lift planning
Hardware
Wire rope slings
Chain slings
Web slings and roundslings
Hooks, shackles, eyebolts, and hoist rings
Load control
Custom-made Below-the-Hook devices
Overhead cranes and safe lifting operations
Call us at 800.362.4601 or click here to learn more about our training programs, or schedule training for your workers!
---
---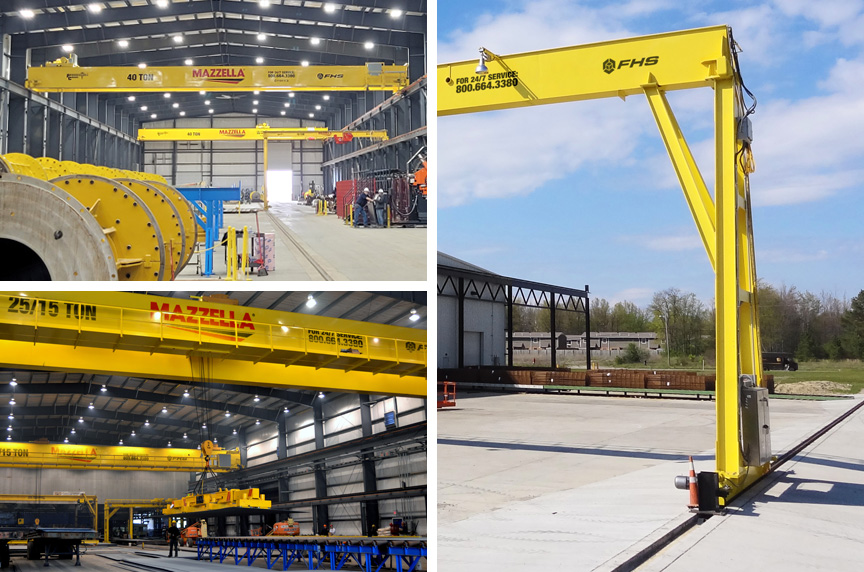 Overhead Cranes & Material Handling
Mazzella is a leading manufacturer of world-class overhead cranes with over 65 years of experience. We engineer and build custom solutions ranging from light-duty, economical cranes up to large capacity, high-duty cycle cranes with welded plate-box girders.
Copyright 2023. Mazzella Companies.