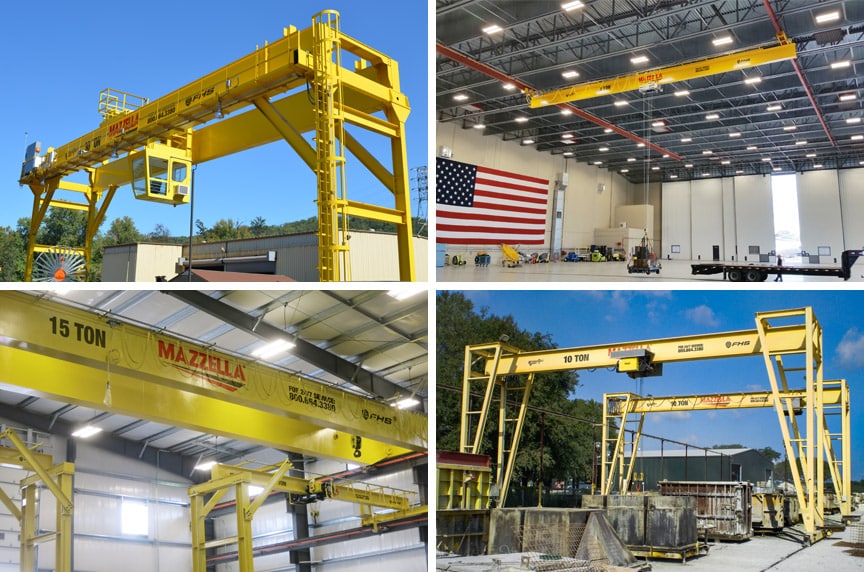 Are you looking to buy your first overhead crane system and need to know where to begin? Or, maybe you're looking to add another crane, or replace an existing crane so that you can expand your production capabilities?
Partnering with an overhead crane manufacturer is a big decision and one that shouldn't be taken lightly. The design, manufacturing, and installation of an overhead crane is a big project and can be a substantial investment—but, a necessary one if you want to improve your company's efficiency and workflows.
If you're looking to finance an overhead crane, your lender may even require you to receive multiple quotes on the purchase and installation of a new crane system. Even if you aren't financing your new equipment, it's still a good idea to bring in a few different overhead crane manufacturers to look at your facility and provide a scope of work and their expert opinion on the right crane system for your material handling needs.
At Mazzella, we have over 50 years of experience engineering, manufacturing, and installing overhead crane systems. We're a leading manufacturer of world-class cranes and we engineer and build custom solutions ranging from light-duty economical cranes to large-capacity, high duty cycle cranes, so we understand how important it is to select the right overhead crane manufacturer to partner with.
When we quote custom crane systems for potential customers, they often ask us: "If we don't go with Mazzella, who else would you recommend?"
That's why we've put together this list of the best overhead crane manufacturing companies. We truly believe that the more informed you are during the purchasing process, the better you'll understand how to design and specify the right overhead crane for your business and get the best bang for your buck.
---
Top Overhead Bridge Crane and Gantry Crane Manufacturers:
Demag Cranes & Components Corp.
Founded: 1965
U.S. Headquarters: Solon, Ohio
Insights: Demag is one of the world's leading suppliers of crane technology with overhead cranes and components. Demag specializes in the development, design, and production of technically sophisticated cranes, hoists and components, and the services for those products. They manufacture in 16 countries on five continents.
Industries Served:
Aircraft
Automotive
Chemical
Coal Mining
Cement, Glass Bricks, Concrete
Metal Processing
Mining
Power/Energy
Pulp and Paper
Ships and Boats
DeShazo Crane Company, LLC
Founded: 1972
U.S. Headquarters: Alabaster, Alabama
Insights: Deshazo is an original equipment manufacturer that designs, manufactures, and installs overhead crane equipment. Deshazo's full service division performs maintenance, inspections, and repairs on all overhead cranes and hoists—including a Rebuild Program for outdated or obsolete crane parts and components.
Industries Served:
Paper Mills
Steel Mills
Pre-Cast Cement Manufacturers
Automotive Suppliers
Engineered Material Handling (EMH) Cranes
Founded: 1988
U.S. Headquarters: Valley City, Ohio
Insights: EMH designs, sells, manufactures, installs, and services a complete line of overhead material handling equipment. EMH has a proven track record of helping businesses realize their potential with the latest innovative solutions. EMH is represented in more than 15 countries across the world.
Industries Served:
Concrete Product Manufacturing
Power Plants
General Industry
Heavy Equipment Repair Facilities
Plastic Injection Mold Industry
Metal Service Centers
Shipbuilding
Waste Water Treatment Facilities
Automotive
G.W. Becker, Inc.
Founded: 1980
U.S. Headquarters: Hermitage, Pennsylvania
Insights: G.W. Becker, Inc. is a full service, single source, provider of choice for quality overhead crane products and solutions. Family owned since 1980, G.W. Becker, Inc. has grown from a local overhead crane parts supplier to a recognized industry leader offering a full spectrum of overhead crane related products and services throughout North America.
Industries Served:
Aeronautical
Automotive
Chemical
Concrete
Heavy Machinery
Machining and Tool & Die
Mining
Oil & Gas
Steel, Aluminum, and Specialty Metals
Water Treatment
---
---
Konecranes
Founded: 1910
U.S. Headquarters: Springfield, Ohio
Insights: Konecranes is a world-leading group of Lifting Businesses™, serving a broad range of customers. Konecranes provides productivity enhancing lifting solutions as well as services for lifting equipment of all makes. They have over 600 locations in 50 countries across the world.
Industries Served:
Automotive
Container Handling
General Manufacturing
Mining
Nuclear
Petroleum and Gas
Power
Paper and Forest
Shipyards
Metals Production
Mt. Clemens Crane & Service Co., Inc.
Founded: 1973
U.S. Headquarters: Harrison Township, Michigan
Insights: Mt. Clemens Crane delivers reliable overhead crane solutions that contain high-quality crane components backed by a large, highly-skilled service division. As a single-source supplier, Mt. Clemens Crane is positioned to develop customer-specific solutions in-house and offer sales, engineering, fabrication and installation services to their customers.
Industries Served:
Automotive
Steel Service Centers
Plastics Tooling & Production
Metals Tooling & Production
Coil Steel Warehousing
Virginia Crane / Foley Material Handling Co., Inc.
Founded: 1975
U.S. Headquarters: Ashland, Virginia
Insights: Virginia Crane engages in the engineering, design, manufacture, and rebuilding of overhead cranes and components. Their product line includes controls, end-trucks, hoists, and cranes. Foley Material Handling Co., Inc. also provides in-house crane and hoist repair, OSHA inspections, and preventative maintenance inspection services.
Industries Served:
Paper Mills
Railroads
Power Companies
Foundries
Steel Mills and Distribution
Aerospace and Defense
Municipalities
General Manufacturing
Whiting Corporation
Founded: 1884
U.S. Headquarters: Monee, Illinois
Insights: Whiting is a manufacturer of heavy-duty overhead cranes and railcar maintenance equipment. Additionally, Whiting is a trusted name for railcar maintenance and lifting equipment for the freight and commuter railroad industries, municipal transit authorities, railcar builders and independent maintenance shops.
Industries Served:
Steel Mills
Automotive Plants
Foundries
Fossil Fuel Plants
Metal Service Centers
Refuse Facilities
Hydro-Electric Plants
Nuclear Power Plants
Zenar Corporation
Founded: 1972
U.S. Headquarters: Oak Creek, Wisconsin
Insights: Zenar is a leading custom manufacturer of high-performance crane solutions to the material handling industry. The diverse spectrum of Zenar's crane product line includes bridge, gantry, monorail and jib cranes. Zenar also manufactures below-the-hook devices including coil grabs, c-hooks, lifting beams, and floor operated devices such as coil cars.
Industries Served:
Aircraft
Blast Furnaces, Steel Mills, and Rolling Mills
Chemical and Allied Products
Construction and Mining
Iron and Steel Foundries
Motor Vehicle and Motor Vehicle Supplies
Paper and Allied Products
Products of Petroleum and Coal
Public Utilities
Rubber Products
Wrapping it Up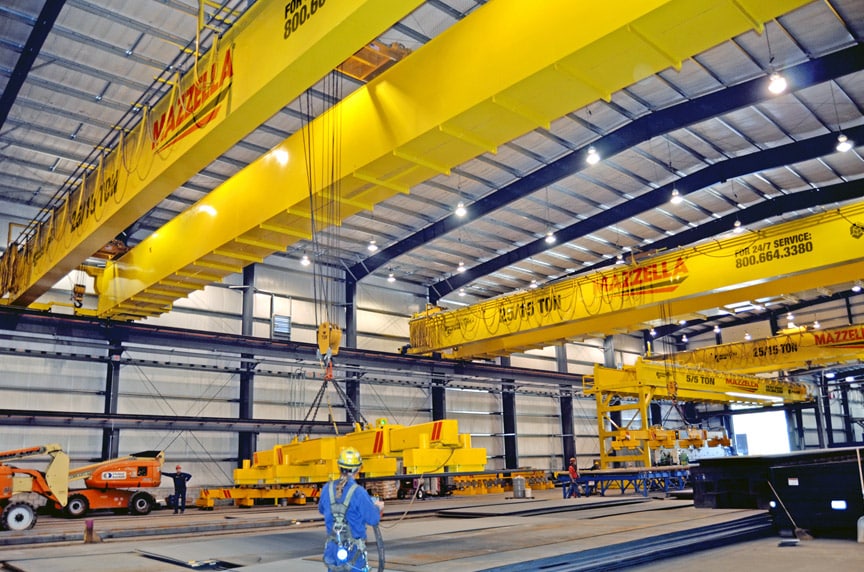 Now that you're equipped with some basic knowledge about the best overhead crane manufacturers, it's time do your research, schedule some consultations, and start gathering quotes for your project.
Keep in mind that price should never be the only factor when selecting an overhead crane company to partner with. You should only partner with a company that you feel comfortable with and who you feel has your business' best interests in mind.
The key to finding the right company to partner with—and to a great buying experience—can depend on a number of different factors, including:
Project specifications – Make sure each manufacturer bases their quotes off of the same information and specifications so that you can make a true side-by-side comparison of each company's capabilities and pricing.
Warranty – Make sure you have a clear understanding of the manufacturer's warranty policies on workmanship, components, and materials.
Incidentals – Additional surcharges related to material costs, taxes, freight, obtaining permits, rental of special equipment, etc.
Follow-up – Did a representative from the company reach out to explain their quote and make sure you understand everything?
Project timeline – Has the crane manufacturer committed to meeting your specific time frame and window for installation?
References – Are they willing to provide references? Ask other companies that they've worked with if they were satisfied with the following:

Overall relationship with the crane manufacturer
Overall quality of work and installation
Commitment to keeping project on track and within budget
Delivery of overhead crane to agreed-upon specifications
Today, there are thousands of our crane installations throughout the United States and abroad—all done in full compliance with CMAA, NEC, OSHA, and ASME standards. Since every business is unique, and no two cranes are alike, we offer free quotes and consultations for overhead crane and material lifting projects.
If you're interested in learning more about how an overhead crane system can improve the efficiency and safety of your facility, or want to schedule a consultation, contact us today to speak with a Crane Specialist.

---
---
Copyright 2018. Mazzella Companies.