Does your warehouse facility no longer have enough space to store your products? Are you looking to add offices to an existing facility without losing storage space?
Have you ever thought about building up instead of out?
If you answered "yes" to any of the following questions, purchasing a mezzanine may be the solution for you. If you have high ceilings in your facility, mezzanines will allow you to improve your storage without losing much space.
For decades, Mazzella FHS Warehouse Solutions Specialists have installed mezzanines at indoor and outdoor facilities throughout the country. During that time, we've helped customers increase their space at a reasonable cost compared to building additions onto their current facilities.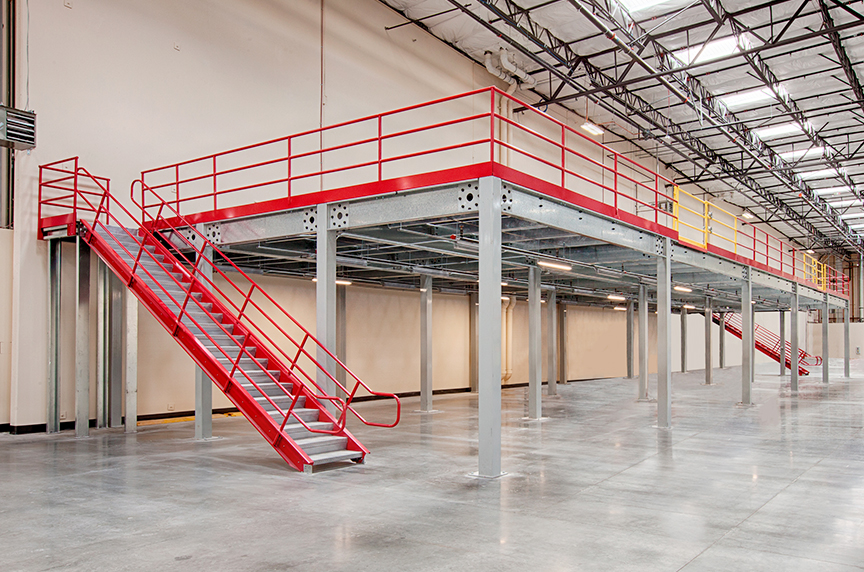 In this piece, you'll learn the answers to the following questions:
What is a mezzanine and what are the different types?
What do I need to know when buying or installing one?
How do I find the right system for my needs?
What are the benefits of installing a mezzanine?
When considering a mezzanine, what should I look for?
What Is a Mezzanine?
---
Mezzanines are low-ceilinged stories between two main stories of a building used to add space in a warehouse or manufacturing facility.
It can be as large as an entire floor, or it can be as small as a work platform. Sometimes, a mezzanine can run what looks like a catwalk around a piece of equipment.
Essentially, a mezzanine is a platform built to get workers and storage space off the ground, whether that's to access something or have another level to store and construct offices on.
What Are the Benefits of Installing a Mezzanine?
---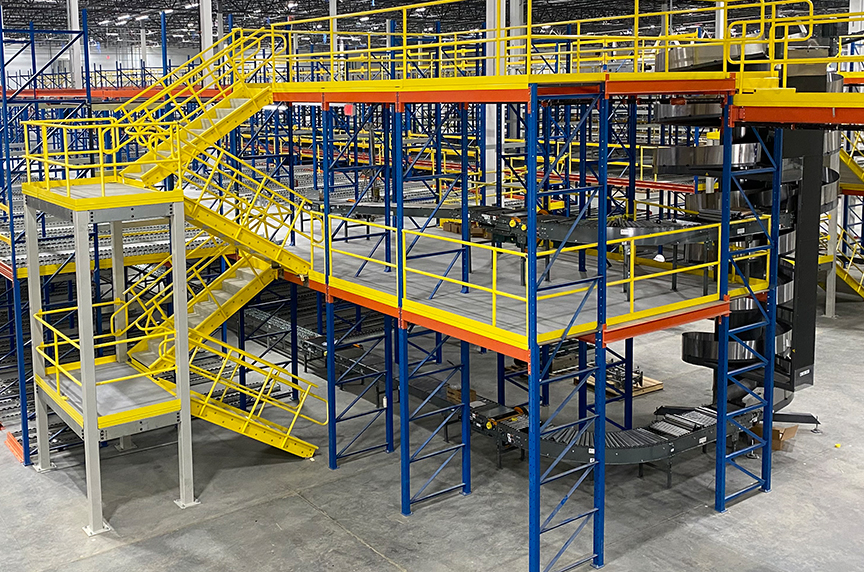 Depending on the size of the mezzanine being installed, you can almost double the square footage of an existing warehouse.
Example: If your warehouse is landlocked, prices are too high to make building adjustments, or you're in a lease with several years remaining on it and you still need more space, mezzanines are a way to increase capacity within your current structure.
If you need more space and can't tear down a wall to modify the building, mezzanines will help you in a major way.
When Do Customers Need a Mezzanine?
---
When is it time for someone to consider utilizing a mezzanine?
End-users who need increased storage/office space without changing the physical footprint of their current facility could benefit from mezzanines.
Mezzanines are a good option for someone who needs versatile space. Maybe you need to do something over a work system. Installing a rack isn't your solution because the footprint of the new structure can't be brought down over top of people who are working.
A mezzanine allows you to have a free span over first-floor workers, and bridge that work area with space either for more storage or offices.
What to Look for When Considering a Mezzanine
---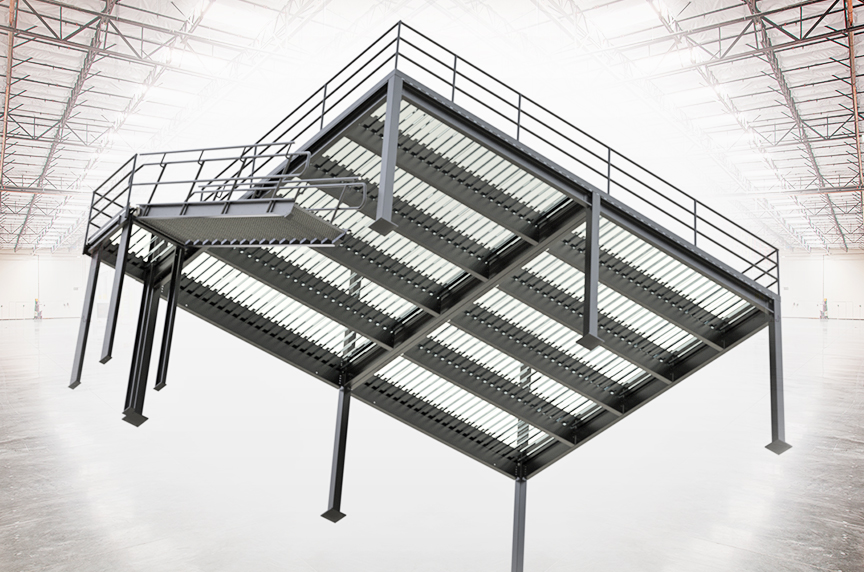 It's important to note the systems Mazzella offers customers always are "turnkey."
Just like in residential improvements/construction, you need at least 8' of clearance from the floor of the facility. Also, you need a minimum of 8' of clearance from the base of the mezzanine to the roof of the building.
Example: If your building has 12' ceilings, mezzanines won't work to fulfill your needs.
Certain slab concrete requirements exist when constructing mezzanines. However, based on our experience, most foundations commercially constructed in the past 30-40 years are going to be sufficient for you to utilize a mezzanine.
Our customers appreciate the fact that mezzanines can be disassembled and moved to a new location if the company itself changes buildings.
Permitting isn't normally a concern because the mezzanine systems that we use are pre-engineered. Their biggest thing is life safety and making sure you can evacuate the building in the event of a fire.
With pre-engineered mezzanines, inspections are less intensive than if the system was built on site, piece by piece. Also, this helps save you money because a system that isn't pre-engineered requires a general contractor to build, which comes with a higher cost and potential permitting issues.
We can assemble a typical mezzanine construction of a 15'x30' in a week. By industry standards, that is a short turnaround time to get that kind of added footprint inside your building.
---
---
What Decking Options Exist for Mezzanines?
---
So, you've decided that a mezzanine is right for your company. Now, you must answer the question, "What kind of flooring do I want on my mezzanine?"
ResinDek
The decking can be purchased as a solid piece known as ResinDek, which is coated plywood.
The solid deck is a cleaner installation and gives companies flexibility. End-users have the ability down the road to install a modular office atop the mezzanine with the ResinDek flooring.
Bar-Grating
Also, there are bar-grating models that are like a see-through industrial floor. Light can penetrate this floor, which cuts back on the need for electrical installation to provide light for those working underneath the mezzanine deck.
While you can use the ambient light from your facility to illuminate underneath the mezzanine with the bar grating, people working on the level below, sensitive equipment or food products will be exposed to higher levels of dust and debris.
If your products are not in a sensitive work environment, a bar-grated model may be the option for you.
How Do Mazzella FHS Specialists Determine a Customer's Needs?
---
Mezzanines are more customizable than storage racking systems because they're made of steel I-beams and joists. Whether you order a 20' mezzanine or a 21'7" mezzanine, it's like going to the produce section of the grocery store. You're buying by the pound.
Our Warehouse Solutions Specialists need to know:
Shape of the building
Ceiling height
Clearances
Spanning needs
There are a lot of factors that determine the viability of a mezzanine because these systems aren't "cookie cutter."
What Are Additional Benefits to Using a Mezzanine?
---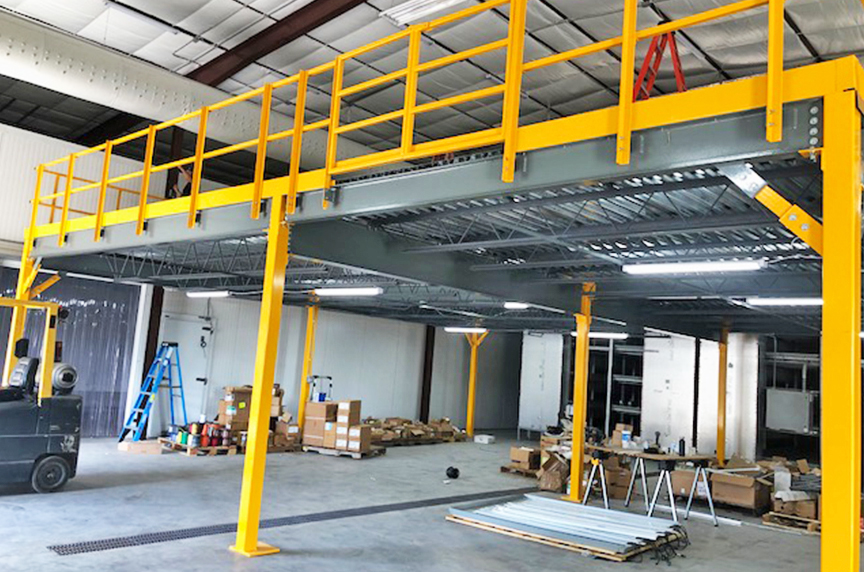 Just about any facility we go into, our specialists hear, "I wish I had more space. I wish I could do this or that." That's always a concern no matter the application.
Other than increasing my space, what can a mezzanine do to help my company and employees?
Doubles as Fall Protection
We've built mezzanines in the past that are more catwalk-like, where you use them to do inspection work or service a machine.
In food production, you could use them to process the product and send that down a chute. Those processes used to be done utilizing a man lift, which created fall hazards. However, with a mezzanine, you have a permanent staircase and work platform.
Our specialists have built mezzanines spanning over the top of modular offices that don't have loaded roofs that you can walk on. By building columns outside of the modular office's perimeter, we've installed flooring on top and created more usable space.
Multi-Level Capability
We've seen it all, and have even installed multi-level mezzanines.
These more closely resemble a catwalk system, where it's a short platform leading to a tower-like structure needing to be accessed on several levels.
Easy Integration
A lot of times, mezzanines will be integrated with a flow lift for moving product to the new storage space safely and more dedicated.
You're reducing your workers' fall risk, and you're not needing another piece of equipment (i.e. a forklift) to move your product.
If you're worried about cost, installing a gate would be the way to go. It's the cheaper way of moving products onto the mezzanine.
Modular offices, lifts and mezzanines are related because when you're buying one, you often find yourself buying another, or at least two of the three. They work well with each other.
Also, it helps people relocate from the shop floor to create more usable space. Mezzanines with a modular office or lift to get product off the floor can help maximize your space.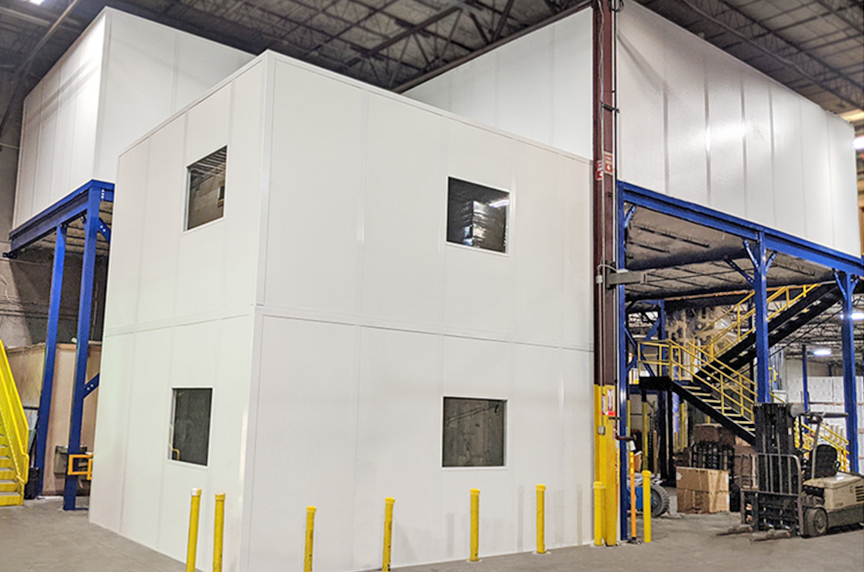 Versatility
Think of a mezzanine as an open dance floor with the ability to transform the space for multiple uses. Mezzanines offer flexibility and large open areas for diverse usage. Mezzanines are the most efficient way to create more square feet of space if you have the height to build upward.
Durability
As far as the mezzanine itself, our suppliers are industry leaders and have engineers and staff in all 50 states. Those engineers can pull up the standards of their states and make sure those mezzanines are installed to those specifications.
In states with higher levels of seismic activity, design will take on a different look.
Mezzanines can go anywhere and everywhere because they're not "industry specific" to need more room.
Outdoor Use
Pretty much anything you do inside, you can do outside. However, an outdoor mezzanine will cost more money because the metal needs to be galvanized to withstand all weather conditions.
Every part has to be dipped in a galvanizing solution, which rapidly increases the cost of a mezzanine system.
What Does a Mezzanine System Cost?
---
Often, Mazzella FHS Warehouse Solutions Specialists quote a price and experience that "sticker shock" moment from end-users.
However, we urge you to look at it from another perspective. If you take the same square footage that the mezzanine's footprint would cover, tear down a wall, pour a concrete slab and reframe the building with more walls, and call the permitting department, you're talking about a significantly higher expense.
If you're only looking to buy square footage for your facility, mezzanines are roughly half of the investment as reworking the footprint of your building.
What Questions Do Customers Ask About Mezzanines?
---
Our Warehouse Solutions team has installed hundreds of systems throughout the country to meet various customer needs, but before that happens, there's an evaluation process.
First, end-users will talk with our specialists, and there are some common questions they have to answer, including:
What is the cost?
How many columns are needed to support this system?
Can mezzanines be free spanning without an additional column support?
What do I need to do as an end-user to take care of this system?
How long does installation take?
What Questions Do Customers Need to Answer About Mezzanines?
---
In addition to asking questions, you'll have some to answer, too.
Our specialists need to know:
What is your ceiling height?
Do you own or rent the building?
What are we spanning over?
What kind of flooring do you have in your facility?
Where do you want the columns placed?
What's the budget for the project?
What do you see the space being used for long-term?
Following the initial questions, we'll make a site visit to measure everything, just as you would with a rack system before installation, and take photographs of the facility for planning purposes.
What is the Approval Process Like?
---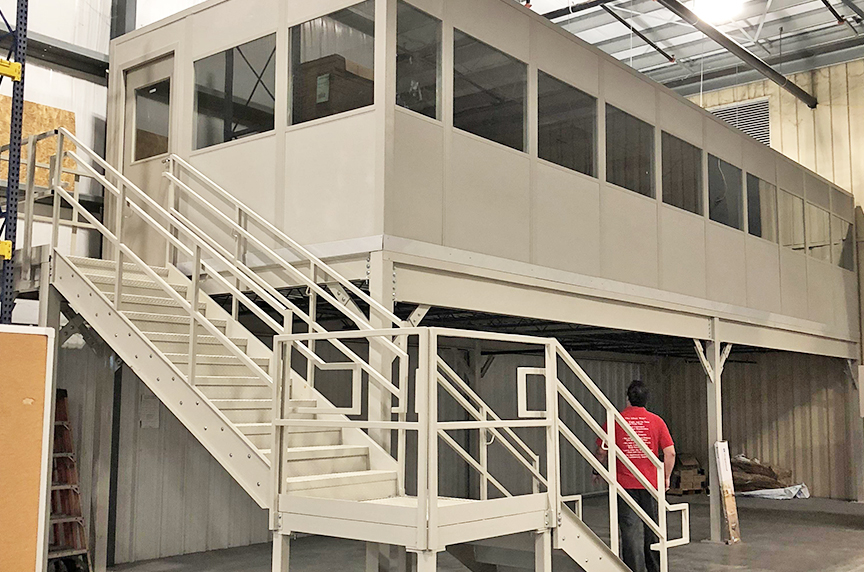 Within 3-5 days after that site visit, our specialists will draw up the proposal, and then, get that information to you. Once a verbal agreement is in place, the manufacturers take between 1-2 weeks to create approval drawings.
After the approval drawings are made, the system goes into production for several weeks before the installation process.
Do I Need a Mezzanine?
---
Versatility and value are the key things to remember when considering ordering and installing mezzanines.
While one of our more simplistic products as far as data gathering, mezzanines are impactful. They can help you and your company:
Add versatile space for offices/storage
Limit downtime with a quick install of pre-engineered systems
Increase productivity
Gain additional fall protection measures
Save money by avoiding costly building renovations
By creating more usable square footage of space, mezzanines literally can change how businesses operate for the better almost overnight.
Call us at 800.664.3380 or click here to learn more about our warehouse solutions, everything from storage systems to LED lighting!
---
---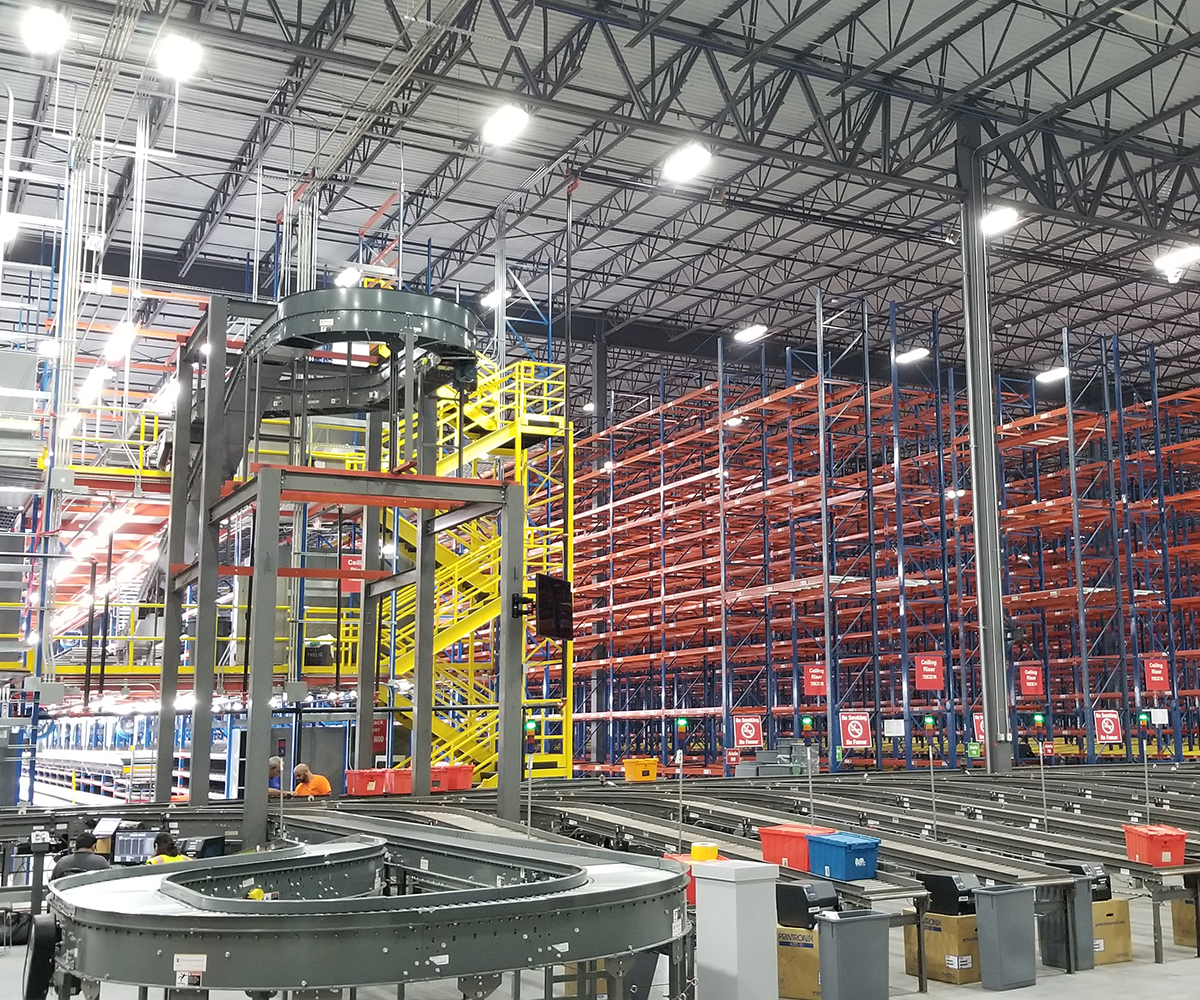 Conveyor Systems, Storage Rack Systems, Mezzanines, Modular Offices, Vertical Lifts, ASRS systems, LED Lighting, Warehouse Products, and More!
Mazzella FHS has designed and implemented material handling and storage solutions for a variety of industries focusing on warehousing and manufacturing applications. This vast experience has provided us with a deep understanding of our clients most challenging requirements.
Copyright 2021. Mazzella Companies