What is fall protection, and how does it differ from fall prevention?
It's a simple question with a not-so-simple answer.
There are many types of fall prevention and fall protection systems, and sometimes, it can be confusing what would fit best based on the specific environment where your company will be working.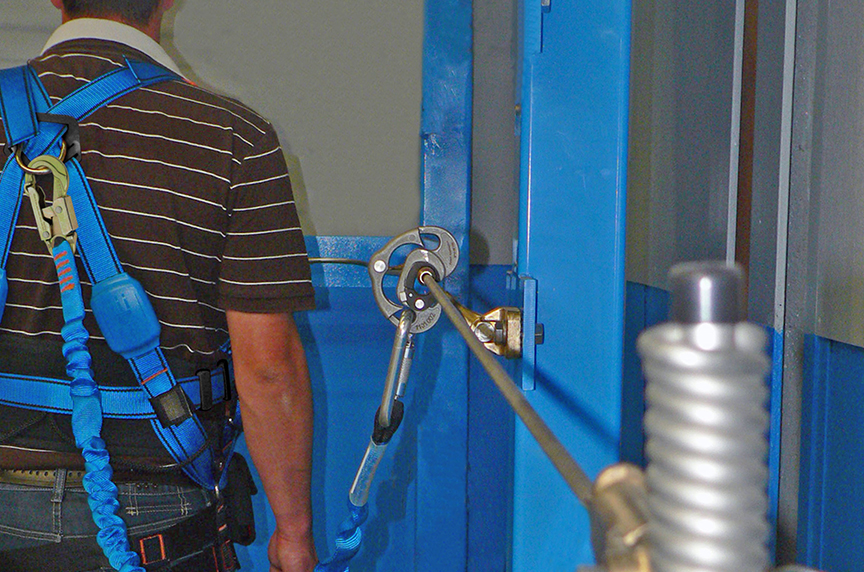 In this article, we'll outline:
The difference between fall protection and fall prevention
Why fall prevention and fall protection are so important
Types of fall protection equipment
Types of fall prevention systems
Best fit applications
Standards for safety requirements on job sites
Importance of inspecting gear
Differences Between Fall Protection and Fall Prevention
---
The American National Standards Institute (ANSI) defines an "active" fall protection system as "a means of providing fall protection that requires workers to take specific actions, including wearing, and otherwise using personal fall protection equipment and following prescribed procedures. Examples include travel restraint and fall arrest systems."
OSHA 1926.501(M) defines fall protection as being the responsibility of "each employee on a walking/working surface (horizontal and vertical surface) with an unprotected side or edge which is 6' (1.8 m) or more above a lower level shall be protected from falling by the use of guardrail systems, safety net systems, or personal fall arrest systems."
Why Is Fall Protection and Fall Prevention so Important?
---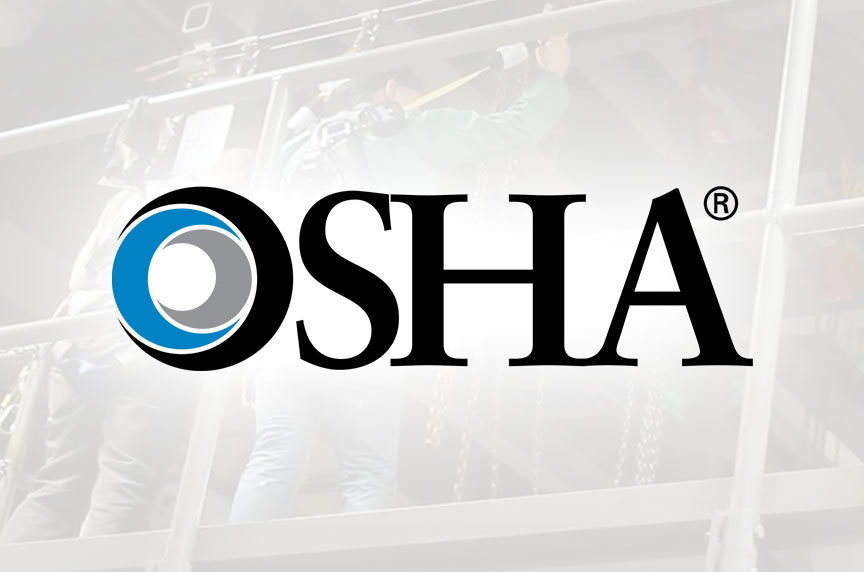 According to OSHA Publication 2056, there are nearly 6,000 workplace fatalities in the United States and 50,000 deaths due to workplace-related illnesses each year. Also, there are 5.7 million non-fatal workplace injuries, and those injuries alone cost U.S. businesses over $125 billion annually.
Falls are the leading cause of death in the construction industry, and most fatalities happen when employees fall from open-sided floors and through floor openings. Falls from as little as 4' to 6' can cause long-term time away from work, or death, which means all open-sided floors and platforms 6' or more in height must be guarded.
Fall Protection Components
---
Fall protection systems are found on:
Walkways
Ramps
Open sides and edges
Holes in roofs
Concrete forms and rebar
Excavations
Roofs
Wall openings
Bricklaying
Residential construction
Scaffold and Man-Lifts
Personal fall protection involves the use of several components, including:
Harness
Lanyard
Self-retracting lanyard (SRL)
Anchor point
Harness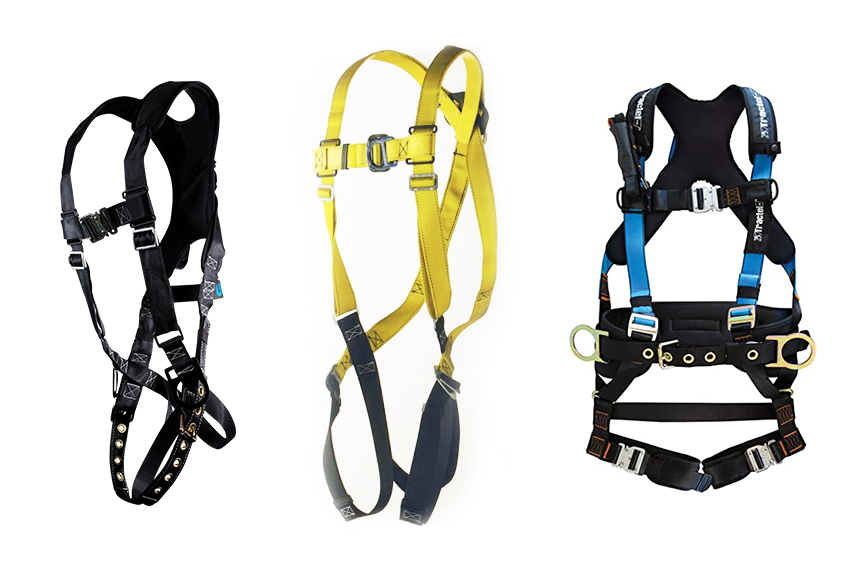 Harnesses are "personal fall arrest protection," and the full body harnesses are approved for use in:
Fall arrest
Positioning
Confined space rescue
Ladder climbing devices
The total combined body and tool weight of the person wearing the harness must be under 310 lbs.
The back D-ring is the only connection point suitable for fall arrest, while other D-rings are used for confined space (shoulder D-rings), ladder climbing devices (front/chest D-ring), or position (side/hip D-rings).
Lanyard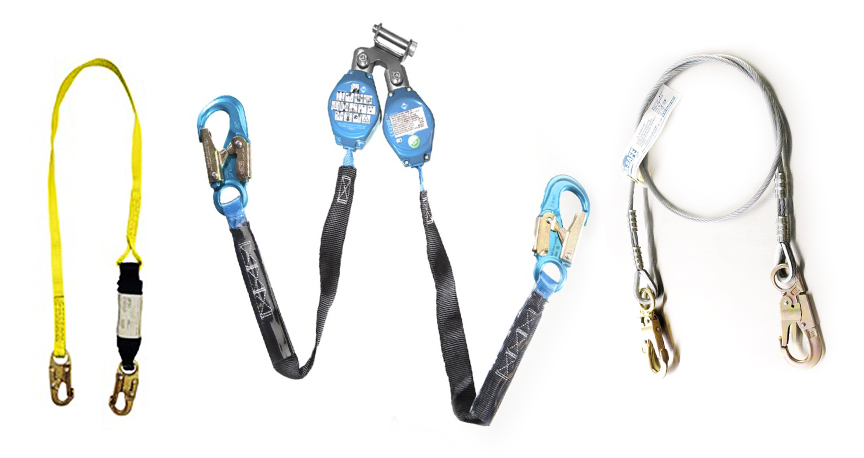 A lanyard is a flexible rope or strap with connectors on each end to connect to a body belt or harness, and then, to a lifeline, anchor or braking (deceleration) device.
Types of lanyards include:
Self-retracting-Eliminates excess slack in the lanyard
Shock-absorbing-Slows and eventually stops the descent and absorb force
Synthetic rope-Absorbs some force by stretching
Synthetic webbing-Strong and absorb little force
Self-Retracting Lanyard (SRL)
A self-retracting lanyard (SRL) is a deceleration device that functions like a seatbelt. During normal movement, the SRL can be released or retracted, but if a fall does occur, the device locks, which minimizes the fall length.
Anchor point
Anchor points serve as the secure point for lanyards, lifelines, or other deceleration devices, which is part of the short lanyard attached to the rope grab and body harness.
There are two types of anchor points:
With temporary anchor points, employees should use solid structures, such as structural support members.
Permanent anchorage points must be designed by a qualified person and approved by a registered professional engineer. These points must have a safety factor of at least twice the maximum anticipated force during a fall.
Types of Fall Prevention
---
Guardrails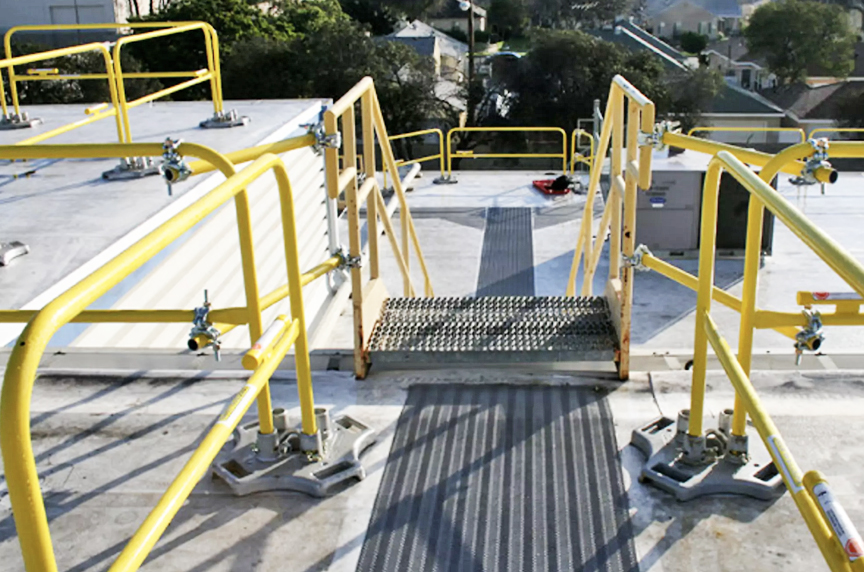 Guardrail requirements are listed in the OSHA 1926.451(g)(4) standard.
In this standard, OSHA says: "Guardrail systems shall be installed along all open sides and ends of platforms. Guardrail systems shall be installed before the scaffold is released for use by employees other than erection/dismantling crews.
A key component of fall prevention, guardrails consist of a vertical barrier placed along exposed edges of a walking or working surface. The standard guardrail system features a toprail, intermediate (or mid) rail, and support posts.
To add more layers of protection, screens, mesh, or balusters could be utilized in tandem with the guardrails.
Guardrails are designed and built to specific safety regulations and should not be modified in any way. If there is damage to a guardrail, the fall prevention system must be repaired promptly. Also, guardrails should not be used as an anchor point for fall protection systems. Should a section be removed for the delivery of materials, fall protection systems need to be in place.
Guardrails are commonly used for walking/working surfaces inside factories, and they are important components of scaffold platforms.
On scaffolding, guardrails are mandated to be installed along all open ends and sides of the platform before the systems are fit for use.
---
---
Stairways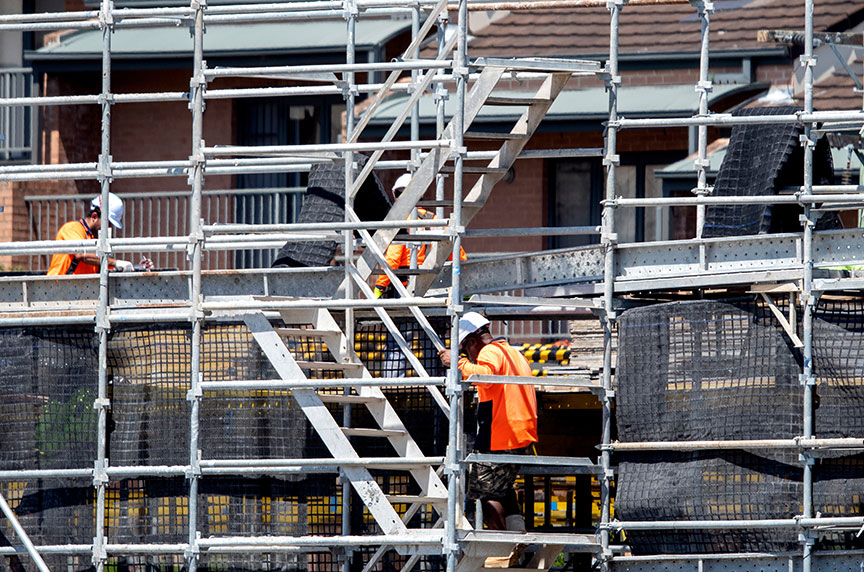 Like guardrails, stairways are a fall prevention system designed to minimize the risk of falling while working at height.
Fixed stairways are necessary when travel of 19" or more of elevation change is required between levels on a regular basis. Travel on a regular basis is defined to cover every day and every shift.
Also, stair rails are required on all open sides of a stairway to act as a barrier in fall prevention.
Stairways are governed by OSHA 1910.25, which covers standard, spiral, ship, and alternating tread-type stairs. However, there are exceptions that are not held to this standard, including stairs for:
Floating roof tanks
Scaffolds
Designed into machines or equipment
On self-propelled motorized equipment
According to this standard, which outlines dimensions for all types of stairways, the employer must ensure handrails, stair rail systems, and guardrail systems are provided in accordance with OSHA 1910.28.
Platforms
According to OSHA 1917.118(e)(2), a landing platform capable of supporting a load of 100psf (pounds per square foot) and fitted with guardrails complying with Sec. 1917.112(c) shall be provided at least every 30', except as specified in paragraph (e)(2)(iv) of the 1917.112 section.
Commonly, platforms are used with scaffolding and on fixed ladders.
Netting
According to OSHA 1926.105, safety nets shall extend 8' beyond the edge of the work surface where employees are exposed and shall be installed as close under the work surface as possible, but in no case more than 25' below such work surface.
Nets shall be hung with sufficient clearance to prevent a user's contact with the surfaces or structures below. Such clearances shall be determined by the impact load testing.
OSHA 1926.105 states: "Safety nets shall be provided when workplaces are more than 25' above the ground or water surface, or other surfaces where the use of ladders, scaffolds, catch platforms, temporary floors, safety lines, or safety belts is impractical.
"Where safety net protection is required by this part, operations shall not be undertaken until the net is in place and has been tested."
Harness/Lanyard
Harnesses and lanyards are used when working on jobs that have a risk of a fall hazard that can't be removed. Lanyard connectors, or hooks, require a double action to open, and are self-closing. This design prevents the hook from opening accidentally.
Lanyards must never be tied in knots to reduce their length. This can reduce the strength of the lanyard by as much as half.
According to the ANSI/ASSP Z359.11 standard, "full body harnesses (FBHs) should be used in occupations requiring personal protection against falls from heights, and if required, shall allow for the specialized functions of travel restraint, positioning, suspension, and/or rescue.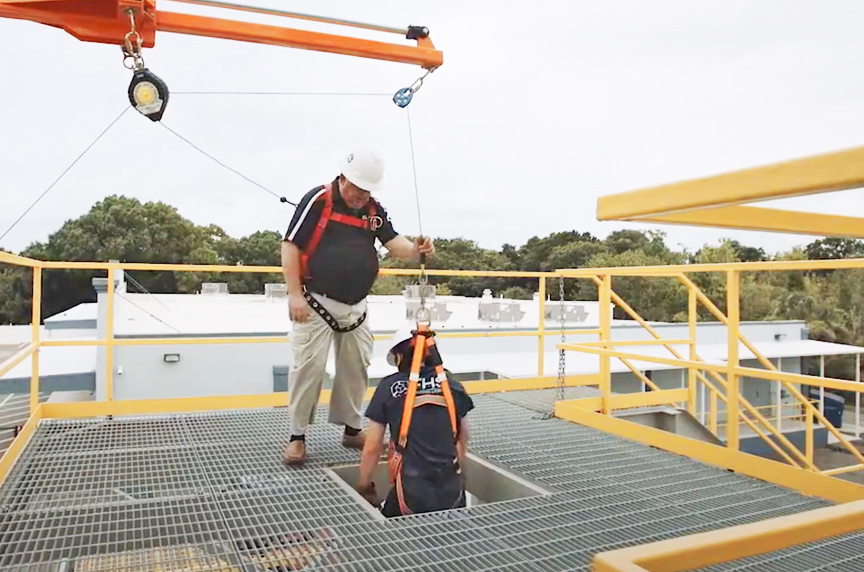 Inspecting Your Gear
---
ANSI/ASSE Z359.2-2017-Minimum Requirements for a Comprehensive Managed Fall Prevention Program is a standard that defines who is required to do on-site inspections of the conditions of the fall prevention systems in use.
"Fall prevention equipment shall be inspected by the authorized person at least once at the beginning of each 8-hour shift in which it is used to verify that it has not sustained any wear or damage that would require its removal from service. Fall prevention and fall rescue equipment shall be inspected on a regular basis not to exceed one year (or more frequently if required by the manufacturer's instructions) by a competent person or a competent rescuer, as appropriate, to verify that the equipment is safe for use."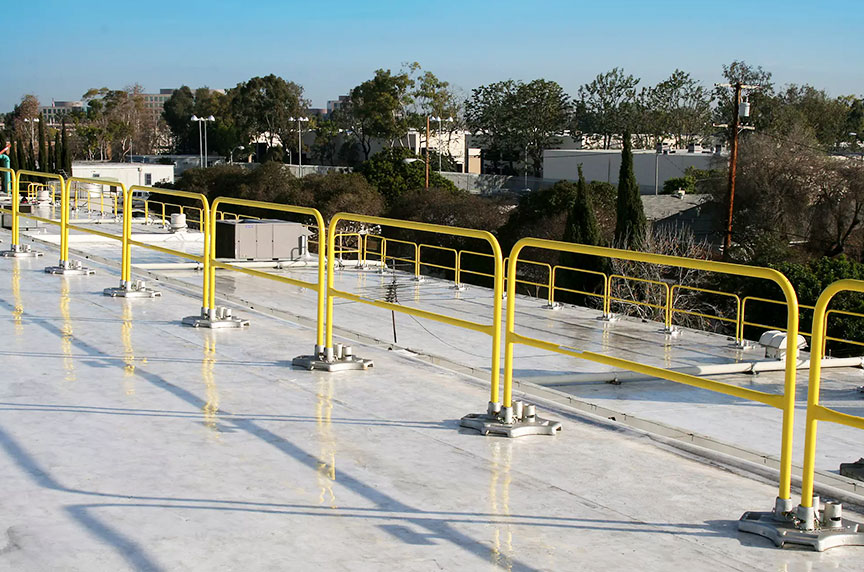 Which System Is Best For Me?
---
As you continue your research into fall protection and fall prevention systems, it's important to know the hazards of your work site before figuring out what system is best for you and your company.
Remember, safety always needs to be at the forefront of any task on a construction site or in a factory setting. When working at height, a fall of only 4' can have catastrophic results for your workers, both in the air and on the ground.
If hazards can't be removed completely, fall prevention is key to creating a safe working environment, and there are multiple means of protecting your employees at the job site.
If you need assistance in training your workers or identifying potential fall hazards at your job site or facility, contact a Mazzella fall protection specialist.
---
---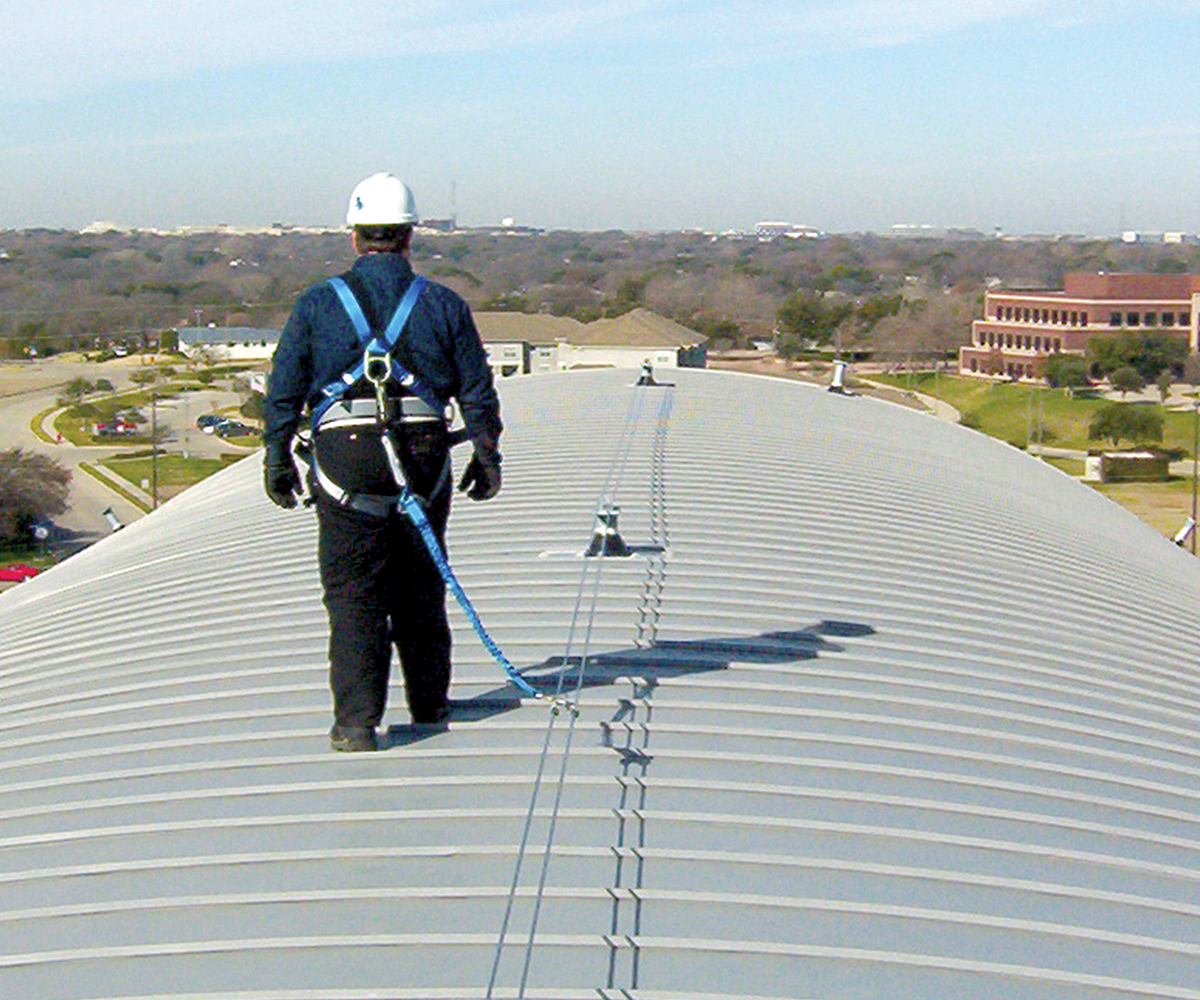 We are a leading supplier and installer of engineered fall protection systems in the U.S., as well as a distributor of soft goods like harnesses, lanyards, self-retracting lifelines, scaffolding, and netting.
Copyright 2021. Mazzella Companies.