Fall prevention is as serious of a topic as there is when it comes to the safety of on-site workers.
Remember, safety always needs to be at the forefront of any task on a construction site or in a factory setting, and when working at height, a fall of only 4' can have catastrophic results for your workers, both in the air and on the ground.
There are many types of fall prevention, which differs from fall protection, and sometimes, it can be confusing which type of prevention system would fit best based on the specific environment where your company will be working.
Fall prevention is key to creating a safe working environment, and there are multiple means of protecting your employees at the job site.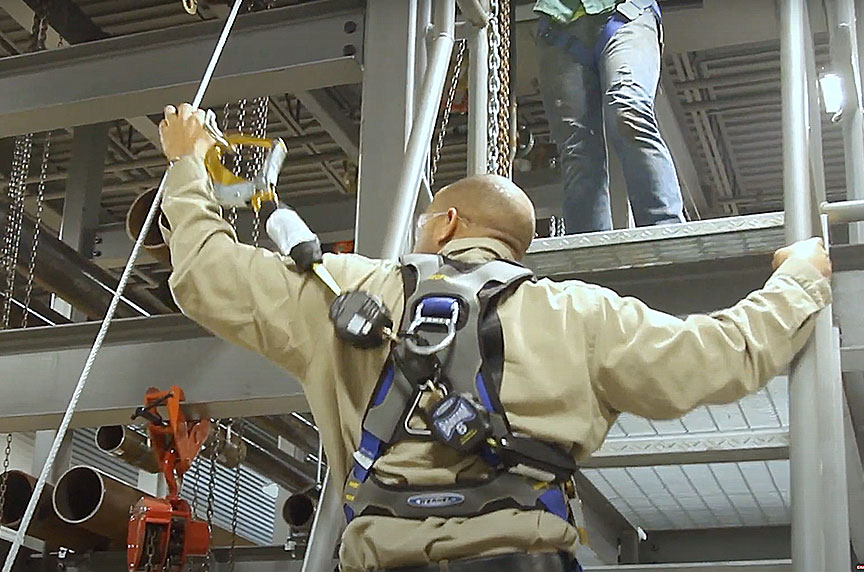 According to the Occupational Safety and Health Administration (OSHA) Hierarchy of Controls for Personal Fall Protection, the "best" safety method is the removal or elimination of the fall hazard. However, if that can't be done, a collective fall prevention system is considered a "better" method.
Fall prevention is the act of limiting the hazards through proper training, as well as keeping a safe working environment through job site analyses, and the installation of equipment that significantly reduces falling risks.
In this article, we'll outline:
Why fall prevention is so important
Types of fall prevention systems
Best fit applications
Standards for safety requirements on job sites
Importance of inspecting gear
Why Is Fall Prevention so Important?
---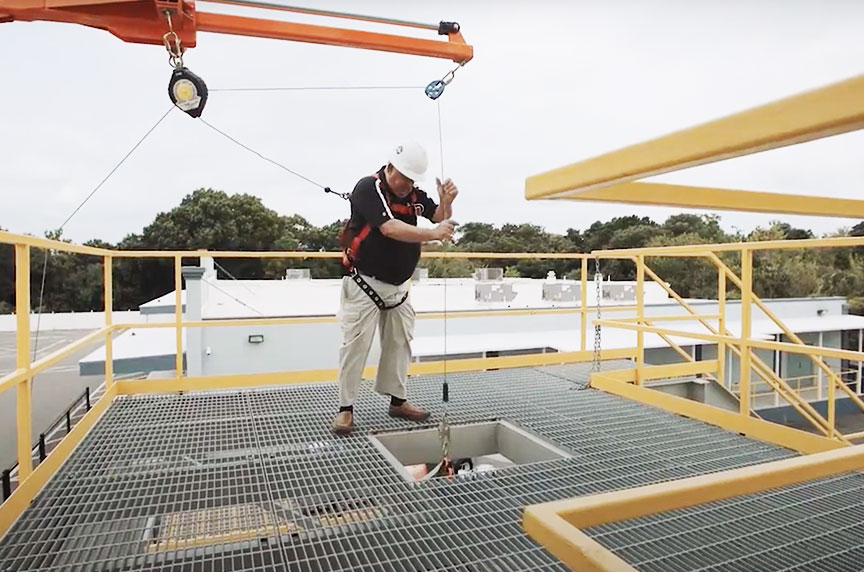 According to OSHA Publication 2056, there are nearly 6,000 workplace fatalities in the United States and 50,000 deaths due to workplace-related illnesses each year. Also, there are 5.7 million non-fatal workplace injuries, and those injuries alone cost U.S. businesses over $125 billion annually. Falls are the leading cause of death in the construction industry, and most fatalities happen when employees fall from open-sided floors and through floor openings. Falls from as little as 4' to 6' can cause long-term time away from work, or death, which means all open-sided floors and platforms 6' or more in height must be guarded.
Types of Fall Prevention
---
Guardrails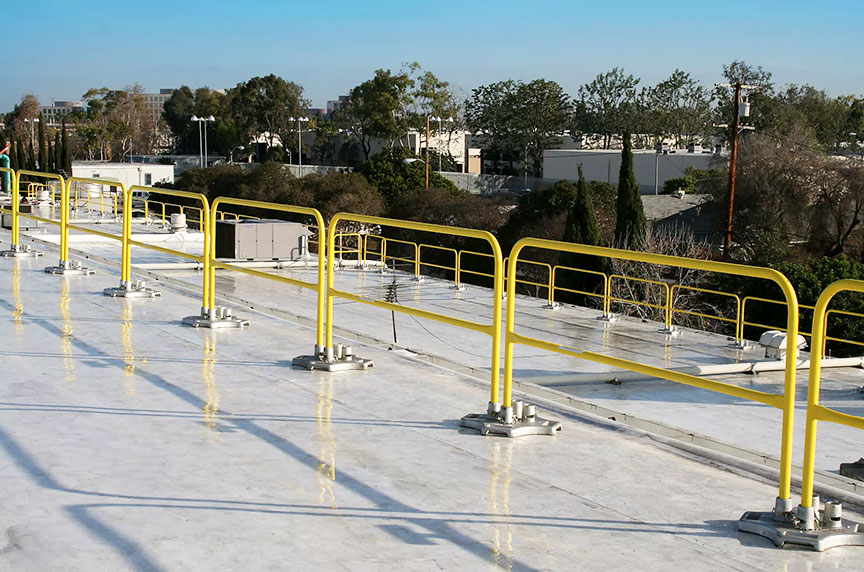 A key component of fall prevention, guardrails consist of a vertical barrier placed along exposed edges of a walking or working surface. The standard guardrail system features a toprail, intermediate (or mid) rail, and support posts.
To add more layers of protection, screens, mesh, or balusters could be utilized in tandem with the guardrails.
The toprail of a guardrail system commonly is constructed to 42" from the walking/working surface, but some vary between 39" and 45". Regardless of height, toprails must support a force of 200 lbs. in a downward and outward direction.
Midrails are halfway between the toprail and walking/working surface and must stand up against a downward and outward directional force of at least 150 lbs.
If wire-rope guardrail systems are utilized, highly visible tape or flags must be placed every 6' to increase visibility.
If toe boards are installed to prevent falling materials from injuring workers on a lower level, they must have a height of 3.5" above the walking/working surface.
Guardrails are designed and built to specific safety regulations and should not be modified in any way. If there is damage to a guardrail, the fall prevention system must be repaired promptly. Also, guardrails should not be used as an anchor point for fall protection systems. Should a section be removed for the delivery of materials, fall protection systems need to be in place.
Stairways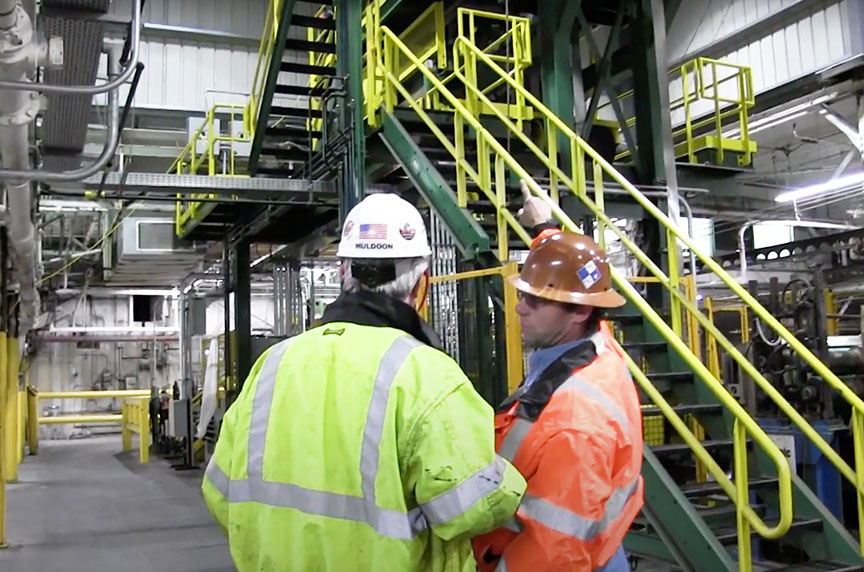 Like guardrails, stairways are a fall prevention system designed to minimize the risk of falling while working at height.
When a flight of stairs has at least four risers, the stairway must have at least one handrail to provide support for workers as they climb up or down. Stairs wider than 44" need handrails on both sides, and those wider than 88" need a handrail down the middle, and on both sides of the staircase.
Platforms
According to OSHA 1917.118(e)(2), a landing platform capable of supporting a load of 100psf (pounds per square foot) and fitted with guardrails complying with Sec. 1917.112(c) shall be provided at least every 30', except as specified in paragraph (e)(2)(iv) of the 1917.112 standard.
Netting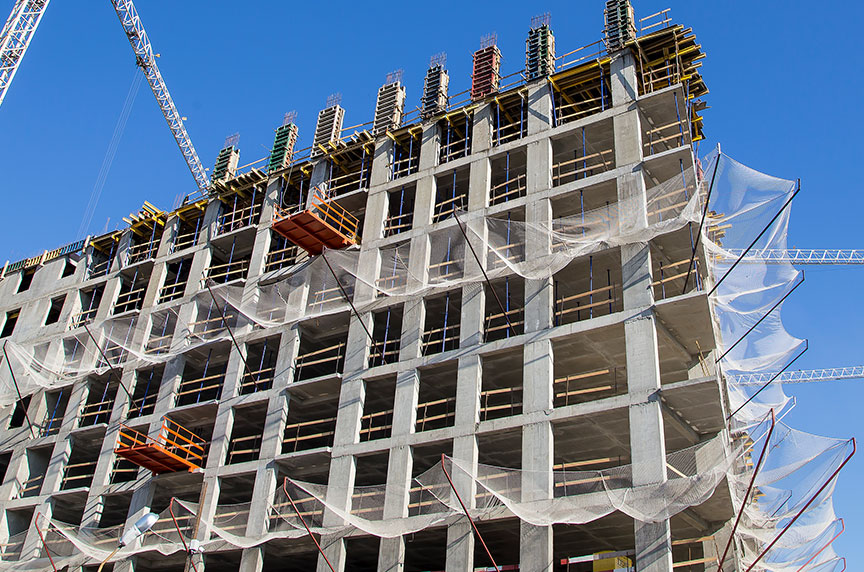 According to OSHA 1926.105, safety nets shall extend 8' beyond the edge of the work surface where employees are exposed and shall be installed as close under the work surface as possible, but in no case more than 25' below such work surface.
Nets shall be hung with sufficient clearance to prevent a user's contact with the surfaces or structures below. Such clearances shall be determined by the impact load testing.
---
---
Best Fit Applications for Fall Prevention Systems
---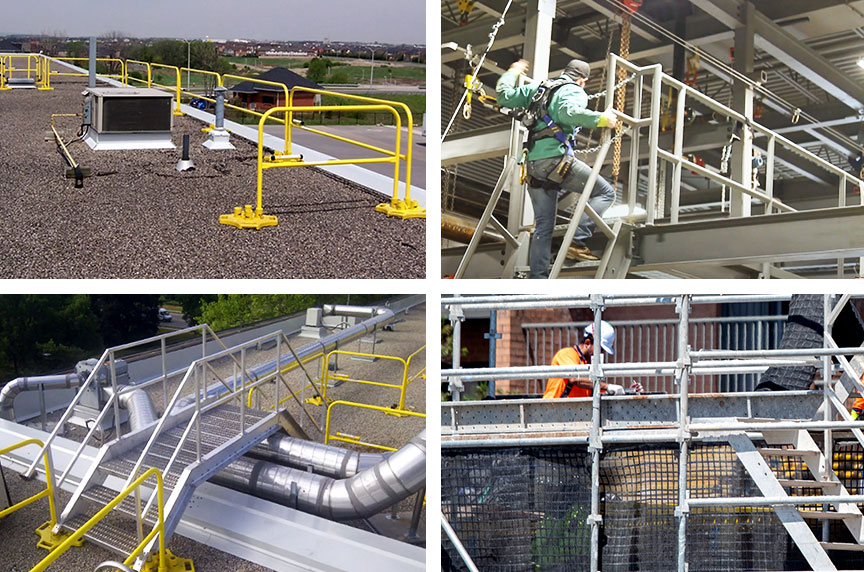 Guardrails
Guardrails are commonly used for walking/working surfaces inside factories, and they are important components of scaffold platforms.
On scaffolding, guardrails are mandated to be installed along all open ends and sides of the platform before the systems are fit for use.
Like other fixed guardrails, workers on scaffolds must be protected by a toprail, midrail and toe board to prevent objects that are kicked from the deck from falling down and injuring workers on lower levels of job sites.
Stairways
Fixed stairways are necessary when travel of 19" or more of elevation change is required between levels on a regular basis. Travel on a regular basis is defined to cover every day and every shift.
Also, stair rails are required on all open sides of a stairway to act as a barrier in fall prevention.
PHOTO OF Safety Platform
Platforms
Platforms are most commonly used with scaffolding and on fixed ladders.
Netting
OSHA 1926.105 states: "Safety nets shall be provided when workplaces are more than 25' above the ground or water surface, or other surfaces where the use of ladders, scaffolds, catch platforms, temporary floors, safety lines, or safety belts is impractical.
"Where safety net protection is required by this part, operations shall not be undertaken until the net is in place and has been tested."
Fall Prevention Standards of Governance
---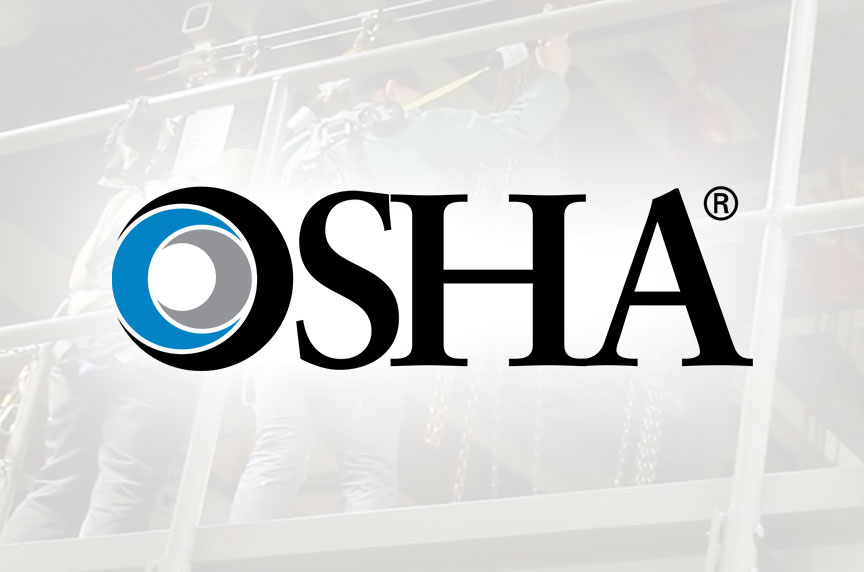 Guardrails
Guardrail requirements are listed in the OSHA 1926.451(g)(4) standard.
In this standard, OSHA says: "Guardrail systems shall be installed along all open sides and ends of platforms. Guardrail systems shall be installed before the scaffold is released for use by employees other than erection/dismantling crews.
"The top edge height of toprails or equivalent member on supported scaffolds manufactured or placed in service after January 1, 2000 shall be installed between 38" (0.97 m) and 45" (1.2 m) above the platform surface. The top edge height on supported scaffolds manufactured and placed in service before January 1, 2000, and on all suspended scaffolds where both a guardrail and a personal fall arrest system are required shall be between 36" (0.9 m) and 45" (1.2 m). When conditions warrant, the height of the top edge may exceed the 45" height, provided the guardrail system meets all other criteria of paragraph (g)(4)."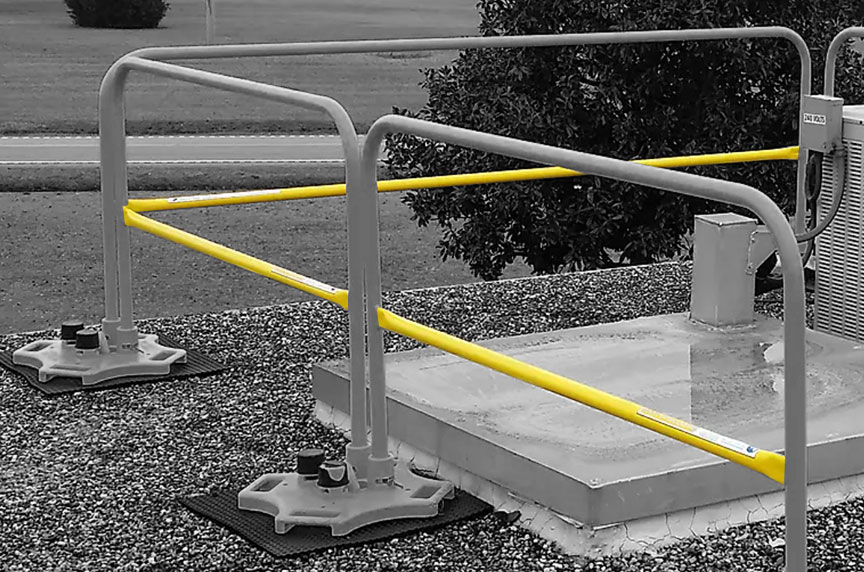 When midrails, screens, mesh, intermediate vertical members, solid panels, or equivalent structural members are used, they shall be installed between the top edge of the guardrail system and the scaffold platform.
When midrails are used, they shall be installed at a height approximately midway between the top edge of the guardrail system and the platform surface.
When screens and mesh are used, they shall extend from the top edge of the guardrail system to the scaffold platform, and along the entire opening between the supports.
Dos and Don'ts
Under the OSHA 1926.451(g)(4)(xi) standard, guardrails shall be surfaced to prevent injury to an employee from punctures or lacerations, and to prevent snagging of clothing.
According to the standard, steel or plastic banding shouldn't be used as a toprail or midrail. Also, manila or plastic (or other synthetic rope) being used for toprails or midrails shall be inspected by a competent person as frequently as necessary to ensure that it continues to meet the strength requirements of paragraph (g) of this standard.
Cross-bracing is acceptable in place of a midrail when the crossing point of two braces is between 20" and 30" above the work platform or as a toprail when the crossing point of two braces is between 38" and 48" above the work platform. The end points at each upright shall be no more than 48" apart.
Stairways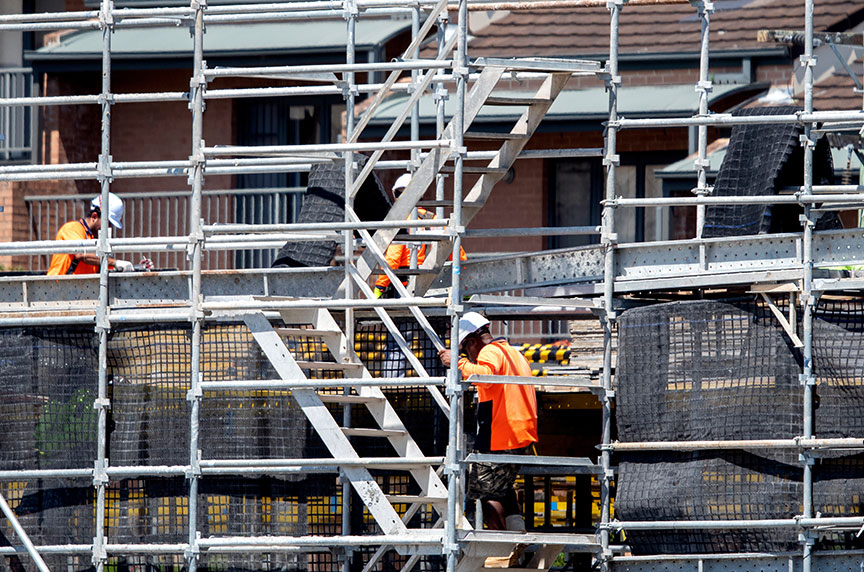 Stairways are governed by OSHA 1910.25, which includes standard, spiral, ship, and alternating tread-type stairs. However, there are exceptions that are not held to this standard, including:
Stairs for floating roof tanks
Stairs on scaffolds
Stairs designed into machines or equipment
Stairs on self-propelled motorized equipment
According to this standard, the employer must ensure that handrails, stair rail systems, and guardrail systems are provided in accordance with OSHA 1910.28.
Vertical clearance above any stair tread to any overhead obstruction is at least 6'8" (203 cm), as measured from the leading edge of the tread.
Stairs have uniform riser heights and tread depths between landings. Stairway landings and platforms are at least the width of the stair and at least 30" (76 cm) in depth, as measured in the direction of travel.
Each stair can support at least five times the normal anticipated live load, but never less than a concentrated load of 1,000 lbs. (454 kg) applied at any point.
Standard stairs are used to provide access from one walking-working surface to another when operations necessitate regular and routine travel between levels, including access to operating platforms for equipment. Winding stairways may be used on tanks and similar round structures when the diameter of the tank or structure is at least 5' (1.5 m).
Spiral, ship, or alternating tread-type stairs are used only when the employer can demonstrate that it is not feasible to provide standard stairs.
Dimensions
OSHA defines Stairway Rise and Tread Dimensions as follows:
| | |
| --- | --- |
| For Angle to Horizontal of | The Rise Needs to be (in inches) |
| 30° 35' | 6½" |
| 32° 08' | 6¾" |
| 33° 41' | 7" |
| 35° 16' | 7¼" |
| 36° 52' | 7½" |
| 38° 29' | 7¾" |
| 40° 08' | 8" |
| 41° 44' | 8¼" |
| 43° 22' | 8½" |
| 45° 00' | 8¾" |
| 46° 38' | 9" |
| 48° 16' | 9¼" |
| 49° 54' | 9½" |
The minimum tread width is 22" (56 cm), while the minimum tread depth is 9½" (24 cm). The maximum riser height is 9½" (24 cm).
Dimensions for Non-Standard Stairs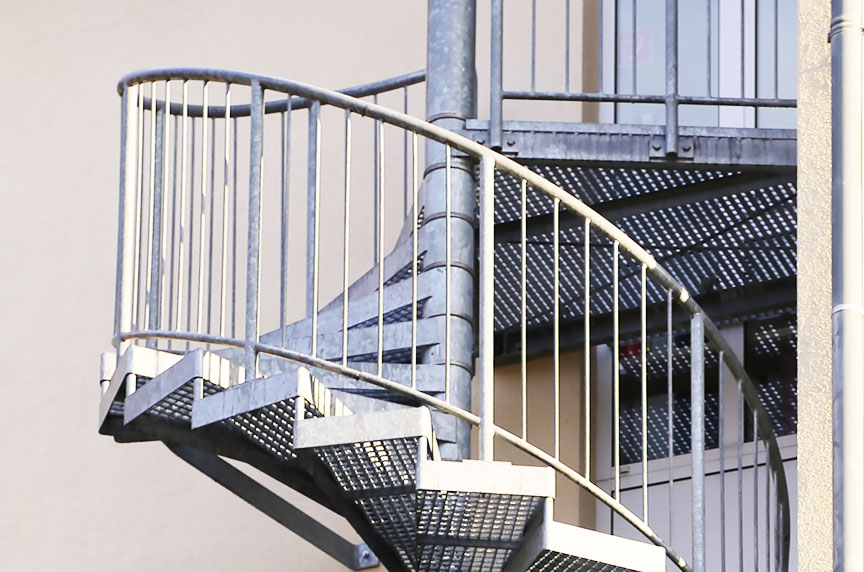 Spiral Stairs
Employers must ensure spiral stairs have:
Minimum clear width of 26" (66 cm)
Maximum riser height of 9½" (24 cm)
Minimum headroom above spiral stair treads of at least 6'6" (2 m), measured from the leading edge of the tread
Minimum tread depth of 7½" (19 cm), measured at a point 12" (30 cm) from the narrower edge
Uniform tread size
Ship stairs
The employer must ensure ship stairs:
Are installed at a slope of 50° to 70° from the horizontal
Have open risers with a vertical rise between tread surfaces of 6½" to 12" (17 to 30 cm)
Have minimum tread depth of 4" (10 cm)
Have minimum tread width of 18" (46 cm)
Alternating Tread-Type Stairs
The employer must ensure alternating tread-type stairs have a:
Series of treads installed at a slope of 50° to 70° from the horizontal
Distance between handrails of 17" to 24" (51 to 61 cm)
Minimum tread depth of 8½" (22 cm)
Open risers if the tread depth is less than 9½" (24 cm)
Minimum tread width of 7" (18 cm), measured at the leading edge of the tread
Platforms
Under the ladders standard, OSHA 1917.118(e)(2), a landing platform capable of supporting a load of 100psf and fitted with guardrails complying with OSHA 1917.112(c) shall be provided at least every 30' (9.14 m), except for offset sections and landing platforms.
For ladders installed after October 3, 1983, offset sections and landing platforms are not required if hinged platforms capable of supporting 100psf, and which are kept closed except when opened for passage, are within the cage or well at intervals not exceeding 30' (9.14 m).
Ladders equipped with ladder safety devices shall have rest platforms capable of supporting a load of 100psf located at intervals of 150' (45.7 m) or less and protected by guardrails complying with OSHA 1917.112(c) of three sides.
Netting
Governed by the OSHA 1926 standard, the mesh size of nets shall not exceed 6" by 6". All new nets shall meet accepted performance standards of 17,500 ft-lbs. minimum impact resistance as determined and certified by the manufacturers, and shall bear a label of proof test. Edge ropes shall provide a minimum breaking strength of 5,000 lbs.
Forged steel safety hooks or shackles shall be used to fasten the net to its supports.
Connections between net panels shall develop the full strength of the net.
Inspecting Your Gear
---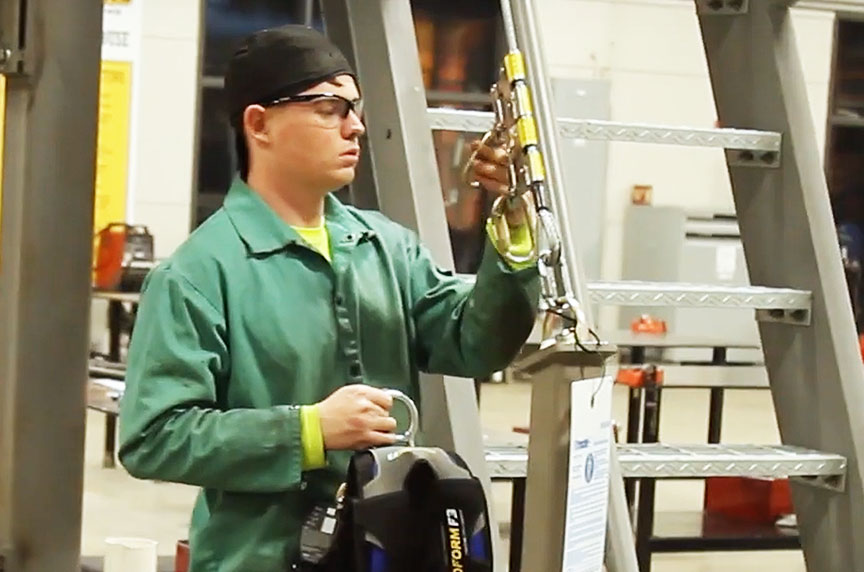 ANSI/ASSE Z359.2-2017-Minimum Requirements for a Comprehensive Managed Fall Prevention Program is a standard that defines who is required to do on-site inspections of the conditions of the fall prevention systems in use.
"Fall prevention equipment shall be inspected by the authorized person at least once at the beginning of each 8-hour shift in which it is used to verify that it has not sustained any wear or damage that would require its removal from service. Fall prevention and fall rescue equipment shall be inspected on a regular basis not to exceed one year (or more frequently if required by the manufacturer's instructions) by a competent person or a competent rescuer, as appropriate, to verify that the equipment is safe for use."
Wrapping it Up
---
Any job worth doing is worth doing safely.
Hopefully, by reading this article, you understand:
Why fall prevention is so important
What kind of systems you could use to make your job sites safer
The standards of governance for these systems
The importance of routinely inspecting your gear
By considering fall prevention measures seriously, you and your company are taking steps to ensure your workers complete their jobs and return home safely at the end of every shift.
If you need assistance in training your workers or identifying potential fall hazards at your job site or facility, contact a Mazzella fall protection specialist.
---
---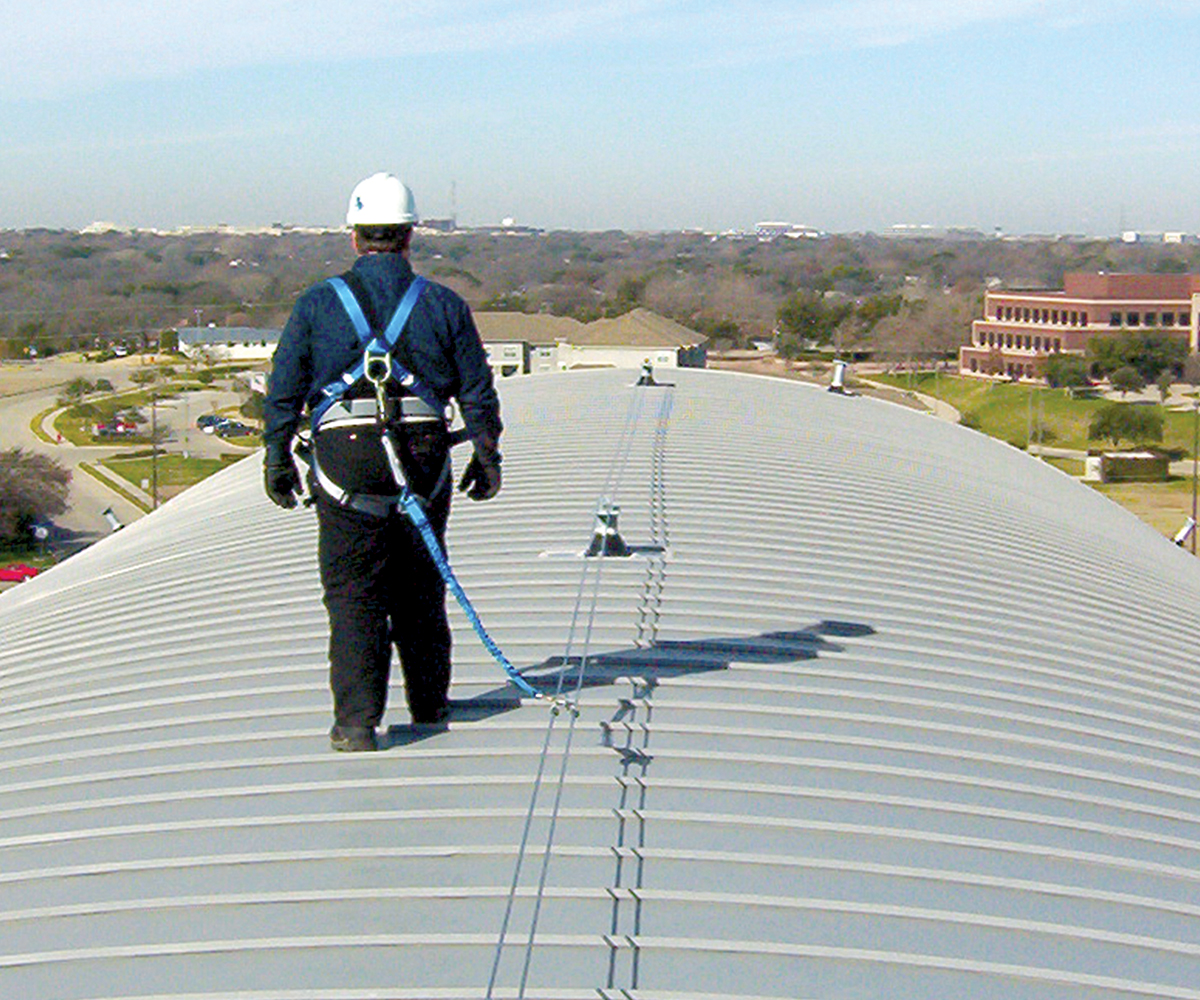 We are a leading supplier and installer of engineered fall protection systems in the U.S., as well as a distributor of soft goods like harnesses, lanyards, self-retracting lifelines, scaffolding, and netting.
Copyright 2021. Mazzella Companies.