If you're in the lifting or rigging industry, construction, or any type of general industry where your employees are working at height, you're required to have fall protection equipment at working heights of as little as 4-8 feet.
In May of 2017, OSHA made changes to fall protection standards requiring businesses to provide training on fall protection to employees that are working at height. Not only do you need to provide fall protection training for your workers, but you also have to have an inspection program in place to assess the condition of your gear.
In this article, we'll discuss:
How often you need to have your fall protection equipment inspected
Who has ultimate authority over the equipment inspection and training
What to do with damaged fall protection equipment when it's been removed from service
How to maintain, store, and protect your fall protection gear
Why you may want to consider hiring a third-party to perform your fall protection inspection
Our goal is to help you understand that safety is an investment in keeping your people safe. The cost of keeping your fall protection system in compliance should not be considered an expense, but should be looked at as an investment that, over time, helps keeps your employees safe.
Inspecting Personal Fall Protection Equipment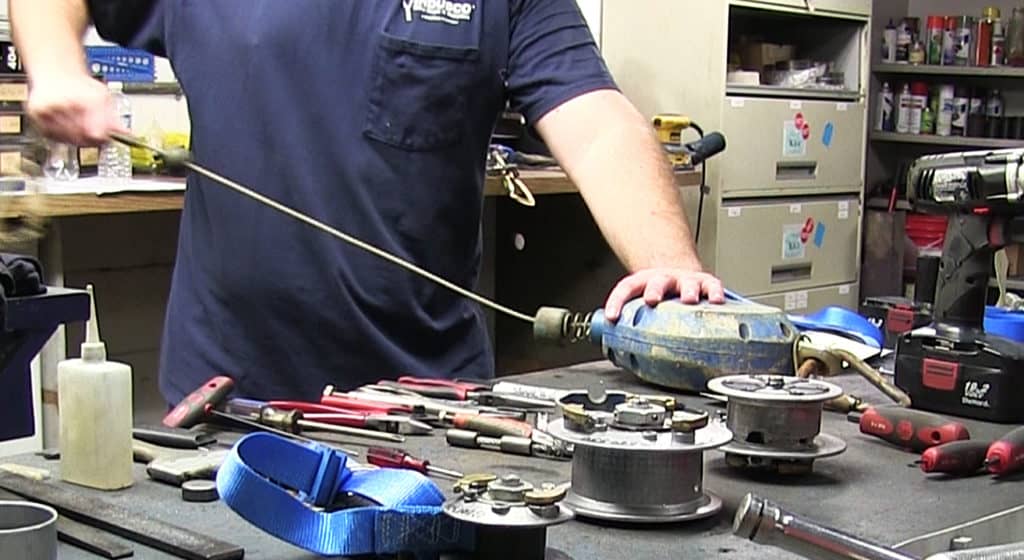 Failure to inspect personal fall protection equipment is one of the top 5 reasons a business isn't OSHA compliant. Most people don't even realize that they need to perform a visual inspection of their fall protection gear prior to their shift, let alone have a documented annual inspection performed.
According to ANSI/ASSE Z359.2:
"Fall protection equipment shall be inspected by the authorized person at least once at the beginning of each eight-hour shift in which it is used to verify that it has not sustained any wear or damage that would require its removal from service. Fall protection and fall rescue equipment shall be inspected on a regular basis not to exceed one year (or more frequently if required by the manufacturer's instructions) by a competent person or a competent rescuer, as appropriate, to verify that the equipment is safe for use."
Properly inspecting your personal fall protection gear for damage or irregularities, prior to each use, is the best way to help keep everybody on the job site safe. Keep in mind that fall protection harnesses, lanyards, and retractables are the last line of defense to help keep your employees safe in the event of an accidental fall from height.
Industry standards also require your fall protection equipment be inspected, at a minimum of once a year, by a "competent person" who has been certified for that specific task by their employer. There are many third-party companies who can train members of your team to properly size the equipment, inspect it to identify any abnormalities, and ultimately determine if it needs to be removed from service. Best practice is to retain documented inspection records for two years.
You should familiarize yourself with the following standards relating to personal fall protection and their removal from service criteria:
Who Determines When Fall Protection Equipment Should Be Removed from Service?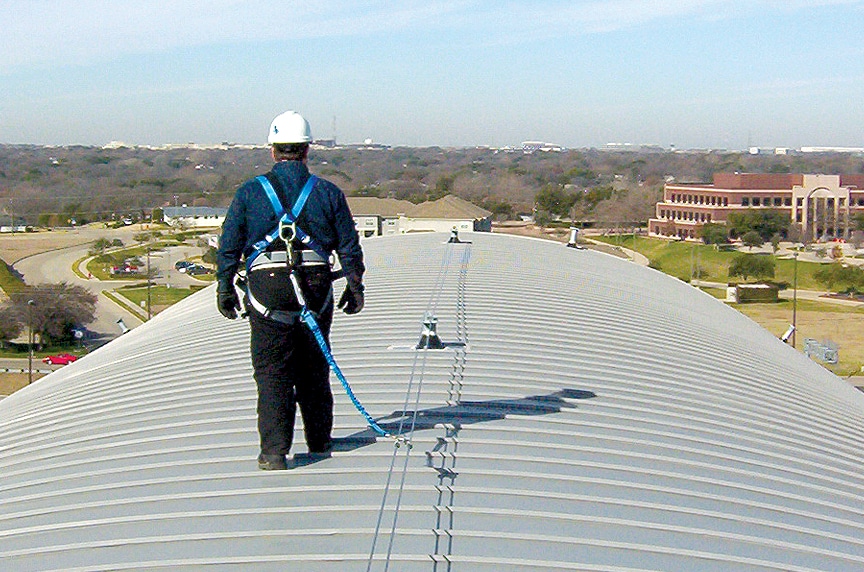 Every company should have a designated "Competent Person" who has been trained by a third party to inspect personal fall protection equipment and properly size the equipment. Once they've been trained, their employer can then designate that person as "Qualified" and "Competent" to perform inspections and also train their co-workers on how to inspect the equipment and how to properly size it.
This Competent Person has the ultimate authority on removing a piece or pieces of fall protection equipment from service. Not only can they determine when a harness, lanyard, or retractable device should be removed from service, but when they make that determination, there is nobody in the organization who can trump that decision—including their manager, executives, or even the CEO.

---
Podcast: How To Get Your Personal Fall Protection OSHA Compliant
Mazzella Companies | The Rigging Professor
---
Can You Repair Damaged Fall Protection Gear?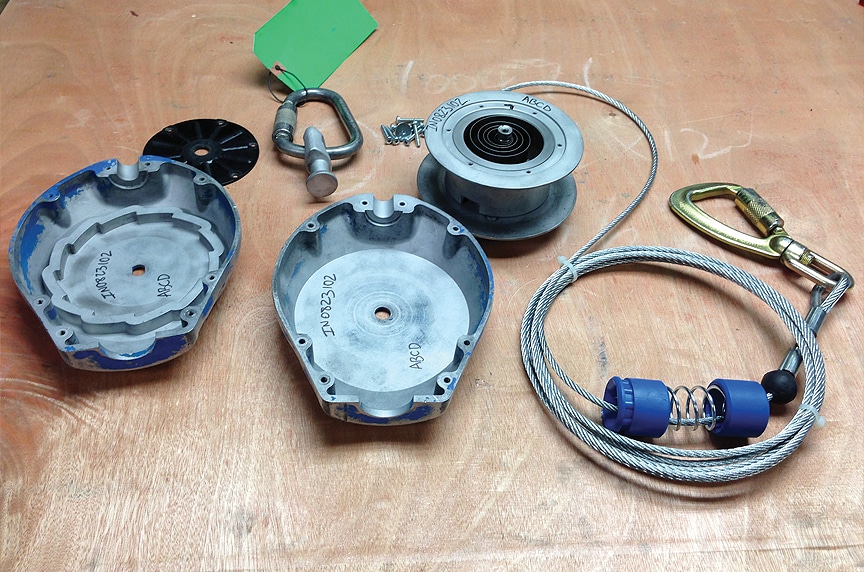 OSHA 1926.502(d) states that:
"Personal fall arrest systems and components subjected to impact loading shall be immediately removed from service and shall not be used again for employee protection until inspected and determined by a competent person to be undamaged and suitable for reuse."
Many manufacturers have designed fall arrest indicators into the design of the harness—such as a bright red lining that only becomes visible only when the harness has been exposed to the stress of a fall. If an inspector sees this, they know that the harness has been subjected to impact loading and should immediately remove it from service.
Some common occurrences that would require a harness to be removed from service include:
Arc burns, weld splatter, or other evidence of heat damage
Chemical or caustic burns
Excessive UV exposure
Extreme exposure to UV rays that may result in strength reduction
Holes, cuts, tears, or abrasions
Lack of tagging and identification
There may be recommendations from the manufacturer on when their fall protection gear should be removed from service, but industry best practice is to remove the harness, lanyard, or retractable device from service, and then tag or mark it as unusable, or cut it up or destroy it to prevent future use.
Lanyards and harnesses can NEVER be repaired, but retractable devices can be sent back to the manufacturer or an authorized service and repair center where the device can be sent for inspection. If it's determined that it can be repaired, it will be rebuilt using all new internal components, and then tested and certified and returned to the customer.
Manufacturers also have a recommended life span for their harnesses and lanyards with the lifespan indicated somewhere on the product or label. Once that lifespan of the product has been reached, it should be removed from service, destroyed or marked as unusable, and replaced.

---
---
Preventative Maintenance for Personal Fall Protection Equipment
The best way to help extend the life of your harnesses, lanyards, and retractables and keep them in service is to properly maintain them during and in-between each use.
These are best practices for storing and maintaining your personal fall protection gear:
Keep harnesses, lanyards, and retractable devices off of the ground. Store them in a cool, dry, and dark environment.
Avoid continued exposure to extreme hot or cold temperatures and keep them away from direct sunlight and UV exposure.
Keep your fall protection equipment clean. Continued exposure to dust, dirt, oils, and moisture can degrade the materials over time and shorten the life expectancy of the product.
Always contact the manufacturer if you have any questions or concerns about the lifespan of the product, or how to properly store, maintain, or clean the equipment.
Why Pay a Third-Party Company to Inspect Your Personal Fall Protection Equipment?
There are many third-party companies out there who can inspect fall protection gear. The benefits of bringing in a third party to do your inspections include:
Their inspectors have been independently certified to perform the job
They're a neutral party focused solely on the inspection process, addressing solutions as required, and completing the service in a timely manner to make sure you're in compliance
Can be bundled in with other services like rigging inspection, below-the-hook inspection, overhead crane inspection, etc. for a significant cost-savings
Manage the scheduling of inspections each year and also retaining the records for compliance
Wrapping it Up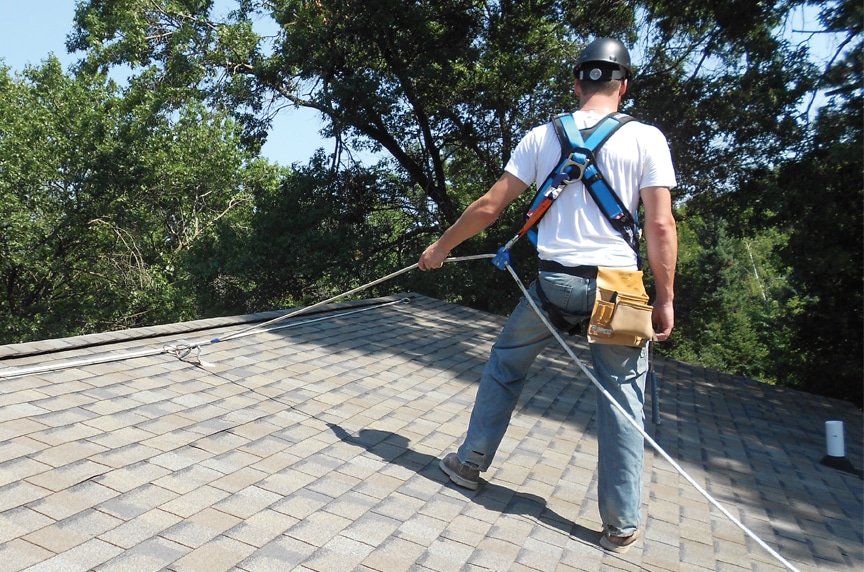 Look at it this way, safety is an investment that, over time, keeps you and your co-workers safe. Remember that safety is the responsibility of everyone on site. By working with your co-workers and taking the time to thoroughly train your employees and assess the condition of your fall protection harnesses, lanyards, and retractable devices, you can take a proactive approach to identifying potential hazards and most importantly—control or eliminate them before they have the potential to cause accidents and injuries.
Understanding the inspection requirements for fall protection gear will help to keep your employees safe when working at heights and also help keep your business in compliance with industry standards. Having a designated person on staff who is Competent and Certified to inspect your harnesses, lanyards, and retractables, and also properly size the equipment for others is paramount.
At Mazzella, not only do we offer inspection services for lifting slings and rigging hardware, below-the-hook devices, and overhead cranes, but we also offer inspection for personal fall protection gear.
We also carry a full line of fall protection equipment, including:
Harnesses
Anchors
Retractables
Lifeline Systems
Lanyards
If you're interested in learning how we can help you stay in compliance with industry standards, or want to bring us in to perform your required annual inspection, please contact us to schedule a consultation.

---
---
Copyright 2018. Mazzella Companies.