"Lost time is never found again!" – Benjamin Franklin.
Maximizing productivity and minimizing downtime in manufacturing, fabrication, automotive production, and other industries is of utmost importance. Having an overhead crane or hoist taken out of service can result in a multi-million dollar loss for high-production facilities. Then, diagnosing and repairing issues can be time-consuming.
As a production or maintenance manager, the last thing you want to do is pay workers while cranes and / or hoists are down. Plus, downtime impacts your production schedule, and could result in your missing a deadline to supply a customer. That can damage your reputation and impact your ability to generate future business.
That's why Columbus McKinnon's Automation Division developed a solution to improve safety and maximize uptime.
CM developed a new diagnostics tool, known as the Intelli-Connect™ to give operators and service technicians alike more information before going up in the air to begin an inspection to find a problem on a malfunctioning overhead crane or hoist.
In this article, you will learn:
What the Intelli-Connect is
The features and benefits of the Intelli-Connect
How the Intelli-Connect Mobile App works
Why the Intelli-Connect helps improve safety and production
What Is the Intelli-Connect?
---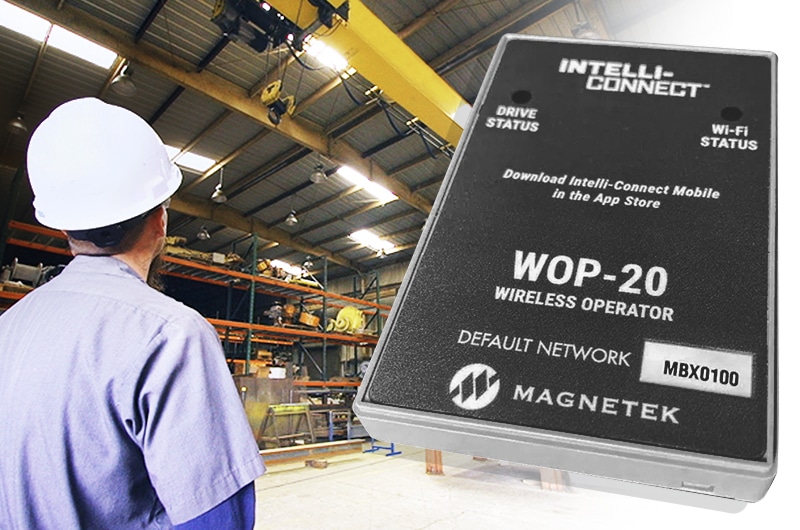 The Intelli-Connect is an analytics tool designed to produce diagnostics results for overhead cranes and hoists to enable quick and easy:
Programming
Maintenance
Monitoring
Troubleshooting
By using the Intelli-Connect Mobile App, you can access detailed information right from the plant floor. Having readily-available diagnostic information will allow you to address issues quicker, plan maintenance, and ultimately, reduce downtime.
The Intelli-Connect is compatible with only certain Magnetek variable frequency drives (VFDs), but could be ideal for all types of overhead crane and hoist applications in industries, including:
Power generation
Automotive
Aerospace
Metals
Pulp
Paper
How Does the Intelli-Connect Work?
---
The Intelli-Connect is an introductory diagnostics tool, and serves as a replacement for the keypad on an IMPULSE® G+ Series 4, IMPULSE® VG+ Series 4, or IMPULSE® G+ Mini. It makes keypad operations accessible from your phone, rather than having to shut down the crane, bring in a crane service technician, and have that person go into the air to diagnose the problem.
By installing the keypad in the G+ Series 4 and putting the Intelli-Connect Mobile App on your phone, you will see what's going on with the drive, access the drive program, and drive upload / download parameters.
As the hoist and crane are running, you can access parameters directly from your phone, including, but not limited to:
Upload parameters
Download parameters
Email parameters
You can email the parameter list to CM's service department. Then, the service department can look at those parameters, make corrections, and email them back to the customer.
The Intelli-Connect wireless operator provides Wi-Fi network connectivity that is secure and only accessible by password and login information. Once you log into the network, you have complete control over this single drive. If a crane has more than one drive, you are able to either move the wireless operator from drive to drive, or have separate wireless operators for each drive.
End-users will be able to see what's going on with their equipment, have the ability to monitor systems, and discover the occasional problem. Those occasional problems can be among the toughest to diagnose and repair.
---
---
Features and Benefits to Using the Intelli-Connect
---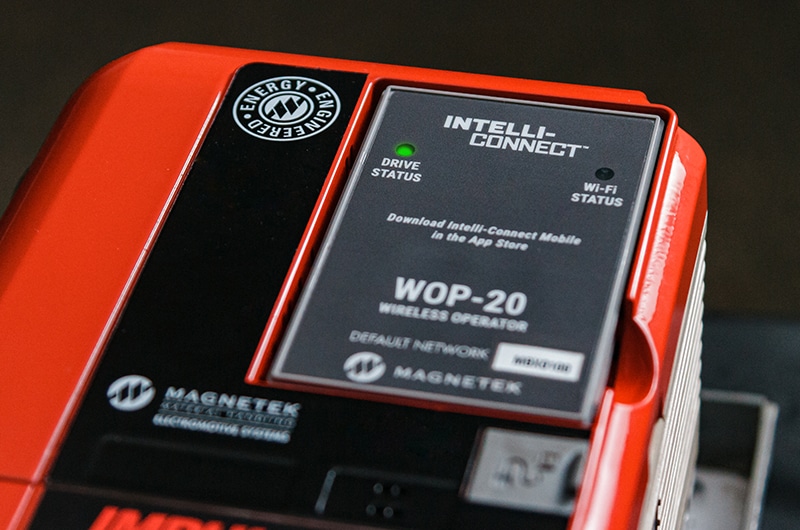 Simply put, CM and Magnetek listened to the "voice of the customer" when designing the Intelli-Connect.
They invested time into talking to end-users, and their three main concerns were:
This new technology allows crane operators to set parameters, monitor fault codes and voltage, and troubleshoot without having to climb up on and shut down the crane.
Also, the manuals are accessible right on the app. That is especially useful if a crane and / or hoist's manual is missing. This prevents you from wasting time searching for manuals. Instead, you can access the necessary information within seconds.
Information at Your Fingertips
The Intelli-Connect's diagnostic and analytic capabilities deliver system status information, whether you're using a smartphone or tablet, to help you manage equipment 24/7. With Intelli-Connect, you can get insight into how your systems operate, and how your equipment is utilized to ensure proper and timely maintenance.
Improved Safety
By using the Intelli-Connect, you can monitor and troubleshoot a Magnetek VFD right from the plant floor.
The Intelli-Connect wirelessly connects to crane equipment located up to 100' in the air, allowing you to safely and quickly get an overview of your system's operations. You no longer need to climb up to the VFD, power it down, and connect hardware to access VFD status information. That eliminates potentially hazardous situations for workers and crane technicians alike.
Quick Troubleshooting and Recovery
Intelli-Connect's advanced diagnostics provide critical information, such as signal monitors, equipment status, and energy use, to keep your system functioning effectively. By incorporating this technology into your overhead crane or hoist, you can proactively monitor and schedule maintenance to ensure you have the necessary parts and support available when you need it.
If your system does malfunction unexpectedly, Intelli-Connect can help reduce your mean time to recover (MTTR). With instant access to user manuals available through the app, operators can easily reference system setup and diagnostics to get equipment back up and running quickly.
Secure Connection
The wireless operator connects the Magnetek VFD and your smartphone or tablet via a secure Wi-Fi connection. You create your own SSID (service set identifier) and password to establish a protected link for data flow.
Product and Project Support
Every CM automated system is designed, engineered, and built in-house by an expert team of engineers and automation specialists. This highly trained team is available – 24/7, 365 days a year – to assist with technical application issues and tight installation timelines.
Plus, with the Intelli-Connect Mobile App, you can easily email CM's service team right from your device with any product setup or troubleshooting questions.
Easy Product Integration
Intelli-Connect can be combined with any electric wire rope or chain hoist, including select CM models, which utilize IMPULSE® G+ / VG+ Series 4 or IMPULSE® G+ Mini VFDs. New or existing hoists utilizing Magnetek VFDs can be enhanced with Intelli-Connect, giving you added intelligence and information to keep your equipment and operations running. If an existing application already operates with a Magnetek VFD, Intelli-Connect can be installed with a remote mounting kit.
Hoists currently using CM HI-Tech (Hoist Interface Technology) can easily integrate with Intelli-Connect, giving you access to even more status and system information. You'll get all the features of CM HI-Tech, such as the ability to quickly and easily adjust hoist speed and performance parameters without the need of a PC or connector cable. Designed to work together for optimal performance, CM's products provide complete intelligent solutions for your lifting and positioning applications.
What Is Intelli-Connect Mobile?
---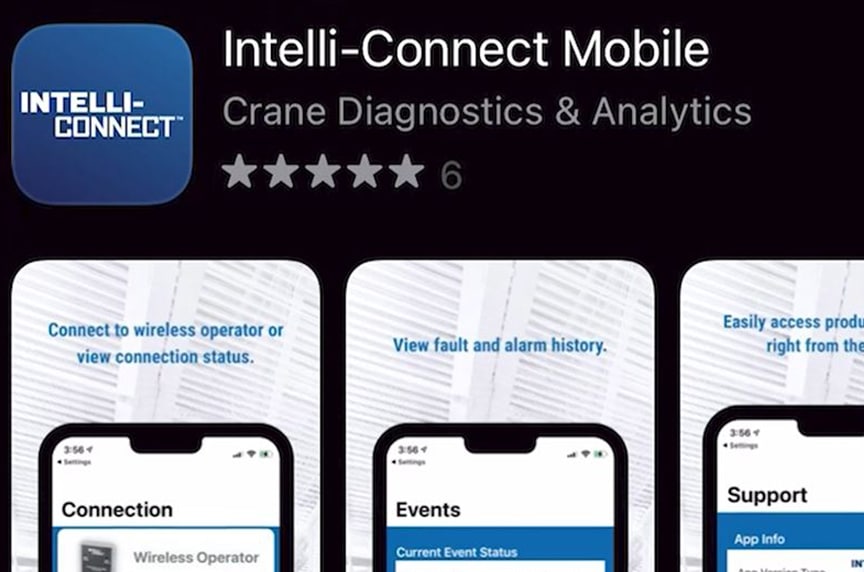 Intelli-Connect Mobile is comprised of a wireless operator module (WOP-20) mounted on the control panel that is connected to a single Magnetek VFD on a hoist or single crane motion via a CAT5 Ethernet cable. The wireless operator creates a wireless network, which is accessible from a personal electronic device (PED), such as a smartphone or tablet.
Once linked, the Intelli-Connect Mobile App enables quick and easy programming, maintenance, monitoring, and troubleshooting of VFDs associated with your hoist or crane motion.
The Intelli-Connect Mobile App features include:
Easy system setup
Access to the latest user manuals and troubleshooting guides
Ability to adjust parameters and store backup sets to the wireless operator or PED
Quick access to parameters with the ability to set parameter favorites based on frequent use
Functionality to easily copy a parameter set from one Magnetek VFD and download onto another
Access to technical support through the app for parameter setup and troubleshooting
Over-the-air updates for wireless operators
Detailed event logging of faults and alarms
Secure Wi-Fi connection to wireless operators installed on VFDs
Integration with CM HI-Tech for use with CM Lodestar VS hoists
What Is Intelli-Connect Mobile+?
---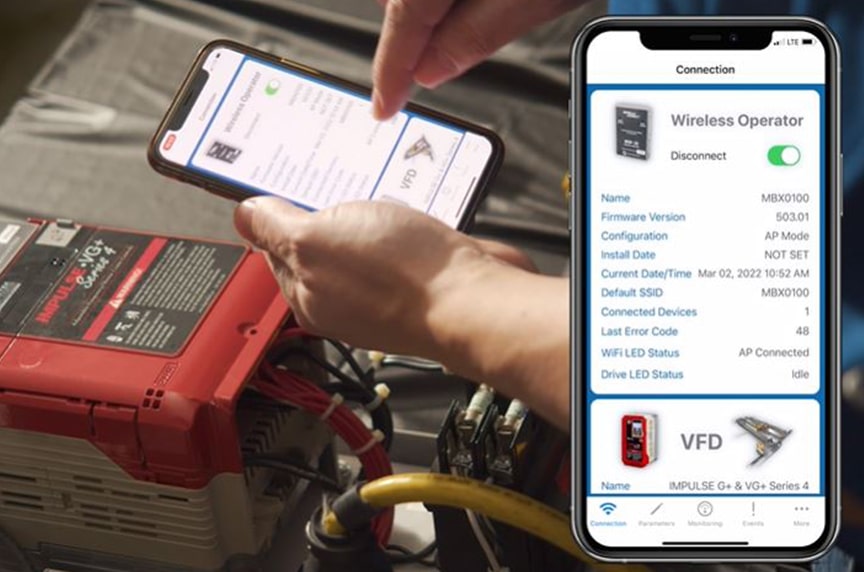 Intelli-Connect Mobile+ provides you with all the capabilities of Intelli-Connect Mobile, along with advanced diagnostics and analytics, including trending data and event logging, as well as the remaining operating life of the hoist. With this additional information, you'll be able to coordinate maintenance schedules to keep downtime to a minimum, and ultimately, save money.
Upgrading to Mobile+ functionality comes with a one-time fee through the Intelli-Connect Mobile App. However, the Mobile+ App will allow you to:
Continuously monitor pre- and post-VFD events and trending data
Ability to trigger data-logging events
Visibility to remaining hoist life, which requires a third-party load cell
Expanded fault and alarm history
Inspection log to track maintenance notes
With the upgraded Intelli-Connect Mobile+, you can continuously monitor your equipment and track trends over a period of time. It tracks long-term information, providing a comprehensive view of your system by monitoring:
Runs
Faults
Alarms
VFD status

Available hoist operating life
Additionally, you can maintain inspection notes right in the Mobile+ App.
By viewing the trending data, you can plan maintenance and inspection schedules, and predict when to repair or purchase equipment. Also, you can put service teams in place for quick repairs and utilize manuals in the app to troubleshoot and recover quickly from faults and alarms. This will allow you to maintain the highest levels of productivity in your facility.
What Questions are Frequently Asked about the Intelli-Connect?
---
Since the Intelli-Connect product was launched, there have been several of the following frequently asked questions (FAQ).
Where Can the Intelli-Connect Be Used?
The Intelli-Connect Wireless Operator provides Wi-Fi connectivity to the Intelli-Connect Mobile App even if a pre-existing Wi-Fi network is not available or accessible at the facility.
What Is the Range of the Wi-Fi Signal Created by the Wireless Operator?
The range of the operator is approximately 100'.
You get the most range from the network if it is not housed in a metal enclosure. If it is mounted in a metal enclosure, CM has a remote carriage device that you can mount onto an enclosure and run a cable between the wireless operator and door of the enclosure.
Can the Mobile+ App Be Used on Multiple Devices?
The Mobile App and the Mobile+ App upgrade can be used on multiple devices. They are unique to the account in the numbers and user ID. Therefore, if you have multiple devices using that one account number and user ID, you can use that same app on those devices.
Does the Intelli-Connect work on Apple and Android Products?
The Intelli-Connect App works for both Androids and iPhones. You can go to the Google Play Store or the Apple App Store to download the software.
The app itself is free. The only cost is if you decide to use the Mobile+ App upgrade to collect more data.
Why Purchase the Mobile+ App?
If you get the Mobile+ App, it allows you to collect more data, runtime data for longer periods of time and more fault data. It has a larger database, and acts as a data logger.
You can gather and review information instantly on your mobile device, and that helps you troubleshoot problems with your overhead crane and / or hoist. When the equipment is down, you can diagnose, troubleshoot, and develop a solution.
What VFDs Are Intelli-Connect Compatible With?
The Intelli-Connect can only connect to the Magnetek IMPULSE® G+ Series 4, IMPULSE® VG+ Series 4, and IMPULSE® G+ Mini variable frequency drives.
How Can Mazzella Help You with the Intelli-Connect?
---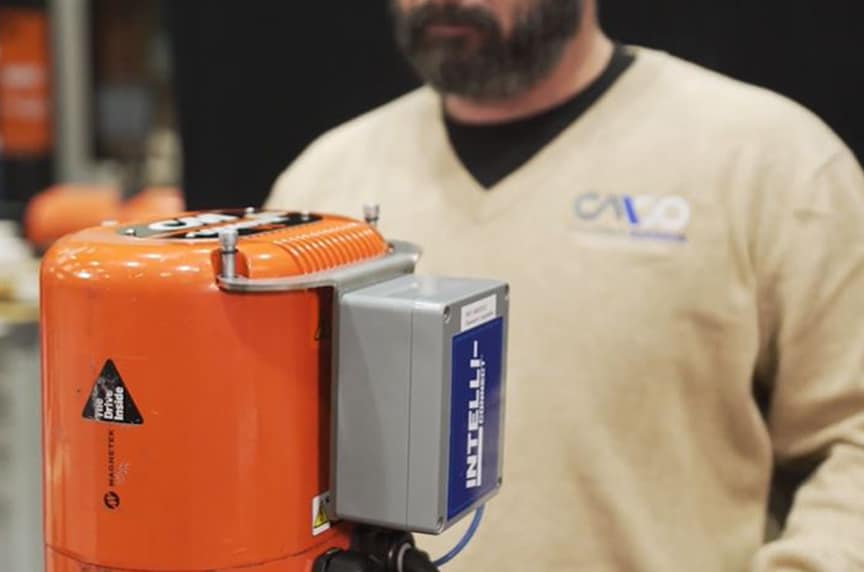 Mazzella can assist you with inspecting, servicing, or repairing your crane; or helping you upgrade or modernize an existing crane system.
We are an industry leader in hoist and overhead crane services. Our highly trained service staff specializes in solving complex problems in emergency situations. We find creative solutions to even the most challenging overhead crane service requirements. Our personalized approach to overhead crane and hoist maintenance is just one of the many benefits our service team provides to customers.
We strive to minimize your downtime. Our phones are answered 24 hours a day, 7 days a week, and we work on all makes and models of cranes and hoists. Mazzella FHS has more than 100 full-time technicians ready to answer the call at a moment's notice.
Each of our trucks has a scissor lift, diagnostic equipment, tools and many of the parts your crane or hoist needs to get back up and running. We carry VFD drives, radio controls, contractors and much more!
By stocking the most common replacement parts, we minimize your downtime. If needed, we will bring your hoist back to our facility for in-house repair where we are a Platinum distributor for CMCO.
Call us at 800.362.4601 or click here to learn more about our crane service division and how we can help with your needs!
---
---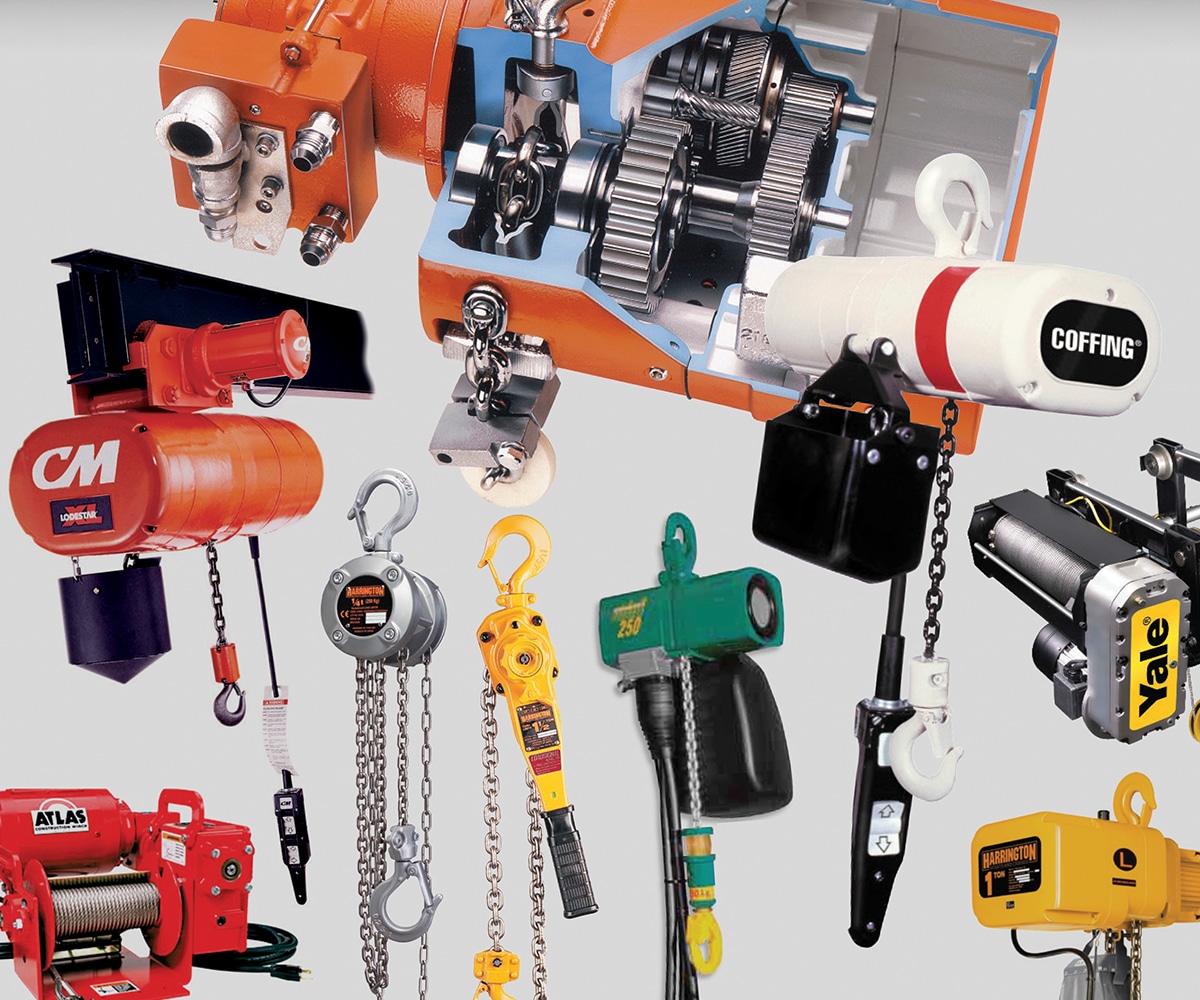 Hoists, Hoist Parts, & Repair
We are your one source for hoisting products with lifting capacities ranging up to 100 tons. We offer many types of electric, air, and manual hoists for limitless applications.
Additionally, Mazzella is one of the largest authorized stocking master parts depots for Columbus McKinnon (CM) Companies. We feature Budgit, Coffing, Acco / Wright, Yale, Shaw-Box, and Harrington. If you are not looking to replace a hoist unit, we provide in-house repair of electric, lever, manual chain, and wire rope hoists.
Copyright 2022. Mazzella Companies.