3-4 | Disposal of Damaged / Failed Slings
While chain slings are ideal for lifting applications because of their strength, they're still susceptible to being damaged to the point where they are no longer safe to keep in operation. Environmental factors, such as exposure to extreme heat or chemicals, wear beyond specified tolerances, stretching, kinks or binding, and nicks or gouges in the links, can all be criteria for removal from service. Any of these factors can weaken chain slings and may increase the potential for an accident.
If the chain slings and assemblies are rejected during inspection due to damage or failure, they need to be quarantined and removed from service.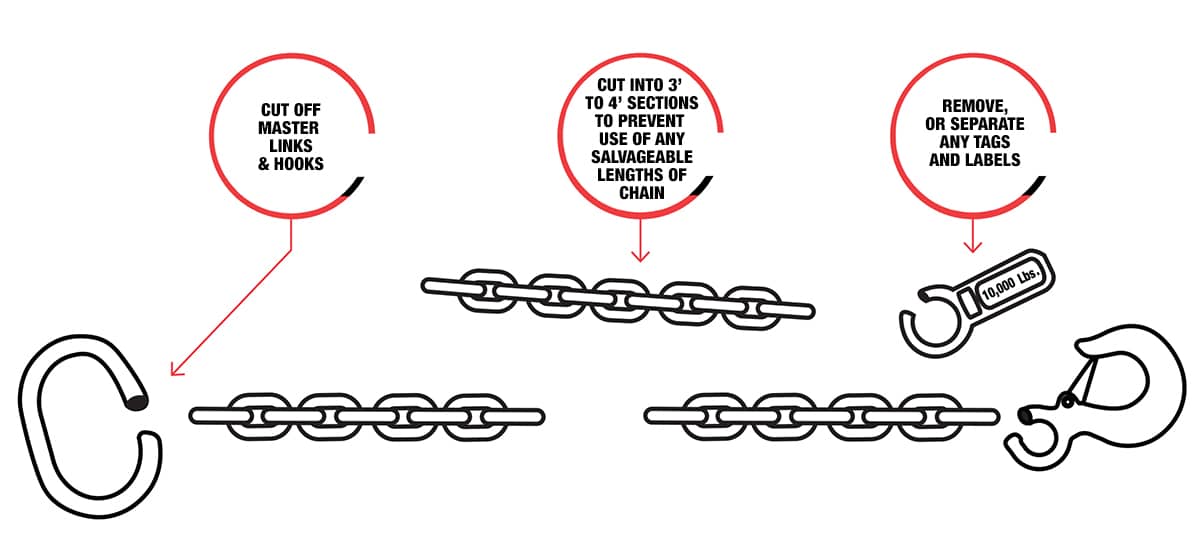 We suggest taking the following actions to help make sure that the chain sling can't be re-purposed into some type of usable assembly:
Cut into smaller 3' to 4' sections to prevent use of any salvageable lengths of chain
Cut off master links and hooks
Use proper PPE when handling pieces of cut chain—cutting can leave sharp edges and metal burrs
Remove, or separate, any tags and labels
Place scrap into your facility's metal recycling bins and coordinate pickup or delivery