Overhead Crane Definition, Components, and Uses
In the simplest of terms, an overhead crane is a machine, or piece of equipment, that allows you to lift and move heavy materials from one location to another in a precise manner. There is no "one size fits all" approach to defining an overhead crane, as each overhead crane is carefully designed and engineered for a specific purpose or application to suit a business' material handling needs.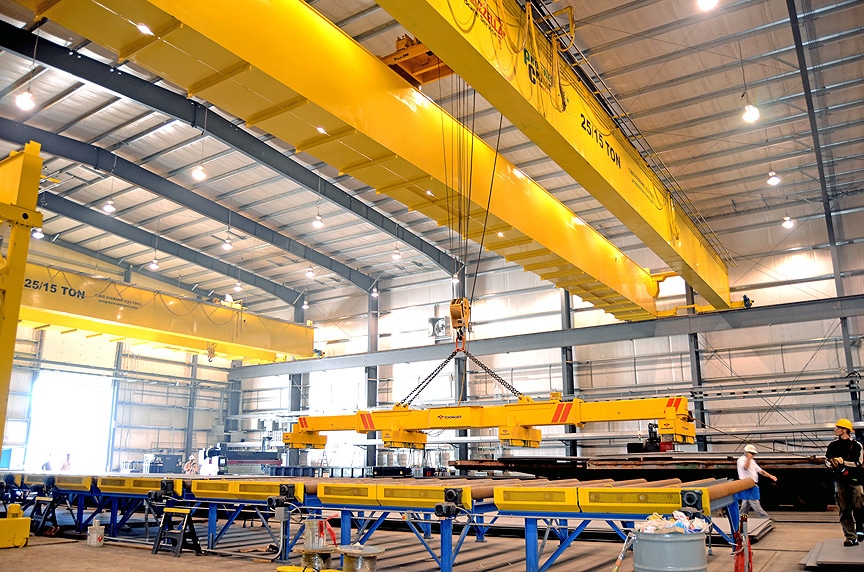 Overhead cranes can be designed and built in all kinds of configurations, and different components can be swapped out or engineered to improve its capacity and performance.
Some of the most popular reasons for using an overhead crane include:
Loading or unloading materials from a truck
Moving materials around a facility more efficiently than a tow motor or manpower can
Flipping or pulling dies in and out of stamping machines at a manufacturing facility
Feeding raw material into a machine at a manufacturing facility
Moving pieces or parts down an assembly line in a controlled fashion
Moving containers around a shipyard or railyard
In addition to simplifying some of the processes described above, there are two main reasons why a company would want to install an overhead crane, or a series of overhead cranes, in their facility:
Efficiency — Overhead cranes are more efficient than using a group of workers or tow motors to lift and move material and can work up to 2-3 times faster. Think about how a manufacturer, mill, or warehouse can streamline their processes and procedures by introducing an overhead crane to automate the lifting, maneuvering, and unloading of materials at their facility.
Safety — Another advantage of installing an overhead crane in a manufacturing, assembly, or warehousing facility. Cranes can be used to lift and move materials in extreme environments and can handle corrosive or dangerous materials like hot metals, chemicals, and heavy loads. A workstation or jib crane can be put in place to help workers move heavy objects in a controlled manner and help cut down on repetitive motion injuries and muscle strains.
Other benefits to using an overhead crane system include:
Reduction in workplace accidents
Reduction of product or material damage
Improved workflow
Lowered costs
Green solution that reduces environmental impact
What are the Components of an Overhead Crane?
In order to get a better understanding of some terms we'll be using later when we describe the different types of overhead cranes, we'll discuss the different parts and components of a crane, and how they can affect performance and design.
Hook
The lifted load is supported using a hook which connects to the hoist.
Hoist
The hoist is what makes the lift and holds, raises, or lowers the load using wire rope or chain. Hoists can be powered manually (by hand), with electricity, or with compressed air (pneumatic).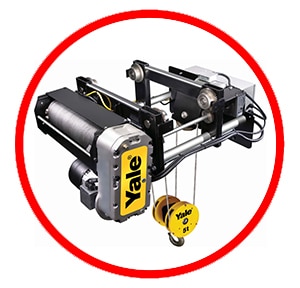 Trolley
The trolley supports the hoist and moves horizontally along the crane bridge, to position the hoist and hook, prior to picking up or lowering a load. Trolleys can be configured in an Under Running or Top Running design:
Under Running / Underhung — Trolley wheels run on the bottom flange of the crane beam.
Top Running — Trolley wheels run on rails fitted to the top of the crane beam. Most frequently seen in higher-capacity double girder designs.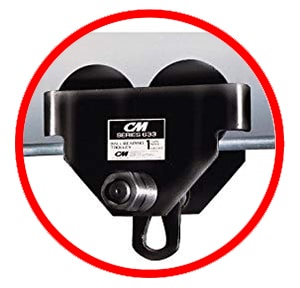 Bridge
A load-bearing beam that runs the width of the building. This is the primary structural component that connects the runways and moves the hoist forward and backward using a trolley.
A bridge can be comprised of one or two beams — more often referred to as a single girder or double girder design. Girders can be made of rolled steel or can be fabricated by welding the beams into a steel box design.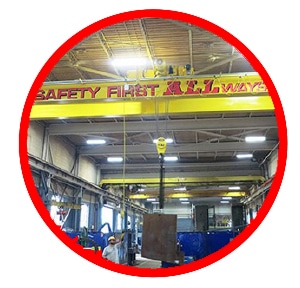 Runway
What the bridge crane travels on to move the crane up and down the bays. These are typically part of the building structure, as beams, and there are two (2) per overhead bridge crane system.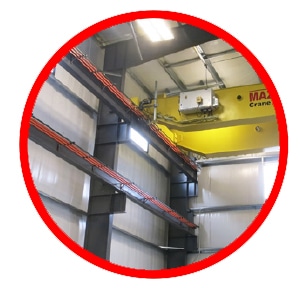 Runway Rail or Tracks
Rail supported by the runway on which the crane travels. Top-running cranes typically run on ASCE/railroad rails. Gantry cranes can also utilize a rail or track system installed in the floor to move the bridge back and forth.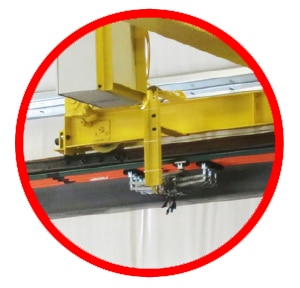 End Trucks
Located on either side of the bridge, the end trucks move the bridge up and down the runway utilizing a series of wheels that ride on the rail. Each end truck can have a configuration of 2, 4, or 8 wheels based on the crane's capacity.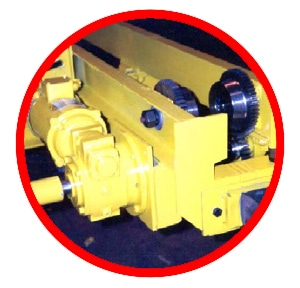 Bumpers
Bumpers are designed to absorb the crane's energy and reduce impact — bringing the crane to rest in a controlled manner and minimizing forces when the crane or trolley reaches the end of its travel. Bumpers can be attached to the bridge, trolley, or runway stop.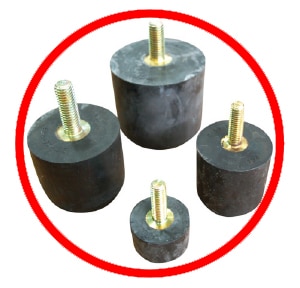 Controls
Controls are typically mounted in a panel on the crane or hoist and the pendant or remote radio console allows the operator to run the crane. The controls operate the drive and hoist motors, and can control Variable Frequency Drives (VFDs) to control hoist speed for precise load positioning.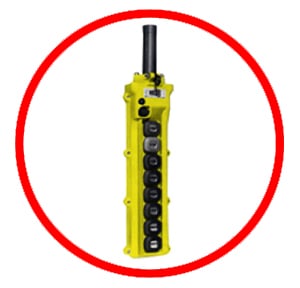 Electrification
Insulated conductor bars or festoon systems (flat cables) bring power to the crane from the building.