APRIL 3, 2017 – CLEVELAND – Mazzella Companies is pleased to announce it has acquired FHS Incorporated (Florida Handling Systems), the leading full-line material handling distributor in the Southeast U.S. This acquisition will expand Mazzella Companies' North American footprint and enhance its material handling expertise.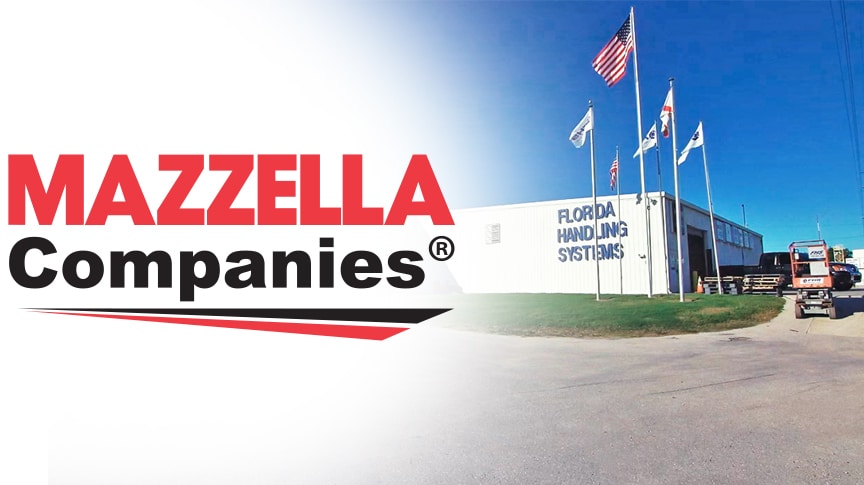 FHS Inc. is one of the largest single-source providers of crane service, overhead crane systems, hoists, conveyors, warehouse solutions, storage racking systems, and fall restraint systems in the Southeast U.S. They are based in Bartow, Florida, with locations in Gonzales, Louisiana; Duluth, Georgia; and Theodore, Alabama.
Their overhead crane, hoist, conveyor and warehouse systems are designed and engineered to meet specialized customer needs, and the company's highly-trained crane service technicians specialize in solving complex problems in emergency situations. Moving forward, FHS Inc. will operate as FHS Inc., a Mazzella Company. Terms of the transaction are not being disclosed.
"FHS' track record of facilitating material handling needs of all sizes and scopes across the Southeast U.S. is unrivaled," says Tony Mazzella, Chief Executive Officer of Mazzella Companies. "From concept and design to delivery, installation and aftermarket service support, customers benefit by having a single-source they can rely on for all their warehousing, storage and product handling needs.
"FHS will add great depth to our company's design, engineering and mechanical service offerings," adds Mazzella. "We are poised to deliver unparalleled resources and expertise to customers throughout the Southeast U.S. to help them achieve all of their material handling objectives. We welcome Todd Wall (President), Joe DiCesare (Vice President) and the entire FHS team, and we look forward to Todd and Joe's continued leadership for years to come."
"This acquisition represents an extremely positive, synergistic fit," says Todd Wall.
Joe DiCesare states, "Both companies have long nurtured a family-focused culture, even through significant growth, and each is fully-committed to the safety of customers and employees. Customers will greatly benefit from our combined expertise and service capabilities. We're excited to serve as an even stronger resource for them in the years ahead."
About Mazzella Companies
Mazzella Companies employs over 650 individuals in 28 locations in North America. Mazzella is one of the largest independently-owned companies in the overhead lifting and rigging industries and is a manufacturer and distributor of a wide range of lifting products for industrial, commercial and specialty applications. In addition, it is a leading manufacturer of world-class overhead cranes, specialty machinery, material handling and overhead crane services. Some of the major markets Mazzella serves are: Mining, Steel, Oil & Gas, Construction, Energy, Shipbuilding, Vehicle and Durable Goods. Mazzella's diverse portfolio includes Sheffield Metals, a manufacturer and distributor of coated bare metal products for engineered metal roof and wall systems and New Tech Machinery, a manufacturer of portable roof panel, wall panel and gutter machines, recognized as the world's finest portable rollformers.