When you think of the people of Michigan, you picture hard-working blue-collar families with deep roots to their local communities and people who are proud to call Michigan home. Many families have multi-generational ties to Michigan's automotive and manufacturing industries—which, in 2019, continue to account for 19.38% of the total gross state product and employ 14.24% of Michigan's workforce.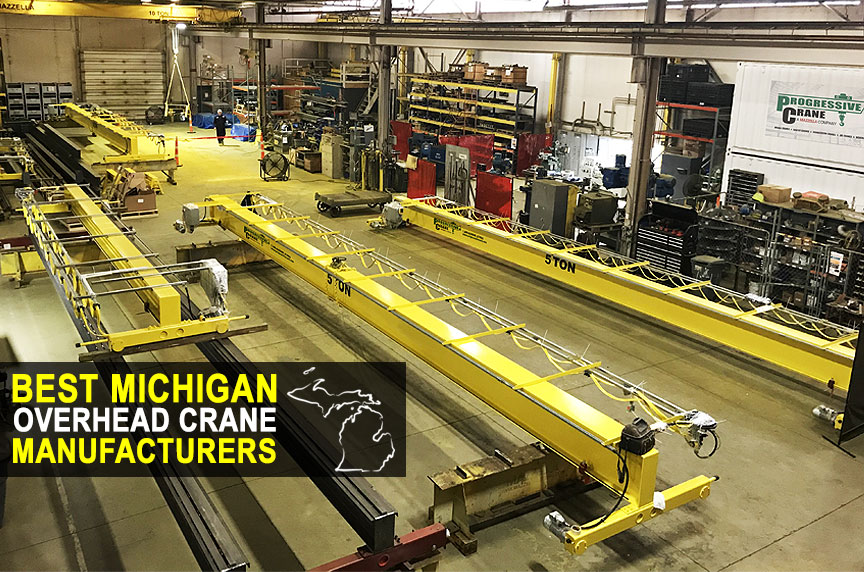 Because manufacturing helps drive Michigan's economy, business owners understand they have to continue to invest in reliable equipment and machinery that will expand production and grow their business. For many manufacturers, mills, or warehousing facilities, adding an overhead crane system can streamline processes and procedures by automating the lifting, maneuvering, and unloading of materials.
Overhead cranes can also help make processes safer and more efficient for the employees. Overhead cranes can be used to lift and move materials in extreme environments and can handle corrosive or dangerous materials like stamping dies, hot metals, chemicals, and heavy loads. A workstation or jib crane can be put in place to help workers move heavy objects in a controlled manner and help cut down on repetitive motion injuries and muscle strains.
Partnering with an overhead crane manufacturer is a big decision and one that shouldn't be taken lightly. The design, fabrication, and installation of an overhead crane is a big project and can be a substantial investment—but, a necessary one if you want to improve your business' output and efficiency.
The other benefits of adding an overhead crane, include:
Reduction in workplace accidents
Reduction in product or material damage
Improved workflow
Lowered costs
Green solution that reduces environmental impact
Mazzella Companies has long been a partner of Michigan's automotive, steel, manufacturing, and construction industries. Mazzella Lifting Technologies, located in Madison Heights, is a leading supplier of lifting and rigging products in the Michigan marketplace—dating all the way back to the 1950's. We understand the level of quality, service, and dependability that Michigan business owners expect from their equipment suppliers.
Progressive Crane, a Mazzella Company, has over 40 years of experience engineering, fabricating, and installing world-class overhead crane systems. Progressive Crane builds custom solutions from light-duty jib and workstation cranes, to large-capacity double box girder systems—all in compliance with OSHA, ASME, CMAA, and NEC standards.

---
---
Best Overhead Crane Manufacturers in Michigan and Detroit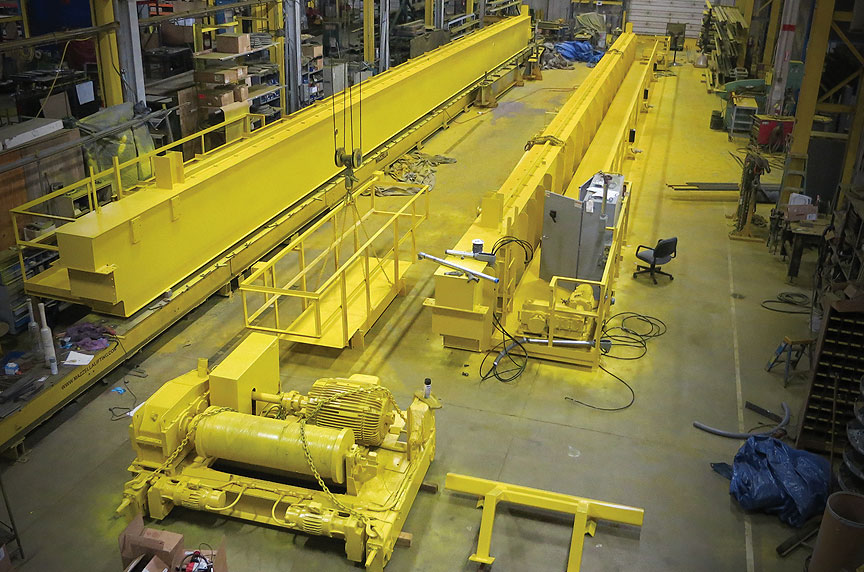 When we quote overhead crane systems for our Michigan customers, they often ask us: "If we don't go with Progressive Crane, who else would you recommend?"
That's why we've put together this list of the seven best overhead crane manufacturing companies that service the greater Michigan area. We truly believe that the more informed you are during the purchasing process, the better you'll understand how to design and specify the right overhead crane for your business and get the best bang for your buck.
Bohl Crane
Founded: 1924
U.S. Headquarters: Toledo, OH
Insights: Bohl's mission is to always do more than the customer expects. In addition to providing simple monorails, Bohl Crane's product line now includes specialized monorails, cranes, and engineered lifting devices.
Additional Products and Services:
In-house engineering and manufacturing
Custom overhead crane products including jib and gantry cranes, lifting devices, hoists, and more
24/7 repair, inspection, and service for all hoists and cranes
Parts and accessories department
CRANE 1 Services / Mt. Clemens Crane
Founded: 2007
U.S. Headquarters: Miamisburg, OH
Insights: Crane 1 Services acquired Mt. Clemens Crane & Services Company, Inc. in 2018. CRANE 1 is a leading supplier of overhead crane equipment. From a simple jib crane to a complete overhead crane system—including design engineering, runways, and professional installation.
Additional Products and Services:
Overhead cranes including monorails, jib cranes, light crane systems, underhung cranes, single and double girder top running, fabricated box girder, and gantry cranes
Hoists
Crane & hoist structures & runways
Crane and hoist upgrades
Crane Technologies
Founded: 1946
U.S. Headquarters: Rochester Hills, MI
Insights: Crane Technologies has over 65 years of experience in crane design, deployment, and safety training. Crane Technologies custom-engineers their cranes and builds them from the group up to industry-leading standards.
Additional Products and Services:
Spanco products
Workstation cranes
Jib cranes
Gantry systems
Konecranes
Founded: 1910
U.S. Headquarters: Springfield, OH
Insights: Konecranes offers overhead crane equipment and service, container handling equipment, shipyard cranes, bulk handling cranes and lift trucks. Konecranes designs and manufactures key components in-house for added quality control.
Additional Products and Services:
Chain hoist cranes and wire rope hoist cranes
Built-up cranes
Custom cranes
Automated cranes
Star Crane & Hoist, Inc. / One Crane Source
Founded: 1985
U.S. Headquarters: Allendale, MI
Insights: Star Crane & Hoist offers Gorbel workstation cranes, jib cranes, large-capacity bridge cranes, and unique below-the-hook lifting devices. Star Crane & Hoist has woked on various unique monorails, low headroom cranes, single/double/tri girder cranes, and thousands of feet of runway.
Additional Products and Services:
Gorbel jib cranes, workstation cranes, and fall protection systems
Kit cranes and custom fabricated cranes
Hoists, and crane/hoist parts
Crane and hoist inspections and repairs
Whiting Corporation
Founded: 1884
U.S. Headquarters: Monee, IL
Insights: Manufacturer of heavy-duty overhead cranes and railcar maintenance equipment. Additionally, Whiting is a trusted name for railcar maintenance and lifting equipment for the freight and commuter railroad industries, municipal transit authorities, railcar builders and independent maintenance shops.
Additional Products and Services:
Installation and commissioning
Crane and hoist inspection
Repairs
Modernization
Wolverine Crane & Service, Inc.
Founded: 1994
U.S. Headquarters: Grand Rapids, MI
Insights: Wolverine Crane offers custom fabrication services encompassing cranes and crane related equipment. Professional engineers provide custom runway and crane designs and Wolverine is capable of designing and fabricating custom solutions to meet their customers' needs.
Additional Products and Services:
Overhead cranes
Jibs, gantries, & hoisting options
Structural runway systems
Fabrication services
Wrapping it up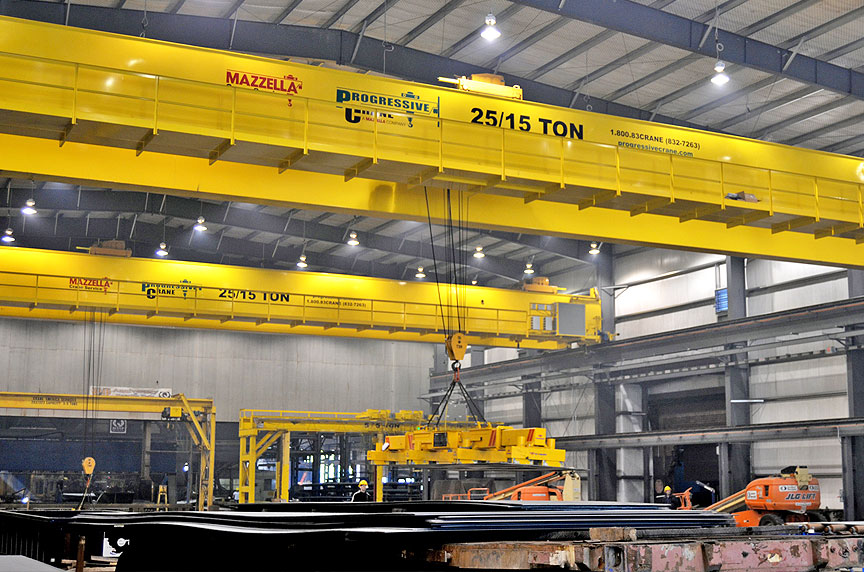 Now that you're equipped with knowledge about the best overhead crane manufacturers in the greater Michigan area, it's time to do your research and start gathering and comparing quotes. Schedule consultations with a few manufacturers to look at your facility and provide their expert opinion on the specifications and scope of your project.
Keep in mind that price should never be the only factor when selecting an overhead crane company to partner with. An overhead crane system is a complex and critical piece of equipment used to improve your business' efficiency and production. You should only partner with a company that you truly feel comfortable with and one that you feel will provide the best service and the most value.
The key to finding the right company to partner with—and to a great buying experience—depends on a number of different factors, including:
Project specifications – Make sure each manufacturer quotes off of the same information and specifications so that you can make a true side-by-side comparison of each company's capabilities and pricing.
Warranty – Make sure you have a clear understanding of the manufacturer's warranty policies on workmanship, components, and materials.
Incidentals – Additional surcharges related to material costs, taxes, freight, obtaining permits, rental of special equipment, etc.
Follow-up – Did a representative from the company reach out to explain their quote and make sure you understand everything?
Project timeline – Has the crane manufacturer committed to meeting your specific time frame and window for installation?
References – Are they willing to provide references? Ask other companies that they've worked with if they were satisfied with the following:

Overall relationship with the crane manufacturer
Overall quality of work and satisfaction with the installation process
Commitment to keeping project on track and within budget
Delivery of overhead crane to agreed-upon specifications
At Mazzella Companies, we have you covered when it comes to all of your lifting and rigging needs. Mazzella Lifting Technologies is located in Madison Heights, MI and services Michigan's manufacturers, tier-1 and tier-2 automotive suppliers, steel mills, oil & gas customers, and construction/contractors with a complete selection of:
Wire rope
Lifting slings
Rigging hardware
Hoists
Fall protection
Whether you're an existing customer or a new customer, Mazzella Lifting Technologies also provides the following value-added and post-sale services:
Engineering, fabrication, and installation of overhead cranes
Custom below-the-hook lifting devices
24/7 emergency crane service, maintenance, and repair
Overhead crane inspections in compliance with OSHA, ASME, and CMAA requirements
Classroom or jobsite rigging training and crane operator training
Engineered lifelines and personal fall protection equipment
Rigging inspections in compliance with OSHA and ASME periodic inspections requirements
Today, there are thousands of Progressive Crane installations throughout the United States and abroad—all done in full compliance with CMAA, NEC, OSHA, and ASME standards. Since every business is unique, and no two cranes are alike, we offer free quotes and consultations for overhead crane and material lifting projects. Contact Mazzella Lifting Technologies to schedule an overhead crane consultation with our team!

---
---
Copyright 2019. Mazzella Companies.