Cleveland, OH – APRIL 2018 – Mazzella Lifting Technologies, a member of Mazzella Companies and a manufacturer and distributor of lifting and rigging gear, has opened a new branch in Lakeland, FL. In addition to its partner company Florida Handling Systems (FHS)—which serves the central Florida market—the Lakeland location will bolster Mazzella Companies' presence in the Florida construction, phosphate mining, and geo-foundational drilling markets.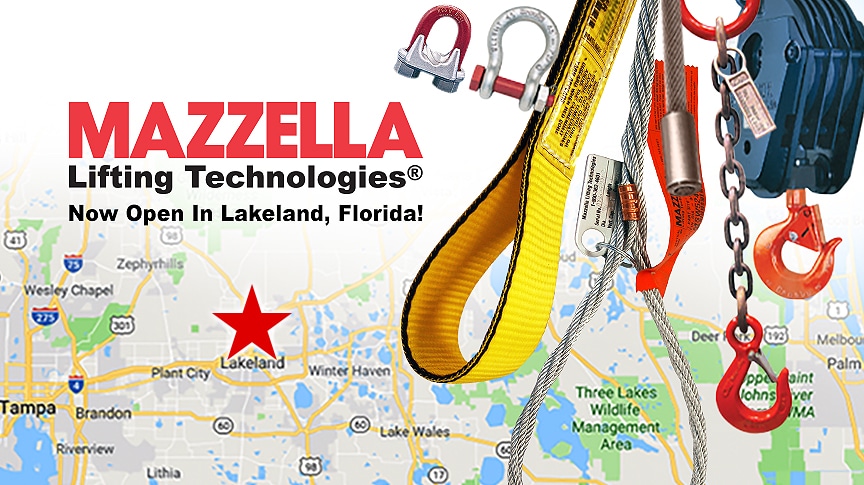 "Our branch will be managed by Nick Skoczen, who has experience in both the rigging industry with Mazzella and the industrial products industry. Opening this branch complements the strengths of FHS and demonstrates our commitment to this growing market. We are in the process of hiring several key personnel to support Nick. Additionally, we have made a significant investment in inventory to serve this important customer base," says Craig Hayward, Chief Sales Officer of Mazzella Companies.
"Nick has a proven combination of professionalism, enthusiasm, product knowledge, and sales experience necessary to establish and grow this market for Mazzella. He's very excited to have the resources to meet and exceed our customers' requirements for rigging products and solutions, and we're confident that he and Mazzella Lifting Technologies will excel in the Florida market," says Hayward.
Mazzella Lifting Technologies will maintain an inventory of wire rope, specialty ropes and mobile crane ropes, fall protection, chain and fittings, synthetic slings, rigging hardware, hoists and hoist parts, and other related rigging products.
"After months of interacting with customers, I'm excited to go to market with the perfect mix of products and value added services currently lacking in the Florida market," says Branch Manager, Nick Skoczen.
"This shop is a great example of what hard work and teamwork can do. I'm excited to build a strong team and continue the success and proud name of Mazzella Lifting Technologies," says Nick.
The new Mazzella Lifting Technologies branch is located at:
4590 Drane Field Road
Lakeland, FL 33811