Wire rope slings have long been the standard when it comes to overhead lifting and material handling. They offer strength, flexibility, and the ability to handle bending stresses when lifting and moving loads.
Wire rope slings are popular in the construction, automotive, oil and gas, and general manufacturing industries where a variety of heavy loads and rugged conditions exist. They're also very popular in steel mills and forging facilities where the durability of the rope is really put to the test.
However, one of the main complaints against wire rope is that it can become unruly and hard to rig when it develops kinks and bends in its structure. In many instances, these slings have to be discarded—because they've become unmanageable and can no longer be used to effectively rig a load.
In the lifting and rigging marketplace, there are plenty of options when it comes to buying wire rope and wire rope slings. In this article, we're going to provide a comparison between traditional single-part wire rope slings and the Mazzella 7-Part™ wire rope sling to help you determine which type of wire rope sling might be best for your lifting application.
Wire Rope Sling Construction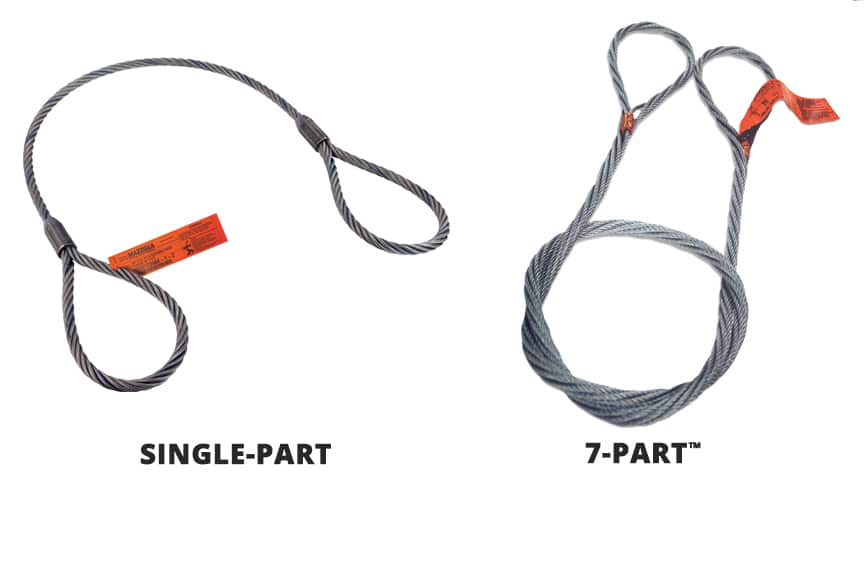 Traditional single-part wire rope slings are constructed from multiple steel wires that form individual strands laid in a helical pattern around a fiber or steel core. Different configurations of the material, wire, and strand structure will provide different benefits for the specific lifting application, including:
Strength
Flexibility
Abrasion resistance
Crushing resistance
Fatigue resistance
Corrosion resistance
Rotation resistance
A Mazzella 7-Part™ wire rope sling is constructed from one continuous piece of wire rope—creating a sling solution that is ultra-flexible and ergonomic for the end-user. A 7X19 construction contains seven strands with nineteen wires per strand. Smaller diameter 7-part ropes utilize galvanized aircraft cable for greater corrosion resistance. A mechanical (flemished) splice provides added strength compared to a hand splice and the eye and eye configuration allows it to be used in vertical, choker, and basket hitches.

---
---
Wire Rope Sling Strength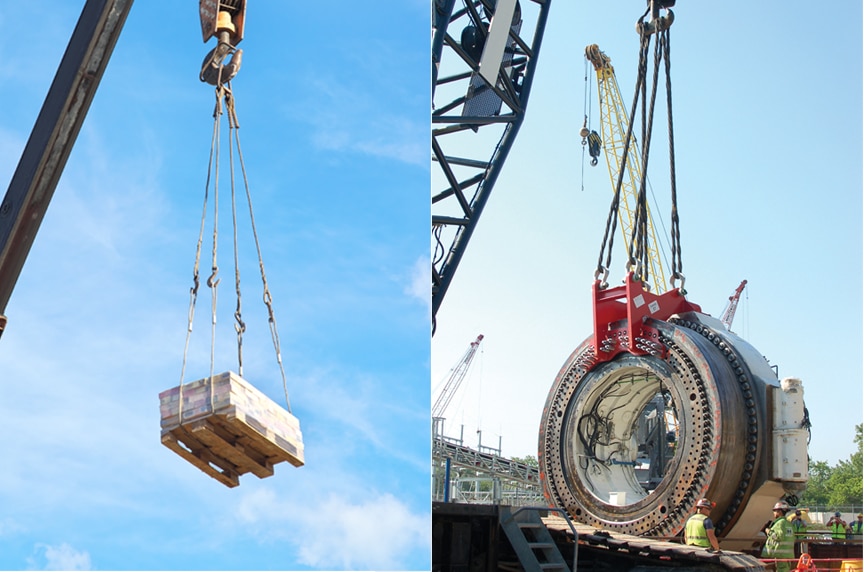 Wire rope slings can be made to any diameter or any length to meet the capacity requirements of your next lifting application. Single-part wire rope slings are so popular because they're strong and durable and come in a wide range of lengths, diameters, and capacities.
The Mazzella 7-Part™ wire rope sling can be made in equal capacities as any single-part wire rope sling—ranging from 1/8″ to 2-3/4″ component rope with vertical capacities ranging anywhere from 1.2 tons to over 400 tons!
Larger diameter 7-Part slings are more user-friendly compared to comparable single-part slings and smaller diameter 7-Part slings are great for maintenance-type applications.
Durability of Wire Rope Slings
When you select a piece of wire rope that's resistant to one property, you will most likely have a trade-off that affects another property. For example, single-part wire rope slings aren't as flexible as a 7-Part™ wire rope sling, but they are more resistant to abrasion and can be more durable in harsh and demanding lift environments. Single-part slings are more susceptible to kinking, distortion, and dog legs which ultimately make the sling unruly and difficult to rig.
7-Part wire rope slings are extremely flexible, are more resistant to fatigue, and will maintain their shape when bent and wrapped around a load. With a 7-part wire rope sling, you won't have to worry about kinking or doglegs, which can be criteria for removal from service when inspecting a wire rope sling. However, 7-Part slings can get chewed up and broken wires and abrasion can occur more easily than on a single-part rope sling.
Think of it in terms of buying a car—a car with greater fuel economy will give up some performance characteristics like acceleration and faster speeds, while a high-performance sports car will suffer in terms of how many miles per gallon it gets in between fill-ups.
Versatility / Ergonomics of Wire Rope Slings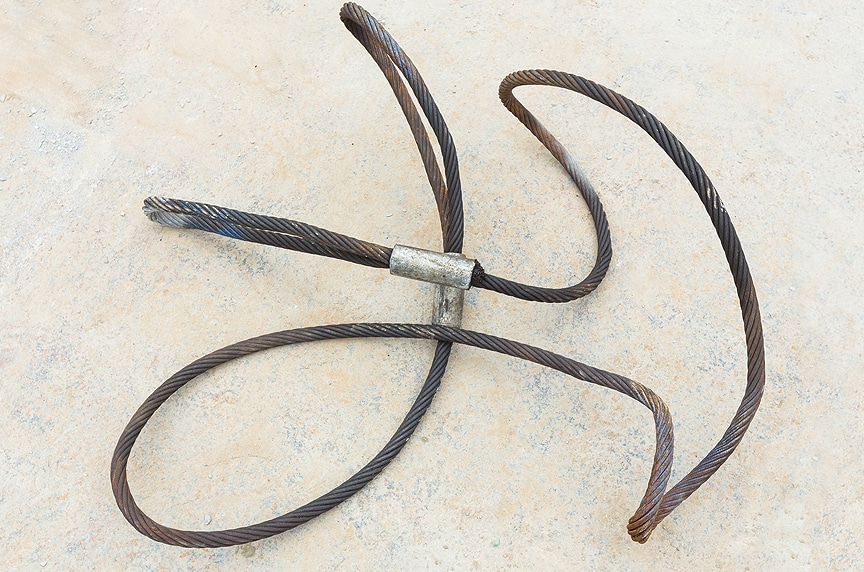 Both single part and 7-Part™ wire rope slings are available in single-leg or multi-leg assemblies and can be used in a variety of hitches including vertical, choker, and basket hitches. The Design Factor for wire rope slings is a 5:1 ratio, meaning the breaking strength of the sling is five times higher than the rated Working Load Limit. Per the Wire Rope Users Manual, a design factor is necessary to allow for conditions such as wear, abrasion, damage, and variations in loads which are not readily apparent. Although wire rope slings have a design factor, the user should never exceed the rated Working Load Limit.
Single-part wire rope slings can be used in choker hitches, however they never truly snug down tight and create enough surface contact against the load like a synthetic roundsling or web sling can.
They often require more than one rigger to manipulate them and position them under or around a load when using basket or choker style hitches. The problems with these types of hitches is that the rope can "learn" this new shape and kinks and doglegs can cause the rope to become unruly and unmanageable.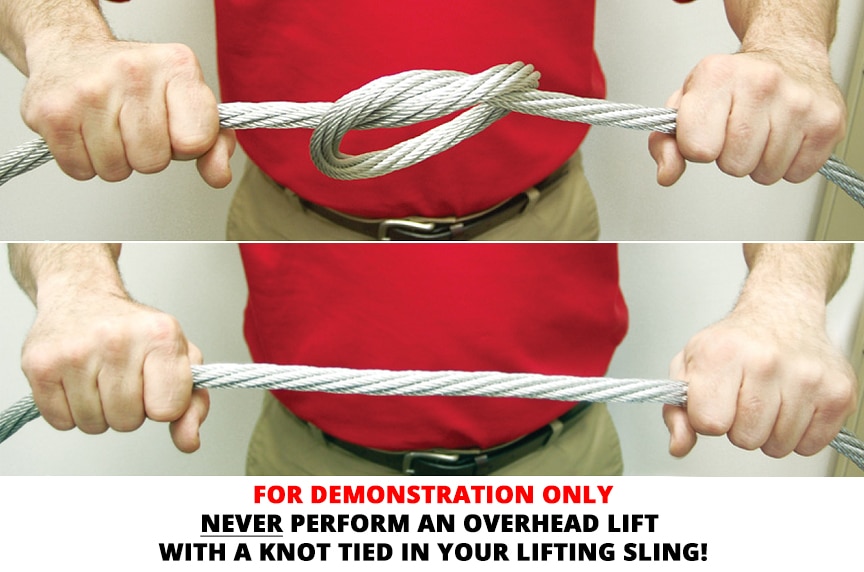 A 7-Part wire rope sling will quickly regain its original shape after a lift. It can even be tied in a knot and go back to its original shape! While we often tie knots in our 7-Part slings for demonstration purposes, you should NEVER perform an overhead lift with a knot in your lifting sling.
Since 7-Part wire rope slings are so flexible and versatile, they're great for vertical, basket, and especially choker hitches because they snug up tightly around the load. You can even compress the eyes of a 7-Part rope sling and feed them through a tight area like a shackle or eye bolt for easy rigging—which can't be done with a traditional wire rope sling.
We've even seen Maintenance personnel who will wrap up smaller diameter 7-part slings and keep them in a back pocket or keep them coiled up in their toolbox so they have them handy and accessible whenever they need them.
Cost Factors of Wire Rope Slings
Single-part wire rope slings have a lower upfront cost and are often less expensive than a comparable 7-Part™ wire rope sling.
While your initial investment will be lower, you'll see more cost-savings in the long run by utilizing a 7-Part wire rope sling. When used properly, and when utilizing lifting and rigging best practices, a 7-Part wire rope sling will outlast a comparable single-part sling—meaning you won't have to replace your wire rope slings and accessories as often.
Single-part slings are often discarded because they become kinked, bent, and unmanageable when attaching and removing the sling from the load. 7-Part slings stay manageable longer and will resist kinking, bending, and deformation of the eyes and rope body.
With a 7-Part wire rope sling, your riggers will spend less time fighting to rig loads and pulling open collapsed sling eyes. You may even be able to reduce manpower and use less resources when using a 7-Part sling to rig loads—which frees up your workers to focus on other tasks and be more efficient and more effective with their time.
Availability of Wire Rope Slings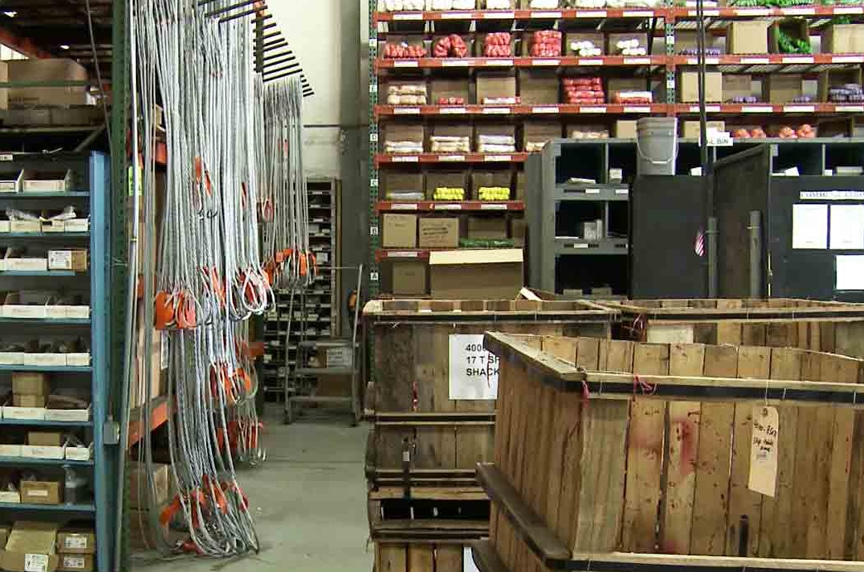 Like most products and services, wire rope slings can be purchased from a traditional brick and mortar rigging shop, or can be purchased online through any specialty supplier or industrial catalog and supply house.
In the lifting and rigging marketplace, there are plenty of options when it comes to buying traditional wire rope slings. Wire rope slings can be categorized as either domestic, imported, or "made in the USA" which is a confusing grey area where the product may be labeled as "American-made" but is manufactured from or contains imported materials.
However, there are very few companies who know how to make a 7-Part™ wire rope sling, or who even stock it or offer it to their customers. But, the offering is growing in the marketplace and 7-part slings can be found online or purchased through any of the Mazzella locations throughout the United States. We offer a quick ship program and all of our popular sizes are available from stock.
Wrapping it Up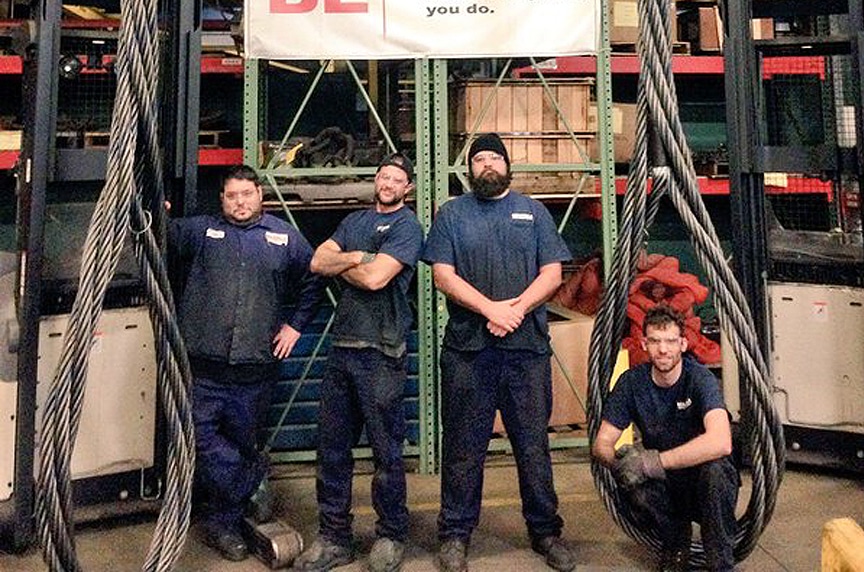 At Mazzella, we sell all different lengths, configurations, and capacities of single-part and multi-part wire rope slings. Our company started in 1954 as Mazzella Wire Rope & Sling Co. and we've been growing and expanding our product and service offerings ever since.
If you didn't watch the video embedded at the top of this article, please do. Our customers often tell us that the Mazzella 7-Part sling is their sling of choice and are blown away when they see a 7-Part demoed during a consultation or during a lifting and rigging training session.
If you're sick of fighting tangled and unruly wire rope slings when rigging a load, it might be worth giving the Mazzella 7-Part wire rope sling a shot for your next overhead lift. Contact a Lifting Specialist at a location nearest you for a demonstration and product consultation.

---
---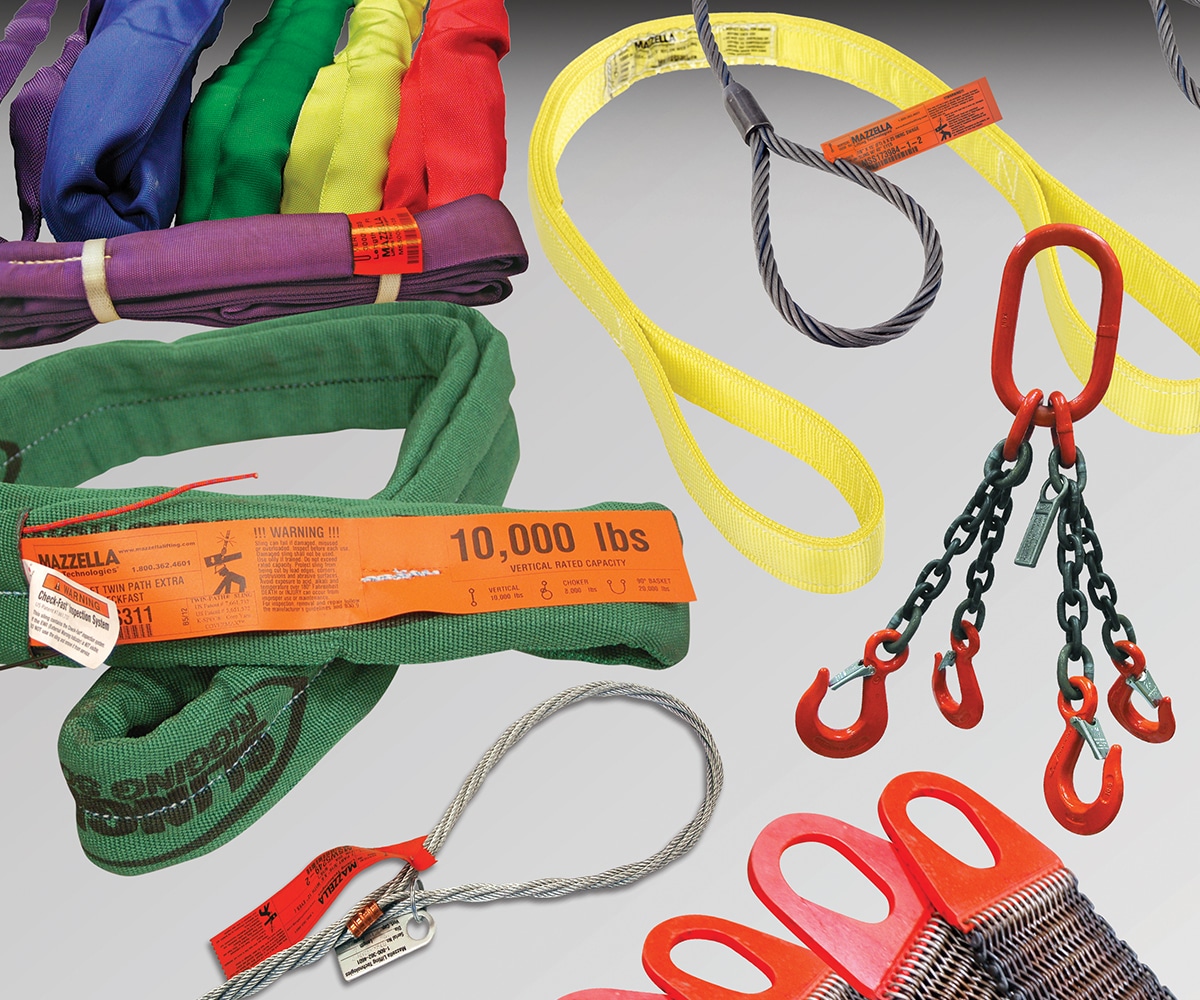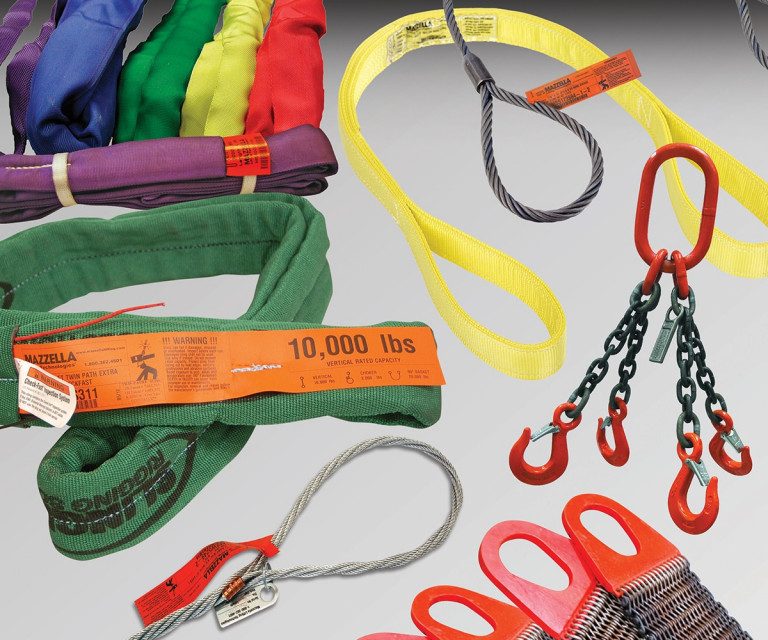 Lifting Slings & Assemblies
Are you looking for lifting slings, including chain, wire rope, synthetic flat web, metal mesh, cordage, and single-path / high-performance roundslings? We can help provide the right sling for your needs!
Additionally, if you need sling assemblies—both large and small, we can manufacture bridge cables, crane cables, steel mill cables, and thousands of OEM assemblies.
Contact us today to get the lifting slings and assemblies you need!
Learn more about lifting slings and assemblies!
Copyright 2018. Mazzella Companies.