Does it feel like you're constantly scrapping out or replacing your lifting slings? Have you had a recent incident or near miss because of damaged or failed rigging? While there are best practices for rigging and lifting a load, an accident or product failure can often be traced back to misuse and abuse to rigging equipment during, or in-between, lifts. When you don't use sling protection, or properly maintain your lifting slings, you increase the chances of a dropped load, damaged property, injury, or worse.
Chain slings, wire rope slings, web slings, roundslings, synthetic rope, and metal mesh slings can all be used to safely and efficiently lift, move, and position a load. But, choosing the right type of lifting sling is dependent on a complete understanding of the application, the environment it's being used in, and how the sling will be used to support and lift the load.
At Mazzella, we provide ideal lifting solutions—offering all styles of lifting slings, rigging hardware, wire rope, overhead cranes and hoists, and engineered lifting devices. In this article, we'll provide you with some considerations and best practices for protecting, maintaining, and prolonging the service life of your lifting slings.
Sling Protection: How to Prolong the Life of Your Lifting Slings
---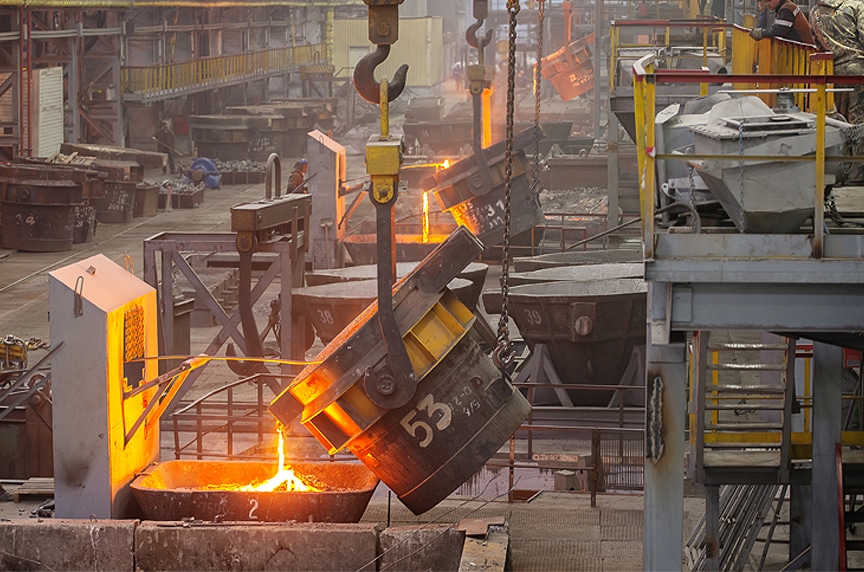 Keep reading for tips on how to protect your slings while in use and how to maintain your slings in-between lifts.
Avoid Exposing Slings to Extreme Temperatures
---
No matter what type of lifting sling you're using, all slings are susceptible to damage and performance reduction when exposed to extreme temperatures. Exposure to heat or extreme cold can diminish the strength of the sling material and reduce the rated load capacity.
While some materials like alloy chain, wire rope, and wire mesh can tolerate extreme temperatures, they may become brittle, soft, or suffer strength reduction when exposed to extreme cold or when used in high heat environments.
Synthetic materials require the most amount of sling protection. Nylon and polyester slings can actually melt, burn, or char when exposed to high heat. Slings made from synthetic materials like nylon or polyester are more susceptible to heat and can be damaged easily by weld splatter, sparks, or by coming into contact with something hot like a machine in operation, a boiler, or furnace.
See the table below for the recommended temperature conditions from ASME's B30.9 Slings standard:

| | | | |
| --- | --- | --- | --- |
| Sling Type | Minimum Temperature | Maximum Temperature | Notes |
| Alloy Chain | –40°F / –40°C | 1,000°F* / 538°C* | *See reduction of rated load chart below |
| Wire Rope | Fiber Core: –40°F / –40°CIWRC: –40°F / –40°C | Fiber Core: 180°F / 82°CIWRC: 400°F / 204°C | Consult manufacturer for fiber core slings used at temperatures below –40°F / –40°C |
| Synthetic Web | –40°F / –40°C | 194°F / 90°C | Minimum and maximum temperatures shown for polyester and nylon slings |
| Polyester Roundslings | –40°F / –40°C | 194°F / 90°C | Minimum and maximum temperatures shown for polyester and nylon slings |
| High-Performance Roundslings | –40°F / –40°C | 140°F / 60°C | Some synthetic yarns do not retain their published breaking strength above 140°F / 60°C. Consult with manufacturer. |
| Metal Mesh / Wire Mesh | –20°F / –29°C | 550°F / 228°C | Consult manufacturer if using slings in temperature above or below minimum / maximum |
| Synthetic Rope | –40°F / –40°C | 194°F / 90°C | Minimum and maximum temperatures shown for polyester and nylon slings |
Effect of Elevated Temperature on Rated Load of Alloy Steel Chain (Table 9-1.8.1-1 – ASME)
Temperature
Grade 80 Alloy Chain
Grade 100 Alloy Chain
°F
°C
Temporary Reduction of Rated Load While at Temperature
Permanent Reduction of Rated Load After Exposure to Temperature
Temporary Reduction of Rated Load While at Temperature
Permanent Reduction of Rated Load After Exposure to Temperature
Below 400
Below 204
None
None
None
None
400
204
10%
None
15%
None
500
260
15%
None
25%
5%
600
316
20%
5%
30%
15%
700
371
30%
10%
40%
20%
800
427
40%
15%
50%
25%
900
482
50%
20%
60%
30%
1,000
538
60%
25%
70%
35%
Over 1,000
Over 538
Remove From Service
Remove From Service
Remove From Service
Remove From Service
Make sure that you regularly inspect all lifting slings, fittings, and all hardware before each use and before a change in lifting application. Heat damage to a sling can occur on a single lift, so it's important that your operators and riggers are properly trained in sling protection and how to identify damage or irregularities that require a sling to be removed from service.

---
---
Be Aware of Chemical Exposure and Chemically Active Environments
---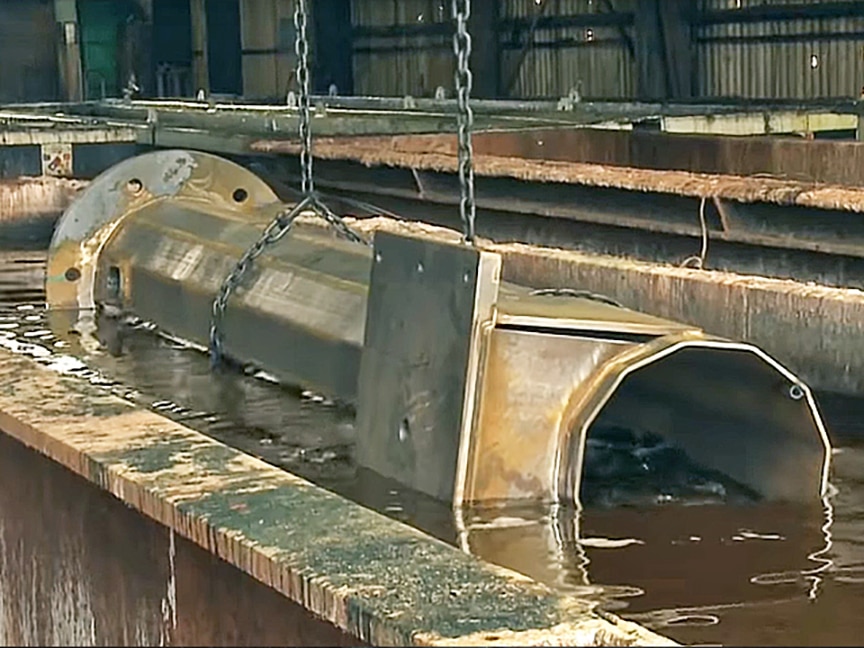 Processes that use chemicals to change a material's physical properties are popular in many production environments. Dipping product or material into certain chemicals or coatings can add strength and other resistance properties. For example, the process of galvanizing a metal surface can add corrosion resistance. Pickling steel cleans the metal surface and removes impurities, stains, corrosion, and material build-up.
However, when you're dipping or coating material, you have to consider what might happen to your lifting slings when they're submerged in that liquid or chemical—especially if it has alkaline or acidic properties.
Nylon, polyester, and other synthetic fiber materials are especially susceptible to chemical damage. However, nylon and polyester each have their own unique resistance to certain chemicals, so special consideration should be given to the type of synthetic sling you use in a chemically-active environment.

| | | |
| --- | --- | --- |
| | Nylon | Polyester |
| Acids | No | * |
| Alcohols | Yes | Yes |
| Aldehydes | Yes | No |
| Strong Alkalis | Yes | ** |
| Bleach Agents | No | Yes |
| Dry Cleaning Solvents | Yes | Yes |
| Ethers | Yes | No |
| Halogenated Hydrocarbons | Yes | Yes |
| Hydrocarbons | Yes | Yes |
| Ketonnes | Yes | Yes |
| Oils (Crude) | Yes | Yes |
| Oils (Lubricating) | Yes | Yes |
| Soaps & Detergents | Yes | Yes |
| Water & Sea Water | Yes | Yes |
| Weak Alkalis | Yes | Yes |
* Disintegrated by concentrated sulfuric acid
** Degraded by strong alkalis at elevated temperatures
Chemicals may also be present as solids, liquids, gas, vapors, or fumes as the byproduct of a production process. While your rigging equipment may not be making direct contact with chemicals, they can still be damaged or degraded over time by exposure to chemicals in the environment.
Make sure that you regularly inspect your slings before each use and before a change in lifting application. Chemical exposure may not necessarily affect the material of the sling, but you'll also want to inspect the fittings and hardware for any signs of pitting, chemical damage, or excessive corrosion.
When using any type of lifting sling, always consult with the manufacturer or a qualified person if your sling will be exposed to or in contact with a caustic chemical.
Avoid Prolonged Exposure to Sunlight and UV Light
---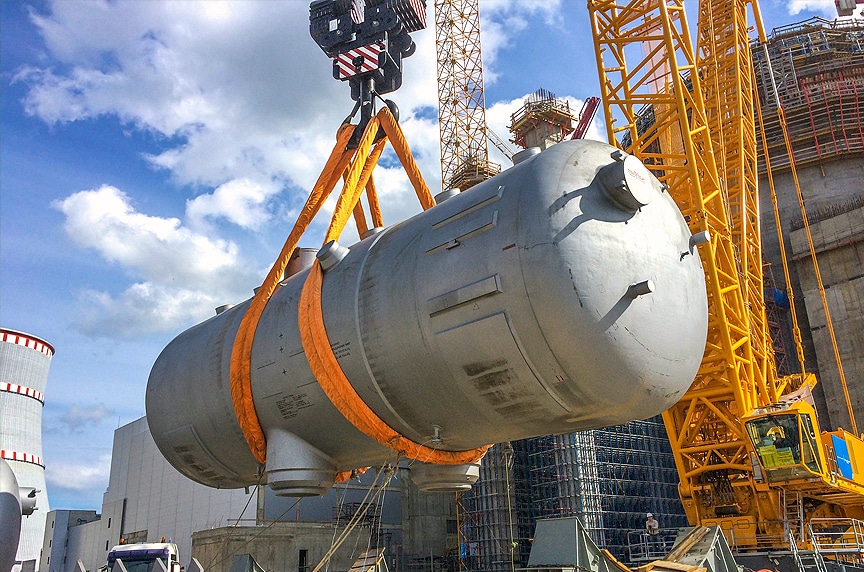 The synthetic materials used in web slings, roundslings, and rope slings can be significantly degraded by long-term exposure to sunlight and ultraviolet light.
One indication that a web sling or a roundsling has experienced UV degradation is a change in appearance. A bright yellow web sling may become faded or almost white in color over time. A bright colored roundsling will also become faded and may become whitish or dull in appearance.
When performing regular inspections of your synthetic slings, look for faded areas and use your hands to feel for areas that have become stiff and/or brittle—this could be an indication of ultraviolet light damage.
When not in use, best practices for sling protection include keeping synthetic slings slings stored in a location that does not receive direct exposure to sunlight—including away from areas where sunlight may come in through a window or door.
Avoid Edges and Rough Surfaces – Use Edge and Cut Protection
---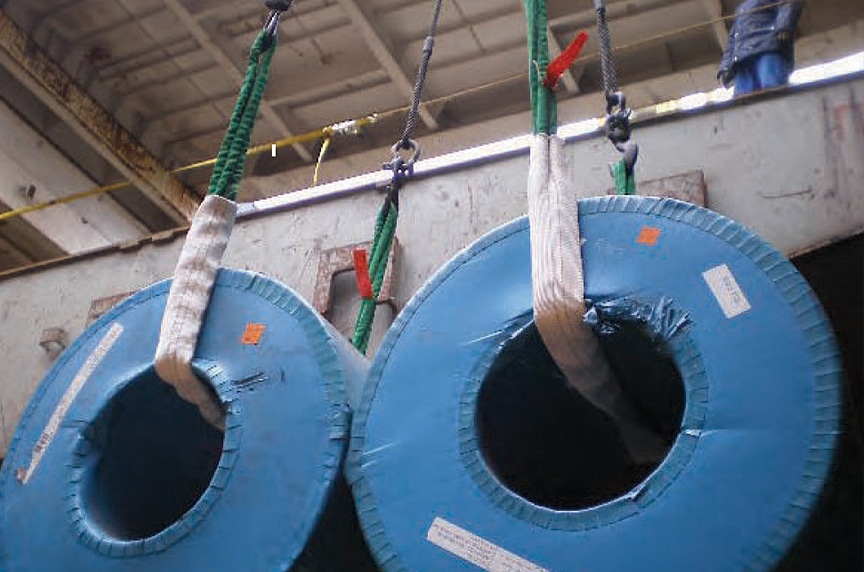 Edges, corners, or rough surfaces can do so much damage to a sling—it doesn't matter if that sling is made from steel, nylon, or polyester. Without proper edge or cut protection, a sling supporting a load that has edges or rough surfaces can experience any of the following:
Synthetic Slings
Holes or punctures
Tears
Cuts
Snags
Excessive wear or abrasion
Broken stitching
Wire Rope
Dog legs or kinking
Broken wires
Crushing
Excessive wear or abrasion
Damaged fittings
Alloy Chain
Nicks or gouges
Crushed or distorted links or fittings
Excessive wear or abrasion
Metal Mesh
Broken wires
Crushing
Excessive wear or abrasion
Distortion of the mesh or fittings
Synthetic web slings can be manufactured with a special edge guard coating that can make them more durable, but proper edge and cut protection should always be used to soften the area where the sling makes contact with the load. Corner pads and sleeves can be used to soften an edge and protect the sling against damage, but they can also be used to protect delicate or finished surfaces of the load from scuffs, scratches, and crushing.
Because there's a difference between abrasion-resistant protection and cut-resistant protection, be sure to identify the type of sling protection required for your application.
Keep Your Slings Clean and Free of Debris
---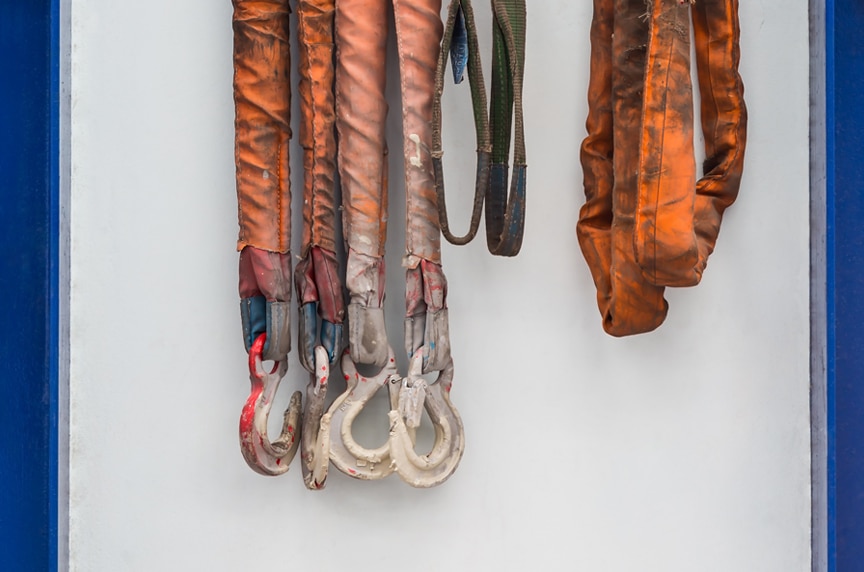 When not in use, you should keep your slings and other rigging equipment clean and neatly organized. Continual exposure to dust, dirt, oil, and moisture can prematurely break down the fibers of a synthetic sling and cause corrosion to a metal sling.
Always check your slings for small particulates like dirt, stones, and debris. When these things get inside of a sling, they can cause friction and abrasion and begin to wear out the sling from the inside out.
Never use solvents or de-greasing solutions with nylon, polyester, synthetic fiber, or fiber core wire rope slings!
We've seen people mistakenly think they're taking gear of their gear and throw greasy slings into a solvent tank used to remove grease and grime from machined parts. You can't do this with a synthetic sling—the chemicals in those solvent tanks will degrade the nylon or polyester fibers in that sling. Over time, this affects the integrity and strength of the sling.
If using synthetic slings near saltwater, make sure you thoroughly rinse them to rid them of salt, which can be abrasive when it dries and crystallizes.
How to Organize and Store Your Slings
---
The best way to help extend the life of a sling, and help to ensure that it stays in service, is to properly maintain it during and in-between each use. Take good care of your gear and your gear will take care of you—it's that simple.
When your rigging gear is organized, it makes it that much easier to find and select the right piece of equipment when you need it. You'll be able to see what slings you have at your disposal, read the tag to make sure the W.L.L. suits the lift, and identify any damage or irregularities before it's put into service. Also, one of the best ways you can prepare for a periodic inspection is to have your slings organized so the inspector can systematically work through and document the condition of each of your lifting slings.
Keep your slings stored somewhere where they're off the ground and away from moisture, extreme temperatures, chemicals, and mechanical devices. Keep slings off of the ground so that they're not susceptible to being run over or crushed by fork trucks or other vehicles in operation.
In a production facility, hang slings on racks or in storage lockers to organize them and keep them off of the ground. On a construction site, utilize a rigging box or another container where you can keep your slings organized and away from dirt, moisture, and sunlight. Here are some other things to keep in mind to keep your slings and other rigging equipment in great condition:
Keep your slings off of the ground and store them in a cool, dry, and dark environment
Avoid continued exposure to extreme hot or cold temperatures and store them away from direct sunlight and UV exposure to prevent loss of strength
Keep your slings clean. Continual exposure to dust, dirt, and moisture can degrade the materials over time and shorten the life expectancy of the product
Do not store your slings in a chemically active environment. Chemically active environments can affect the strength of the sling material in varying degrees, ranging from little to total degradation.
Be aware of environmental temperatures and select slings and rigging with appropriate temperature resistance
Use edge protection or barriers to prevent cutting, abrasion, wear, or broken wires when lifting materials with edges
Always contact the manufacturer with any questions or concerns about maintaining, storing, and protecting your slings
When your employees know how to properly care for their slings, you'll extend the service life of the product and get a better return on your investment. When your employees regularly inspect their slings and rigging equipment, they can identify a potential issue before a failure causes an accident, near-miss, injury, or damage to property.
At Mazzella, we have a certified team of inspectors that perform OSHA and ASME compliant rigging inspections. We also offer classroom training where we teach your team best practices for inspecting, maintaining, and using their lifting and rigging equipment.
If you'd like more information, or want to schedule a consultation with a Lifting Specialist, contact us today!

---
---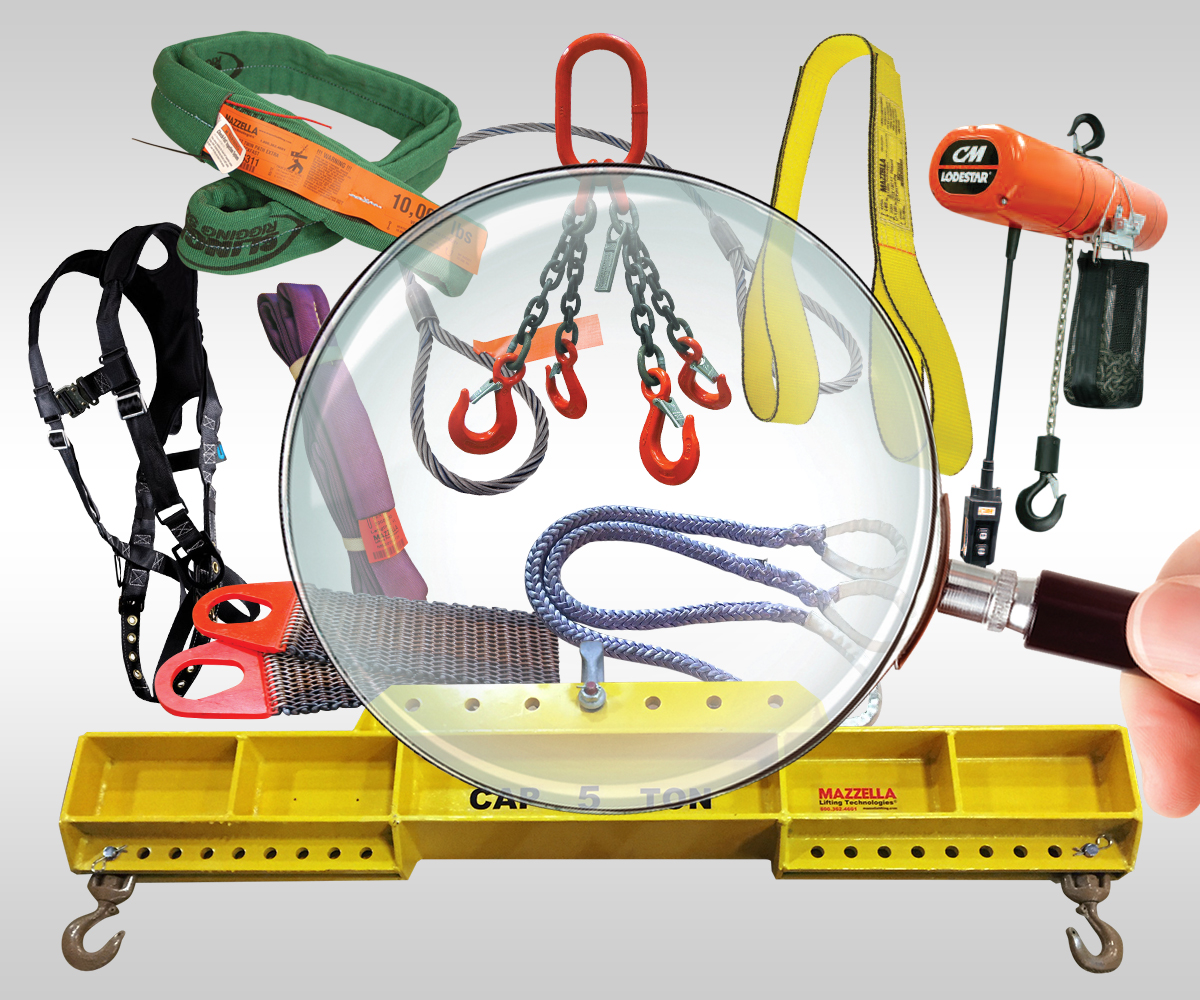 Rigging Inspection Services
OSHA 1910.184, ASME B30.9, B30.20, B30.26, & ANSI Z359 require periodic, documented inspections on slings, rigging hardware, lifting devices, and fall protection every 12 months, at minimum, and monthly to quarterly in more severe service conditions.
Call us at 800.362.4601 or click here if you need inspections for slings, rigging hardware, lifting devices, or fall protection!
Copyright 2019. Mazzella Companies.