Description
Features & Benefits:
Voltages—available on 3-phase, 460 volt and 230 volt models
6:1 speed ratio
Fault history
Phase loss protection
VFD programmable to customer's exact voltage requirements.
Motor thermal overload protection
Adjustable ramp time and speeds. Three second ramp time between minimum and maximum speed setting.
3-step robust nema 4x control station
3-step infinitely variable control standard provides acceleration and deceleration for full load control and precise positioning.
Soft starts increase the life of gear train components, load chain, hooks and brake components.
Electronic reversing eliminates the need for magnetic contractor and speed relay controls.
Minimum and maximum speed settings with the ability to choose intermediate speeds during operation without timely programming or upgrades.
115 volt interface card standard allows for integration into existing bridge and crane systems without upgrades or modifications to the hoist VFD controls.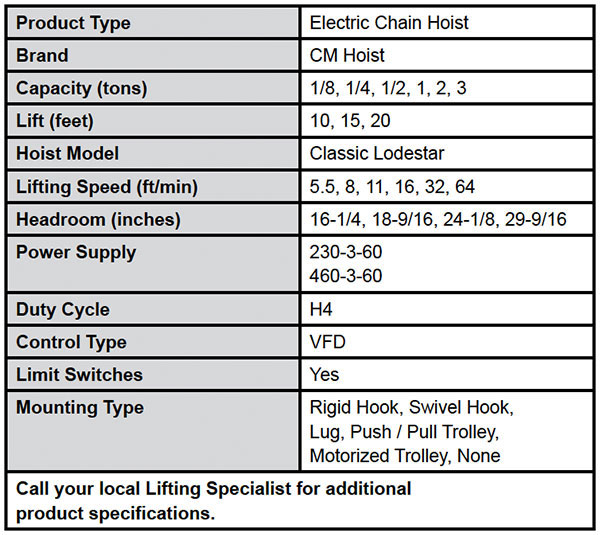 CHAIN CONTAINERS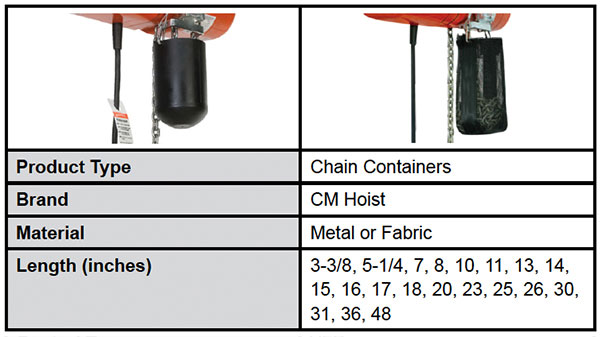 NEED HOIST REPAIR OR PARTS?
We do repairs in-house and stock a full line of parts.