Description
Features & Benefits:
Engineered for Reliable Operation
Handle Designed for Overload Protection—Handle bends to warn of hazardous condition and prevent dangerous overload.
Hooks with Latches—360° swiveling hooks equipped with latches for positive load engagement.
Positive Load Holding in All Environments—Double interlocking pawl mechanism assures one pawl is engaged at all times.
Meets or exceeds minimum 4:1 design factor and all requirements of ASME / ANSI Standard B-30.21. All units tested at 125% of rated load.
Portable and Durable
Lightweight and Rugged—Special cast aluminum and zinc alloy housings.
Heavy-Duty Cable—Utilizes preformed and galvanized extra-flexible aircraft cable.
Corrosion Resistant—All stainless steel springs and shafts.
Reduced Wear—All rotating shafts are mounted on bronze bushings.
Easy to Operate
Self-Storing Cable Drum—Provides compact operation.
Easy Load Positioning—Utilizes a double pawl system with multiple pawl stops for precise load adjustment.
Fast Cable Take-Up—Winding wheel provided for quick take-up or positioning of cable.
Open Construction—Allows for easy cleaning and inspection.
Special Model Features
430CDPA equipped with oversized slip hooks—Ideal for opening and closing boxcar doors.
Stainless Steel Cable Available—Suitable for marine environments.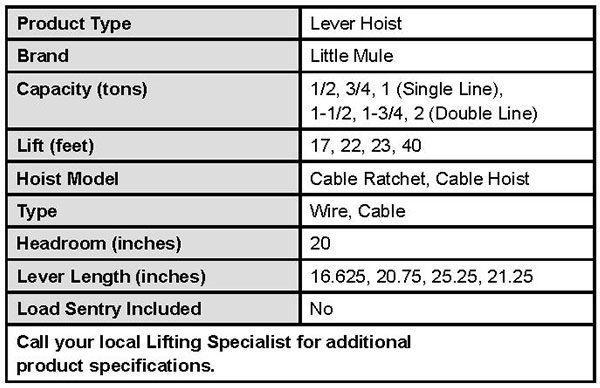 NEED HOIST REPAIR OR PARTS?
We do repairs in-house and stock a full line of parts.