Description
Features & Benefits:
Rated capacities from 1/2 to 20 Tons are in stock.
Standard lifts are 10, 15 and 20 feet. Standard hand chain drop is 2 feet less than lift. Other lifts, hand chain drops and 25 to 50 ton models available.
Designed for portability and easy installation. Compact gear housing provides low headroom.
Lubricated bearings and bushings, bearing-mounted pinions and heat-treated spur gearing ensure smooth and efficient operation with minimal effort.
Mechanical load brake engages instantly for precise load holding and positioning. 360° swivel hooks with safety latches for positive load engagement.
Durable through hardened load chain providing added strength and wear resistance for greater chain life. Stamped steel housing withstands rugged conditions.
Designed for easy inspection and maintenance. Hoist can be dismantled easily with simple hand tools.
Metric Rated
Lifetime Warranty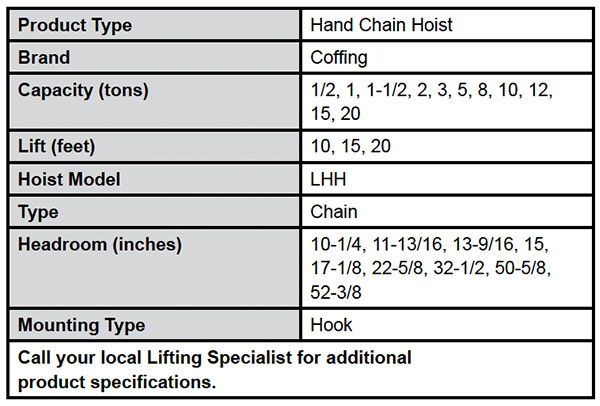 NEED HOIST REPAIR OR PARTS?
We do repairs in-house and stock a full line of parts.