Crosby McKissick RP Style Traveling Blocks
Capacities Available: 250, 350, 500, 750 and 1000 Tons
Double row, pre-adjusted tapered bearings with seals.
Blocks contain McKissick® Roll-ForgedTM sheaves with flame hardened grooves.
Grooves are API profile.
Separate lubrication channel to each sheave.
Easy opening guards for quick string-up (no bolts to pull out and lose).
Bail design to adapt to comparable capacity drilling equipment.
Additional weights available upon request.
Manufactured to the requirements of API 8C, including all documentation.
Each block is individually serialized for full traceability.
Furnished with Certificate of Conformance.
Minimum design temperature of -20°C (-4°F).
Standard top coat finish is safety orange enamel.
All sizes are RFID EQUIPPED.
Other paint colors and systems are available on request.
Individual parts are primer coated on exposed surfaces.
Block side plates can be drilled to adapt customer supplied equipment.
Easy bail pin removal.
Description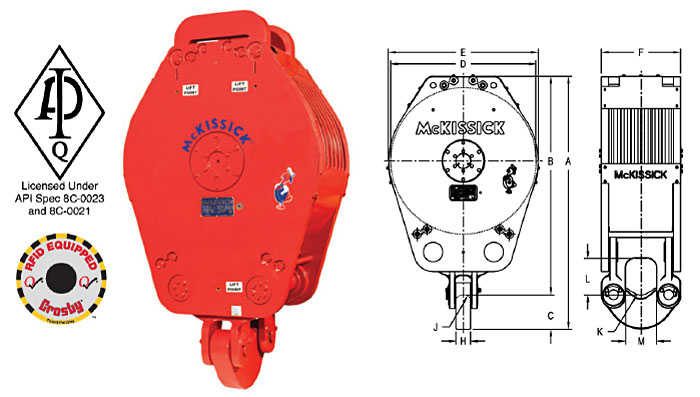 * Additional wire rope sizes are available.
content-single-product