Description
Features & Benefits:
Get sure trolley tracking with specially designed contoured wheels that fit both tapered and flat-flange beams.
Maintenance-free, sealed precision ball bearings are lubed for life and offer smooth movement with low friction and long life.
Get strength and rigidity from a lightweight, compact design.
Easily adjust trolley to fit a wide variety of beam flange widths.
Load equalizing suspension distributes the load to all wheels.
Wide standard flange ranges reduce the need for optional extended shaft kits.
Match the needs of the job with a variety of trolley hoist suspenders.
Capabilities:
Use the economical PT for applications involving longer traversing distances.
Use the GT for precise load control and shorter traversing distances.
1⁄2 through 3 Ton are supplied with Suspender C, which is suitable for most applications. Alternate suspenders may be required for your application.
Geared trolleys of larger capacities are available. Please contact your local Lifting Specialist for details.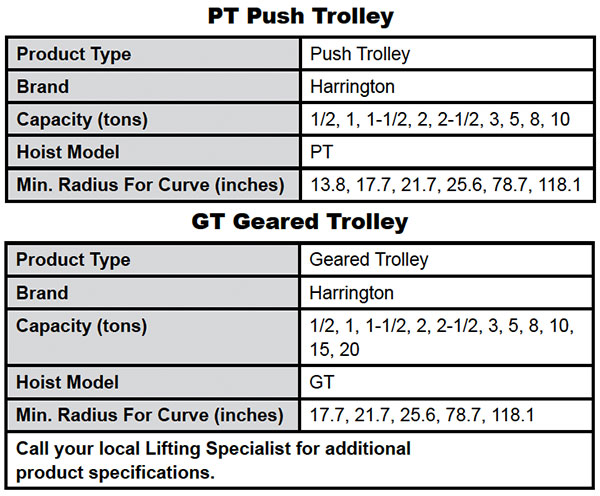 NEED HOIST REPAIR OR PARTS?
We do repairs in-house and stock a full line of parts.