Description
1/2 – 80 ton (500 – 80,000 kg) capacities
Lifts starting at 13 ft. (4 m) to 320 ft. (100 m) and beyond
Lifting speed range 10/1.5 to 62/10 fpm (3/0.5 – 19/3 m/min)
208, 230, 460, 575/3/60 or 380/3/50 power supply
Single-reeved or double-reeved
---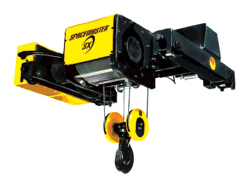 Double Girder Trolley
Superior clearance and headroom for double girder crane applications.
---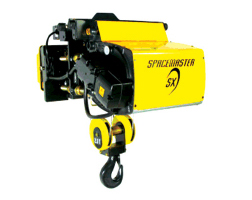 Normal Headroom Trolley
An ideal selection for monorails and jib crane applications. Hardened wheels for patented track applications are also available. (Shown with optional second holding brake)
---
Low Headroom Trolley
The best solution for single girder cranes; its compact design provides maximum space-efficiency.
---
Ease Of Operation
Large-diameter hoist drum means easy positioning, closer approaches. The larger drum diameter provides near true vertical lift with a single-reeved hoist—only 1/8″ drift per foot of lift. The result is exceptionally smooth movement and fast load positioning. This innovative design also means a shorter frame length, allowing closer end approaches. Hoist and trolley motors designed for space savings and productivity. Standard two-speed hoist motor (6:1 ratio), designed specifically for hoisting applications, offers high-starting torque and ensures precise and reliable load handling.
The hoist motor is class F insulated, 30-minute rated (60% effective duty), thermally protected and totally enclosed.
The trolley motor's standard inverter control offers two-speed multi-step or infinitely variable speed control for smooth acceleration and deceleration, minimal load swing, fast, efficient handling and accurate load placement.
Safety
Standard safety features that competitors don't offer—or offer at extra cost. An electromechanical load limit switch prevents the lifting of loads that are in excess of 110% of rated capacity. The 4-position hoist limit switch includes an innovative phase mismatch protection circuit that prevents the block from running up and damaging the hoist in the event of phase reversal.
Sealed brakes, hardened ground gears, thermal motor protection, exceptional rope life and ergonomic hook block design with sturdy safety latch contribute to the hoist's safe operation and increased reliability.
Less Maintenance
Sealed brakes mean long-term value. Sealed dust-proof brakes on the trolley and hoist motors require little adjustment for over a million cycles, and will last the life of the hoist under normal use.
Trolley design reduces wear on components. The trolley drive is totally enclosed, grease lubricated and designed to be maintenance-free. Trolley wheel bearings are permanently lubricated. The automatic disc brake and inverter control help extend the life of the motor and other components, which means less maintenance, less downtime, lower repair costs—and reduced cost over the lifetime of your hoist equipment.
Long Life
Innovative gearbox provides dependable operation and extends equipment life. The innovative gear case design reduces stress on drum bearings, reducing the need for maintenance, while extending component life. It features hardened and ground internal reduction gears driving an external drum gear located on the inner surface of the rope drum. The gearbox's semi-fluid grease lubrication also helps to extend its working life. The gear case is designed to run cooler and more efficiently than those equipped with a mechanical load brake.
Larger hoist drum minimizes rope wear and enhances cooling. A drum / rope diameter ratio of approximately 40:1 minimizes rope flex, reducing wear and extending rope life. The drum's large diameter also contributes to a reduction in frame size and weight, reducing wear on hoist components and enabling the use of more cost-effective crane girders. The unique placement of the hoist motor inside the drum provides directed airflow through the drum for optimal motor cooling. This design also makes the motor and brake more easily accessible.
NEED HOIST REPAIR OR PARTS?
We do repairs in-house and stock a full line of parts.