Oklahoma City is a hub for businesses in all sectors in Middle America. The city continues to grow, both in the types and amounts of industries that call home Oklahoma's capital.
According to the Greater Oklahoma City Chamber of Commerce, the city is home to hundreds of companies across a range of industries, including but not limited to advanced manufacturing, aerospace, bioscience, energy, logistics, and meteorological research.
Manufacturing sectors include:
Machinery
Food and beverage
Concrete construction
Oilfield pumping equipment
Defense
Each one of these businesses has unique needs to produce their goods and services, and that includes everything from warehouse racking to rigging and lifting equipment like hardware, slings, hoists, and overhead cranes.
When we quote lifting and rigging services and supplies for our customers in Oklahoma City, they often ask us: "If we don't go with Mazzella, who else would you recommend?"
That's why we've put together this list of the best rigging shops that serve the greater Oklahoma City area. We truly believe the more informed you are during the purchasing process, the better you'll understand how to best address the needs of your business and get the best bang for your buck.
Best Rigging Shops in Oklahoma City
---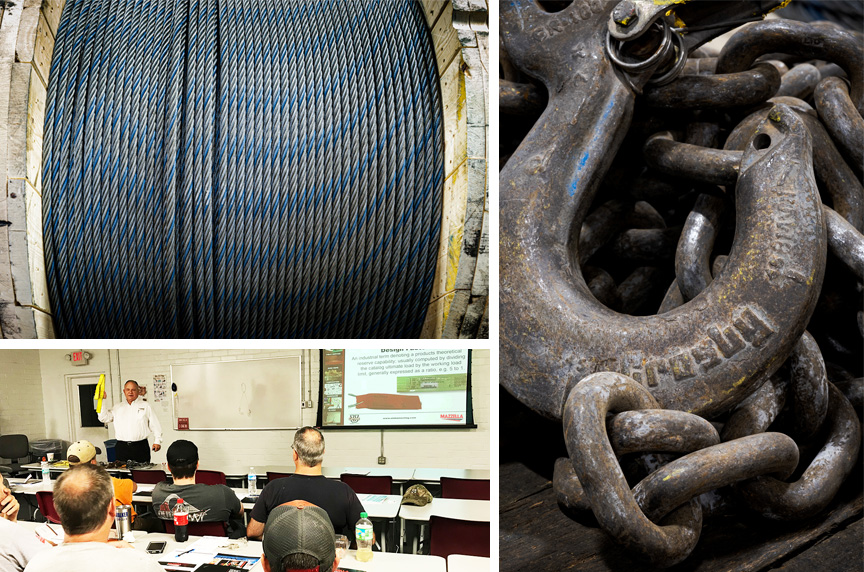 Mid-America Rigging
Founded: 1997
U.S. Headquarters: Oklahoma City
Insights: Mid-America Rigging built its team of second and third-generation industry professionals to deliver quality American lifting products to end-users. Mid-America Rigging maintains a high level of commitment and takes great pride in the products and services it provides to customers.
Additional Products and Services:
Certified rigging inspections
Training seminars
Non-destructive testing
RFID traceability
Wire Rope
Slings
Pendant lines
Overhead crane inspections
Overhead crane repair
Hoists
Chain
Hooks
Raising lines
Winch lines
Pumping unit bridles
Drillines
Socketing
Snublines
Load binders
Rigging hardware
---
---
Bishop Lifting
Founded: 1984
U.S. Headquarters: Houston, Texas
Insights: Bishop Lifting uses its expertise in service and support with basic rigging to the most complex lifting solutions. With a vast above and below-the-hook product inventory, Bishop Lifting wants to get customers what they need, when they need it.
Additional Products and Services:
Blocks and sheaves
Chain
Cranes
Fall protection
Hoists
Lifting devices

Personnel lifting baskets

Slings
Rigging hardware
Rigging components
Rigging tools

Hydraulic cylinders, jacks and rams

Synthetic ropes
Tie down assemblies
Winches
Wire rope
Rental equipment
Training
Testing
Inspection and modernization
Repair and recertification
Asset management
Horizon Cable Service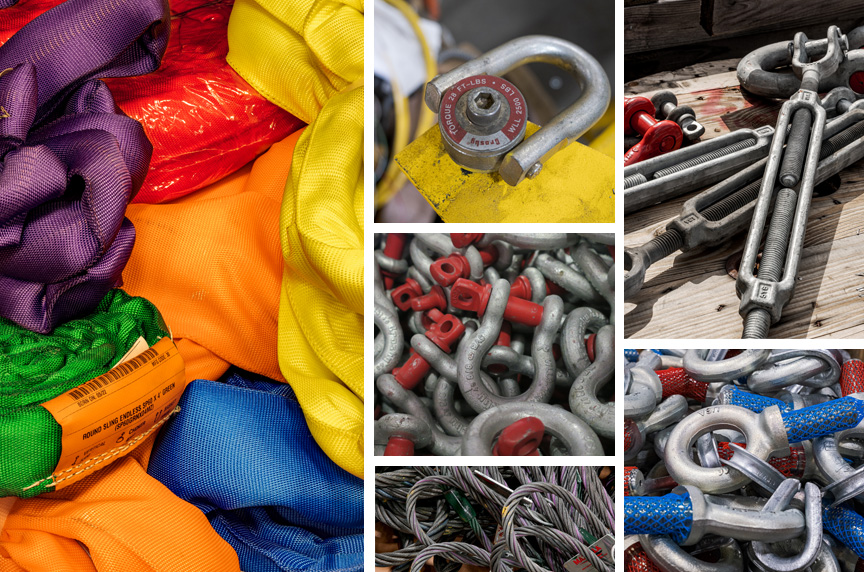 Founded: 1980
U.S. Headquarters: Oklahoma City
Insights: Founded in Casper, Wyoming more than 40 years ago, Horizon Cable Service has locations in Texas, Kansas, North Dakota, Wyoming, and New Mexico. Horizon is a distributor of wire rope, chain, rigging hardware, fall protection, and oilfield services. Horizon Cable Service has a fleet of 20 mobile spooling units to meet any customer needs.
Additional Products and Services:
Oil and Gas Industry

Rigging hardware

Oilfield servicing blocks

Special application blocks

Manufacturing Industry

Fall protection harnesses

Polyester endless roundslings

Construction Industry

Universal spreader system

Fall protection harnesses
Edwards Wire Rope
Founded: 1985
U.S. Headquarters: Oklahoma City
Insights: Since its founding in 1985, Edwards Wire Rope has provided rigging and industrial products to the construction, heavy industry, transportation, and oilfield services sectors. With a large inventory of products, Edwards Wire Rope prides itself on being able to help you lift, pull, or tie down your loads.
Additional Products and Services:
Wire rope and cable products
Wire rope fittings
Wire rope slings
Rigging hardware

Lifting and rigging blocks

Slings
Lifting and rigging chains of all grades
Lifting and rigging blocks
Load-securing chain binders and heavy-duty ratchet straps
Hoists
Beam clamps and lifting trolleys
Plate clamps
Fall protection

Self-retracting lifelines (SRLs)
Certex
Founded: 1951
U.S. Headquarters: Phoenix, Arizona
Insights: After acquiring The James Walker Company recently, Certex now has 34 branches across 14 states, which allows it to provide services and products to "a large portion of the United States." Proud of its longevity, Certex employees have combined for more than 1,000 years of service to customers in the mining, aerospace, on-shore and off-shore oil, construction, and utilities industries.
Additional Products and Services:
Wire rope
Slings
Rigging hardware
Fall protection equipment
Cargo control
Load testing and lift engineering
Rope nets
Manila and synthetic ropes
Spreader bars
Lifting clamps and container plugs
Sling inspection
Training seminars
Certified Crosby clamp repairs
Certified hoist ring repairs
Marine products
How Can Mazzella Help with Your Lifting and Rigging Needs?
---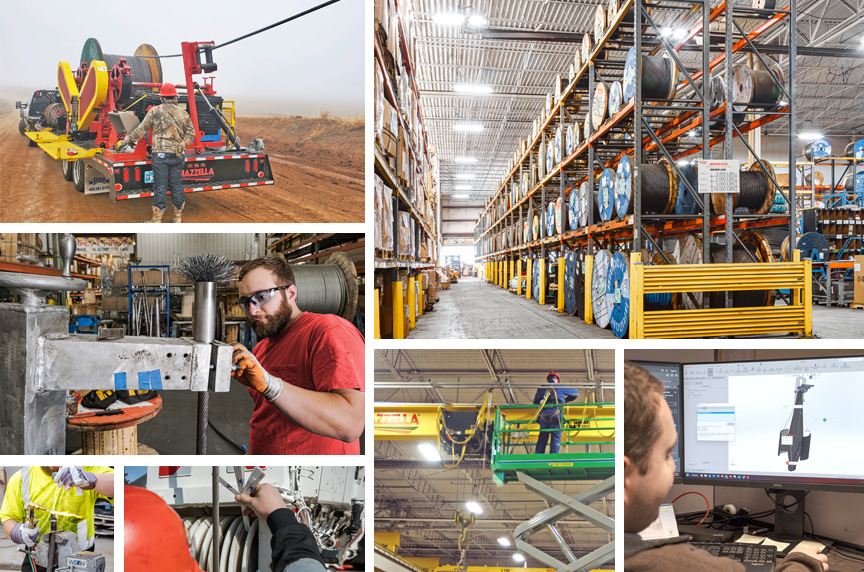 Starting the Process
Now that you have a better understanding of the best lifting and rigging suppliers in the Oklahoma City area, it's time to do your research and begin the process of gathering and comparing quotes. It is best to schedule consultations with a few manufacturers to look at your facility and provide their expert opinion on the specifications and scope of your project.
Price should never be the only factor when selecting a lifting and rigging equipment supplier to partner with. Everything from a shackle to a sling and hoist should improve your business' efficiency and production. You should only partner with a company that you truly feel comfortable with, and one that you feel will provide the best service and the most value.
The key to finding the right company — and to a great buying experience — depends on a number of different factors, including:
Project specifications – Make sure each manufacturer quotes off of the same information and specifications so that you can make a true side-by-side comparison of each company's capabilities and pricing.
Warranty – Make sure you have a clear understanding of the manufacturer's warranty policies on workmanship, components, and materials.
Incidentals – Additional surcharges related to material costs, taxes, freight, obtaining permits, rental of special equipment, etc.
Follow-up – Did a representative from the company reach out to explain their quote and make sure you understand everything?
Project timeline – Has the rigging supplier committed to meeting your specific timeframe and window for installation?
References – Are they willing to provide references? Ask other companies that they've worked with if they were satisfied with the following:

Overall relationship with the rigging supplier

Overall quality of work and satisfaction with the delivery process

Commitment to keeping projects on track and within budget

Products and services that fit the agreed-upon specifications
Spooling Truck Services
Mazzella Companies has expanded its footprint in the lifting and rigging industry with its spooling truck services that can remove old and install new crane ropes on the yard or in the field.
The design of the truck and training of the technicians makes the installation process easier for you. Mazzella loads a reel of pre-cut rope at one of its facilities onto the truck and drives the rope out to wherever you need it. The uniquely designed spooling truck and trailer has two A-frames on it, which allows for a new reel and an empty reel, all on the same vehicle.
There's no loading and unloading. When the truck arrives on-site, it pulls the old rope off the crane and spools it onto an empty reel. Then, the same vehicle is equipped to install a brand new rope onto the crane to get it back up and operational.
This allows you to get back to work as quickly as possible. From start to finish, it's a time and cost-saving experience for you. Additionally, Mazzella's installation process offers another value service by taking back the old wire rope and properly disposing of it.
Mazzella stocks a variety of high-performance ropes at many locations in sizes from 1/4" to 3" diameter and 9 mm to 52 mm diameter—with both domestic and non-domestic products in stock and ready for same or next-day delivery from one of our several service centers.
Vast Inventory
At Mazzella, we have you covered when it comes to all of your lifting and rigging needs. With our ready stock inventory, we offer all industries a variety of lifting and rigging devices, including a complete selection of:
Wire rope
Lifting slings
Rigging hardware
Hoists
Fall protection
Whether you're an existing or new customer, Mazzella also provides the following value-added and post-sale services:
As a one-stop shop for your lifting and rigging needs, Mazzella has a diverse range of products and services that can help you execute safe lifts.
Hardware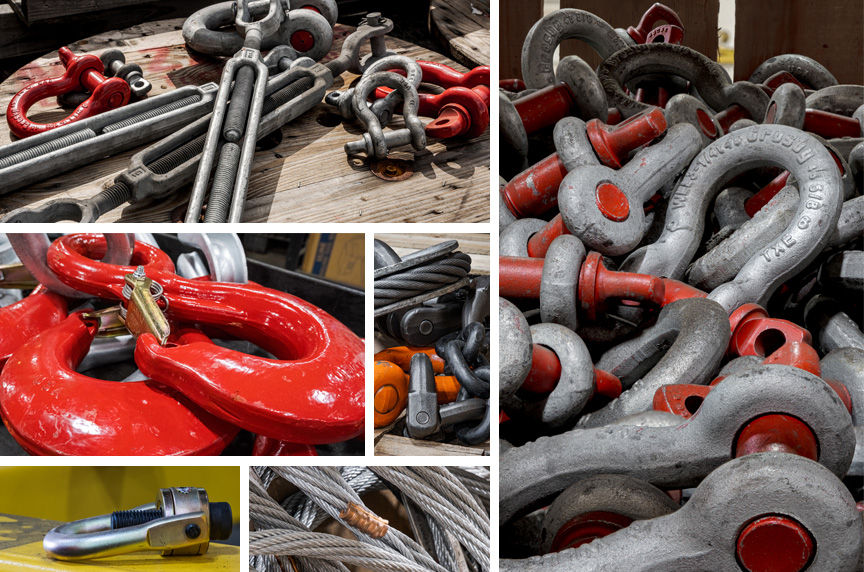 We offer one of the largest and most complete inventories of rigging and lifting products in the country from some of the largest manufacturers in the world. Some of the products we stock include:
Rigging Training
If you require a specific training course for OSHA compliance for slings, hoists and / or rigging hardware, Mazzella can assist you in creating a safe and reliable workplace.
Our rigging training focuses on:
Overhead cranes
Below-the-hook lifters
Lifting slings
Rigging hardware
Wire rope
All Mazzella trainers have been accredited by our company through training by a third-party (Industrial Training International, Inc.), Mazzella Companies' internal Train-the-Trainer program, and are educated on OSHA and ASME standards.
Also, we provide site assessments. The purpose of an assessment is to systematically observe and record your lifting and rigging procedures, equipment, and records. This is not an inspection, but instead, a general assessment by which opportunities for improvement may be identified.
Rigging Inspection Services
OSHA 1910.184, ASME B30.9 Slings, ASME B30.20 Below-the-Hook Lifting Devices, ASME B30.26 Rigging Hardware & ANSI Z359 require…
Periodic, documented inspections on slings, rigging hardware, lifting devices, and fall protection every 12 months, at minimum, and monthly to quarterly in more severe service conditions.
Our rigging inspectors are certified to make sure your products meet OSHA and ASME requirements. Also, we provide personal fall protection inspections and basic level non-destructive testing (NDT) inspections to support our visual inspections.
Call us at 800.362.4601, or click here if you need inspections for rigging hardware, training, or any of our other services.
---
---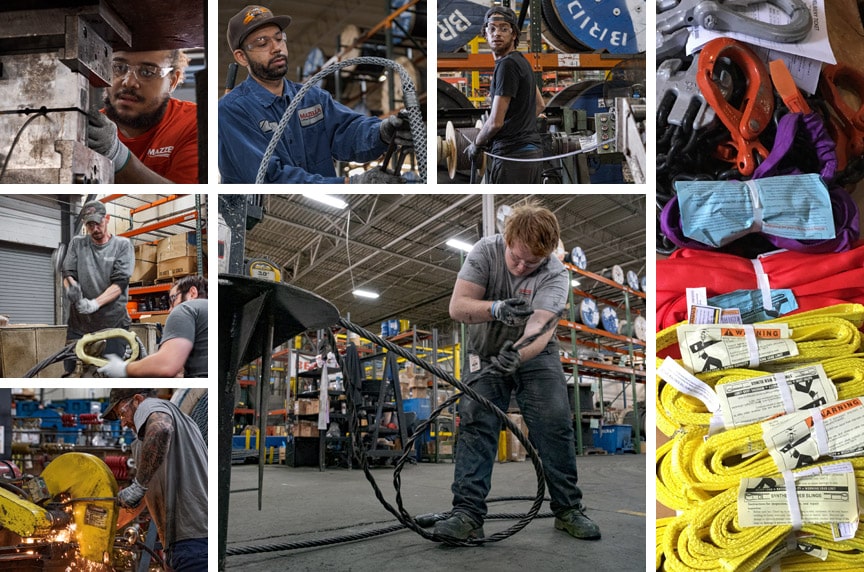 Lifting and Rigging
The Mazzella name is synonymous with quality slings. Mazzella's quality slings include chain, wire rope, nylon, polyester, cordage, and high-performance synthetic slings.
We also provide wire rope assemblies—both large and small. We manufacture bridge cables, crane cables, steel mill cables and thousands of OEM assemblies.
Copyright 2023. Mazzella Companies.