Rigging a load to a crane hook can be dangerous business.
Be it a fall off of the load itself, which could be a several-foot drop, or injuring yourself with a slip and landing on the product(s) set to be lifted, there are many ways workers can be hurt when rigging a crane hook.
Elebia Lifting Solutions is a relatively young as a company that was founded in 2006. However, it's working on making rigging a crane hook much safer through innovative product design with the evo series automatic crane hook.
In this article, you will learn about:
The design of the evo series hooks
The evo's unique features
Best fit applications
Pros and cons of using the evo series hooks
evo Series History, Design
---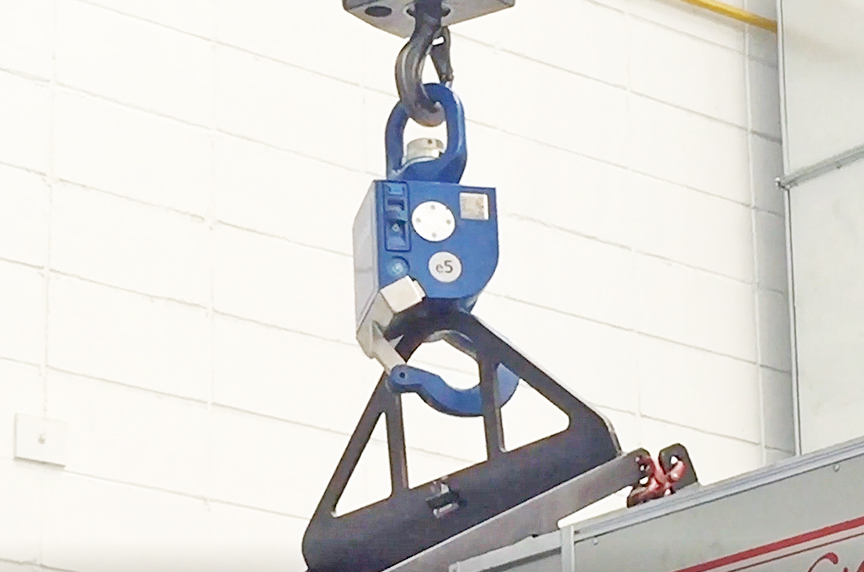 The evo automatic crane hook is uniquely designed with safety in mind. Elebia wants workers away from suspended loads or can avoid having to crawl on top of a load to hook the rigging hardware to the crane hook.
Right at the top of the hook, the evo series features a standard swivel, just like a regular hook. The evo series hook can be customized to fit whatever crane hook you can use or into a shank.
Instead of replacing a standard hook with another standard hook, you can use an Elebia evo automatic crane hook. You'd have the same usage capabilities with an Elebia evo automatic crane hook as a standard hook.
evo's Unique Features
---
Battery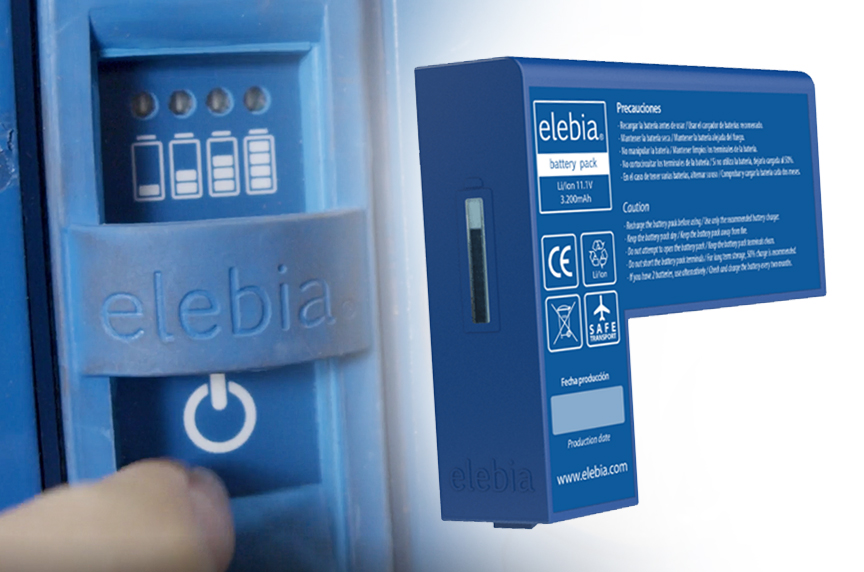 A lithium-ion battery powers the Elebia evo automatic crane hook, and can reach a full charge in only three hours. By industry standards, that's considered a very fast recharge.
The battery is strong enough to withstand opening and closing the hook 5,000 times. If the hook is kept in standby mode, the battery will last you up to 250 hours without needing a recharge.
The battery features an indicator light, so end-users know the charge remaining when the hook is powered up. Every Elebia evo automatic crane hook is equipped with a manual button. This allows for the hook to be opened and closed right from the source if need be.
Magnet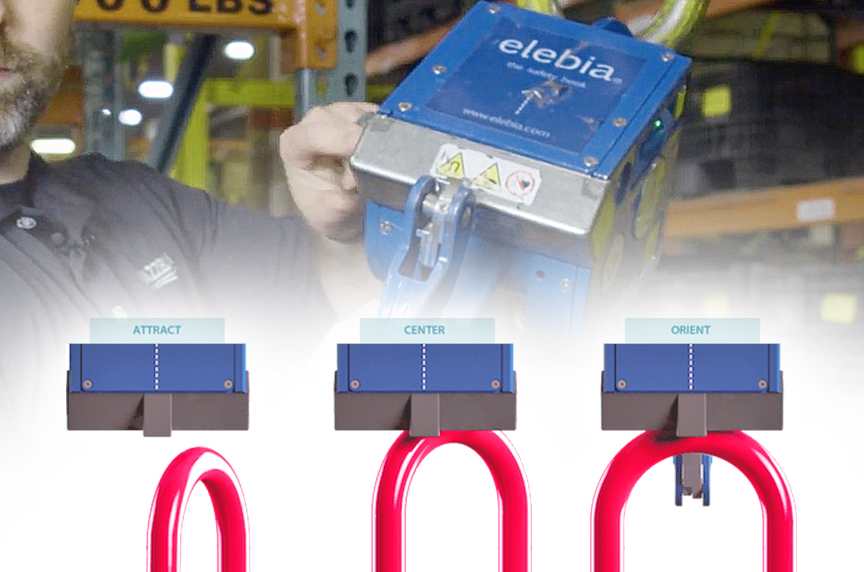 A high-powered magnet near the bottom of the unit is another unique feature of this hook. The magnet will take the bale or master ring on your sling, and it will center the load before closing. You never have to make sure it's lining up.
The Elebia evo automatic crane hook's high-powered magnet helps to eliminate:
All pinch points
Need to have anyone stand in close proximity to the load
The automatic hook works like a standard one. You can slide your rigging gear right through the normal safety latch, and onto the crane hook.
---
---
Bumpers
The Elebia evo automatic crane hook is a forged hook that does come with an extra bumper.
The bumpers for the automatic crane hooks act as shock absorbers. They prevent the safety hooks from being damaged by impacts.
The new evo2 bumpers come fitted with an LED status indicator, which displays the lifting hook's status at all times with a high-brightness four color color-coded design, which is visible to the crane operator.
The bumpers are engineered to withstand temperature ranges of -4°F (-20°C) to 194°F (90°C), and allow you to:
Protect the hook and your load from scratches and day-to-day wear
Protect workers in case of an impact
Extend product life
Reduce maintenance costs
The four-color scheme can be interpreted as:
Green-Lifting hook is open/release load
Red-Intermediate-Do not lift!
Blue-Lifting hook is closed/lift and maneuver load
White-Low battery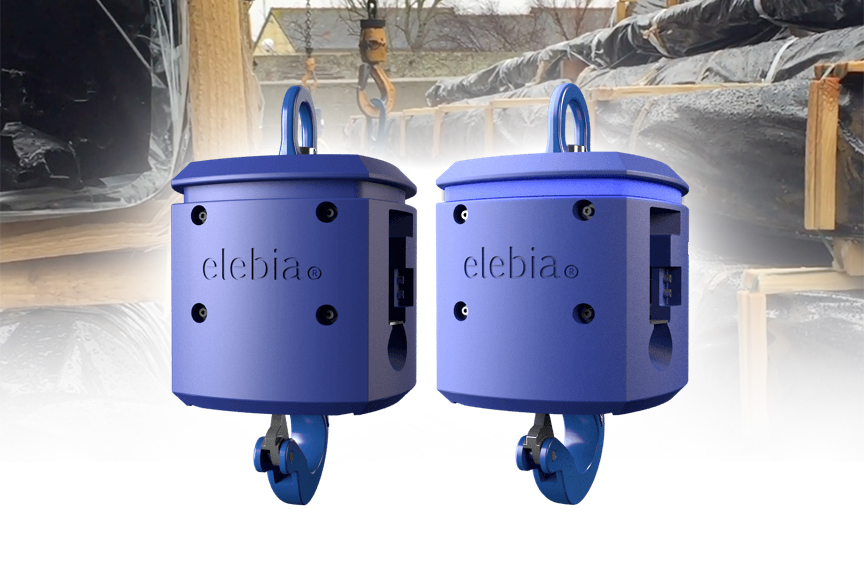 Customizable evo Hooks
If you run a lifting operation that uses load cells frequently, the Elebia evo automatic crane hook can be customized to fit your needs. The load cell will be incorporated into the design of your custom Elebia evo automatic crane hook, so you eliminate the need to connect a hook and rigging gear to a separate load cell before executing a lift.
Fail-Safe Hook Design
What's great about this hook is it's fail-safe.
Once you have the Elebia evo automatic crane hook under load, it can't open. At 50 lbs. or more, the motor is not strong enough to release the latch. If anybody accidently pressed the remote while you were lifting a suspended load, it would not open.
This feature helps create an enhanced level of safety for your lifting operations.
With this added fail-safe, you never have to worry about losing a load during a lift.
evo Technology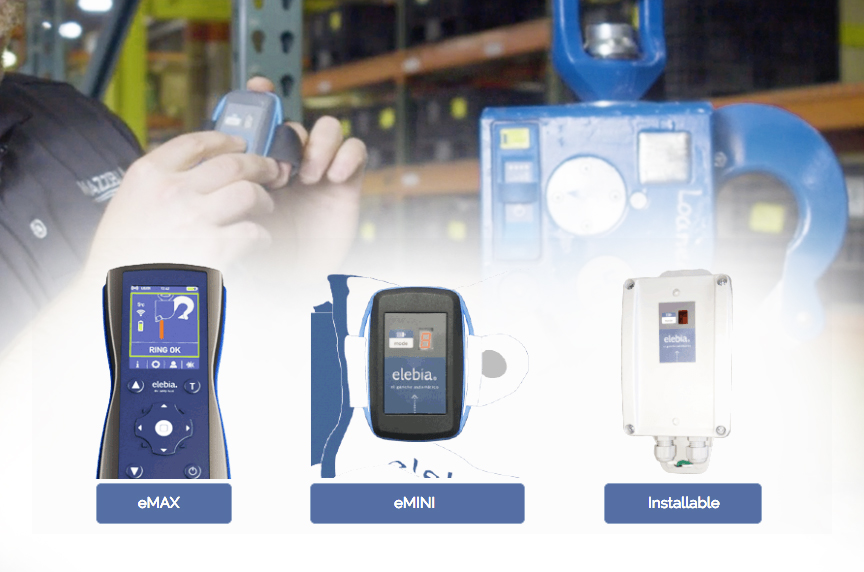 The eMini is the very basic model, but on the screen, it gives you an indicator of the remaining battery charge. If the display reads "9," your battery has a 90% charge remaining.
The eMax control can run multiple hooks at one time, and within each of those hooks, there can be a load cell to monitor the weight of your lifts. An alarm will sound from the remote control when you have an overloaded lift.
The real-time data on the remote can be downloaded onto a computer and reviewed, so if you have intermittent overload issues, this device and its readings will help you easily and accurately evaluate the information.
In addition to the handheld remotes, the Elebia evo automatic crane hook can have an installed control system.
Elebia evo's Best Fit Applications
---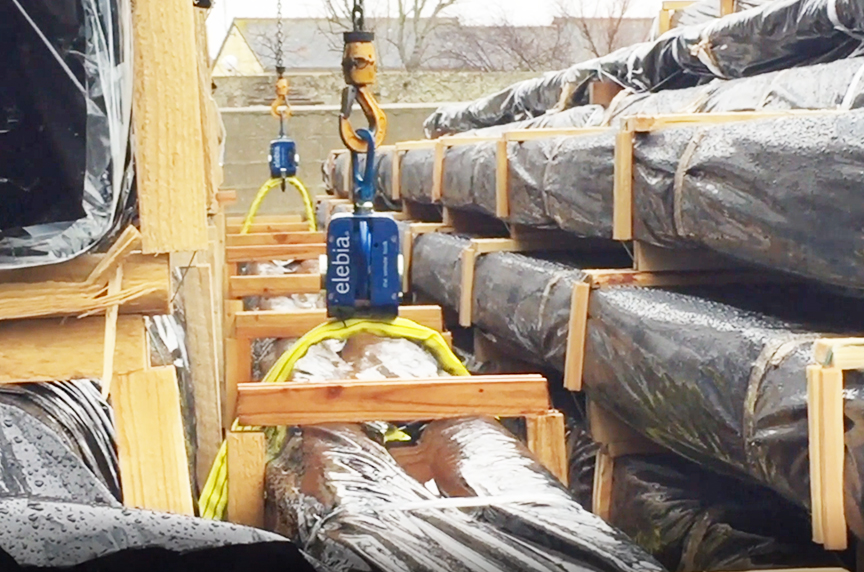 Our experts have seen the Elebia evo automatic crane hook used a lot in steel mills, whether it be electrode or hot application, where people can't be in a certain area because of exposure to extreme temperatures and serious injury/death.
Also, the Elebia evo automatic crane hook actually can go into the sea, and remotely be used under water. Our experts have seen it on shipping and receiving, as well as the loading and unloading of trucks where there are multiple pick points.
Because the Elebia evo automatic crane hook's remote can be used with up to 16 hooks at a time, end-users have a lot of flexibility in loading and unloading those trucks with nobody having to get on top of the load or to try and put the rigging gear onto a crane hook and potentially putting your workers in a dangerous situation.
Elebia evo Benefits
---
Safety is the most important benefit.
Being able to be operate a lift with everyone away from the load or out of the fall zone is the easiest way to protect your workers from serious injury/death.
Along with safety, comfort is an important benefit. End-users don't want their people picking up large master rings or trying to adjust bales accordingly to fit on the crane hooks. The Elebia evo automatic crane hook allows that to happen without putting any added strain on the device.
You're going to save time and reduce the risk of injury for your employees.
By using the Elebia evo automatic crane hook, you'll notice a difference in the level of productivity it helps bring to the job site. Because you're not having to climb on top of a load to rig it to the crane hook, you don't have to don any fall protection equipment, and you're avoiding high-risk situations.
Our experts believe the Elebia evo automatic crane hook will increase productivity because the hook's going to open and close as needed, and you'll be able to see measurable results on the job site.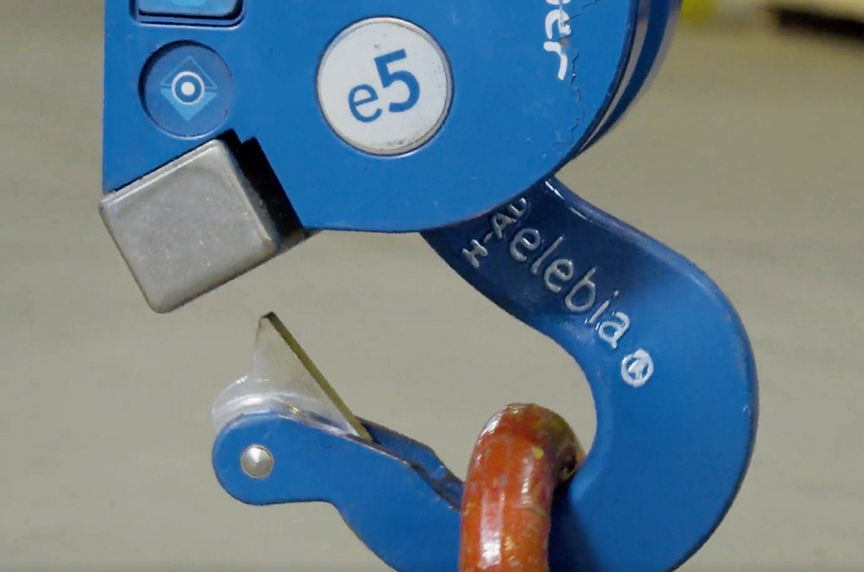 Pros to Using the Elebia evo Hook
The magnet allows:
You to step away from the load
The hook to self-align with a load
The evo hook to be used as a regular hook even if your battery's dead
Elebia created nylon slings with a thread of wire in them to answer the needs of customers who don't have/use the following devices in lifting their loads:
Steel bales
Lifting beams
Chains
Wire rope
Whether it's a nylon sling or synthetic roundsling, you still can use the Elebia evo automatic crane hook. Those are specialty items, but if you can't use wire rope or chain slings, this is an option for you and your company.
Cons to Using the Elebia evo Hook
Headroom can be a major problem when using the Elebia evo automatic crane hook.
If you have a low headroom area where you can't hang a hook from your normal hook, you may need to order a customized hook to put into your block.
Also, say you leave the Elebia evo automatic crane hook in standby mode for 250 hours and you get to hour 251, which exhausts the battery's life.
What do you do?
If you don't have any backups, now you're three hours out from getting the job started like you thought it was going to happen.
Wrapping it Up
---
In addition to its patented evo automatic crane hooks, Elebia produces automatic lifting clamps and lifting hooks for bell furnaces, all with the idea of helping riggers and their crane operators work efficiently and safely.
By learning about the Elebia evo crane hook's design, as well as best-fit applications, and pros and cons to using this innovative hook, you are in a better position to answer the question if this product will benefit your company.
Call us at 800.362.4601 or click here if you need new rigging hardware!
---
---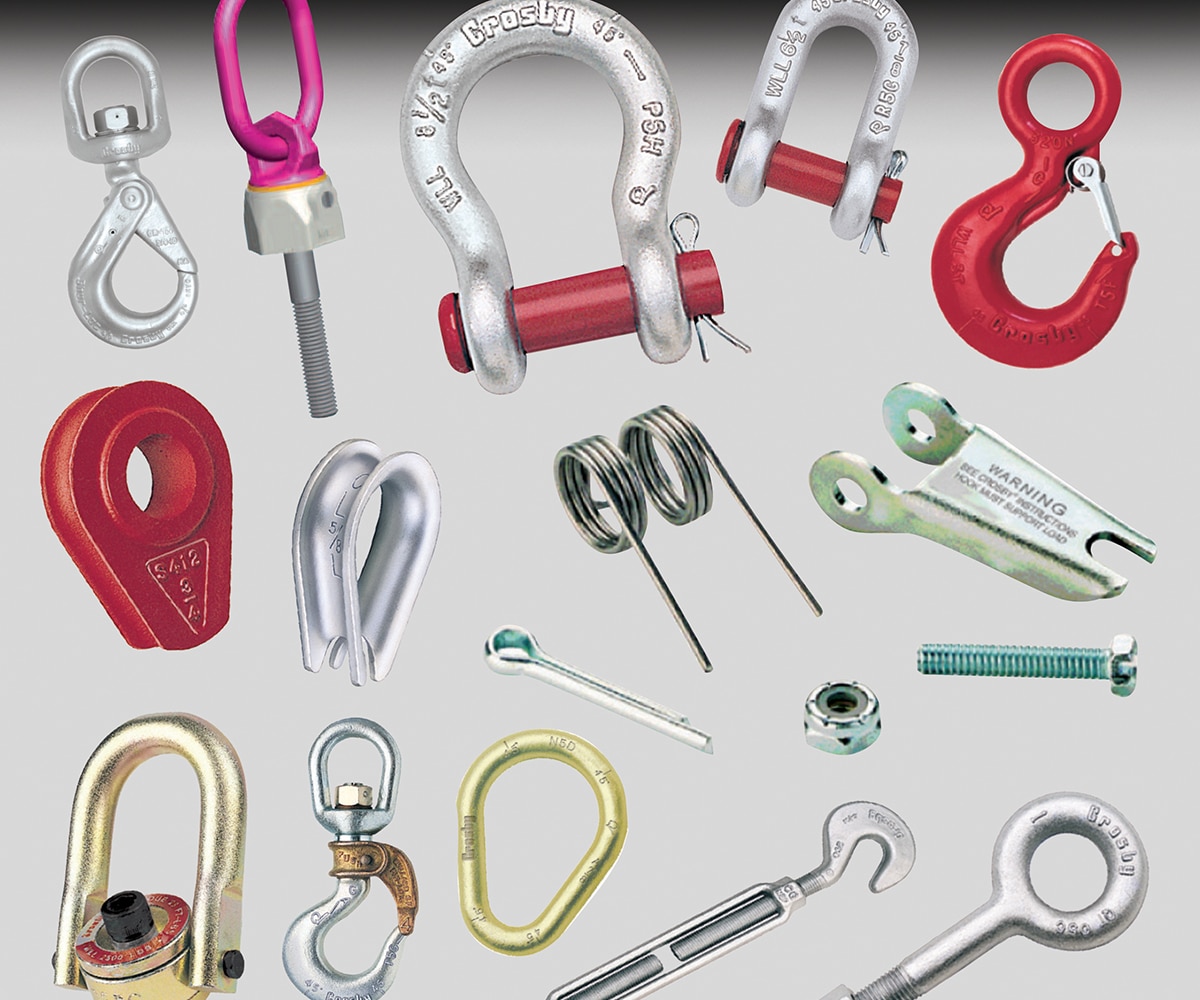 Rigging Hardware
Are you looking for a full line of rigging hardware products? We offer one of the largest and most complete inventories of rigging and lifting products in the country from some of the largest manufactures in the world. Some of the products we stock are shackles, hoist rings, eye bolts, hooks, master rings, links, and turnbuckles.
Copyright 2021. Mazzella Companies.