Are you tired of having to replace your tower crane ropes more frequently than you should?
At Mazzella, we understand how frustrating it is not getting the expected service life out of products you invest in heavily. Because you rely on these ropes to do your job safely and successfully, having to make frequent replacements costs you the investment in the rope, and also, losses in potential work being taken away by the competition and equipment downtime.
But what if we told you there was a way to avoid that frustration and potential lost business? Be it through regular inspections or the creation of and adherence to maintenance programs, extending the lifespan of your tower crane ropes is in your hands.
In this article, we'll help you answer the following questions:
What types of inspections do your tower crane ropes need?
How are the ropes on your tower crane replaced?
What kinds of maintenance do your crane ropes need?
What is ASME B30.3-2019 Tower Cranes?
---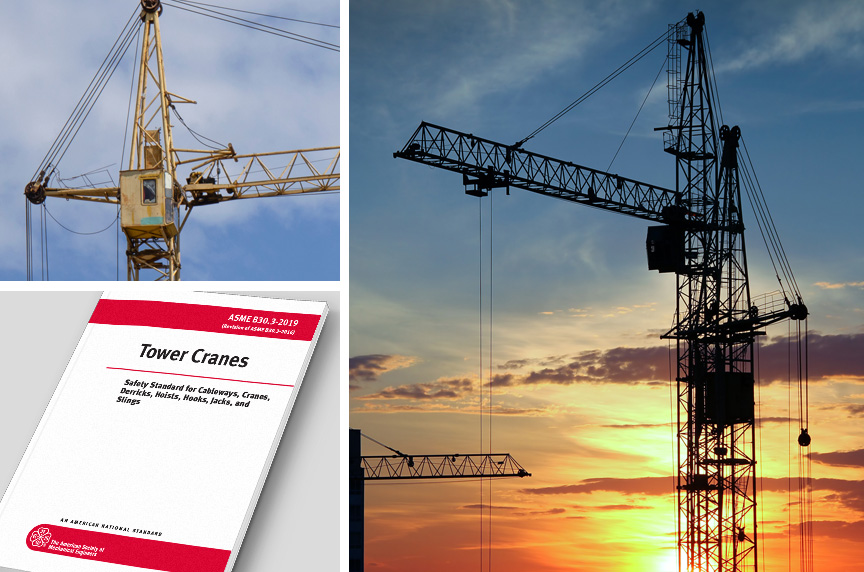 The mission of the American Society of Mechanical Engineers (ASME) is to set the standards for the lifting and rigging industry.
ASME is a professional association and leading international developer of codes and standards associated with the art, science, and practice of mechanical engineering. ASME members are engineers, scientists, government officials, and others who voluntarily contribute their technical expertise.
The first ASME B30.3 Tower Cranes standard was issued in 1996, Since then, this standard has been revised and published by the B30 Committee in 2004, 2009, 2012, and 2016, and 2019.
The new ASME B30.3 Tower Cranes standard revises and supersedes the procedures outlined in the 2016 edition of the same standard.
According to the standard itself, ASME B30.3 Tower Cranes applies to "construction tower cranes" and "permanently mounted tower cranes" that are powered by electric motors or internal combustion engines and that adjust their operating radius by means of a luffing boom mechanism, a trolley traversing a horizontal jib, or a combination of the two. The cranes may be mounted on "fixed bases" or "traveling bases" and may have tower and supporting structure arrangements that permit the crane to climb in a structure being built or that permits increasing the crane's tower height as the structure rises.
"Variations of the above physical characteristics that provide the same fundamental operating characteristics are included in the scope of this Volume; however, the requirements of this Volume are only applicable to the cranes within this scope when they are used in lifting operations. Mobile cranes configured with tower attachments (refer to ASME B30.5) and self-erecting tower cranes (refer to ASME B30.29) are not within the scope of this Volume."
---
---
What Inspections Shall Tower Crane Ropes Receive?
---
All inspections shall be performed by a designated person. Any deficiencies identified shall be examined and a determination made by a qualified person as to whether they constitute a hazard.
Section 3-2.4.2 outlines the two types of inspections required for tower crane ropes:
Frequent inspections
Periodic inspections
Frequent Inspections
For frequent inspections, ASME B30.3 Tower Cranes outlines what and how the following must be examined:
Load hoist and luffing boom hoist ropes shall be visually inspected each working day.
The load trolley rope, and counterweight movement ropes if provided, shall be visually inspected at least once a month. A visual inspection shall consist of observation of all rope that can reasonably be expected to be in use during the day's operations. These visual observations should be concerned with discovering gross damage, such as listed below, that may be an immediate hazard. When such damage is discovered, the rope shall either be removed from service or inspected as outlined in the section on Periodic Inspections.

Distortion of the rope such as kinking, crushing, unstranding, birdcaging, main strand displacement, or core protrusion; loss of rope diameter in a short rope length or unevenness of outer strands provides evidence that rope replacement should be considered

Number, distribution, and type of visible broken wires [see paras. 3-2.4.3(b)(1), 3-2.4.3(b)(2), and 3-2.4.3(b)(7) for further guidance]

Core failure in rotation-resistant ropes (see Figure 3-2.4.2-1)

Particular care shall be taken when inspecting sections of rope subject to rapid deterioration, such as flange points, crossover points, and repetitive pickup points on drums.
Particular care shall be taken when inspecting rotation-resistant ropes because of their susceptibility to damage from handling and misuse, and potential for deterioration when used on equipment with limited design parameters. Internal deterioration of rotation-resistant ropes may not be readily observable.
Periodic Inspections
For periodic inspections, ASME B30.3 Tower Cranes outlines what and how the following must be examined:
Inspection frequency shall be determined by a qualified person and shall be based on such factors as expected rope life as determined by experience on the particular installation or similar installations, severity of environment, percentage of lifts at maximum rating, frequency rates of operation, and exposure to shock loads. Inspections need not be at equal calendar intervals and should be more frequent as the rope approaches the end of its useful life. However, this inspection shall be made at least annually.
Periodic inspections shall be performed. These inspections shall cover the entire length of the rope. Any deterioration resulting in appreciable loss of original strength, such as described below, shall be noted and determination made as to whether further use of the rope would constitute a hazard:

Points listed in the Frequent Inspection section

Reduction of rope diameter below nominal diameter [see para. 3-2.4.3(b)(7)]

Severely corroded or broken wires at end connections

Severely corroded, cracked, bent, worn, or improperly applied end connections

Care shall be taken when inspecting rope sections subject to rapid deterioration, such as the following:

Sections in contact with saddles, equalizer sheaves, or other sheaves where rope travel is limited

Sections of the rope at or near terminal ends

Where corroded or broken wires may protrude

Sections subject to reverse bends

Sections of rope that are normally hidden during routine visual inspection, such as parts passing over sheaves
When Do Your Tower Crane Ropes Need to Be Replaced?
---
According to the standard, "No precise rules can be given for determination of the exact time for rope replacement, since many variable factors are involved. Once a rope reaches any one of the specified removal criteria, it may be allowed to operate to the end of the work shift, based on the judgment of a qualified person. The rope shall be replaced after that work shift, at the end of the day, or, at the latest, prior to the equipment being used by the next work shift."
Tower crane ropes must be taken out of service if they meet any of the following removal criteria:
In running ropes, 12 randomly distributed broken wires in one lay, or four broken wires in one strand in one lay.
In rotation-resistant ropes, two randomly distributed broken wires in six rope diameters, or four randomly distributed broken wires in 30 rope diameters.
One outer wire broken at the contact point, with the core of the rope indicated by an externally protruding wire or loop of loose wires.
Wear of one-third the original diameter of outside individual wires.
Kinking, crushing, birdcaging, or any other damage resulting in distortion of the rope structure.
Evidence of heat damage from any cause.
Reductions from nominal diameter greater than 5%.
Attention shall be given to end connections. Upon development of more than two broken wires adjacent to a socketed end connection, the rope shall be resocketed or replaced. Resocketing shall not be attempted if the resulting rope length will be insufficient for proper operation.
***Deviation shall be allowed from the removal criteria listed above only with written approval of the manufacturer of the wire rope.
Broken wire removal criteria cited in this Volume apply to wire rope operating on steel sheaves and drums. The user shall contact a qualified person, or the sheave, drum, or crane manufacturer for broken wire removal criteria for wire ropes operating on sheaves and drums made of material other than steel.
Replacement rope and connections shall have a strength rating at least as great as the original rope and connections furnished by the manufacturer. Any deviation from the original size, grade, or construction shall be specified by a rope manufacturer, the crane manufacturer, or a qualified person.
Ropes Not in Regular Use
All rope that has been idle for a period of one month or more due to shut down or storage of the crane on which it is installed shall be inspected in accordance with para. 3-2.1.5* before it is placed in service. Inspections under para. 3-2.1.5(b)* shall be for all types of deterioration and shall be performed by an appointed or authorized person.
* Paragraph 3-2.1.5 outlines the requirements from a major inspection.
Inspection Records
No records are required for frequent inspections.
In order to establish data as a basis for judging the proper time for replacement, a dated report of rope condition at each periodic inspection shall be kept on file. This report shall cover points of deterioration listed in para. 3-2.4.2(b)(2)*. If the rope is replaced, only that fact need be recorded.
A long-range inspection program should be established to include records on examination of ropes removed from service, to establish a relationship between visual observation and actual condition of the internal structure.
*This paragraph outlines all of the rope deterioration standards that could be found in a periodic inspection.
How Can You Maintain Your Tower Crane Ropes?
---
By undertaking a regular maintenance program, you can influence how much service time you get from your tower crane ropes.
In ASME B30.3 Tower Cranes,the society outlines the following maintenance procedures that could be done to help maximize the life cycle of your ropes:
Rope should be stored in such a manner as to minimize damage or deterioration.
Unreeling or uncoiling of rope shall be done as recommended by the rope manufacturer and with care to avoid kinking or inducing twist.
Before cutting rope, seizings shall be placed on each side of the place where the rope is to be cut to prevent unlaying of the strands.
During installation, care should be exercised to avoid dragging the rope in dirt or around objects that will scrape, nick, crush, or induce sharp bends in it.
Rope should be maintained in a well-lubricated condition. Lubricant applied as part of a maintenance program shall be compatible with the original lubricant and to this end the rope manufacturer should be consulted; lubricant shall be of a type that does not hinder visual inspection. Those sections of rope that are located over sheaves or otherwise hidden during inspection and maintenance require special attention during lubrication. The object of rope lubrication is to reduce internal friction and to inhibit corrosion.
When an operating rope shows greater wear at well-defined localized areas than on the remainder of the rope, rope life can be extended, in cases where a reduced rope length is adequate, by cutting off a section at the worn end and thus shifting the wear to different areas of the rope.
What Can Mazzella Do to Help You Stay in Compliance with the ASME B30.3 Tower Cranes Standard?
---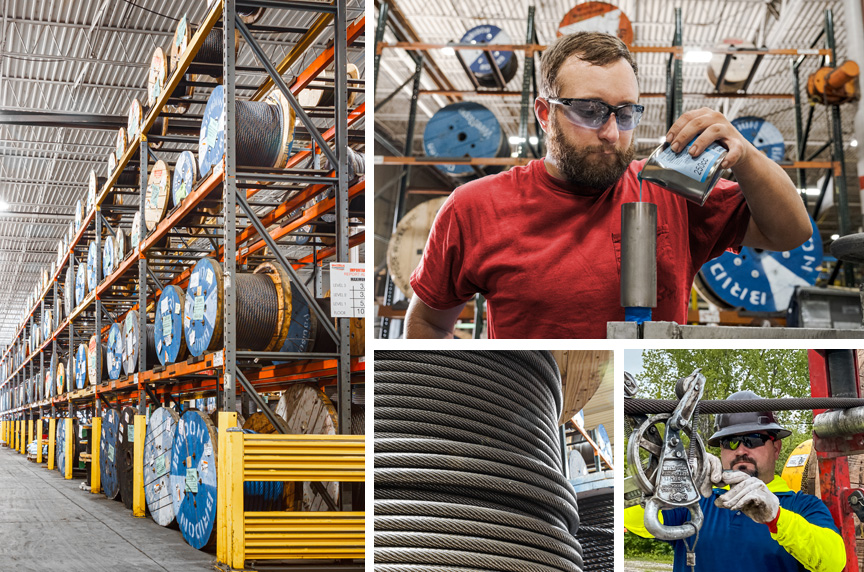 Mazzella is a one-stop-shop for high-performance crane ropes, or any kind of specialty ropes. Also, we have fittings and sockets that we can install in the field, and a large inventory of ropes in stock that allows us to help get you back up and running as quickly as possible. Mazzella offers rope replacements, too.
Mazzella has one of the largest specialty rope inventories in the United States…ready for immediate delivery! We provide wire rope assemblies, and manufacture bridge cables, crane cables, steel mill cables, and thousands of OEM assemblies:
In sizes from ¼" to 3" diameter and 9mm to 52mm diameter
Domestic and Non-Domestic
In stock and ready for same or next-day shipment from one of our many service centers
In addition to crane ropes installations and inspections, Mazzella has the capabilities to do button and OEM socket installations. We have technicians around the country who have been trained to do:
Socket installs
Perform crane rope inspections
Call us at 800.362.4601, or click here if you need wire rope products or assemblies.
---
---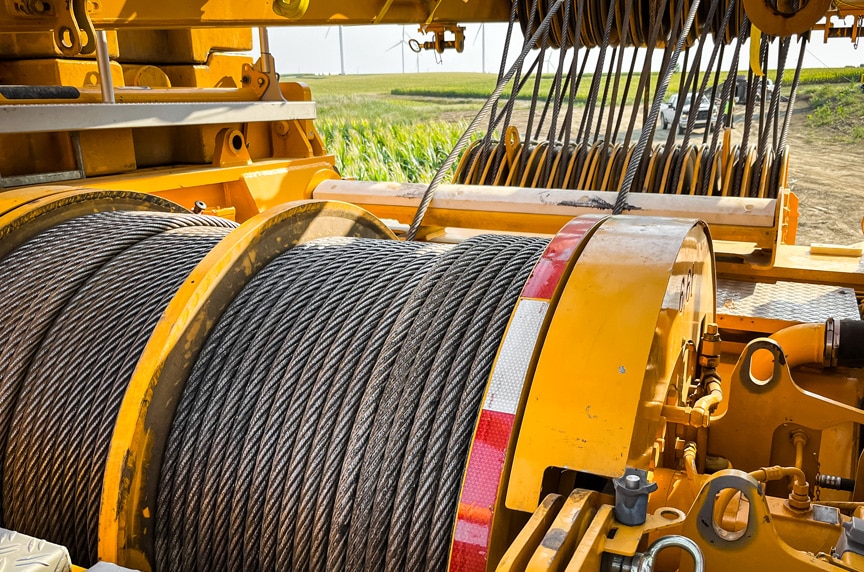 Crane Ropes
One Brand of Rope Will Not Work on Every Machine!
Mazzella stocks a large inventory of high-performance wire ropes available for immediate delivery.
Copyright 2023. Mazzella Companies.