CLEVELAND, OH – Mazzella Companies has consolidated their three overhead crane service companies into one combined team and brand. The overhead crane service division of FHS, Inc., Mazzella Crane Service, and KCI Crane Service have combined to become Mazzella FHS Hoist & Crane Service. This name and mark will be used universally for all overhead crane service going forward.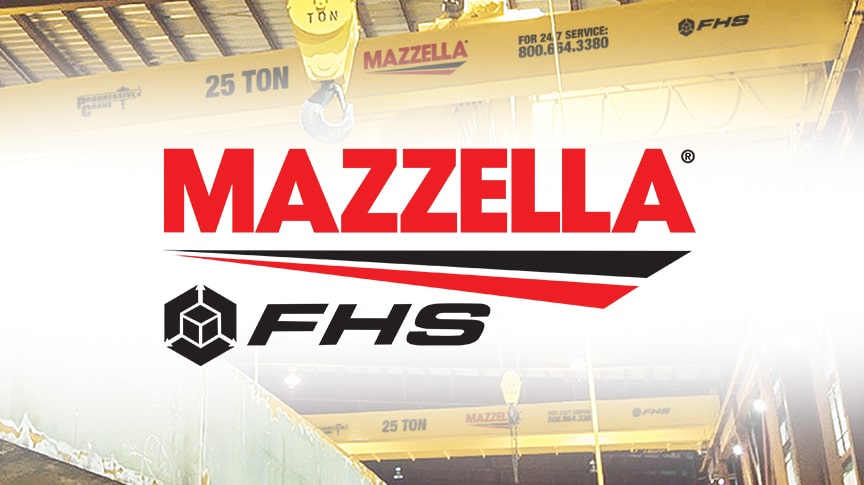 Mazzella Companies is implementing this new strategy in order to maximize the benefits of being a larger, stronger, and more deeply qualified overhead crane service organization. This consolidation will allow Mazzella FHS Hoist & Crane Service to more effectively service their customers by offering superior competitive service to a broader geographic area.
Curt Barquin, General Manager, Mazzella FHS Hoist & Crane Service, explains, "We started this consolidation strategy in Charlotte, NC with the goal being to provide a new experience for our customers. This included integrating our own proprietary mobile software application, carrying more inventory on our service trucks, and being more transparent with our customers."
Mazzella FHS currently has over 100 employees with experience in the overhead crane service business. Mazzella FHS operates out of ten main service branches, including:
Bartow, FL
Charleston, WV
Charlotte, NC
Cleveland, OH
Duluth, GA
Gonzales, LA
Madison Heights, MI
Memphis, TN
Mobile, AL
New Freedom, PA
Tuscaloosa, AL
"This reorganization allows Mazzella FHS to position ourselves throughout the country to better service our customers and gives us more opportunities to get into new markets. I'm excited to build our team and become one service organization that delivers our customers with an overall better experience, the most value, and the best service possible," says Barquin.
With Mazzella FHS Hoist & Crane Service's significant growth, there are many immediate, full-time openings for qualified Service Technicians in the Eastern and Southeastern regions of the United States.
For more information about Mazzella FHS Hoist & Crane Service, and current job openings, visit mazzellafhs.com.