Coming in with hope, yet uncertainty, 2021 was a year of healing while continuing to deal with challenges and returning to as close to normal as possible.
While companies began to ramp up production, new challenges emerged, and they came in the form of higher costs for and less availability of raw materials and shipping, longer lead times, and difficulty finding competent employees, among many other unprecedented circumstances.
The prices of raw materials and finished products in the manufacturing industry have increased dramatically throughout 2021, and we know you've been feeling the effects. While the current inflationary market conditions are expected to continue into 2022, we're looking forward with hope that prices of raw materials and finished products will stabilize.
While looking forward to 2022 with optimism, we've compiled a list of the top lifting and rigging articles we published this year. These articles could help you better understand risk in your business and discover ways you can improve the safety and efficiency of your operations by:
Looking at new and unique lifting solutions
Identifying dangerous lifting practices and / or improper lifting equipment
Understanding the importance of and seeing practical application of fall protection measures
How to properly order crane ropes through Mazzella
What Is a CM Quick Connect Hook? Features, Benefits, Best Uses
---
Replacing or repairing synthetic lifting slings can be a time-consuming and costly process for anyone in the lifting and rigging industry.
Sometimes, the most frustrating part can be that the sling itself is fine, but the hook needs to be replaced or causes the entire unit to be removed from service in line with the American Society of Mechanical Engineers ASME B30.10 Hooks and / or ASME B30.9 Slings standards.
To relieve your frustrations as an end-user, Columbus McKinnon (CM) has created the Quick Connect Hook, designed to be used with synthetic roundslings and web roundslings.
In this article, you will learn:
What a Quick Connect Hook is
What makes Quick Connect Hooks unique
What problems Quick Connect Hooks solve
How Quick Connect Hooks can be used worldwide
What is the best use for Quick Connect Hooks
Cost comparison
Inspection criteria
Welded Chain Slings vs. Mechanical Chain Slings…What's Best for Me?
---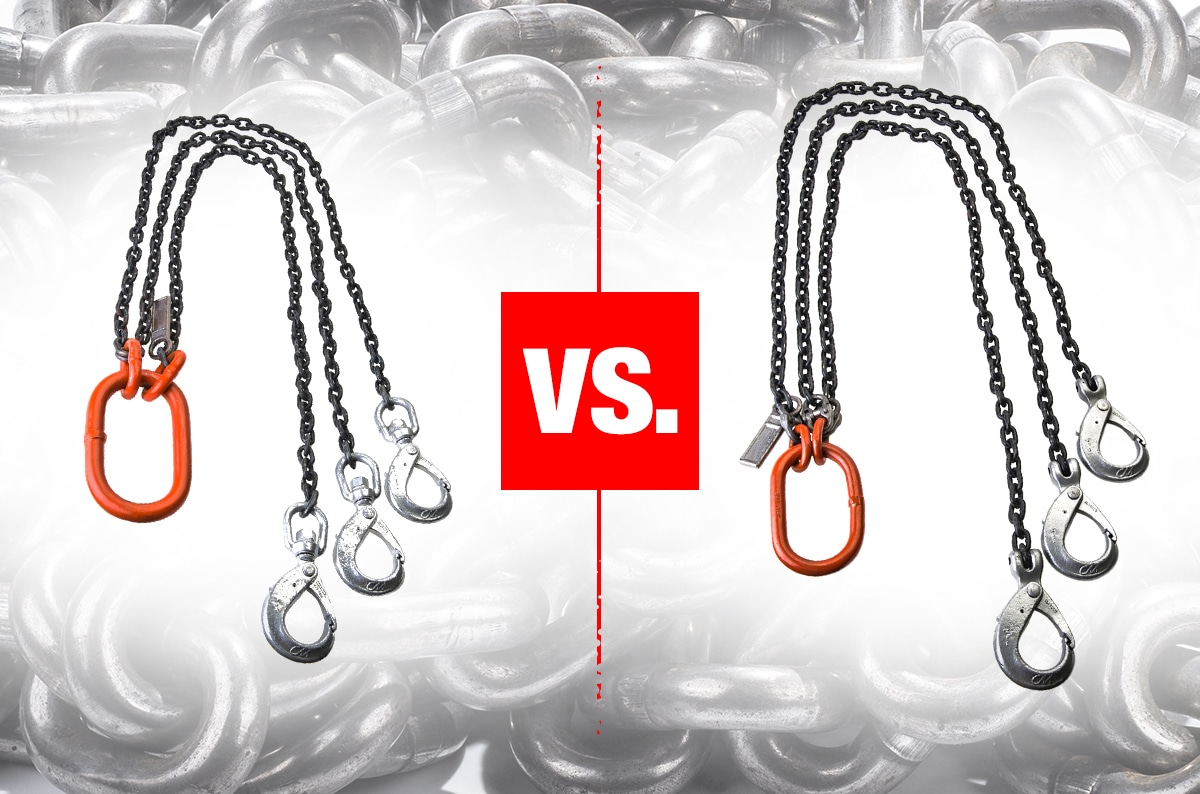 Chain slings are an important part of lifting equipment, but over time, they wear out and need to be replaced, but what do you need to consider before purchasing new slings?
If you use a welded chain sling, is a mechanical chain sling a better option for your company? Likewise, if you're using mechanical chain slings, does it make sense to switch to welded chain slings?
Before you figure out what is best for the needs of your company and what is most compatible with your existing rigging equipment, we must first examine:
What each chain sling is
What grades of chain are used in sling construction
What is the process of replacing broken or worn attachments
The inspection process for chain slings
The benefits and disadvantages to both types of chain slings
Whether there is a cost difference between welded and mechanical chain slings
How Can the Gunnebo Industries GrabiQ Chain Sling Save Time, Money?
---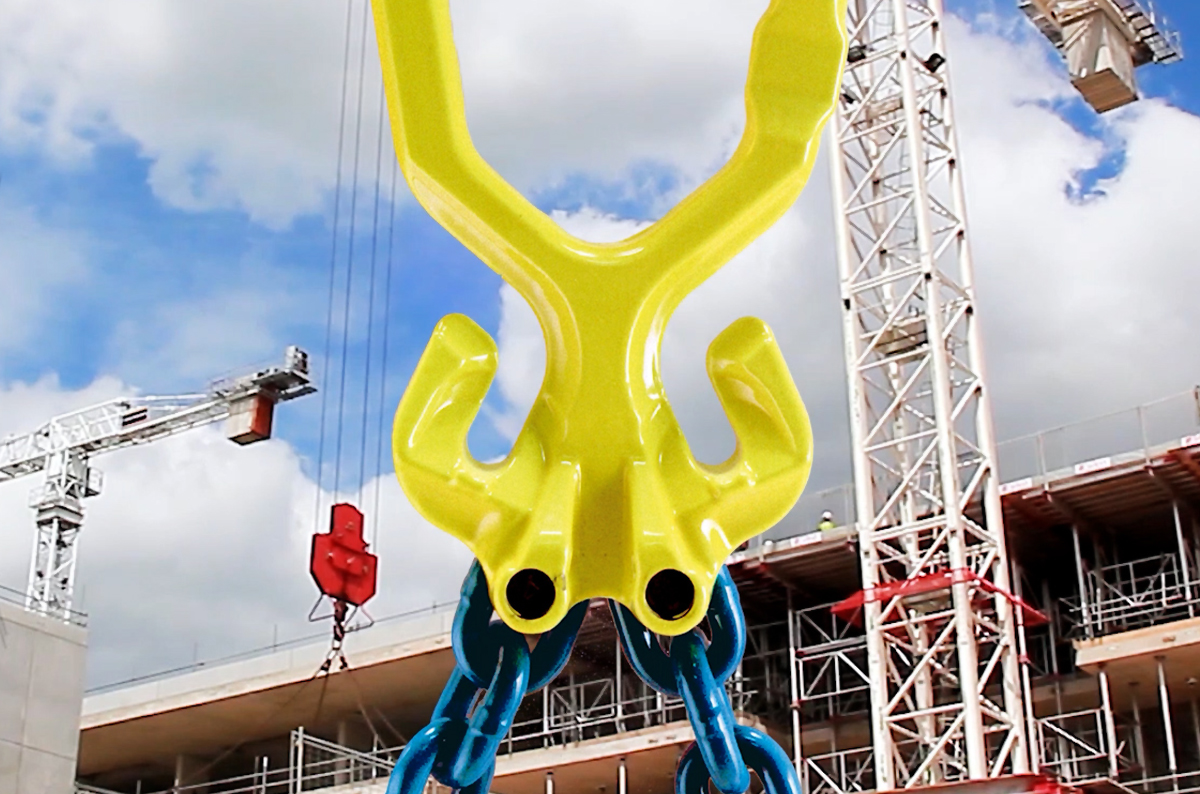 Do you and your work crews prefer to use chain slings instead of wire rope or synthetic rope slings, but find it difficult to make the proper on-site adjustments in an efficient manner?
Gunnebo Industries branded products, part of The Crosby Group portfolio, may have the solution you're looking for with a new product offering known as the GrabiQ Chain Sling System.
Made up of fewer components than a normal chain sling, the GrabiQ Chain Sling System is quicker to inspect in the field, about half of the weight of a more traditional setup, and there is no reduction in working load limit.
In this article, you will learn about:
GrabiQ product origins
The Master Grab Duo
How much training is required before use
The Midgrab Chain Shortener
Bad fit applications for the GrabiQ Chain Sling
Common problems using the GrabiQ Chain Sling
Other features and technologies in the GrabiQ Chain Sling
Maintenance and repairability
Best fit applications for the GrabiQ Chain Sling
Inspection requirements for the GrabiQ Chain Sling
What Is ASME B30.30 Ropes, and How Does It Apply to Wire Rope Inspection?
---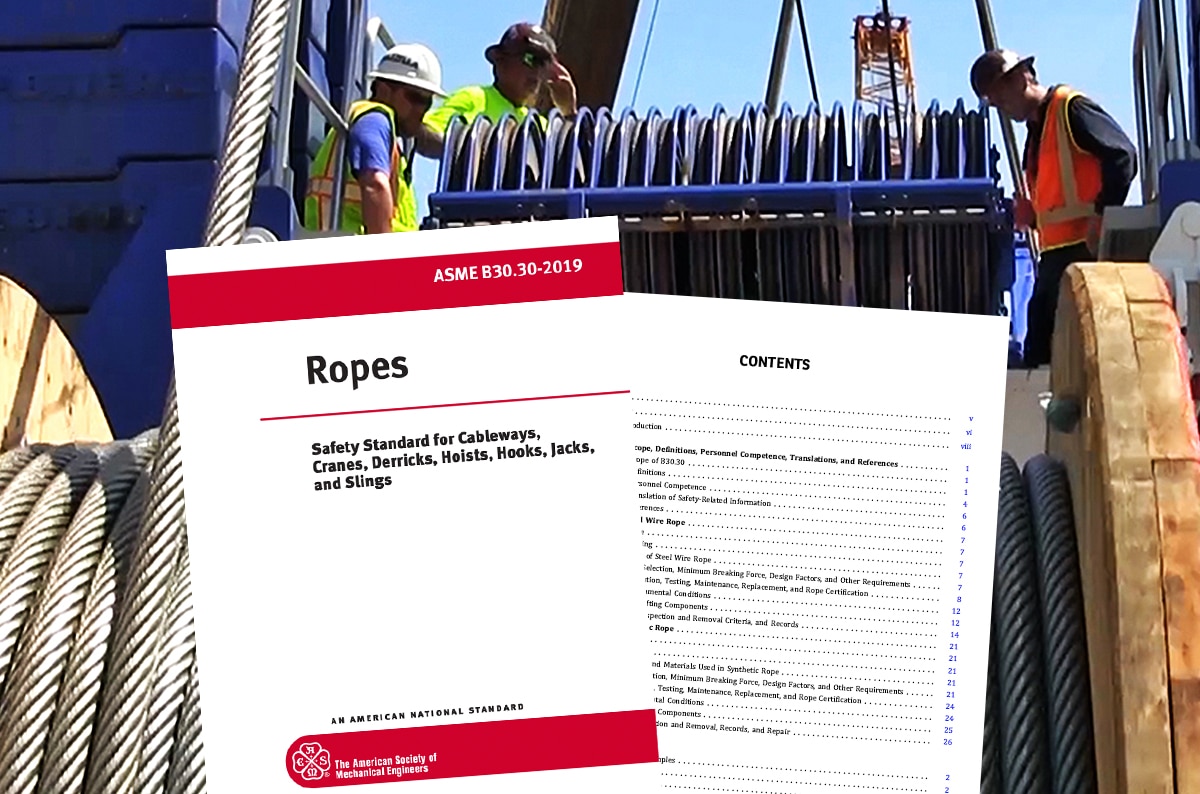 When was the last time your company had their wire rope inspected for potential removal from service criteria?
Wire rope inspection is a vital part of the maintenance process for any construction or crane company because the safety of your workers and security / undamaged delivery of loads lifted by this equipment are of utmost importance.
The guidelines for these inspections comprise the ASME B30.30 Ropes standard, and in this piece, you will learn more about:
ASME B30.30 Ropes Standard
Common problems found on wire rope inspections
Records keeping
Recommended disposal criteria
What Is the Tycan® Chain, & How Does It Make Rigging Easier?
---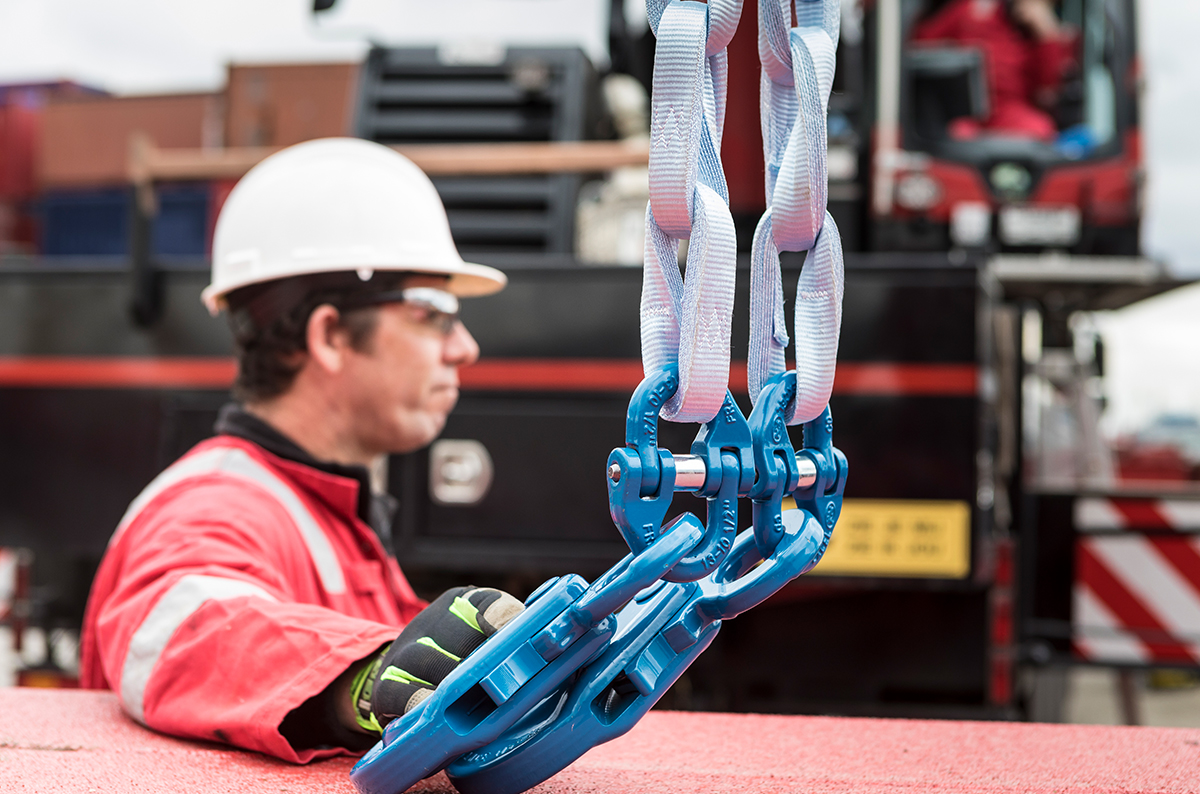 The synthetic Green Pin Tycan® Chain is gaining traction in construction industries as an alternative to alloy steel chain.
Alloy steel chains are durable pieces of rigging equipment, but with great strength comes high tension, and potential for catastrophic incidents. If a chain link breaks, the tension is strong enough to send the broken link toward unprotected workers at a high rate of speed. The same is true for wire rope, as broken strands could recoil and severely injure workers in its path.
Mazzella's Lifting Specialists have found synthetic rigging equipment usage in coal mines has become more commonplace in recent years. The reason has to do with safety. If a metal chain or wire rope breaks in close quarters, there's nowhere for workers to take cover.
In this article, you will learn the answers to the following questions:
What's the Tycan® Chain?
What are its best fit applications?
Are there disadvantages to using the Tycan® Chain?
What's the cost compared to alloy steel chain?
Where will I see the biggest benefits to using it?
What's the inspection criteria?
Fall Protection & Fall Prevention: Terms, Systems, & OSHA Regulations
---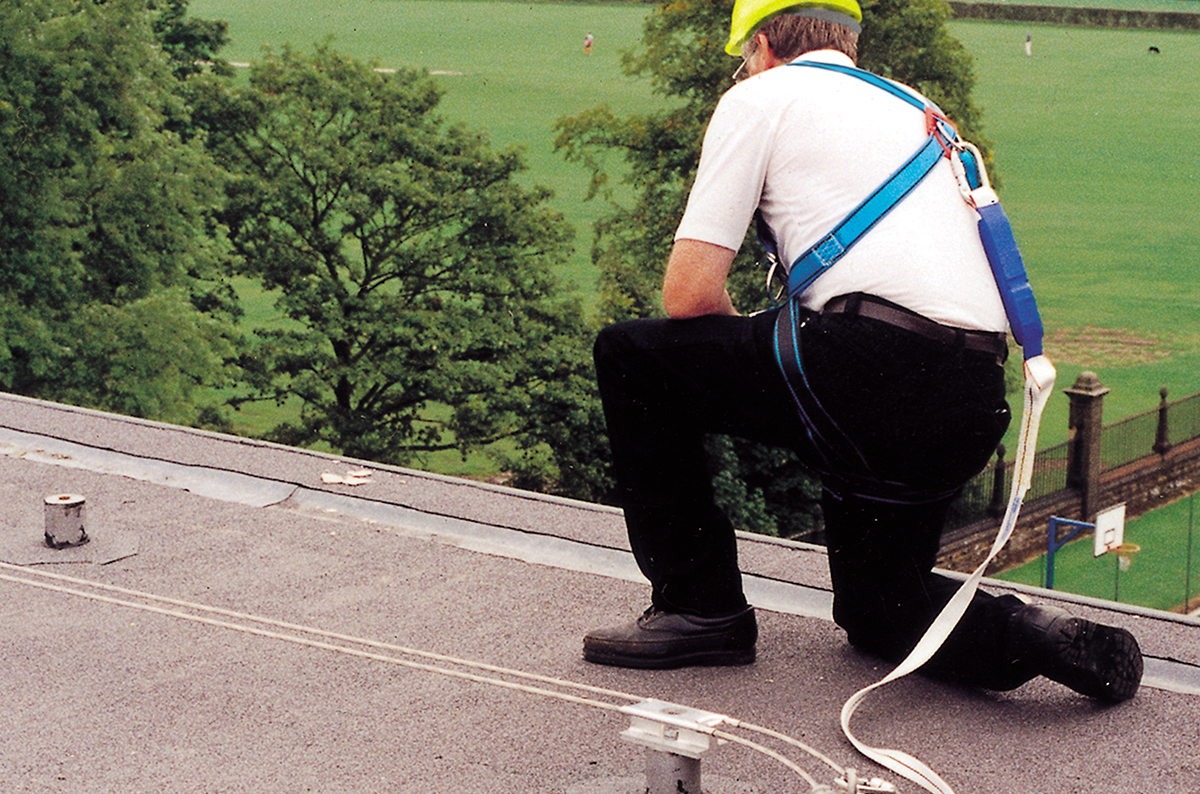 Keeping workers safe while they're at height is one of the most important, and sometimes, challenging tasks on a job site. That's why fall protection and fall prevention are taken seriously by governing bodies in their written standards.
Without an adequate understanding of fall protection, fall prevention, and the components that make up both safety systems, you may be missing an important detail or two, which could be the difference between a safe and successful day on the job site and the occurrence of a catastrophic incident.
In this piece, you will learn about:
OSHA (Occupational Safety and Health Administration) definitions of common terms
Fall protection definitions
Fall prevention terms
What's a Kevlar® Lifeline, and How Is It Used by the U.S. Navy?
---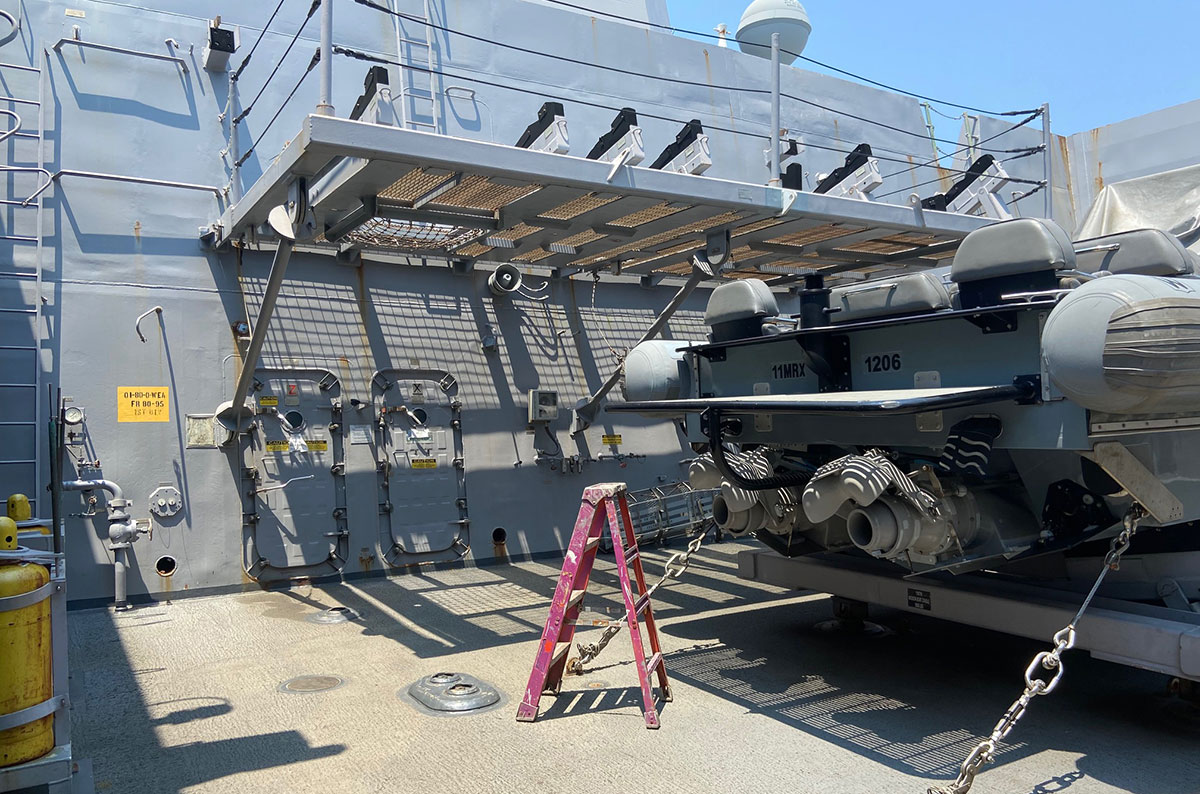 Kevlar® is a life-saving material, and more than just in bulletproof vests.
In addition to its use in individual protection for law enforcement and military applications, Kevlar is utilized to keep Sailors, Marines and Coast Guardsmen safe when they're on a ship at sea.
Per U.S. Navy and Coast Guard regulations, the lifelines on the outer edges of ships are made of Kevlar. Those lifelines differ from ones used in other places, particularly on the interior of their ships.
In this post, we'll answer the following questions:
What's a Kevlar lifeline?
How does a Kevlar lifeline differ from a temporary synthetic lifeline?
Where would Kevlar and temporary synthetic lifelines be used?
What are the benefits to using a Kevlar lifeline?
What unique components do Kevlar lifelines have?
Why was Kevlar chosen to make this lifeline?
What's the inspection process like for Kevlar lifelines?
Do Kevlar lifelines need identification tags?
What's the replacement process for Kevlar lifelines?
How a Mobile Home Manufacturer Became OSHA Fall Protection Compliant
---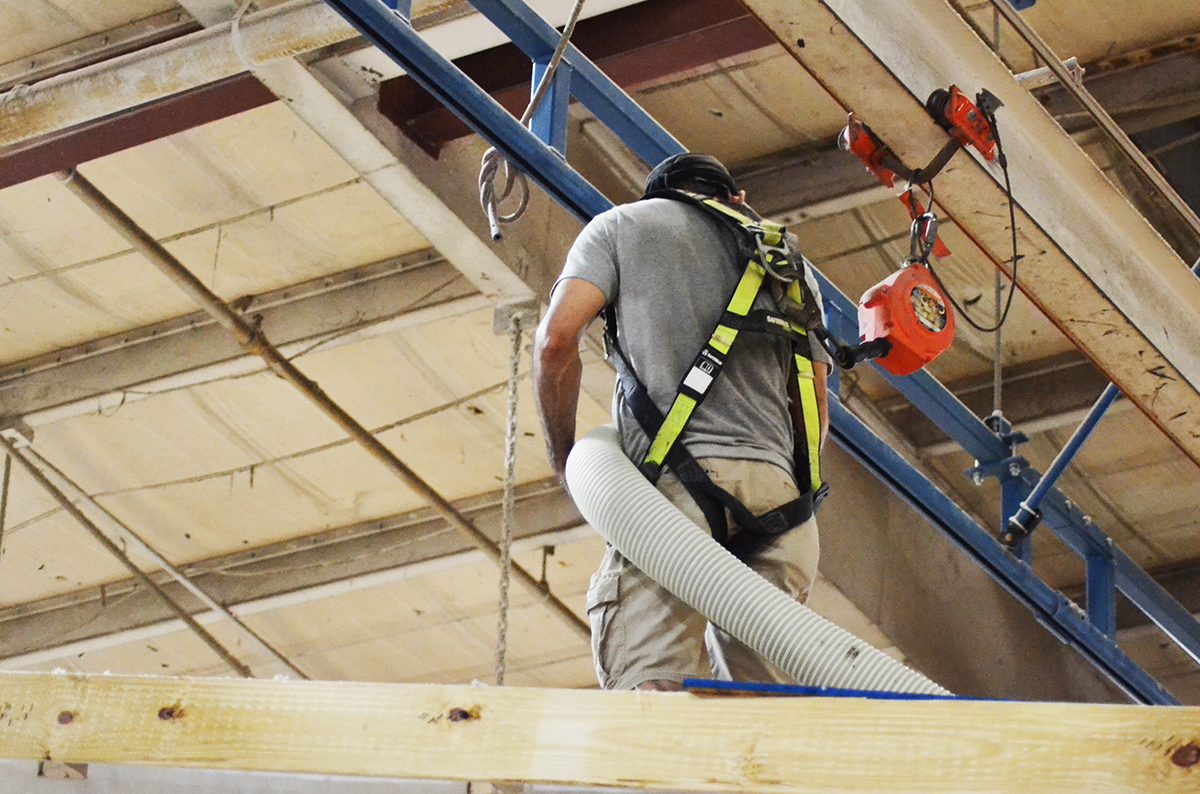 Palm Harbor Homes manufactures modular and mobile homes, and the company footprint extends beyond Florida and the Southeast to California, Arizona, Minnesota, and many other locales around the United States.
Known for their skilled home-building, Palm Harbor Homes needed a new fall protection solution for workers in its Plant City, FL facility after an OSHA inspection resulted in a fine.
When OSHA completed its inspection, Palm Harbor Homes reached out to Mazzella FHS for a solution to help keep their employees safe while working at height. Through that partnership, Palm Harbor Homes retrofitted its facility and never lost a day of work.
"Fall protection is huge for us here," said Palm Harbor Homes Human Resources Manager Chelli Antle. "We have a number of employees inside the building that work at a pretty high height, either installing electrical cables or shingling and decking the roof, or putting insulation in the roof."
"We're making sure those employees are properly secured in case they fall off either the catwalk or the roof area. Making sure that we have the proper track system and harness system in place to make sure they don't fall is the difference between life and death, honestly."
In this article, you'll learn about the protection, including:
Installation of new OSHA-compliant fall protection system
A fall protection system workers would use
Interruption-free installation with no lost work days
A fall protection system that could fit in and be supported by the current building structure
Boost in productivity by not having to "ground" workers at height
Continuing a decades-long working relationship
Why Is Mazzella's Process for Ordering Crane Ropes so Comprehensive?
---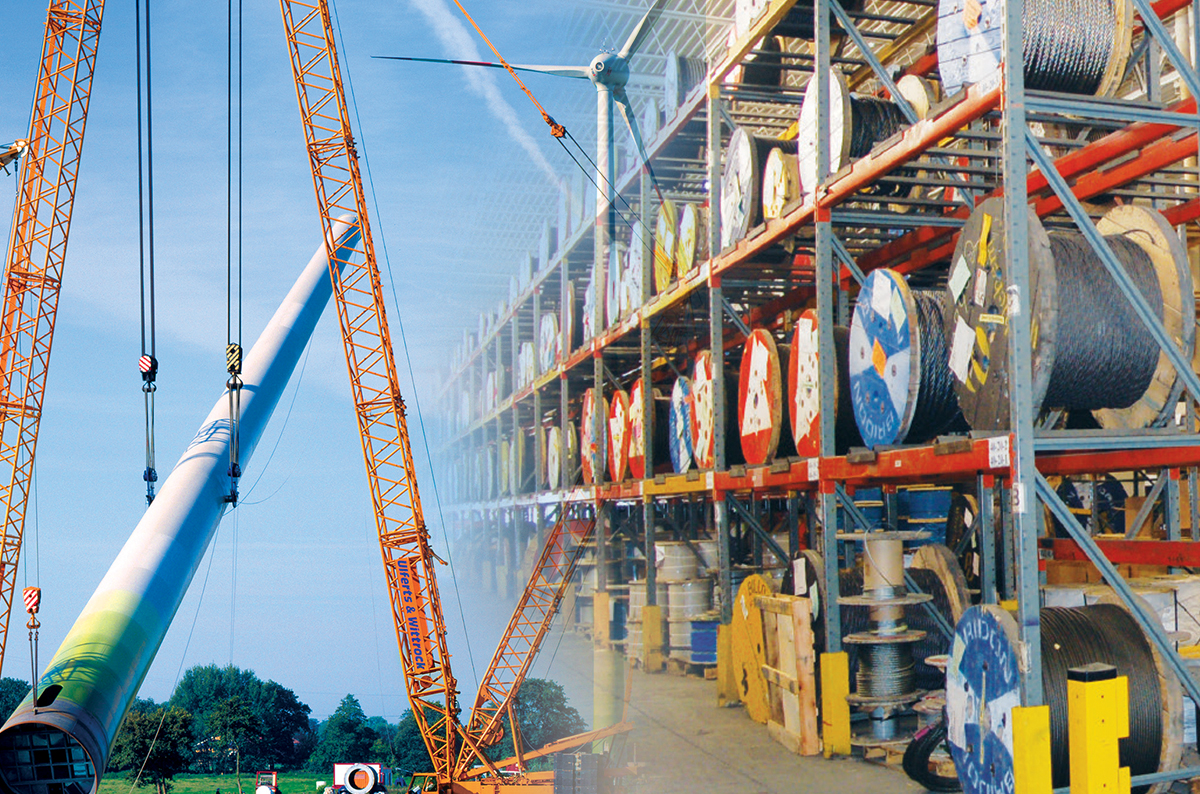 "Why is it that when I call Mazzella wire ropes specialists about buying replacements for my crane, the process is so comprehensive?"
Buying new crane ropes can be an involved process, but there are reasons why working with a company like Mazzella is detailed and thorough.
While it may be time-consuming initially, making sure the correct ropes are ordered does the following:
Prioritizes safety for your workers
Minimizes downtime on a jobsite
Maximizes the lifespan of the crane
Avoids costly and time-consuming process of getting correct rope onsite and respooling your crane
How Can Mazzella's Crane Service Technician Apprenticeship Help Your Career?
---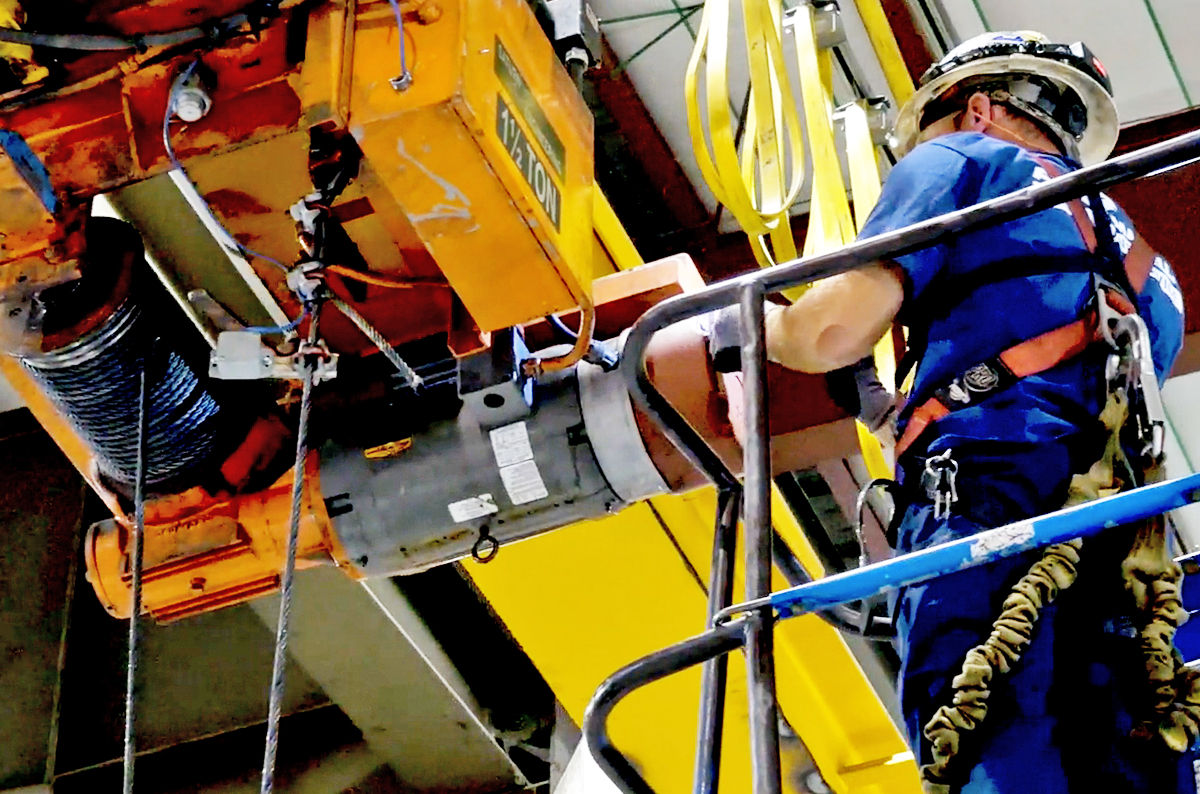 Do you enjoy working with your hands and are looking into a career that you can start right away that's never the same from one day to the next? Are you already in a career like this, but want to better your skills and create a path for advancement in the future?
Are you looking for a fast-paced, interesting, skilled trade career – where you can earn and learn at the same time? If so, Mazzella has a program where you can do just that, work with your hands and train your brain as you earn a living.
If you enjoy a challenge and are not afraid of heights, the Mazzella Crane Service Technician Apprenticeship Program may be just what you are searching for. Once employed by Mazzella, you will have the opportunity to enroll into this elite, but optional program.
After enrollment, you are inducted into the program at a technical skill level consistent with your existing experience (from Beginner through Journeyman skill levels), and the required training you receive through the program will correspond with your experience level.
You will have a different challenge every day.
Mazzella developed the first-of-its-kind federally accredited crane service technician apprenticeship program with our teammates in mind.
Looking Ahead to 2022
---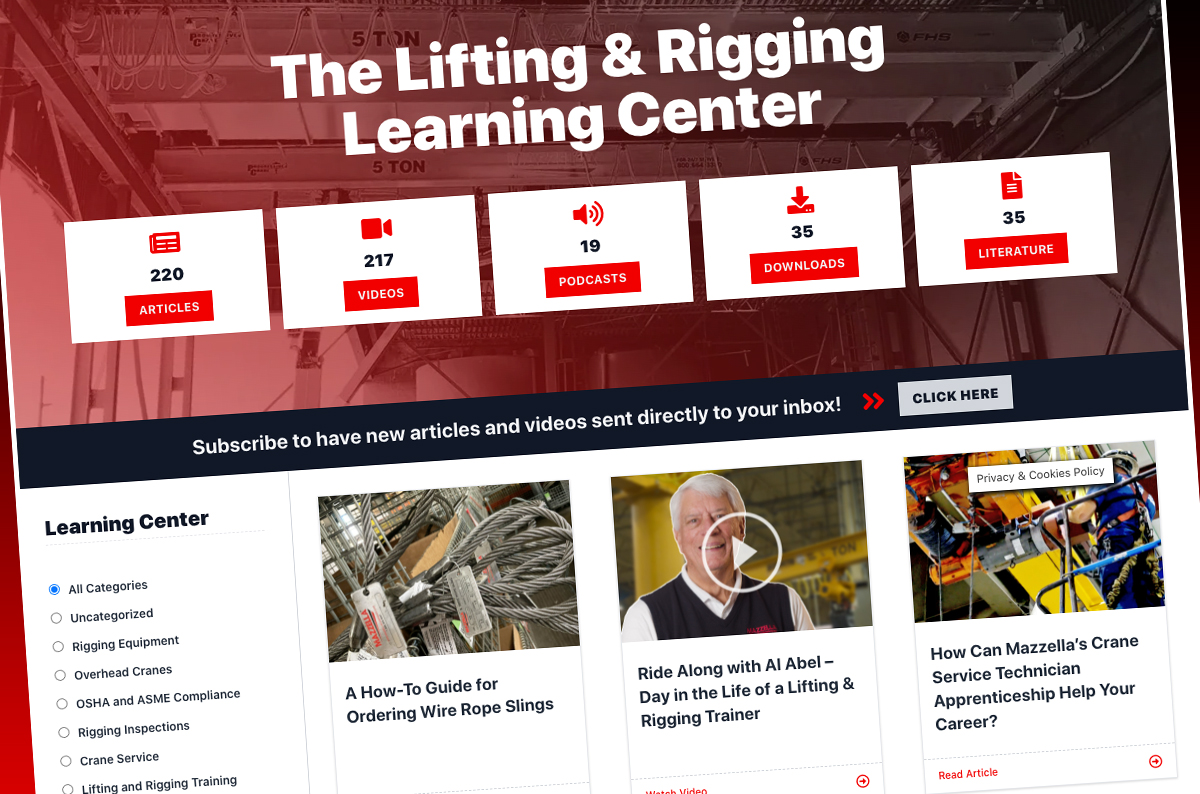 While 2021 provided all of us with some unique challenges as stay-at-home mandates were repealed and businesses began to ramp up production, we have seen companies become innovative in their product design / creation.
This innovation helped develop better lifting and rigging solutions that will:
Extend the life of your slings
Improve safety for your overhead lifts
Make sure you get the proper equipment ordered and installed
Create safer work while at height
Lead to investing in yourself and your career
At Mazzella, we pride ourselves on being able to help our customers improve the safety and efficiencies of their businesses. When customers have a problem they need help with, we have a talented team of Engineers, Lifting Specialists, Product Specialists, and Technicians who can help design and develop a creative process or solution.
If you're looking for an experienced and trustworthy partner as you move forward into 2022, we'd appreciate the opportunity to provide a quote or consultation on your next overhead lifting or material handling project. Click here to speak with a local and knowledgeable Lifting Specialist.
From all of us at Mazzella, we wish you and your employees Happy Holidays and continued health, safety, and success in 2022!
---
---
Copyright 2021. Mazzella Companies.